News
24 Hours in Uptown
Dying? Changing? Annoying? Racket spent all day and all night on the streets of Minneapolis's most over-discussed neighborhood.
3:53 AM CDT on August 18, 2021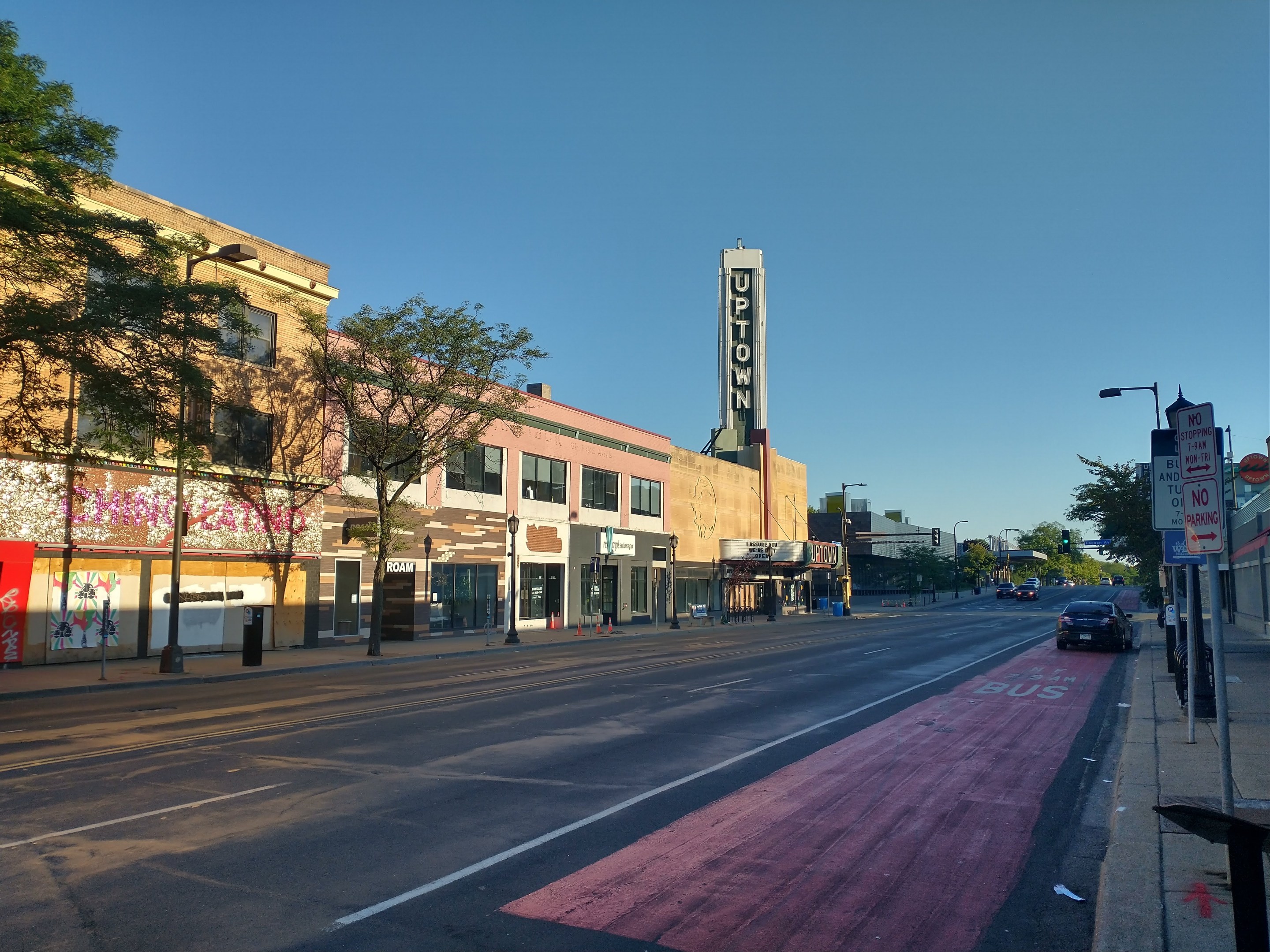 Uptown is dead. Again.
It's one of our most enduring Minneapolis traditions: mourning the neighborhood that spirals out from the intersection of Lake and Hennepin, a place that was somehow always cooler just five minutes before you got there, always more alive, always more, you know, like Uptown.
But as with many conversations, the chatter has increasingly taken on a frantic tone. Ask what killed Uptown this time and you'll hear no shortage of suspects, whether real, imagined, or a mix. Gentrification. The pandemic. Crime. And, of course, "unrest."
That all-purpose euphemism circulated in the press when the Uptown Art Fair canceled this year, and again when the Minneapolis Greek Festival canceled, and then maybe most loudly when the salon chain Juut abandoned its long-held corner, citing "continued escalation of crime and violence." It was unrest when protests blocked the streets, and unrest when police met them with force. Amid such a fog of words and anxieties, it's become impossible to distinguish genuine safety concerns from social media hyperbole.
To find out for ourselves what Uptown is really like these days, Racket's staff hit the streets for a full 24 hours, from 5 p.m. Friday to 5 p.m. Saturday, to take the pulse of Minneapolis's most overly fretted-over business district. This is hardly a complete portrait of Uptown, or even of one day in the neighborhood. It's just what we saw, what we heard, what we experienced.
Friday
5:01 p.m
It's one of those beautiful Minnesota days that tricks visitors into thinking they could live here year-round. In the shadow of the defunct two-story Victoria's Secret at the heart of Uptown, now encased in boards bearing colorful art and vague slogans of hope and resistance, Lorn White carries an illustrated book about wolves, which he just bought for 75 cents down the street at Magers & Quinn, and a handwritten sign telling passersby he needs a bus card. Like many people around here, he has some opinions about "these kids and their little fucking scooters."
5:29 p.m.
"Cable?" a young man scoffs at his friends as they cross Hennepin. "Nobody's got motherfucking cable anymore unless you're old as shit."
5:45 p.m.
Cars, man. Speakers at a Hennepin for People rally in Smith Triangle Park call for the thoroughfare to be made safer and more usable for bikers and pedestrians. As if on cue, a driver hangs a sharp U-turn and does donuts in the middle of Hennepin. No one is injured, but many are frazzled. 
6:08 p.m.
Seven Points, the mall once more problematically known as Calhoun Square, can feel like a ghost town even in busier times. Now the ghosts themselves seem to have found cheerier digs. A colorful mosaic bulletin board asks, "What's Uptown?" According to some pinned fliers and cards: gardening businesses, free chess lessons, and dental discounts.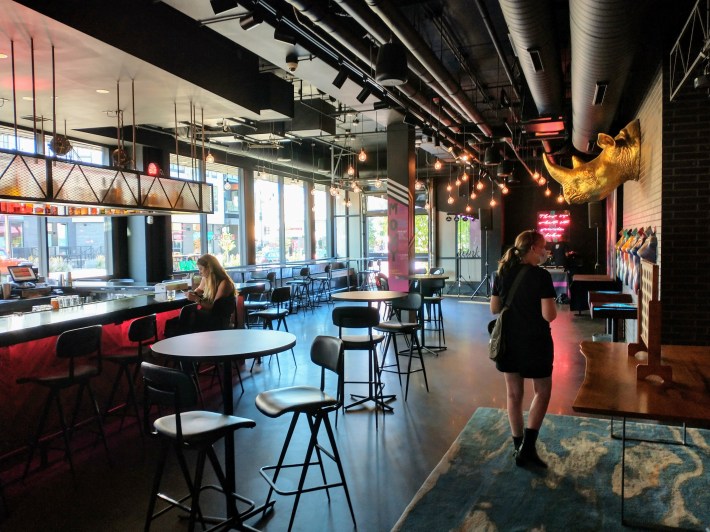 6:24 p.m.
The Moxy, which some snarksters (never us!) once referred to as the "sex hotel," is a study in contrasts. Artwork in the main lounge pays tribute to those lost to police violence; nearby there's a beer-pong table and a giant Jenga game. A sign at the hotel entrance informs visitors that there's a garbage can at the front desk. Amenities!
6:59 p.m.

From his window perch on Lagoon Avenue, a young cashier at Infinite Vapor lets us know who he meets at his job. "All walks of life. Your average guy having a fight with his bicycle, party people in Ferraris and Lamborghinis, wacky people, average millennials, LGBTQ folks, and gangster guys getting into vaping for the first time, which is really cool." 
7:31 p.m.

As sailboats glide over Bde Maka Ska, four lakeside breakdancers perform to beats coming from a Bluetooth boombox.
7:34 p.m.
The longtime proprietor of Psychic Reader on Lake greets us, asking if we'd like a tarot card reading. When informed we'd just like to chat, she explains she's on a conference call. May we stop back when she's done? 
The mystic gestures casually but meaningfully toward the front door. "You can go ahead."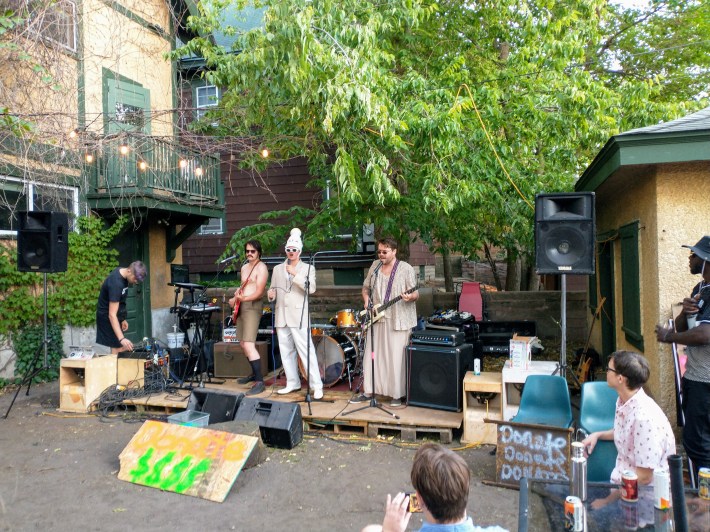 7:40 p.m. 
Just one block away from a $3.5 million condo overlooking Bde Maka Ska, a conspicuously ungentrified punk house sits next to Cal Surf on Lake Street. 
Stray High Life bottles line the cement retaining wall; a fancily groomed dog zips between a couple dozen casual showgoers gathered around a ramshackle stage. Every Friday, from "7 to 9:50-ish," this side yard becomes a venue for local bands playing for donations—a DIY holdover from when live music ruled Uptown.  
"It's great, I love it right here," says Jane, who splits the $2,400 rent with two roommates. "I got carjacked at gunpoint at 28th and Irving in July, they stole my car, but like… it was fiiiiiiiine. I just looked at him like, 'Excuse me?' He tries to pull my phone out of my hand, like, asking the password. I was like, 'You can't have my phone!' I still don't feel unsafe; I love Uptown." 
8:10 p.m.
The boards covering the storefront of Bobby Bead on Hennepin are an epic collage of laminated sheets. Vying for space are posted store hours and updates ("New Wood Door! Sorry! Due to 'Social Unrest'"), sales announcements for Christmas and Easter, and haunting drawings (presumably by children), including a Batman-like devil creature in a bowtie and a disconnected head and a grinning skull creature in what appears to be a straitjacket. 
8:58 p.m.

Upwards of 25 motorcycles roar through the Hennepin and Franklin intersection, where we really start pushing the geographic definitions of Uptown. We return south.
9:05 p.m. 
Another victim of the pandemic: the Walkway Apartments' glass-bottomed hot tub, which extends over the sidewalk along Lake. This dubious luxury has always struggled, leaking rusty juices that christen the masses below and stain the walls red. It now sits empty, in desperate need of chemical descaling.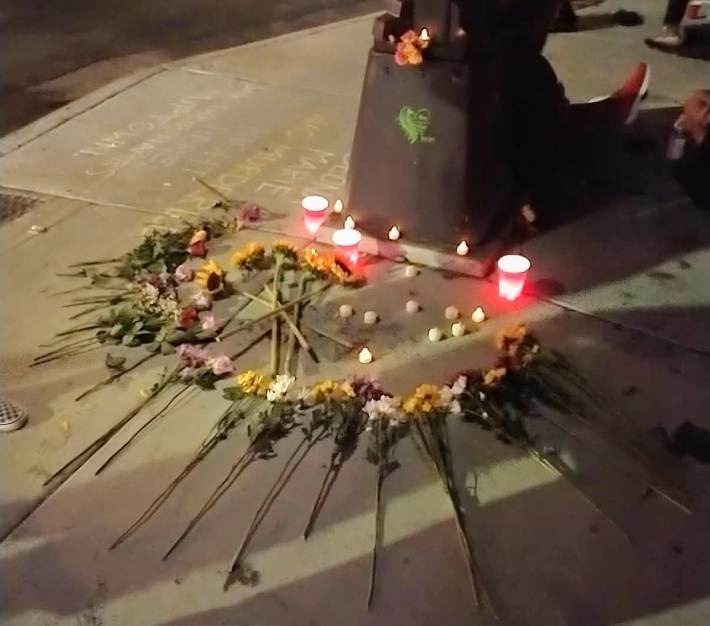 9:44 p.m.

"Hi, go fuck yourself!" 
On the Lake Street sidewalk, an activist who goes by Badger cheerily greets a security guard peeking from the upper level of a parking ramp where, on June 3, a task force led by U.S. Marshals shot and killed Winston Smith. Ten days later, a speeding motorist intentionally rammed into a crowd of demonstrators on Lake, killing Deona Marie Knajdek.
It's the two-month anniversary of Knajdek's death, and around 20 activists have gathered to serve free tacos and hand out fliers about the killings. Their candlelight vigil presses against concrete barricades and fencing that encircles a vacant lot owned by Seven Points Uptown, who recently bulldozed a community garden the activists had cultivated there. 
"We were growing flowers and vegetables for the community—like, ya know, terrorists do," Badger says. "They didn't like the optics."
Now, a spirit of protest coexists with weekend barhoppers, donut-spinning drivers, and luxury apartment dwellers. 
"Most of the Uptown party crowd doesn't give a shit," Badger says, adding that residents of the luxe complex across Lake Street laugh, throw things, and view the protests as a spectator sport. "For them, it's more exciting than watching fucking Big Bang Theory." 
10:28 p.m.

"When kids start fighting, we engage them and calm them down," says Kiro, who's roaming Uptown with her MinneapolUS outreach group, all wearing unmissable orange T-shirts. "We try to get there before the police who can escalate; we show them love."
10:35 p.m.
Bouncer denies unnamed reporter entry into Pourhouse due to Teva sandals.
10:44 p.m.

Commiserating about reckless drivers with a man who's either very drunk or slightly European.
11:30 p.m.
The crowd that spills on to the Hennepin sidewalk outside Reign, situated in what was once the Beaux-Arts-y Walker Library, is a sartorial cross-section of Uptown clubgoers, some as elegant as the woman in matching pink puff-shouldered jacket and tight slacks, some as casual as the fellow in Hawaiian shirt and shorts. Two cops lean against their car nearby.
Saturday
12:14 a.m.
Now properly shod, we return to the Pourhouse, entering just as "Bodak Yellow" gives way to "W.A.P." (There's apparently no rule about having a bike helmet clipped to your purse.) The bar's full but not cramped, lively but not messy, and everything the ball-capped DJ spins is loud as hell. You can work your way through the crowd without much effort, though getting downstairs from the upper level can take a while if the lady in front of you stops to use the railing for a sexy little impromptu dance.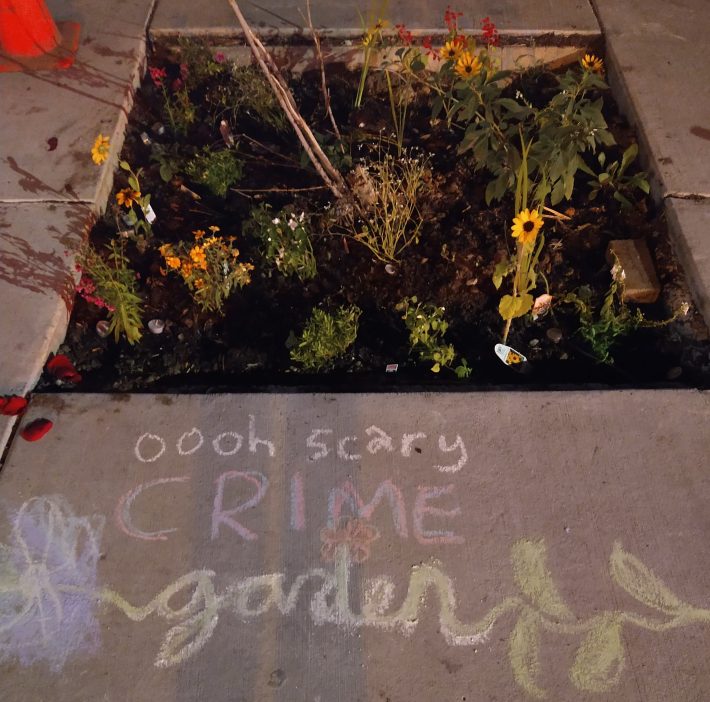 12:37 a.m.
No more free tacos. The activists on Lake are packing up for the night, leaving behind chalk messages, a small garden, a newly constructed shrine, and a thin drool of accusatory blood-red paint. After a thoughtful discussion of the situation, one young woman, exasperated by the prison-camp fencing that encases the adjacent vacant lot and the incessant flood lights that glare across it, finally bursts out in slangy frustration at the security forces: "They're just so... extra!"
12:50 a.m.
On the rooftop bar at the Uptown Tavern, women pluck petals from the flowers decorating the handrails and toss them to passersby. One man lifts his shirt to flash them, Mardi Gras style. Right here on Lagoon Avenue, gender is being deconstructed. 
1:10 a.m.
Though the main drags are full of people and noise, the neighborhood streets are sleepy and silent. Still, there are signs of life: a couple walking home, a dude on his bike, a rabbit running for its life, folks speaking in hushed tones while having a cigarette on their stoop. There are dubious parking jobs and some magically lit backyards. Christmas lights are a year-round thing around here.
1:30 a.m.
Just a few blocks from the rowdier nightlife, the bar in the newly refurbished Granada on Hennepin is another quiet retreat. One of the semi-regulars turns out to be owner Amy Reher, who proudly shows off the beautifully restored theater.
2:03 a.m.
"I love my Black queens," a drunk white man says. "But I buy them rounds and they still don't fuck with me." The bars are closed, the sidewalks on Lagoon are full, and a Black man offers the would-be interracial suitor some advice I don't get to overhear because Abraham has strolled over to find out what's up with the notebook I'm scrawling in. Once he's reassured that I'm legit and informed of my mission, the Mexico City-born Gabriel García Márquez fan shares his opinion on Uptown. "It's changed." How? "Just... changed. It's all changed." Three people push a grocery cart past, a life-sized cloth doll with traffic cones for a head wedged into the kiddie seat.
2:14 a.m.
As I head along Hennepin toward Lagoon, a big guy shouts and whomps my Arizona iced tea to the sidewalk as he passes. I pick up the can, dented from impact, and turn the corner—where my beverage foe awaits, with a second whomp. "I'm not picking it up again," I say as I continue on. "You learned your lesson!" he shouts, overjoyed. His friends ply me with a bottle of Remy to make amends. Can't they see that I'm working?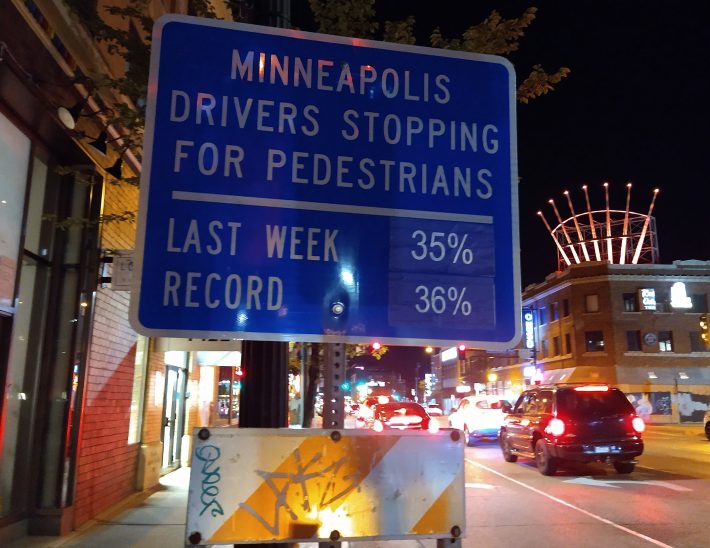 2:29 a.m.
Speeding north on Hennepin, a car swerves into the wrong lane, sideswipes someone headed in the other direction, and never slows down. Tonight we'll also see one driver back into a parked car and flee, lots of close calls, and a whole mess of reckless automotive nonsense. Hard not to conclude that the quickest way to improve public safety in Uptown would be to close it off to traffic on weekends. Just sayin'.
2:45 a.m.
"A G Wagon? I would fuck you for a G Wagon." 
3:15 a.m.
The line for the McDonald's drive-thru is backed up to both Lake and Lagoon, two streams of cars and trucks feeding into the last fast-food option remaining nearby. "Minnesotans are racist," says Tre, who's waiting for some friends. "Not sneaky-racist. Just plain to-your-face racist." A mortgage banker who relocated from California to Lake Elmo, he's celebrating his 27th birthday. "You own a house?" he asks before he and his friends drive off.
3:45 a.m.
Tony and Harry aren't just panhandling—they're peddling wares. After I make an equal initial contribution to each, Tony shows me what he has for sale, sifting through two reusable shopping bags to produce a pen-light, a set of jumper cables, and hand sanitizer. If I'd needed any additional supplies tonight, I'm convinced it'd be somewhere in there. After a few moments of unsuccessful bargaining, Tony relents, thanks me for my patience, and hands over a free orange.
4:20 a.m.
A lone skateboarder rolls along Lake Street. Everyone who came to Uptown to party tonight has already decided who they are or are not sleeping with.
4:35 a.m.
Uptown remains calm, all but deserted, silent except for the murmur of air conditioning units and a few cars. It's times like this you have to wonder, "How early does a place with a public bathroom open around here on a Saturday morning?"
5:04 a.m.
Siren blaring, a cop car races down Hennepin, turns east on Lake, and races away.  
5:38 a.m.
A McDonald's drive-thru worker describes the graveyard shift as "fucking hectic," noting that he observed a 14-person brawl hours earlier on Lagoon Avenue. 
"These kids have no morals, and it's getting worse—someone pulled a gun on me last week in the parking lot," he says. "But hey, it's a job."
He cheerfully gets back to work. "Can I take your order?"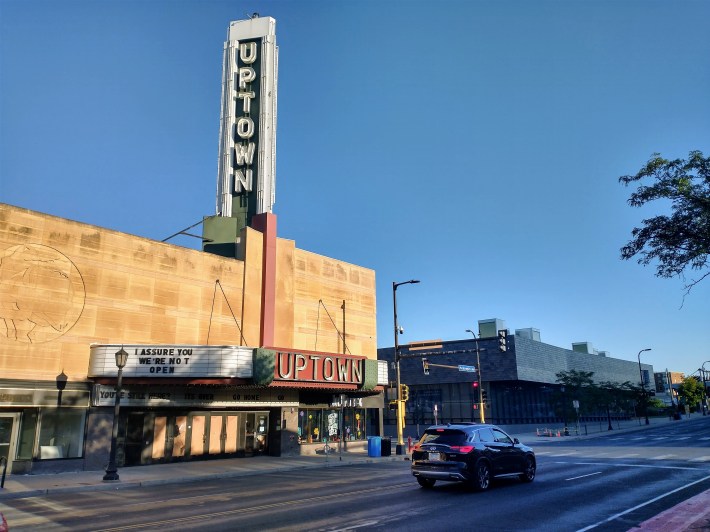 5:58 a.m.
As the sun rises, a large man lets a tiny chihuahua take a morning pee on an e-scooter.
6:38 a.m.
"The fish on this lake? They don't start biting till 7," one fisherman tells another at the Bde Maka Ska boat launch.
6:51 a.m.
"Uptown… they try to keep it nice," says J.C., a MetroTransit worker repairing a shattered bus shelter outside of the Cub Foods on Lagoon. "These shelters, I never found out what they did to anybody—they beat the heck out of 'em." 
7:25 a.m.
On Humboldt, separated by just a few houses, you'll encounter a yard with a comically huge Adirondack chair (not for sitting in, a sign warns) and a hot-pink stand offering lemonade for a quarter (not open at this hour, unfortunately). 
7:43 a.m. 
Affluent-seeming apartment dwellers descend to the streets with their dogs; a jogger darts past the shuttered Cowboy Slim's; members of CycleBar begin to trickle in. After last night's debauchery, Uptown is all about health this morning.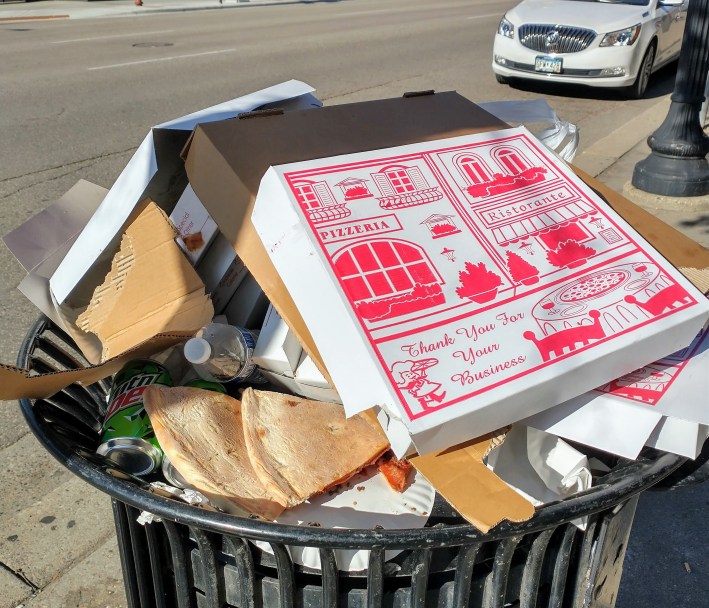 8:06 a.m. 
The garbage bin outside Mesa Pizza, crammed high with boxes and slices, smells sweetly of 'za. 
9:33 a.m. 
Since when has there been a Gray Fox Coffee in Uptown? (Since March, according to one of the baristas.) In the courtyard outside, complaints about office life are overheard. "It's like, all Brians and Charlies," a guy in a baseball hat says. "Our email chains are a mess."
9:55 a.m. 
Chino Latino may be no more, but its sign remains, glittering in the morning sun like the twinkle of a long-dead star.
10:01 a.m.
The first folks are sitting down on Amore Uptown's rooftop deck, where "Don't Stop" plays from the speakers and washes over the street-level chatter and clinking forks below at Barbette. Most of the bistro's sidewalk tables are already full; a small white dog hangs out under one, looking up hopefully for a snack. 
10:15 a.m.
Someone's brushing their hair on the Pourhouse patio, using the window as a mirror. They walk over and ask, "Excuse me, is it straight? Is the back of it straight?" Assured that it is, they whirl around to give me a high five.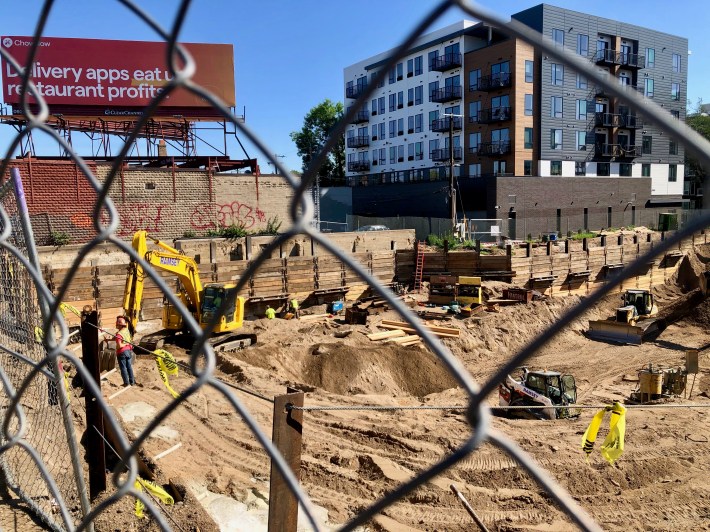 10:20 a.m.
The cursed lot near the Uptown Transit Station where so many restaurants have struggled and failed is now a construction pit. A crew works with jackhammers and a backhoe. "Hey!" a worker in a red hat and yellow vest hollers over the din. "Make it a good day!"
10:26 a.m.
The line outside Isles Bun and Coffee is 32 people and two dogs deep, and the smell of cinnamon is amazing enough that it feels like a reasonable wait. 
10:49 a.m.
As a U-haul rounds the corner, its gate bounces open to reveal a single mattress. Our warnings unheard, the truck heads down Colfax. Hope that mattress got where it was going. 
10:53 a.m.
No one is touching the slides at Mueller Park, the kind that glint maliciously like they're made of tin foil and give third-degree burns on contact. The swings are a much more popular option. "Not that high, buddy. You'll break a leg or something," a father warns. On the ground, another kid asks her friend, "Do you want to play 'Nightmare?'" Atop a small grassy hill at the park's fringe, a group of 12 or so people do yoga.
11:59 a.m.
Early-rising bowlers occupy just one lane at Bryant-Lake Bowl, but most of the seats along the rail are taken. A server helps push together two tables (one rectangular, one round) to make space for a group of six in the small dining room. "This is apparently how you seat this many people at Bryant-Lake Bowl," one member of the party laughs when their friends arrive.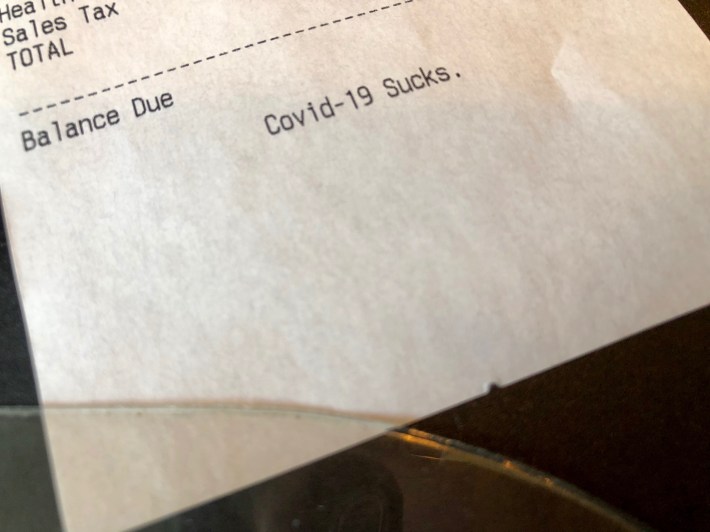 12:17 p.m.

The crosswalk in front of Penzeys Spices on Hennepin remains a contender for "least observed crosswalk in Minneapolis."
12:51 p.m.
Signs of last night's parties and drunk walks home line the streets and sidewalks of Lyndale Avenue. The garbage outside of the dog salon is especially classy, however: a bottle of Remy Martin V.S.O.P. In a nearby lot is an amazing car dedicated to Black Panther.
1:15 p.m.
Two men tip their camo hats at each other from across the Uptown VFW's front bar, while a bartender with two of the most amazing Mom and Dad tattoos (a Tapatío bottle for Dad, Cholula for Mom) pours drinks. Twin Town is hosting a showcase in the entertainment hall; "Portions for Foxes" and "Rockin' in the Free World" spill out into the main room, soundtracking the football and cheerleading competitions on TV. A patron shows off a pipe he just bought—a spoon pipe, one of those pretty glass ones with lots of beautiful details. Out on the patio, two dudes passionately discuss weightlifting.
2:31 p.m.
Just a few groups dot the picnic tables outside Milkjam Creamery, but on the same block, secondhand shoppers swarm Buffalo Exchange. Staffers here are trying to figure out what the heck they should do for an Instagram post that day. "Should I Google what the kids are into?" one says, and laughs. 
2:40 p.m. 
The Lyn-Lake arcade bar Up-Down is busy, as usual. A few bros do shots, but it's mostly couples, friends, and loners huddled around their game of choice. Batman: The Animated Series is on about half the TVs, while A League of Their Own is on the others. A friendly man recommends the blueberry cider. "It's real pure," he says. "It's not too intense or overpowering either."  He also has a warning about the Jurassic Park game: "That one has been giving people trouble, There's something about the ramp and the flippers on the left side that is sticky, and it needs some work."
3:05 p.m.
No line at Isles now, but the smell of cinnamon remains.
3:30 p.m.
It's anal sex week at Smitten Kitten.
3:42 p.m. 
"I don't know why," a woman answers her walking partner, who's perplexed by the fact that the Granada has both a marquee and cafe tables. "I think maybe it used to be a theater." 
4 p.m.
Traffic swerves to avoid three guys in tie-dye who tried and failed to cross Lyndale in the middle of the block, just north of Lake. They wave at passing cars like royalty.
4:59 p.m.
When the pandemic shut businesses down in March 2020, the Uptown Theater upheld its reputation for timely cleverness by slapping relevant lines from Clerks and Ferris Bueller's Day Off on its marquees. This summer the theater's owner, Landmark, was evicted, and those two quotes—"I assure you we're not open" and "You're still here? It's over. Go home. Go."—became the Uptown's inadvertent epitaphs. If we were pessimists, we'd use this image to sum up the state of Uptown as a whole. But for all the mayhem we weathered, disrepair we witnessed, and iced tea we spilled, we found that Uptown remains the kind of place every city needs, where people who rarely interact with each other have to learn to coexist, a space whose identity is constantly remade by those who pass through. It's not over yet. We assure you.
Stay in touch
Sign up for our free newsletter