Music
Count Down to Memorial Day With Your Complete Concert Calendar: May 23-29
Pretty much all the live music you can catch in the Twin Cities this week.
12:28 PM CDT on May 23, 2023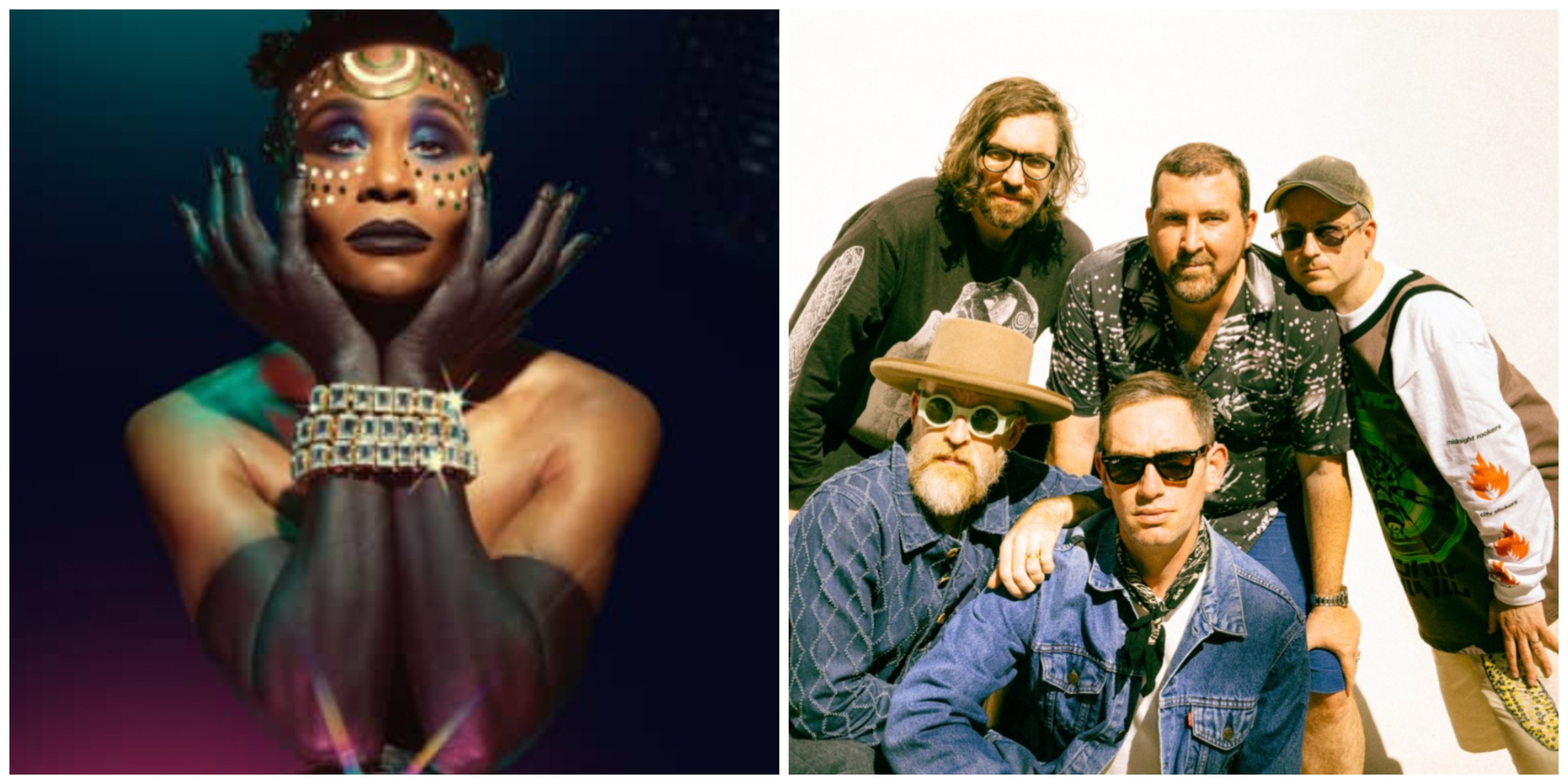 It's highly inconvenient, to say the least, that Tuesday the most exciting day for live music this week. But there's plenty to do on the non-Tuesdays this week too, culminating in the perfectly named Caterwaul Fest that takes over Mort's and Palmer's this weekend.
Tuesday, May 23
International Reggae Allstars @ Bunkers
St. Dominic's Trio @ Driftwood
Fenne Lily and Christian Lee Hutson with Work Wife @ Fine Line
Elskavon with Jacob Pavek and Syvers @ Icehouse
COLD with Divide The Fall and Sygnal To Noise @ 7th St Entry
April Conspiracy Series featuring theyself, Mike Munson @ 331 Club
Worker's Playtime, Sherry Minnick @ 331 Club
DREAMERS and Robert DeLong with CARR @ Turf Club
Trevor McSpadden & Mary Cutrufello @ White Squirrel
Residency, Thy Name is Jeremy @ White Squirrel
Wednesday, May 24
Maggie's Wednesdays: Mia Dorr @ Crooners
Russians Against War, My Buddy Eric @ Driftwood
Molly Dean + Joe George @ Icehouse
Prairie Clamor, Larry Wish, Alonzo @ Mortimer's
Becky Kapell with Gini Dodds @ Palmer's
Bazookatooth, Hallux, Identity Criss @ Pilllar
Trash Panda with Nordista Freeze @ 7th St Entry
Harold's House Party on KFAI with the Ditchbillies @ 331 Club
Nights With Tim @ White Squirrel
Thursday, May 25
Toussaint Morrison + Roz @ Aster Cafe
Jay Bee & the Routine @ Bunkers
Ondara with Kiely Connell @ Cedar Cultural Center
PK Mayo Acoustic Trio (CD Release) @ Crooners
Divas Through the Decades @ Crooners
Sad Machine, Xmas on Neptune, Waar Party, GOV @ Driftwood
Bones, Xavier Wulf, Eddy Baker @ Fillmore
Jeremy Harvey and Bad Dad Band @ Green Room
EDU Youth Film Festival Presents "Soundtracks" with Parachutes, Dial Tone, and Aiden Intro @ Hook and Ladder
Retroreflector with Brandon Wozniak & Mike Wolter's Early Planets Trio @ Icehouse
Virgin Whores & Guests @ Mortimer's
Mozart's Paris Symphony with Jonathan Cohen @ Ordway
The Front Porch Swingin' Liquor Pigs @ Palmer's
Ice Climber, River Sinclaire, Anita Velveeta and Desert Liminal @ Palmer's
Waldemar with Aldrich and The Nunnery @ 7th St Entry
Ricardo Arjona @ Target Center
Minneapolis Songwriter Round with Hibah Hassan, Clare Doyle, Rose Dennis. Emily Albert-Stauning @ 331 Club
All The Pretty Horses, The Silent Treatment, Butter Boys, and Surly Grrly @ Turf Club
David von Schlegell with Francis Emil Johnson, The Sparks @ White Squirrel
Friday, May 26
Nathan Griner + Boots & Needles @ Aster Cafe
Chase & Ovation: The Music of Prince @ Bunkers
Wayne Anthony Jazz Ensemble with Lucia Sarmiento @ Crooners
Maggie's Afterglow: Chris Lomheim with Colleen Raye @ Crooners
Dylan Night, Curt Copeland @ Driftwood
Drew Simon & Friends @ Eagles 34
Mechanix feat Echo Brown, Defecks, Ren @ Eagles 34
Summer Breeze Yacht Rock Fest @ Hook and Ladder
Cariah Brinaé Birthday Bash 2023 @ Hook and Ladder
All Terrain Vehicle @ Icehouse
Curtis Salgado @ KJ's Hideaway
Mozart's Paris Symphony with Jonathan Cohen @ Ordway
Luke Callen, The Foxgloves, Long Mama and Wolf Van Elfmand @ Palmer's
The 241's and Jeffrey Robert Larson @ Palmer's
Star Student, Anita Velveeta, Brave Room Terrified @ Pilllar
Kate Malanaphy with Trash Date, Marvelous and Greta Ruth @ 7th St Entry
The Black Dahlia Murder @ Skyway Theatre
Dave's Manual, Kylie Nova, The Owl-Eyes @ 331 Club
Spring Dreamin' @ The Treasury
Desperate Electric, Vinny Franco, Beneath Green, and ELOUR @ Turf Club
New Confusion, Civil Decline, MOLD, & RiGBY @ Underground Music Venue
Subhumans, War//Plague, Cop/Out, & Surrogates @ Uptown VFW
The Collaboratory 4th Fridays @ White Squirrel
Saturday, May 27
Scott Zosel (Album Release) @ Aster Cafe
36-Year Anniversary with Dr. Mambo's Combo @ Bunkers
The Andrews Sisters: Music and Memories @ Crooners
The Brian Grivna Quartet @ Crooners
Mick Sterling Sings Bruce Springsteen @ Crooners
Erin and Jay Cabaret @ Crooners
Maggie's Afterglow: Rick Carlson with Dennis Spears @ Crooners
The Dreamrunners. Boxcar @ Driftwood
Cindy Lawson, Whiskey Rock and Roll Club @ Dusty's
Kat Dahlia with Sinego @ Fine Line
Watsky with Abhi the Nomad and Feed The Biirds @ First Avenue
Lady Midnight, Fanaka Nation, Kwey @ Green Room
2nd Annual Reggae Summer Splash with Socaholix / Innocent / International Reggae All Stars @ Hook and Ladder
Cornbread Harris Ensemble @ Icehouse
Zacc Harris Group with Steve Kenny's Trio, Not Trio @ KJ's Hideaway
AFK X CROWELL X ZUBAH X DRIPPY @ The Loft
Mozart's Paris Symphony with Jonathan Cohen @ Ordway
Remixer with DJ Jen-E @ Palmer's
Bad Decisions with John Murph, Adrian Loving and Pour Hommes @ 7th St Entry
13 Arrows, Cassandra Cole, Kylie Weber @ 331 Club
The Riffin' Trio and Hemma @ Turf Club (Clown Lounge)
Power of Love – A Throwback 80s Rave @ Turf Club
Arkangela, AfterTime, Once Around, and Morningstar @ Underground Music Venue
The TJD Trio with Dilly Dally Alley, Bryan Lowree, Becca Tremmel @ White Squirrel
Sunday, May 28
Conway the Machine with Sauce Walka & Jae Skeese @ Amsterdam
Swing Brunch with Patty & the Buttons @ Aster Cafe
Honky-Tonk Jump: The Texas Swing Music of Bob Wills @ Crooners
Mick Sterling Sings Van Morrison @ Crooners
The Andrews Sisters: Music and Memories @ Crooners
Shaun Johnson Big Band Experience @ Dakota
Phine Friends, Shotgun Ragtime @ Driftwood
Elder with Ruby the Hatchet and Howling Giant @ Fine Line
Johnny Sincerely Orchestra @ Granada
Kai Brewster's Millions @ Green Room
Mubbla Buggs (Video Release) + Betty Won't @ Hook and Ladder
Vlad Messing & Friends @ Icehouse
Taylor Robert (Album Release) @ KJ's Hideaway
AK Fields with Obi Original, OAOJOOO, A.K.A. Kobi @ 7th St. Entry
Mary Cutrufello @ White Squirrel
St. Paul Songwriter Rounds @ White Squirrel
Monday, May 29
Argiflex VS. Amy Bestevez @ Amsterdam
The Beatles Reimagined @ Dakota
Maria and the Coins @ Lake Harriet Bandshell
Big Mike & the Funktion @ Lake Harriet Bandshell
Auto-Tune Karaoke @ Mortimer's
The Roe Family Singers @ 331 Club
Matt Arthur Contraption @ 331 Club
Sciurus Sequencia: Jazz and/or Creative Music Series w. 5ifth House @ White Squirrel
Stay in touch
Sign up for our free newsletter