Events
Art in Bloom, CANDY BOX Dance Fest, Charly Bliss: This Week's Best Events
Also, where to go if you need to borrow a puppet.
11:51 AM CDT on April 24, 2023
Welcome to Event Horizon, your weekly roundup of the best events in Minneapolis and St. Paul.
MONDAY 4.24
CANDY BOX Dance Festival
Southern Theater
Now in its seventh year, CANDY BOX is an easy introduction to a variety of midwest dance makers, as well as a chance to check in with your favorites. Organized by Mathew Janczewski's ARENA Dance, this festival offers dance in three forms: short, "happy-hour" sets featuring emerging artists; longer evening performances from established artists; and $10 masterclasses, for those who want to try this moving thing for themselves. Featured dancers include Honeyworks founder Berit Ahlgren, a purveyor of Gaga dance, which encourages improvised/instinctive movement; Megan Mayer, whose modern style plays off of tiny moments and big emotions; and Chicago-based J'Sun Howard, whose work focuses on showing compassion, support, and love between BIPOC men. $12-$25. 1420 S. Washington Ave., Minneapolis; find the complete schedule and purchase tickets online. Through Saturday—Jessica Armbruster
TUESDAY 4.25
Hiatus Kaiyote
First Avenue
Dan Charnas's smart 2022 book on the life and art of the gone-too-soon J Dilla, Dilla Time, ends with a survey of the revolutionary hip-hop producer's far-flung influence, which reached some unlikely places. Among those is Australia, where Dilla's rhythmic innovations played a key role in the sound of a truly odd little outfit called Hiatus Kaiyote. Odder still, the music made by singer Nai Palm, bassist Paul Bender, keyboardist Simon Mavin, and drummer Perrin Moss found its way back to U.S. listeners. They not only secured multiple Grammy nominations (in the R&B category) but were sampled by Kendrick Lamar. Their 2021 album, Mood Valiant, showcases the idiosyncratic identity they've formed from their influence, capturing some of the mood of late '90s neo-soul and grooving to a beat that's smooth but rarely laidback. $35. 8 p.m. 701 N. First Ave., Minneapolis; more info here.—Keith Harris
WEDNESDAY 4.26
The Moth StorySLAM
Parkway Theater 
Anybody who has listened to public radio or watched season five of HBO's Girls should be familiar with the The Moth concept: Open-mic storytelling based on a theme. This go-'round, the theme is "CLEAN." And no, the prompt has nothing to do with suppressing vulgarities. In fact, organizers have kept the guidelines intentionally vague: "Prepare a five-minute story about spotlessness. Leaving your vices behind, purity through virtue, or coming out unscathed. Germaphobes or slobs. Colossal messes or confessions. The tidy and the untainted. Mr. Clean in the house!" Inspired and/or curious? These monthly StorySLAMs are a reliable hoot. $15. 6:30 p.m. 4814 Chicago Ave., Minneapolis; find more info here.—Jay Boller
THURSDAY 4.27
Art In Bloom
Minneapolis Institute of Arts
Every spring, Mia challenges local florists with the task of recreating works in the galleries using greenery and flowers. The resulting pieces are kinda fascinating, demonstrating that most art, whether someone is pushing paint or arranging flora, still has to respect certain rules of composition and design. Pieces will be on display throughout the weekend (though it's best to get there earlier before the wilting begins). Admission, as always, is free, though there will also be a variety of related events that are ticketed, including a workshop on pollinator gardens and a benefit sneak-preview party. The celebration concludes with (free) kid-friendly fun on Sunday afternoon. Find all the details here. 2400 Third Ave. S., Minneapolis. Through Sunday—Jessica Armbruster
Dining Out for Life
Various Locations
It's a great day to dine out! Dining Out for Life, the annual fundraiser that supports AIDS service organizations (Aliveness Project, here in Minnesota) takes place all day on Thursday. Some restaurants—J. Selby's, The Herbivorous Butcher, Nicollet Diner, Mother Clucker's Pizza, The Dripping Root—are even donating 100% of sales from the day. Lots of others—Wise Acre Eatery, Moto-i, Foxy Falafel—are donating between 20-50% of their sales. Find participating restaurants near you here, and if ya can't make it, there's always the option to donate directly here.—Em Cassel
FRIDAY 4.28
Russ White: Harder Not Smarder
JOYCE
Russ White's portraits are colorful, contemplative, and, sometimes, terrifying. They can be hyper-realistic or abstract–sometimes in the same piece. For this five-year retrospective of sorts, titled "Harder Not Smarder," the MPLSART.com senior editor will share pieces both new and old, from pre-pandemic times through the uprising, elections, insurrection, and all the other chaos we're living through these days. The pop-up art show will also be a celebration of JOYCE, a creatives' studio that specializes in digital projects and company branding, which is turning 13 this year. There will be a public reception this Friday, April 28, from 7-11 p.m. 114 N. 3rd St., Minneapolis. Through May 3 (by appointment)—Jessica Armbruster
The Power of Drag: Sasha Velour
Mall Of America
While drag is one of the world's oldest professions, it's having one of its biggest moments in popular culture right now. "Drag is advocating for changes to happen in society, to make room for more kinds of voices, for different kinds of art, different kinds of queer people to be in the spotlight," explains Shasha Velour of drag's popularity in an interview with Vulture. Velour, the gender-fluid Season 9 winner of RuPaul's Drag Race, will be in town to celebrate the publication of her book, The Big Reveal: An Illustrated Manifesto of Drag, which includes a history of drag, from the Mesolithic Age to 2023, as well as stories from her life. Friday's event will also include a performance, where she'll take the stage along with Mercedes Iman Diamond, Dida Ritz, Dick Von Dyke, Sasha Cassadine, Luna Muse, and Queen Onya. As for the bigots who are trying to control things via legislation, protests, and hate crimes? They can suck it. "They've never stopped us from existing before," she says. "Things may be bleak and painful, but drag is still going to be here, and it's going to be fucking fierce." $30-$55; $110 VIP meet-and-greet. 6 p.m. MOA's Huntington Bank Rotunda, 60 E. Broadway, Bloomington; find tickets here. —Jessica Armbruster
Jimmy Pardo
Acme Comedy Co. 
This Chicago comic has been slugging it out in the clubs since the late '80s. As a performer, Pardo is a fast-talking, throwback, show-bizzy presence whose ability to drum up laughs feels second nature. Those skills have translated to a long and fruitful relationship with Conan O'Brien, who has employed Pardo as a warm-up act for his various TV shows. Alongside WTF and Comedy Bang! Bang!, Pardo's podcast, Never Not Funny, helped pioneer the comedy-nerd pod sector back in '06; it's still around and, as promised, still funny after 32 seasons. $22/$37. 7 & 9:30 p.m. Friday-Saturday. 708 N. First St., Minneapolis; find more info here.—Jay Boller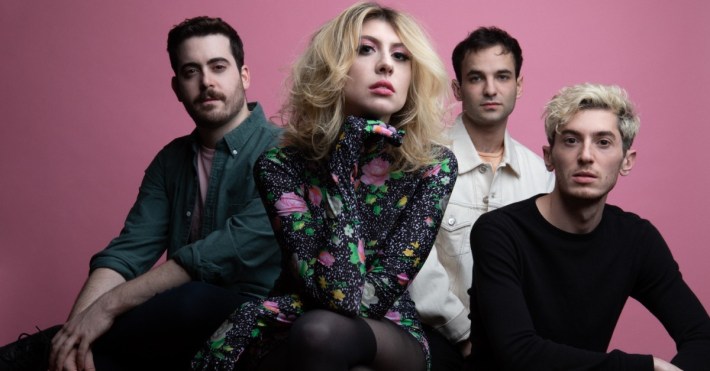 SATURDAY 4.29
Charly Bliss
Turf Club

Wanna feel old? It's been five years since Charly Bliss's most recent LP, the bubble gummy yet bitter Young Enough, and three years since their last headlining tour. Of course, anyone who sang along to Eva Hendricks's sugary-sweet confessions on the chorus of the ultra-catchy "Capacity" ("I'm at capacity/I'm spilling out of me") might have realized the Brooklyn power-pop quartet probably needed to take a little time to themselves. (There was also that whole… ya know.) Their return to the spotlight hasn't thus far included news of a new record, but what's the rush? It takes time to turn pain into candy-coated pop gems, as Hendricks & Co. do so well, and besides, they're still young enough. 21+. $18-$20. 8 p.m. 1601 University Ave W., St. Paul; find more info here.—Em Cassel
Nathan Hanson, deVon Russell, Davu Seru

Cedar Cultural Center

Toward the close of 2020, a wrenching year everywhere but especially in the Twin Cities, three gifted Minnesota improvisatory musicians gathered in an empty St. Paul church near the Capitol and recorded the music that would become We Sick. Three years later, this collaboration between deVon Russell Gray on piano, Nathan Hanson on saxophone, and drummer Davu Seru will finally be released, and its music revisited at this show. Cerebral but never abstract, with a searching quality to it, the music here acknowledges pain but never succumbs to it. At times, each musician seems to be working through his own private preoccupations, but still the improvisations hang together and elicit unexpected responses from each other—you could probably find a metaphor for the need to recreate community after the isolation of the early pandemic, or to refashion our ways of communication following the aftermath of George Floyd's murder. With Tish Jones. $17/$22. 8 p.m. 416 Cedar Ave. S. Minneapolis; find more info here.—Keith Harris
The HOBT Puppet Library 
Avalon Theatre
Easy access to puppets is not something we ever thought we wanted, but with this new program at In the Heart of the Beast Puppet and Mask Theatre, we're definitely glad to discover that we now have that option. As the name implies, the Lake Street organization now has a Puppet Library where you can check out puppets and masks just like you would borrow a book. Why the heck would you do that? Maybe you're a teacher; maybe you're an entertainer; maybe you're just bored. Whatever the reason, puppets and masks are now available for your creative whims. It's free to check out items and, if you're looking for a more professional experience, HOBT will also have transportation and puppeteers available for hire. This Saturday marks the grand opening of the library, which will host open hours the first and third Saturday of every month starting May 6. Come see the current collection (they plan to add new pieces throughout the year) and chat with puppeteers. Free. 10 a.m. to 2 p.m. 1500 E. Lake St., Minneapolis; click here for more info. —Jessica Armbruster
CSA Fair
Seward Community Co-Op
The weather's been so shitty that it feels impossible, but yes: We're already at the end of April. And that means if you were thinking about signing up for a CSA this year… well, the time has come! As it has for the last 20+ years, Seward Community Co-Op will help ya out by bringing 20+ farms together so you can chat with farmers and decide which CSA share is right for you. This year's gathering doubles as a welcome party for the co-op's new GM, Ray Williams, the first Black GM in the co-op's 50-year history. There'll also be activities for kiddos, with treats, prizes, and more. Find additional info on Eventbrite (registration isn't required to attend). Free. 11 a.m. to 2 p.m. 2601 E. Franklin Ave., Minneapolis.—Em Cassel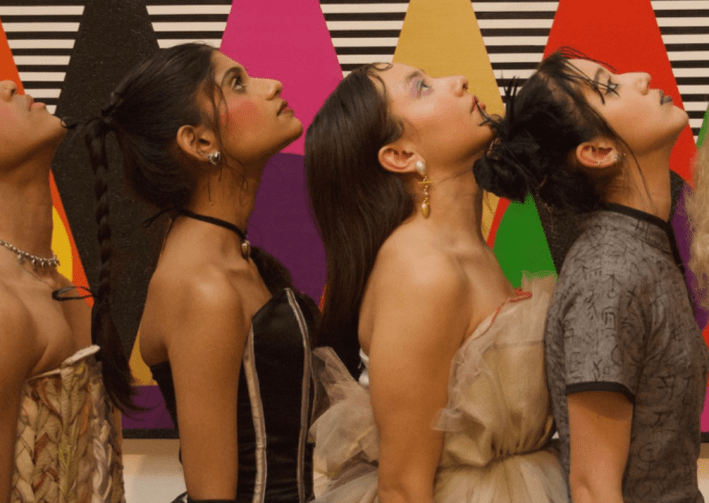 ONGOING
Fashion Week MN
Various Locations
Twice a year–about 10 days in the spring and 10 days in the fall–fashionistas, shop owners, designers, and more come together for Fashion Week MN, a fest filled with runway shows, special sales, panel talks, and cocktail hours celebrating our local scene. This spring's installment is loaded with casual parties and shopping ops, all covering timely themes and topics. A few highlights: Rose and Bull's New Millenium (April 23) will showcase vintage looks from the Delia's era, Northern Lights (April 25) highlights Indigenous makers from all over the U.S., Coalesce (April 28) features AAPI and BIPOC talents, and the fashion fest finishes things up with a glam party at the Museum of Russian Art (April 29). Most events are ticketed; you can find the complete schedule online. Through April 29—Jessica Armbruster
Minneapolis-St. Paul International Film Fest
The Main Cinema
For the past 42 years, MSPIFF has brought a mind-boggling number of films to Minnesota. We're talking about movies from over 50 countries in over 50 languages. Whew. Special collections include dives into new Asian, African, and Latino cinema. There's a showcase celebrating women filmmakers, another focuses on LGBTQ flicks, and yet another is all about Minnesota makers. Highlights include Dreamin' Wild, Bill Pohlad's latest directorial effort examining the late in life success of Donnie Emerson; and It's Only Life After All, a documentary covering the 40-plus year careers of Indigo Girls Amy Ray and Emily Saliers. There's also a new movie about Mary Tyler Moore, and the buzzy Chevalier, about a Black violinist/composer who had a love affair–and falling out with–Marie Antoinette. Stay tuned at Racket: We'll be covering the fest, which is mostly taking place at the newly(ish) renovated Main Cinema, but will also be popping up at the Landmark Center and the Capri Theater. Check out the complete schedule online, read our cover story featuring recs here, and stay tuned at Racket as Keith Harris continues taking in as many screenings as he can. 115 SE Main St., Minneapolis. Through April 27—Jessica Armbruster
Saint Paul Art Crawl
Various Locations
Since 1991, the Saint Paul Art Crawl has been inviting people to explore the studios, galleries, and artists' lofts in our capital city. That makes it the longest running event of its kind in the nation. The crawl began as a Lowertown showcase, but over the years it has expanded and grown to encompass 10 different neighborhoods to be enjoyed over the course of about a month. Things kicked off last week with happenings on the West Side, Cathedral Hill, and Summit Grand. This week things are happening along West Seventh, with following weeks in downtown and Lowertown, and in South Como, Payne/Phalen, and Merriam Park. Hours vary per venue, but in general each weekend they are: 6-10 p.m. Friday; noon to 8 p.m. Saturday; noon to 5 p.m. Sunday. Find more details here. Through May 7—Jessica Armbruster 
Message from Our Planet: Digital Art from the Thoma Collection
Weisman Art Museum
Good news, everyone—it's spring. At least at the Weisman, whose spring 2023 exhibition, "Message from Our Planet: Digital Art from the Thoma Collection," opens this week. Inspired by the Voyager 1 spacecraft, which was used as a repository of human culture on Earth, the idea is to offer a sort of time capsule from artists working in digital media to the people of the future. To that end, the exhibit gathers the work of 19 artists who use software, video, and light technology as their media. Among those featured are Hong Hao, Jenny Holzer, Lee Nam Lee, Christian Marclay, Tabita Rezaire, and Robert Wilson. 333 E. River Pkwy, Minneapolis; find more info here. Through May 21—Keith Harris
Fluidity: Identity in Swedish Glass
American Swedish Institute
Glass artist Jo Andersson doesn't just want you to gaze upon her works. She wants you to experience them as a meditative tool for self reflection. "Being is a light installation which is intended to help bring individuals into the present moment," she says via artist's statement. "I wanted to create a safe space where viewers could lose themselves and fully experience the work as well as their responses to the work." So, what does that entail? At ASI, you'll enter a dimmed room full of glass sculptures filled with water. You'll be encouraged to use camera phones to illuminate pieces and place with the lighting. From there? Take some time for self reflection. (If nothing else, this show should make for some good visual ASMR.) In addition to Andersson's ambitious installation, the exhibition will also showcase pieces by female glass artists from the museum's permanent collection. Friday's opening night party will feature an artist's talk, live music, an outdoor glass and fire installation, and a hands on glass activity from 6 to 9 p.m. Tickets are $25. 2600 Park Ave., Minneapolis. Through May 28—Jessica Armbruster
Paul Chan: Breathers
Walker Art Center
Can those inflatable tube guys used to drive people to sales be art? If it's in the Walker Art Center then, yes, it can. But that would be oversimplifying the work of Paul Chen, a Hong Kong-born, Nebraska-raised, NYC-based writer, publisher, and artist. In the '90s and '00s, Chan garnered attention releasing videos, animations, fonts, and more, often for free on his website, nationalphilistine.com. These pieces explored pleasure, war, politics, and human interactions. But by 2009, he had burned out, tired of looking at a screen. Relatable. Five years later, after a brief, you know, "breather," he found a new way to explore movement and meaning without a computer, instead using physics, fabrics, and fans to create shapes that move about in interesting ways (and, thankfully, won't try to sell you a car).  You can see these kinetic sculptures at the Walker; the show will also include some video installations as well as pieces from his publishing company, Badlands Unlimited, which releases poetry, erotica, artists' writings, and more. 725 Vineland Place, Minneapolis. Through July 16, 2023—Jessica Armbruster
Stay in touch
Sign up for our free newsletter