Music
Meet the Minnesota Rap Superstar You've Never Heard Of
Born and raised in Rochester, MILF-loving rapper Yung Gravy gets played on Spotify more than Bob Dylan. Who is he?
6:59 AM CDT on July 27, 2022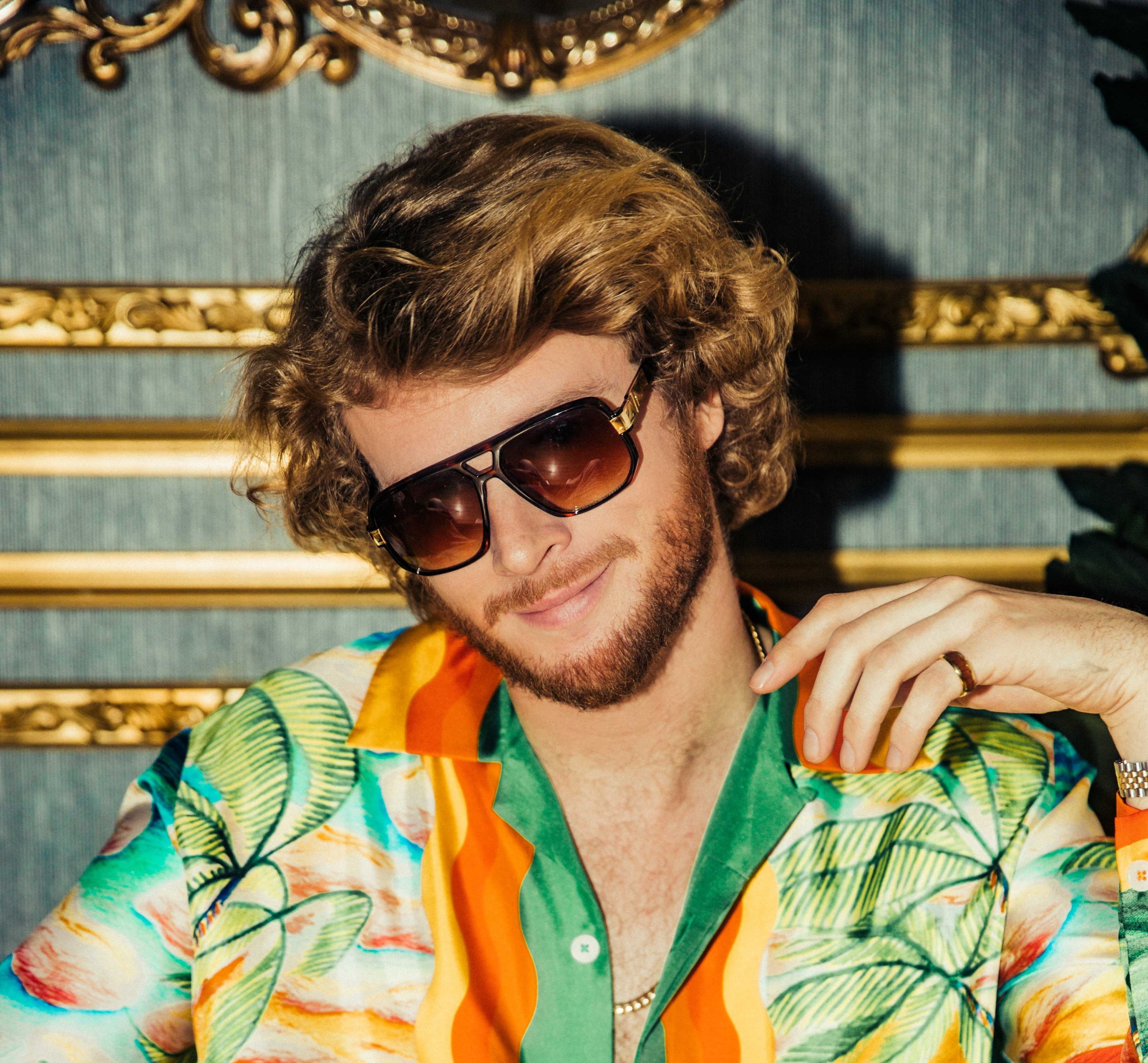 Some rappers want money, others preach a message. Yung Gravy? He's coming for your mom.
The 26-year-old MC made that clear when he arrived, almost fully formed, with the breakout SoundCloud hit "Mr. Clean" in 2016. Opening with a kitschy sample of the Chordettes' No. 1 hit from 1954, "Mr. Sandman," Gravy established his identity right outta the gate: soulful throwback samples, trap beats, a bassy, sing-song flow, and playful bars about money, swag, and, rather relentlessly, MILFs. In fact, "Mr. Clean," which has earned over 200 million Spotify plays and platinum certification with the RIAA, features the young rapper flexing his mommy kink five non-consecutive times. 
"I'm with your mom in the kitchen / Makin' blueberry muffins"
"Gravy, he be clean like Windex / Just hit your mom with my index"
"Posted with a MILF and her name is Charlene / Errybody wonder how she got the hygiene"
"Gravy, he be clean like Colgate / White MILF Charlene that's my soulmate"
"Your stepmom made me a pie / You can call me the Pied-Piper"
The formula has remained consistent. And it's working. 
With 9.6 million monthly Spotify listeners, Yung Gravy is not as popular as Lizzo (33.9 million), though he does fit snugly between Bob Dylan (8.6 million) and Prince (10.8 million). Over the past six years, the real-life Matt Hauri signed to Republic Records, achieved TikTok ubiquity, headlined the Armory, and collaborated with T-Pain, Juicy J, and Martha Stewart. In just the past month, he's added two timeless celebrity signifiers to his CV: His first single on the Billboard 100 and a leaked sex tape. His lyrical and, as we'll learn, literal horniness for mothers has remained a constant artistic throughline. 
Not bad for a kid from Rochester, Minnesota, who's mostly anonymous to music fans over 35.
"At this point if you're a rap listener or a college girl, you know of me," Gravy tells Racket during a phone interview that, proving his point, is interrupted three times by sidewalk selfie requests from fans. "It spreads out beyond the cult fanbase kinda slowly, because these hardcore fans spread things word-of-mouth; I don't really have mainstream radio music. Right now, it feels like I'm getting more attention from a lot more places than I ever have before."
Straight Outta Mayo High School
Born in 1996, Gravy grew up in downtown Rochester with his therapist mother, Cynthia, and world-renowned researcher father, Peter. The longtime director of Mayo Clinic's Sleep Disorders Center, the elder Hauri was "a psychologist who was among the first researchers to study the mysterious mechanics of a good night's sleep, and who established widely used guidelines for avoiding insomnia without drugs," reads his New York Times obit from 2013. The Swiss-born sleep expert was 79 when died, the result of a brain injury suffered during an icy fall.
"My dad passed when I was 16, which inspired me in a lot of ways. That led me to wanna go to college, to make him impressed," Gravy says, noting that pops was into classical and mom was into "mom music" like Elton John. "He did a lot for insomnia. He helped invent those little things on the side of the road, when you're gonna go off the road and it gets bumpy."
A "random but fun little accomplishment," he adds, accurately. 
At the time, Gravy was enrolled in Mayo High School, where he'd moved on from the Lil Jon and T-Pain of his tween years to Three 6 Mafia, Outkast, Curren$y, and other "stoner rappers." ("It's dope, because now I'm boys with T-Pain," he observes today with convincing nonchalance.) The youthful Gravy pursued music with the rigor of a researcher, digging deep into YouTube and Limewire to discover new rappers and old soul music, a buffet of sounds unavailable to previous generations without fiber internet access. Life was pleasant in Obama-era southeastern Minnesota. 
"Shit man, I had a good childhood," Gravy says. "Just a skater kid. Played lacrosse in high school. Used to sell weed. Rochester is a nice place, good people; everyone is on their healthcare stuff."
The rap persona was born in the woods of Longville, Minnesota, up between Brainerd and Bemidji, where Gravy was a counselor at Camp Olson YMCA. (His otherwise carefully curated online footprint still includes a LinkedIn page that hasn't been updated since.) Gravy and the other counselors would sneak off to freestyle, and the teenage MC stumbled upon the saucy name while spitting lines with his friends. It stuck.
Collegiate SoundCloud Star 
In 2014, Gravy would matriculate 200 miles east to the University of Wisconsin-Madison. The marketing major blew up with "Mr. Clean" two years later, inspiring the campus magazine to write a profile on "The Undergraduate Rap Star."
Gravy had already fine-tuned his aesthetic: a '70s-indebted, pimp-adjacent lounge cat rocking large collars, flowery shirts, and surplus robes. Lyrically, he doesn't have a lot to say—outside of clever wordplay applied to stacking dollars and banging MILFs—but neither does Post Malone. In an age of being thumped over the head with end-times dread on a loop, it's OK to turn that head off.
"I've always liked artists who have fun, creative bars," Gravy says, name-checking 2 Chainz and Young Thug. "That's my personality: Saying what everyone else is saying, but in a better, more creative, smooth way." 
While in college, Gravy became part of the SoundCloud movement that also catapulted peers whose styles differed dramatically from the hyper-catchy, lighthearted, almost parody-rap of "Mr. Clean." A gloomy combination of emo-rap and trap came to define the scene that produced Lil Pump, Playboi Carti, and Lil Yachty. Medicating one's emotional pain into oblivion was a frequent lyrical topic. "That was the main topic of discussion at that time: Perc, Xannies, people just doing ignorant, distorted beats," Gravy says. Those dark themes often bled into the lives of the era's SoundCloud stars, many of whom died young, including Lil Peep (2017), XXXTentacion (2018), and Juice WRLD (2019). Gravy considers all the aforementioned rappers to be part of the same "graduating class," and cites them as core influences who made him "go hard at music." 
As an industry bidding war heated up around Gravy, he skillfully applied the biz lessons he'd learned while earning his degree alongside his literal graduating class at UW. (He didn't attend his graduation ceremony in '17, but he "got the papers," he promises.)
"[My major] gave me a lot of time to study branding, psychology," he says. "I still use it pretty regularly. From the first song I dropped to my new album coming out in September, it's been a relatively consistent brand and style."
Gravy's manager, Henley Halem, is a 23-year vet of the music industry. He has repped Kid Cudi, Jurassic 5, and ILoveMakonnen, but he says he's never encountered a client who toes the line between genuine artistry and intuitive salesmanship quite like Gravy. 
"Matt is an amazing artist, who from 30,000 feet can be seen in many different ways," he says. "But when you unpack who he is as an artist, and who he is as a marketer… he's a genius. He's built an extremely successful business based off something he did in a college dorm room."
Master TikTok Marketer, Martha Stewart Biz Partner 
As we've seen locally with Hot Freaks and Durry, TikTok has the power to transform underground acts into industry must-haves overnight. 
Gravy was already signed to Republic Records when his 2021 single "Oops!" became a runaway hit on the platform, inspiring 170,000+ creations from other users. The song's inescapable bridge—"You're talkin' about Tracy? Naw, like Tracy with the ass? Tracy with the Honda? Shiiiiiiit"—was shoehorned into Frozen parodies, Nutella cooking videos, and dance vids galore. It was everywhere.
The man who bills himself as "your mother's favorite" updates his 5.7 million TikTok followers on a near-daily basis. 
"TikTok allows for access to a broader demographic that thrives on authenticity and creativity, both of which Yung Gravy has in spades," says Annjelica Houston, a spokesperson for TikTok. "His artistry and charisma have propelled him forward." (Big business manipulates much of the TikTok formula, as this Bloomberg piece illustrates, though her point is well-taken.)
Adds Alix Rosenberg with TikTok Music U.S.: "It's been incredible to watch Gravy's success on platform, that has come in large part due to who he is, and how he connects with fans—especially those on #momtok."
Gravy's newest single, the Rick Astley-sampling "Betty (Get Money)," is poised to do even bigger TikTok numbers. A breezy lifestyle flex, the song became his first entry onto the Billboard 100 chart; "Betty" debuted at No. 68 two weeks ago, and has since climbed five spots.
"Look, Matt went to business school, he graduated with a 4.2 weighted GPA; he's a smart kid," says Halem, his manager. "That said, he doesn't take himself too seriously. He just believes in himself."
A prime example of savvy meets silly: "Martha Stewart," Gravy's 2020 ode to the unlikely rap muse/homemaking biz tycoon, led to a real-life business collab with its subject.
About five months after the song dropped, Stewart's team reached out. The millionaire ex-con wanted to meet his squad, and, eventually they'd cut the following ad for her line of frozen entrees and snacks; the surreal, amorous spot aired in movie theaters around the country ahead of the latest Bond flick No Time to Die, Gravy notes. 
"Martha embodies everything Gravy: cooking up, being a hustler, having MILFs as your associates. It was a perfect fit," he says. "We became friends. It's grown since then. Whenever I'm in New York or she's in L.A. we'll link up and do something. I got a lot of love for Martha, she's a sweetheart."
(Stewart and Astley's PR reps didn't respond to Racket's interviews requests—really can't blame 'em!)
When pressed on his favorite item in the Martha Stewart Kitchen line of frozen foods, Gravy reveals: "There's a baked brie, I got a bunch of those. You can dip things in it. I always make that for my mom… well, I heat it up for my mom."
Gravy currently splits time between L.A. and Minneapolis. The self-described mama's boy returns home often to visit mom, plus hang with his tight-knit circle of "Day 1 friends" at Pimento, Icehouse, Reign, and the Gay 90's.
Gravy SZN
Yung Gravy never really experienced the tooth-cutting, small-show rung on the showbiz ladder. As soon as "Mr. Clean" blew up, he was playing 500-capacity rooms. In 2019, during a rare tiny gig at Red Sea on the West Bank, he met a fellow Minnesotan who'd become his full-time DJ. 
"We got super close," DJ Tiiiiiiiiiip told the podcast Black With No Cream, adding that Gravy was a major fan of his old rap/R&B supergroup, Thestand4rd. "We're so similar in our work styles. We're so on our shit and about our shit. We just live this shit, we don't do anything else."
Together, often alongside frequent collaborator bbno$, they've performed hundreds of shows. The venues got bigger and bigger, with Gravy and Dillon Francis packing the 8,400-capacity Armory in Minneapolis this past January. (He's due back there in November.) The opportunities for rockstar extracurriculars have grown as well. 
"I partake in a lot of the fun stuff," Gravy says. "Especially at first I was going pretty wild—turning up before every show, going out after the shows, just hanging out with whatever chicks were at the shows. Now I've done around 300 shows now and, after a while, it becomes work and you're not wildin' out as much. I used to get pretty drunk on stage, I got over that."
The fun stuff seems to include a whole lot of attention from MILFs. It's unclear how much of the fixation is genuine, how much is character-driven, and how much is self-fulfilling, but it seems to be a lusty combination of all three. When asked what it means to be "the MILF king," an honorific that's included in his official PR material, Gravy elucidates: 
"I've always been a fan of MILFs, I've always shown love to MILFs. I had some experiences with older women when I was younger, and I just thought it was dope. I put it in my music, give 'em a little love and attention. Now it's gotten to the point where people will be DMing me pictures of their moms, giving me their mom's number, trying to get me to hook up with everyone's mom… there's all these pitch videos, I've gotten resumes and shit, it's wild. It's fun, I like to see it. It's a little weird but I definitely enjoy watching those videos, and I can't say I haven't taken advantage of opportunities presented to me."
Gravy's four-member managerial team warned Racket to not ask about his recently leaked sex tape, so we instead complimented his handling of it—an apology to his MILF fanbase, pledging future loyalty. "I wasn't too mad about it, but I wanted to be courteous with the girl; it seems like it's turning out just fine, so I'm thankful for that I guess," he says, sounding unphased.
That's just life now for the Rochester-launched mama's boy who's taking over the rap game in pursuit of mamas.  
"I never thought I'd be where I'm at now, or even close to it," Gravy says, noting that the fall tour is already 50% sold out. "It's a little overwhelming, but I'm really happy. I'd love to be doing arenas, but it gets a little bit annoying and overwhelming when I'm getting recognized. I don't want to be a total Drake or anything, but I could go for a little more."
Stay in touch
Sign up for our free newsletter