Culture
What's the Deal With St. Paul?
After spending 72 hours in the other city, this Racket reader has some ideas.
7:24 AM CDT on August 9, 2023
Sibling rivalry: the animating force behind many a cruel word, bruised lip, and ruined Thanksgiving. It's appropriate that Minneapolis and St. Paul should adopt the moniker of Twin Cities and not some other relation. As a 10-year resident of northeast Minneapolis, I admit to engaging in my own good-natured ribbing of my eastern neighbors—poking fun at their desolate-after-dark downtown, the grotesque green architecture of the Spruce Tree Center, and hostility to basic municipal services. 
Each spring, I raise money for Our Justice, a Minnesota-based abortion fund, and to incentivize my friends to donate, I tie the fundraising goal to my personal humiliation. In 2020 it was a regrettable facial hairstyle, in 2021 a 20-drink brunch, and 2022 featured increasingly absurd photos of me in my favorite, albeit large, winter coat. This year I made an even more onerous deal with my donors: If I hit my mark, I promised to spend 72 straight hours within the borders of St. Paul and document the experience. 
This wouldn't be my first foray into reporting on an overlooked plains city passed over by time—my 2022 trip to Winnipeg was chronicled on this very website—but reporting on St. Paul poses unique challenges. The Winnipeg Tourism bureau was kind enough to build an itinerary for my stay focusing on their most popular attractions, while civic booster org Visit Saint Paul shockingly did not respond to my email requesting travel support for a Minneapolitan to experience their city. In the face of Visit Saint Paul's deafening silence, I turned to Twitter, where over 150 people replied to my question, "If someone asked you where they could go to understand the essence of St. Paul, where would you direct them?"
After tallying the results, I put together the best itinerary I could, prioritizing the most popular items in my Twitter survey and things that were new and novel for me, and taking into account what could reasonably be done in 72 hours in July. (I simply cannot visit every beloved Italian eatery in only three days, nor is the Winter Carnival an option.) To prepare for my trip, I read the excellent and breezy St. Paul: An Urban Geography, and the crash course in St. Paul history I gained from it has been a great influence on this article. Over three days of captivity in St. Paul, I set out to not only experience the best that the city has to offer, but to try to discover what makes the city so special to so many.
What follows is my attempt to see St. Paul not through my own hater-tinted glasses, but through the eyes of those who love it and staunchly defend it in my Twitter mentions. 
FRIDAY
Upon waking, I packed my bag, put out some extra food for my cat, and bid Minneapolis farewell. My first stop was breakfast at the confusingly named Uptowner Cafe, which, situated at Grand Avenue and Lexington Parkway, is nowhere close to even the most expansive definitions of Uptown. (Does St. Paul claim an Uptown of its own?) While the Summit Hill diner wasn't mentioned on my list, a friend and trusted St. Paul savant recommended it as an appropriate spot to begin my expedition. Indeed, it's hard to imagine a more St. Paul breakfast experience than what's on offer at the Uptowner Cafe. I felt it would be against the spirit of my trip to not order the St. Paul Omelet, which the menu declares is "Joe Mauer's Favorite!" The eponymous omelet, featuring andouille sausage, fresh mushrooms, tomatoes, and cheddar cheese, was perfectly serviceable, but the star of the plate was a truly jaw-unhinging portion of hashbrowns. 
Sensing that the morning crowd was slow enough for my antics to be merely annoying and not truly rude, I asked my server, Carlyn Hanson, for her thoughts on the question I had set out to answer: "What makes St. Paul special?" 
"The interconnectedness," she responded after some thought. "My mom used to work here, and I grew up three blocks away." A lifelong resident, Carlyn clearly took pride in her St. Paul identity and eagerly judged my itinerary, adding her own comments. To her, as with others I would talk to, it's the shared sense of history and tightly connected communities that set the city apart. 
My hashbrowns dented but not defeated, I made my way to Harriet Island Park, where I was to catch a riverboat to see the Mississippi River from a new, slightly-downstream-of-normal perspective. Like Minneapolis's Boom Island, Harriet Island is no longer a real island, but rather a flat, sparsely forested park on the west bank of the river. My pre-recorded tour guide aboard the two-decked "Betsey Northrup" blared stories of St. Paul's past and the colorful characters that made it up. Historical details aside, it is truly stunning to be fully surrounded by wilderness so close to the center of the country's 16th-largest metro.
The Dakota use the word "Bdote," literally meaning "confluence," to refer to both the direct convergence of the Mississippi and Minnesota rivers at Pike Island (actually still an island) as well as the broader Twin Cities region. In the origin story of one Dakota group, the Bdewakantunwan, Bdote is the center of the Earth and the origin of the Dakota people. If the Twin Cities have a spiritual heart, this is it, and with the exception of a few powerlines and distant bridges, it's gratifying to see its breathtaking wildness preserved. It's a powerful destination, and one that I found myself wishing I had given greater reverence in my own conception of the Cities. [Ed. Note: It is also Fancy Ray's "sacred place."]
After the 90-minute boat tour, I proceeded to the Smith Avenue High Bridge, recommended by a half-dozen respondents for its view of the city. The western terminus of the bridge offers a gesture at a landscaped park, but the best views were halfway across the bridge. Even the most stalwart St. Paul advocate wouldn't list its skyline as a key attraction, but if you're gonna see it… well, there's not a better view of it than from here.
With my cruise and bridge excursion behind me, I had very nearly digested enough of my hashbrowns to warrant another meal, so I ventured to Cossetta, the West Seventh Street Italian restaurant just at the edge of downtown with origins that stretch back to 1911. No item on my list was so controversial—it was tied with Como Park as the overall most suggested destination for distilling St. Paul's essence yet provoked a seemingly equal number of eye rolls accompanied by suggestions of more hole-in-the-wall establishments. 
I understand both perspectives. Cossetta's contains a main restaurant, a pizzeria line, a second more upscale restaurant and bar, a pasticceria (bakery and gelato), and a market, all under one roof. The ambience of this culinary Voltron falls somewhere between Epcot's Italy section and an IKEA cafeteria. Yet while the efficiency and scale of Cossetta's might be aesthetically unpalatable to the trendy urban diner, there's something to be said for feeding your entire family without a long wait or reservations at an establishment with a 100-plus-year history. I opted for mostaccioli and an antipasto salad, and the food was, to my untrained and decidedly un-Italian tongue, pretty damn good. It's the sort of restaurant you suggest to your grandparents—they won't have a chance to say something embarrassing to a server, yet you can still get a meal you're happy with.
Following lunch, I made my way up to Lake Phalen, where I had thought to walk the three-mile perimeter to kill some time and work off my two carb-laden meals. My attempt was thwarted by both an oncoming storm and my 11th-hour realization that the northern edge of the lake is actually in Maplewood, and would therefore violate my 72-hour confinement to St. Paul. Still, I can confirm that St. Paul also has lakes. On the afternoon of my visit, it wasn't as populated as I might expect to find Minneapolis's Chain of Lakes, but there were fishermen, paddleboarders, joggers, and a peaceful atmosphere.
My main event for the evening was a tour and talk in honor of the 70th birthday of the Hamm's Bear mascot in the historic Hamm's Brewery on the East Side, now home to Saint Paul Brewing and 11 Wells Spirits Co. Saint Paul Brewing is a welcome rebranding of conspiratorially-named Flat Earth Brewing, and while the unique and beautifully decorated patio situated among industrial ruins is what you'll remember, every beer I tried was made to style and enjoyable, from a rye porter to the winkingly named "Shamm's," which is based on the original Hamm's recipe. While my travel itinerary didn't allow me to partake of a cocktail at 11 Wells, the tastings I had of their whiskey and gin both tempted me to grab a bottle at a later date.
The tour itself was led by Cynthia "Cyn" Schreiner Smith of CynCity Tours. Along with a tasting tour and a chance to meet the Hamm's Bear in the furry flesh, Cyn offered a recap of St. Paul history, particularly as it relates to alcohol and the Hamm's Brewing dynasty. Many of her stories were familiar from the reading I had done in preparation. St. Paulians have quite the mythology about their city and will be happy to recite it for you. The basics:
It used to be named Pig's Eye, after the first resident, also named Pig's Eye—a bootlegging fur trapper.

There are a lot more Irish and Italian people than in Minneapolis, and hence, a lot more Catholics and churches.

St. Paul is built on booze, from the first bootleggers to Hamm's and Schmidt. It's a status it proudly bore before, after, and during prohibition.

Police Chief Joseph O'Connor instituted the "O'Connor System," which for more than three decades established St. Paul as a safe haven for high-profile criminals as long as they 1) let him know they were in town 2) did not commit their crimes within St. Paul and 3) paid a lot of bribes.

That means St. Paul can claim John Dillinger and future Alcatraz resident Alvin "Creepy" Karpis as residents. Since it gave us a local angle on two famous people, who can say if the system was bad or not?

In the 1960s, the center of the Black community, the Rondo Neighborhood, was demolished to make way for I-94, a villainous act of racially motivated civic planning.
What surprised me about St. Paul's history, as explained in both St. Paul: An Urban Geography and now two tours in one day, is both how widely known and how tightly constructed it is. I'm sure there's some degree of note copying that goes on in the St. Paul historian and tour guide community, but even many of the residents I spoke to were aware of these stories as part of their basic understanding of the city's context. After 10 years in Minneapolis, I'm not sure I could tell you nearly as much about my own city's history. Nicollet Island once had affordable housing? The Pillsbury family ran the city before striking it big with the Doughboy? We used to have an Arby's on Lake Street?
Following my tour, I asked Cyn her opinion on what made St. Paul special. "I don't have five hours to tell you!" she objected, but obligingly did her best anyhow. 
"St. Paul is the last city of the East Coast and Minneapolis is the first city of the West," she continued, a sentiment I've heard before. Compared to Minneapolis, St. Paul is an old-money brick city focused on neighborhoods and family, while Minneapolis is the flashy glass skyscraper city of the American West. I asked Cyn if she thought St. Paul's communitarian identity was only available to the lifers and longtime residents or if it was something that could be accessed by others. "My husband grew up in New York and he's more St. Paul than anyone!" she laughed. "That whole 'Minnesotans are unwelcoming' stereotype? I think that's more of a Minneapolis thing."
At sunset, I explored Swede Hollow, a park set among the dubiously occupied industrial buildings of the East Side that used to contain the squalid housing of the city's most destitute workers, but is now home to the bewildering stones of "Swedehenge," an attraction that's exactly what you imagine. My final destination of the night was Skinner's, a well-worn Randolph Avenue pub recommended to me on the strength of their pizza—a square cut pub style that pairs exceptionally well with cheap beer.
SATURDAY
After Friday's frenetic pace, I needed a slower and shorter Saturday. My first late-morning stop was Trung Nam French Bakery, a Vietnamese staple of the Frogtown neighborhood—and according to at least one source, home of the first báhn mì in Minnesota. I had lunch plans, so I opted for a chocolate croissant and Vietnamese coffee and headed to Como Park to enjoy them. 
Como Park was the most commonly cited location for the essence of St. Paul, and so I felt obliged to visit, though I'd been there before. Most of my prior visits had been to the zoo, where I appreciate seeing orangutans for the budget-conscious price of "free," or the conservatory, which provides a hopeful glimpse of plant life in the depths of winter. To get a different angle on the over 7,000-acre park, I headed to the Como Lakeside Pavilion, where last night I'd learned of the Hamm Memorial Waterfalls. 
No one ever told me that Como Park contained a waterfall, and after seeing it I understood why. A clear also-ran to the majesty of Minnehaha Falls, the man-made area was beautifully landscaped but couldn't overcome the manufactured feeling of artificial rocks and a water pump. It also seemed like a missed opportunity for a waterfall of actual Hamm's beer. Still, the area provided an out-of-the-way spot to enjoy a coffee and pastry, and the sight of swan-shaped paddle boats out on the lakes was a pleasant contrast to the crowd and commotion you'll inevitably find at the zoo or the rides of ComoTown on a Saturday morning.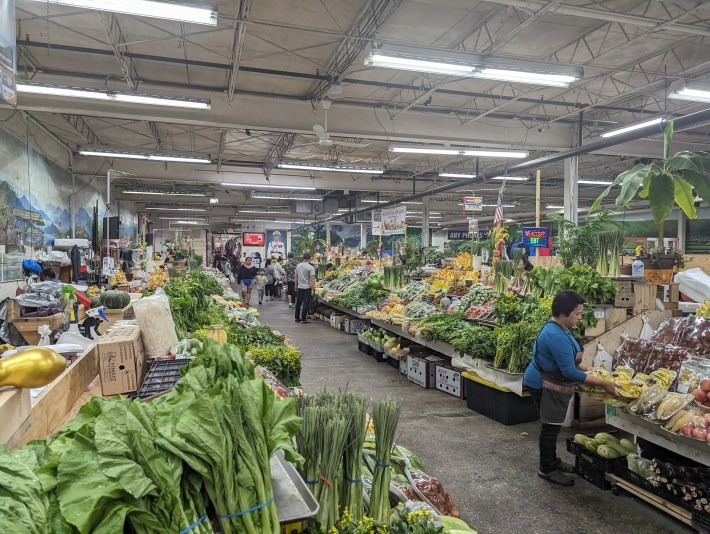 For lunch, I met Kong Pheng Xiong at Hmong Village on St. Paul's East Side. Reminiscent of Midtown Global Market, Hmong Village is a labyrinthine cluster of small booths in a sprawling former industrial space. To find our meeting spot, I first walked past hundreds of shops selling clothes in both traditional and contemporary styles, bedding, and cosmetics, not to mention a barber shop and aisles of fresh produce. Kong and I sat down to a meal of phở, spring rolls, and roasted chicken with chili sauce from one of the small restaurants providing counter service. "Many of these shops sell basically the same things," he acknowledged. With so many options, it would be hard to avoid.
Kong is a lifelong resident of the St. Paul area, though his family bounced around from the West Side to Rondo to Little Canada before they finally settled on the East Side. I'd noted a certain pride with which predominantly white Saint Paulitans talk about stories of immigration as part of their collective story. Bill Lindeke, author of St. Paul: An Urban Geography, describes a process over the 20th century of "differences between groups like Anglo-Saxons, Irish, Italians, and even Jewish Americans [being] largely erased and replaced with broader 'Minnesotan' traditions and identities." I was curious how the Hmong community, as more recent immigrants outside the assimilating power of white identity, might experience that civic pride.
"There's definitely a lot of tension," Kong shared. "I have white neighbors… the older ones are more hostile, but a lot of the younger ones get it. Growing up, we had a neighbor who would call the cops on us kids everytime we had a family party." 
Despite the hostility, he feels Hmong pride and St. Paul pride are deeply interlinked. The city is the epicenter of Hmong-American life, due both to population (over 10% of St. Paul's population is Hmong, and at 60,000+, the Twin Cities Hmong community is one of the largest in the country) and to decades of building a cultural infrastructure. Kong toured me around a number of booths selling traditional clothing, worn at events ranging from weddings to the giant New Year celebration held every November at the RiverCentre. The produce section was filled with items unfamiliar to me, and Kong kindly gifted me a package of rambutans, a pitted fruit of southeast Asia that resembles a large spiked nut. Finally, to be sure I wasn't missing anything in my itinerary, I asked Kong for his own favorite St. Paul spots outside of Hmong Village. "We've got the best zoo in the country, man. It's free!"
After leaving Hmong Village, I kept things on the East Side with a visit to Caydence Records & Coffee, a hip and unhurried shop on Payne Avenue that hosts live music in a back room and doubles as a relaxing spot to enjoy a cup of coffee and flip through the record bins. The record collection is small but well curated, with a good mix of new pressings and bins of used vinyl to shovel through. 
On my way back toward Midway, I stopped at the Rondo Commemorative Plaza at Fisk Street & Old Rondo Avenue, now Concordia Avenue. Built in 2018, the plaza lies in an otherwise residential block and is made up of a small shady shelter, benches, green space, and an informational display about the history of the Rondo neighborhood—once home to 80% of St. Paul's Black population, and, not coincidentally, demolished throughout the 1960s for the construction of I-94. The plaza isn't much to look at, aside from the public history exhibited on the signs, but I'm struck by the love and sense of place needed to keep the neighborhood alive 60 years after its demolition. Based on the stories on display at the plaza, as well as efforts to reconstitute the neighborhood through the conversion of I-94 into a boulevard, Rondo may very well outlast the freeway, not to mention the bureaucrats and businessmen who destroyed it.
Saturday evening I had a prior commitment to MC a dance party/fundraiser for Twin Cities Democratic Socialists of America. Thankfully, the party was held at the Midway neighborhood's Black Hart of St. Paul, so I was relieved to stay within city limits and visit one of the city's most singular bars.
In 2017, Black Hart took over the space formerly occupied by the city's oldest gay bar, Town House, with a mission to be both a home for the queer community and a growing base of soccer fans congregating around Allianz Field. The concept sounds awkward, yet judging by the diverse and harmonious clientele, they somehow stuck the landing. On any given day, Black Hart might host a community fundraiser, followed by a drag show, only to reopen at 5 a.m. as a haven for soccer fanatics to watch a World Cup match live. On this evening, dozens of socialists awkwardly danced between my exhortations to donate or visit the silent auction table, and if the other patrons who were only there to watch the Twins game or enjoy a gay bar-strength cocktail were annoyed by the scene, they were kind enough to not say so loudly.
With a few drinks in me—and in jeopardy of going a full day without a heavy Italian meal—I led a gaggle of party goers to Snelling Avenue's Checker Board Pizza for what I had heard was one of the hidden gems of Twin Cities pizza. Their dining room was closed for the night, so we opted for two large pies to go. A 20-minute cook time and a block of walking later, we beseeched the bartender at The Midway Saloon to let us bring food in; we reached a compromise to eat it in the adjoining vacant lot. A few slices later, Checker Board had rocketed up my pizza power rankings, offering a classic Minnesota square-cut with a thicker crust than tavern style and generous portions of cheese. My only complaint was that it needed to be cut again after the cheese cooled, as slices of crust would slide independently away beneath a stubbornly coagulated layer of toppings. Pizza will always be graded a little easier when eaten three sheets to the wind and on a sidewalk outside a bar, but I suspect my favorable review will hold up when I next find myself hungry in Midway.
Saturday gave me a chance to take a breath and experience the city at a slower speed—and really, that's how it should be explored. St. Paul residents note their preference for the quieter life they found here, compared to the hectic pace and cultivated coolness they associate with Minneapolis. As a non-native Minnesotan (born in Oklahoma, raised in Texas), it's funny for me to think of Minneapolis as marked by ambition or pretense—it's precisely the lack of those things that have made me feel at home here. 
Still, St. Paul might be onto something. Watching Kong greet the dozens of friends and relatives he bumped into throughout our hour in Hmong Village, and seeing neighbors catch up in Black Hart over drinks, I began to doubt whether visiting St. Paul is really any way to understand a city that only blossoms for those willing to give it the time and patience. 
SUNDAY
My itinerary hadn't taken me downtown much, so late Sunday morning I hopped on the Green Line to visit the farmers market and catch a Saints game. Downtown St. Paul has a reputation for lifelessness and vacancy—a place to enter strategically for a concert or sporting event and then swiftly exit for the afterparty. To be fair, I have similar feelings about downtown Minneapolis. These concerns are clearly not isolated, nor new, and my pre-reading on St. Paul's history revealed 50 years of harebrained revitalization schemes, from an indoor ped-mall to an honest-to-god monorail. (Note to urban planners: I think a monorail would be an ironic hit these days. Give it a try!)
I found the Lowertown Farmers Market bustling with a diverse group of vendors who sold fresh produce off folding tables and box trucks or hot food ranging from tacos to barbecue to bao buns. I assembled a brunch from three different vendors, ending up with a coffee, a veggie breakfast taco, and Takis-crusted eloté.
I bumped into James Slegers, local bike aficionado and Twitter person, and pulled him aside to get his thoughts on what makes St. Paul special. "It doesn't have the shine of the neighbor to the west, but we like it that way," he told me. 
James has lived in St. Paul for 10 years since moving from Iowa and clearly feels comfortable in his adopted home: "I absolutely feel like a Saint Paulinator." While he initially struggled to meet people, he eventually found a friend group through cycling and folks he'd see out on the street. 
My conversation with James, a Hamline-Midway resident, reinforced my feeling that the neighborhoods of St. Paul might be more culturally cohesive and central to resident identity than in Minneapolis. Sure, Minneapolis isn't without lifelong North Siders or Powderhorn loyalists, but the way that St. Paul residents identify with their corner restaurant and take pride in not only knowing but liking their neighbors feels different. Being an East Sider or living in Summit Hill is, at least for some, just as important to their identity as living in St. Paul.
With a few minutes to kill before the game started, I walked to nearby Mears Park, an oasis of greenery in the cement and glass landscape of downtown. Compared to the aggressively sterile parks in downtown Minneapolis, which can feel more like the smoking patio of a hospital, Mears was serene and lush, a place I can actually imagine visiting intentionally. Add to it the home of the Winter Carnival, Rice Park, and I am forced to give downtown St. Paul the edge for desirable common spaces.
Arriving nearly an hour before the first pitch at CHS Field, I strolled the concourse to soak in the ballpark. As baseball has slipped from its position as America's Pastime, the culture surrounding the sport feels more about reverence for history and records than rooting for a team or even actually watching the game. The St. Paul Saints stand against the trend, and for 30 years they have crafted a ballpark experience to fit with their motto "Fun is Good." 
The City of Baseball Museum located within the park might suggest a reverence for baseball history, but every other aspect of the visit begs you not to take things too seriously. The pregame featured a pig on the field, making his entrance under the nom-de-guerre "Squealon Musk." Audience participation was championed by a hype man in the outfit of an archetypal mid-century gym teacher, with sweats labeled "COACH." At one point, for reasons I evidently missed, three people raced along the baseline in costumes of giant, disembodied, bloodshot eyeballs. Even the concessions got in on the fun, offering sausages named "The Ham Solo" and "Kim Lardashian." I went with "The Garrison Squealor," a bacon, Swiss, and wild rice brat. This was indeed all fun; but how much more fun it would have been if beer prices were under $10?
I was joined during the game by Bill Lindeke, lecturer of Urban Geography at the University of Minnesota, MinnPost columnist, and author of multiple books on urban history (including the one I read to prepare for this trip). Bill is both a scholar and fan of St. Paul, and I was grateful for his willingness to be interrogated by a skeptical Minneapolitan. On a walk around the ballpark, he filled me in on the sordid history of St. Paul baseball, which has surprising connections to everything from Bill Murray to the Disco Demolition riots held by the Chicago White Sox. 
But it was another area of Bill's expertise that interested me most. As a literal co-author of the book on Twin Cities dive bars, he agreed to take me to a few gems of St. Paul's East Side.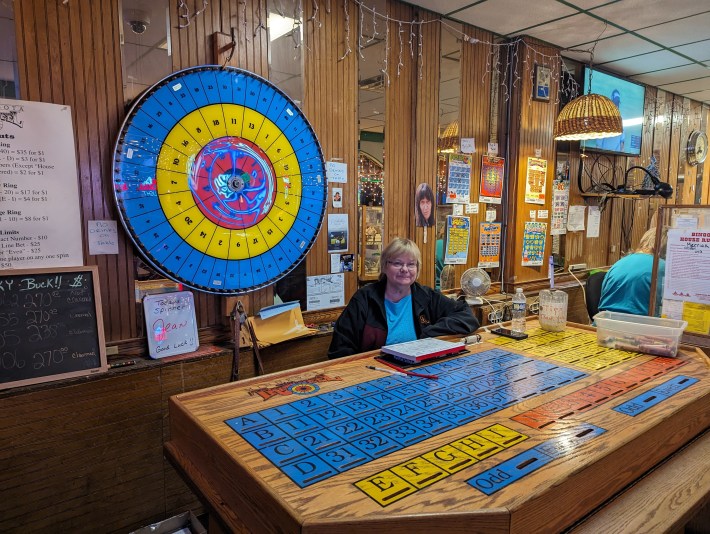 Sandwiched between a rail line and a cemetery, Hoover's Pub is the sort of wood-paneled, windowless bar that doesn't so much as have a Facebook page announcing its existence to the outside world. The atmosphere was neighborly, and the walls were adorned with the artifacts of what I suspect were private jokes between patrons and staff. The most striking novelty of the bar was a Tri-Wheel game, which complements pull-tabs as an only-in-the-Upper-Midwest bar gambling experience. The wall-mounted roulette wheel allows for betting on three different odd-lines, with perforated tickets taking the place of chips. While the volunteer croupier advised me against my conservative bet on "even," it was our only bet that cashed.
Our next stop, Hoagie's Bar, isn't very far geographically from Hmong Village, but culturally it's miles away. The regulars and bartender were in a constant banter of friendly bickering and the walls were plastered with a complementary mix of taxidermy and vintage Green Bay Packers memorabilia. Hoagie's is a true dive for the old timers and, at least during my visit, a predominately white working-class clientele. If some young urban explorer like myself enters on a quest to find authenticity in a watering hole, the sign above the bar stating that this is a place that says Merry Christmas and God Bless America will be happy to remind you whose turf you're on.
Over beers, I picked Bill's brain about my observations from the weekend. Chief among them? The central question that spurred this very piece of writing. 
I had come to St. Paul wondering what makes it special, but anytime I asked the question, people interpreted it as, "What Makes St. Paul distinct from Minneapolis?" If someone asked me for the essence of my Minneapolis experience, I don't think I'd even mention the city's twin, yet it was the default interpretation of every St. Paulite. Bill chuckled and agreed that the city's rivalry was asymmetrical, likening it to the two-panel Mad Men meme where one character scornfully says, "I feel bad for you," and Jon Hamm replies, "I don't think about you at all."
In his book, Bill details how St. Paul's initial goals to be the next great metropolis of the Midwest were thwarted as it lost ground to Minneapolis. By the 1880s, he writes, "St. Paul simply could not keep up. Each year, Minneapolis's accumulating influence made it increasingly clear that St. Paul was not, after all, destined to be the next great Chicago." That didn't mean they went down without a fight, and the sibling rivalry would lead to such efforts as a wildly fraudulent 1890 census to determine which city was bigger, along with political maneuvering over the control of a river dam finally resolved by Henry Ford's choice of St. Paul for a new factory. (Nearly a hundred years later, the site of this since-demolished factory is currently being redeveloped as the high-end Highland Bridge neighborhood.)
St. Paul lost the battle to be the dominant sibling, but victories can be pyrrhic, and so too can defeats be liberating. St. Paul may not steal the spotlight. It's not a place to join a scene, or perhaps even to be seen. Bill put it bluntly: "Anyone who is really cool is going to live in Minneapolis." Maybe people who aren't really cool deserve a city of their own though, and maybe there are some benefits to that. 
Historically, coming in second has meant that the elite of St. Paul has seen some value in compromise toward a collective good for the city. "Compromise on matters of business or religion adhered closely with its civic identity as the state's second city, one that had to struggle for its share of growth and investment. To compete with neighboring Minneapolis, and its extreme levels of economic disparities and worker suppression, St. Paul tacked toward moderation," Bill writes. From the labor battles of the early 20th century to today's fights over rent control, St. Paul has a 100-year track record of preferring backroom deals and compromise to the cage-match politics of Minneapolis.
For the people I interviewed throughout the weekend, St. Paul's charm wasn't in the ways it outdid Minneapolis, but in the ways it retreated from that fight to forge its own identity: the way neighborhoods can retain an essential character for decades such that different generations of residents can feel a part of the same community; the way an immigrant group can establish itself and build its own institutions within the broader dream of the city. It's a place that feels like home to its residents, and while they're eager to argue for their superiority, I think they're quietly glad that the hottest spots in the metro are in Northeast and the North Loop and not in Mac-Groveland or Lowertown.
My final planned stop of the day, and indeed of my trip, was Mancini's Char House, the 70-year institution on West Seventh. My weekend's expenses had me feeling too light in the wallet to celebrate with a $40 steak, but Bill, ever an effective guide, clued me in to the affordable and still delicious steak sandwich available in the cocktail lounge. The lounge itself feels plucked off the set of Goodfellas, all high-backed leather booths and brass railing. 
Over a final round of drinks I put the question to Bill directly: "What makes St. Paul special?" He paused, likely annoyed that after writing a literal book on the subject he was being asked to speak on it off the cuff. Carefully choosing his words, he said, "The pace of change is slow enough to get a sense of place and history… St. Paul hasn't changed that much."
Over 72 hours, I was able to pack in a lot of attractions and meals and drinks, but so many of the suggestions I received weren't museums or crowded bars, but a park or a neighborhood that held special meaning, even a stretch of road along West Seventh or Grand or University. If there's an essence of St. Paul to be uncovered, I suspect it won't be found in a busy 72-hour itinerary, but in the slower moments a resident spends there as life unfolds. Of working at the same cafe your parents did decades earlier, of living in a place with a history you can rattle off to a stranger over beers, of building a life in a place that values continuity and connection over ambition and action. 
St. Paul isn't bigger or better than Minneapolis. If you try to judge it on those merits, you're grading it with the wrong rubric. Admittedly, it may at times even be in the shadow of Minneapolis. But some plants are made to grow in the shade of a taller tree, that doesn't make it a failed tree. It makes it something different. 
Something special.
Ian lives in Northeast Minneapolis. You can find him out organizing the Cities with Twin Cities DSA and goofing around on Twitter.
Read More:
Stay in touch
Sign up for our free newsletter