Food & Drink
These Twin Cities Artisans Want You to Think About Pasta Differently
Local chefs are infusing traditional pasta purism with their unorthodox, adventurous spirit.
11:03 AM CDT on August 8, 2023
"Jazz is a certain process that's not an intellectual process," pianist Bill Evans once mused. "You use your intellect to take apart the materials, and learn to understand them and learn to work with them. It takes years and years and years to develop the facility so that you can forget all of that, just relax, and just play." 
The same logic, if you can believe it, could be applied to the practice of making pasta. 
"The way that the United States interprets Italian cuisine is very jazz-oriented," says Charlie Broder of Broders' Cucina Italiana in Minneapolis's Fulton neighborhood. "In Italy, it's really steeped in traditionalism and regional authenticity. The ideas around the shape of pasta, and style of sauce, is the way I view music notes on the page. Everything has a purpose, and everything has a place and our ability to be creative with that, and also to interpret it, is really truly some of the greatest beauty of American food culture that we're seeing."
Stroll through any grocery or co-op, and you can marvel at the varieties of pasta and sauce that keep aisles in a state of constant traffic. What is it about this malleable mixture of flour and eggs, or flour and water, shaped into sheets of dough, that makes it a constant on so many dinner tables?
As we become more aware of what's in our food in a post-pandemic landscape, fresh pasta has increasingly started to creep up into our lives. You can find it in the refrigerated sections of various grocers, place a direct-to-consumer order, or visit small mom-and-pop operations where fillings aren't cut with potato flakes or run through steam belts to reduce pasta's flavor. Broder's has been perfecting the art of pasta since their inception 40 years ago, and, these days, they are being joined by upstarts like Aliment Pasta and Cornelius Pasta Co., posing answers to the questions: What can American pasta be, and how can the restaurant experience of pasta be replicated easily at home?
---
Telling the story of pasta can be a tricky noodle—err, needle—to thread, sending one around the globe on a linguistic, culinary, and colonialist journey. Noodles were invented in China over 4,000 years ago; made with wheat dough, they became a prominent source of food during the Han dynasty. The word "noodle" was derived from the German word Nudel, and traveled eastward via extensive trading across the Mediterranean during the Middle Ages. 
It's widely believed that pasta, which is distinct from noodles, came to be in ancient Greece, though whether it was inspired by Chinese noodles or invented independently is a topic of historical debate. What we do know is that between about 1000 BC and 800 BC, the Greeks first mention laganon, a flat pasta sheet the ancient Romans eventually adopted, using the plural laganae.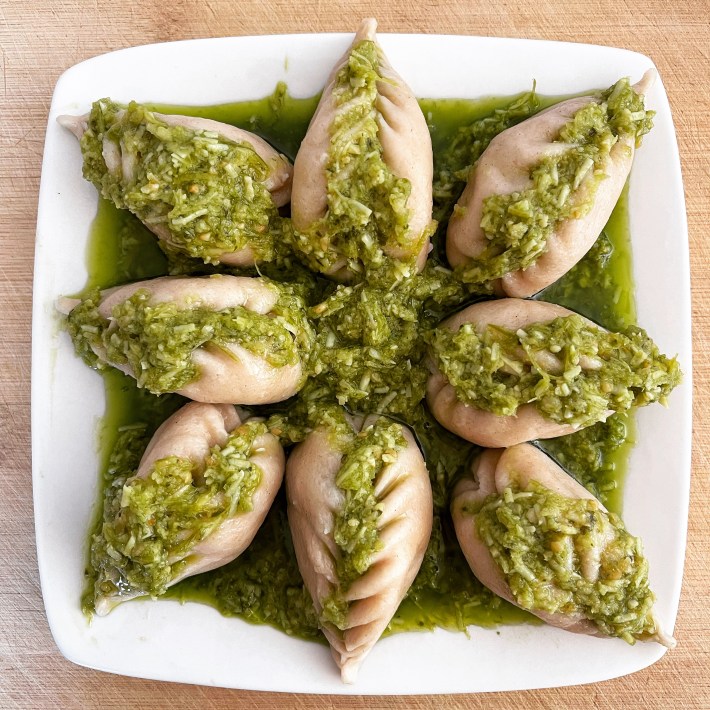 At first, dry pasta was expensive due to high labor costs, but as time progressed, it became more affordable and easier to store. Fast-forward 4,000 years, and there are hundreds of different shapes and varieties of dried pasta out there—and even if they don't quite have the texture or flavor of fresh pasta, you can't beat 'em for convenience. (Or price.) Though fresh pasta, which is made with flour and eggs, requires a shorter cooking time, it also needs to be refrigerated or frozen. Easy to make and abundant, dry pasta has become the predominant style in most American kitchens. 
Then, in 2020, as we don't need to tell you, the pandemic hit. As Americans wheedled away countless hours stuck at home, many started to cook more frequently. It was around this time, as quarantine orders began to grip the state, that specialty fresh pasta makers Cornelius Pasta Company and Aliment Pasta Company got their start. 
As a seasoned pasta maker, Rachael McLeod says launching Cornelius during the pandemic was an easy call when restaurant jobs were no longer available. "I was in a position to start my own pasta business, because I had been doing pasta at this point so much that it came really naturally, and I love it. When I started my own business with Cornelius Pasta Co., it combined all of those things that I've learned at those different restaurants, plus new techniques that I'm constantly discovering about making pasta."
"When I make pasta, I want to make it the natural, old world way," says Alex Dayton of Aliment Pasta, which he co-founded in 2020 with his wife, Kate. "I'm not going to do like other pasta manufacturers and run it through a steam belt, pasteurize it, and change the texture of the pasta, or cut the filling with 20% potato flakes because it's more cost effective. All of those things take out a significant amount of the flavor of the pasta." 
Dayton worked at Borough as a sous chef, which is where he got involved with the pasta program. "Ever since then, I've been really drawn to pasta," he says. He went on to spend two years at Flour+Water in San Francisco making, preparing, and "learning all the ins and outs of a full-scale, big-time pasta program."
After returning from California, Dayton served stints as the chef de partie at Piccolo and chef de cuisine at Tenant and Red Wagon Pizza before opening The Dough Room in Wayzata. It was there that he'd run into another like-minded pasta artisan: McLeod of Cornelius Pasta Co. "She is an incredibly talented pasta maker," he says. "Rachael was one of two people I hired to be my full-time pasta maker in a fairly big restaurant with a big pasta menu."
McLeod came with an impressive resume, having started pasta programs at Colorado's Rare Italian and Kentucky's Harvest and co-founding the food truck Gnocchi.me. 
"I started working in kitchens when I was 15 years old, and I've always wanted to try making things from scratch as much as possible," she says. "I've always enjoyed cooking, and I've always worked in kitchens."
For all their similarities, the two businesses operate a bit differently. Aliment started with CSA shares to family and friends, before moving into wholesale pasta distribution. "I had some restaurants reach out to me like 'Hey, would you make pasta for my restaurant? We're looking for higher-end pasta, and we'll pay you for it, instead of paying our own staff,'" he says. "So then that's what planted the seed of creating a wholesale business out of this, and actually what I'm more interested in."
Cornelius, on the other hand, operates as a direct-to-consumer model. Every Wednesday, customers are alerted via email or a post via Cornelius's Instagram page about the pasta drop, and people who are interested in purchasing her seasonal takes on ravioli or pasta, or any of the myriad sauces she makes, place an online order for pickup that weekend at The Good Acre in Arden Hills. 
But they share a commitment to quality, using the best locally sourced ingredients available, whether that's the flour or eggs for the pasta itself or the seasonal vegetables used to provide different twists on the fillings and sauces. Both source their flour from Bakers Field Flour & Bread in the Northeast Food Building. For eggs, Aliment goes to Larry Schultz Organic Farm in Owatonna, while Cornelius utilizes Graise Farm in Faribault.  
---
A dedication to egg-based fresh pasta is a practice that keeps the purist ways of making pasta intact while offering a chance to approach flavors and fillings with an unorthodox, adventurous spirit.
For Broders' Cucina Italiana, bringing fresh pasta back at their market was a full-circle return to what they were doing when they first opened decades ago.
"Broders' was created 41 years ago by making and selling fresh pasta, fundamentally," Charlie Broder remembers. "However, the demand for fresh pasta wasn't a sustainable business model in 1982, so they iterated and innovated really quickly towards Italian catering, Italian cuisine, and this evolution to become an East Coast-oriented Italian deli, which is where my dad hails from."  
Broders' Pasta Bar opened across from the market in 1994, as a way to showcase how to cook that fresh pasta in ways that are true to regional Italian cuisine. The pandemic let Broders' showcase their pasta in different ways thanks to pasta kits, which were available at both the pasta bar and the market.
Broders' also started selling their sauces, first at Kowalski's and at co-op markets around the Twin Cities. "The real outcome of the pandemic was our launch of our sauce line for grocery stores," Broder says. A redesign of the market side of Broders' Cucina Italiana followed, making room for a freezer case. They carried take-and-bake pizzas at first, followed by fresh-made fettuccine, linguine, and pappardelle pastas, and meals like chicken parmigiana and lasagna. 
"During the pandemic, we went right back to our roots, essentially, because of the demand for at-home cooking and the explosion of interest in easy things for people to eat and consume like pizza and pasta," Broder says. "It's fun, simple, and it's communal."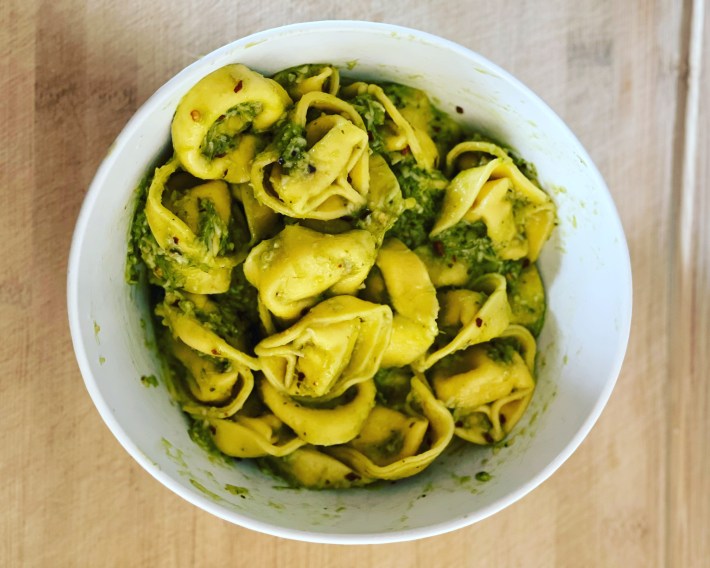 Broders' and Aliment offer more of a traditionalist take on pasta for co-ops and restaurants. For example, on co-op shelves, you can find seasonal favorites from Aliment such as their butternut squash and brown butter ravioli; for more of a traditional twist, there's spinach and ricotta ravioli, which pair well with Alfredo, or for pairing with a good marinara, ricotta and Parmesan ravioli is another option. For restaurants, Aliment also is able to make freshly extruded pasta in over 18 different shapes. 
Cornelius Pasta Co's direct-to-consumer model, on the other hand, allows McLeod to provide different twists on pastas and sauces through Cornelius's weekly pasta drops, and to ensure that all ingredients are as locally sourced as can be. 
Take Cornelius Pasta's midwestern twist on culurgiones, a filled pierogi-like pasta stuffed with Blackberry Farms' beef short rib and potatoes. Accompanied with a simple marinara made with the drippings of those short ribs, the culurgiones show how inventive McLeod can get. She uses every ingredient to reduce waste, which also helps her be as inventive and innovative as possible with the pastas and sauces she offers. Radish tops, for example, are combined with ancient wheat, then extruded to form a colorful campanelle pasta, while garlic scapes, which are the stems and flower buds of a garlic plant, are used as a main ingredient for her garlic scape pesto.
"The way that local farmers talk about their product helps me determine how I'm going to use it in my pasta, and how I'm going to showcase it," she says. "They have such a deep knowledge of what they're doing, so they make it easy for me. I spend more on ingredients than you would if you didn't buy local, or from the farms, like eggs from Grace Farms, which have a richer yolk consistency, or Baker's Field Flour & Bread for their flour. They taste so good that I don't have to add much to them, even my filled pasta offerings will usually be three ingredients, at the most."
Aliment takes a similar approach with flour and eggs for the four ravioli varieties they sell wholesale to consumers through a bevy of co-ops, and restaurants including W.A. Frost, Red Wagon Pizza, Sidebar at Surdyks, Giannis, and Nolo's use Aliment's pastas for their menu offerings. 
"I'm very adamant on using the highest quality freshest ingredients possible," Dayton says. "Making pasta with probably the freshest flour and organic eggs that you can possibly get your hands on is what separates myself from other kinds of pasta that are definitely more cost effective."
Because Broders' operates on a larger scale, with the offerings at the market, their pasta bar, and their other restaurant, Terzo, it makes it a little more challenging to deal with locally artisanal suppliers. 
"We use high-quality, high-grade durum wheat flour and eggs," Charlie Broder says. "We have a demand and scale of production that's quite large, so it's a little complicated, because I think the scale issue is one that is really difficult to manage. What we're strategizing for is how to incorporate that in a sustainable long term way that maintains the product quality, as well as the commercial viability of executing it."
If there's one thing to glean from this exploration of pasta and its rise in local artisans making it, is that the more time we spend understanding our food, the more we can start to understand why that quality matters to us so much.
"You know, noodles are such an amazing food globally, let alone pasta in Italy, they captivate so many from different cultures and backgrounds," Broder says. "Having the great fortune of traveling to Italy and seeing the way that pasta is culturally interpreted and judged and criticized and held high, I try to carry that. That's an important piece for me in being authentic in what we do, and pasta for us at Broders' is exactly that."
Dayton at Aliment agrees. "It's starting to really open up the spectrum of who is going to be eating my product and where it's gonna be served," he says. "People can enjoy Aliment whether through their favorite restaurant, or purchasing it wholesale at local co-ops and specialty markets. I do think at the end of the day, sales is necessary, but the products do speak for themselves in the right setting."
"I'm super fortunate that we have enough people in the city that care about where their food comes from, and care about eating good food," adds McLeod. "At Cornelius, it's all handmade, so it's a different product. It's not frozen when you get it, and it is exactly like what a grandmother would make you. All the filled pastas offered at Cornelius are freshly made that morning, so you can pick them up in the afternoon. So it is how pasta is intended to be at its core."
Stay in touch
Sign up for our free newsletter