Food & Drink
5 Fun New Pop-Ups and Takeout Spots to Try
The sandwiches, dumplings, fresh pasta, and more you'll want to track down this winter.
10:41 AM CST on January 25, 2022
I don't know about you, but during this brutal stretch of winter, having stuff to look forward to helps me get through it. Usually, that's food—something fun and new and different, something I can't get everywhere at any time.
If you too are feeling a little burnt out on the same old same old, here are five new (or newish) pop-ups and takeout spots that just might shake you out of it (even if only for an afternoon).
Marty's Deli
Take a quick scroll through Marty's Deli's Instagram or order a few of their sandwiches for delivery, and you might think Marty is this guy—a chipper, balding fellow often pictured grinning in front of the van or tearing into a sandwich. But it's not!
"My dad does all my deliveries, which is a big hit," says Martha Polacek, the actual Marty behind this increasingly popular sandwich pop-up. Though Dave, she laughs, has "very quickly become part of my brand… I did not plan on that." 
Polacek did plan on opening a sandwich shop, but didn't envision it as a pop-up until COVID hit. That summer, she moved back to Minnesota from New York, and eventually started using the Bar Brava kitchen to make Marty's Deli sandwiches while they were closed due to the pandemic. 
She started slow, popping up once a month, then twice a month—and now, three days a week. In warmer months, you'll find Polacek at maker's markets and outside events, serving sammies out of a hulking tan van outfitted with bull horns.
"A lot of my sandwiches are a mix of creamy and crunchy, salty and briny," Polacek says. "It's all about the texture, and obviously the flavor, but I feel like texture is a really big thing for me." Of the four classics, her bestseller is a chicken salad sandwich called The Pool & Yacht, made with chicken from Wild Acres and "lot of briny things," including capers, pepperoncinis, house-made pickles, and "a ton of herbs." All sandwiches are served on fresh focaccia, which she bakes every morning.
Marty's is community-driven, with meats and produce sourced locally from smaller farms whenever possible, and a percentage of sales going to a different organization each month. It's also, if you couldn't tell from Dave's prominence, a real family affair. 
The van belonged to Polacek's brother, and he helps out on the business side, too. Her sister does all the branding; that bold blue and orange motif is her doing. And Dave isn't just a delivery driver, he's also a sandwich wrapper and accountant—and, occasionally, an on-demand notary, a service that started after a friend asked if he could come by and notarize something during his deliveries in the neighborhood. 
"He's got regulars who won't order unless he's delivering. It's really funny," Polacek laughs. A handful of people have started requesting his notary services when they place delivery orders online. "He goes into people's houses and, like, notarizes their will while he's delivering sandwiches. Never thought I'd be running a sandwich shop that also offered notary services, but here we are."  
How to get it: Check out the menu, place your order by 5 p.m. the day before, and pick up at the designated date and time. (Marty's Deli always does walk-ups too, but you probably want to get there right when the pop-up starts to snag one.) Follow along on Instagram for updates on where they'll be and when (and more Dave content).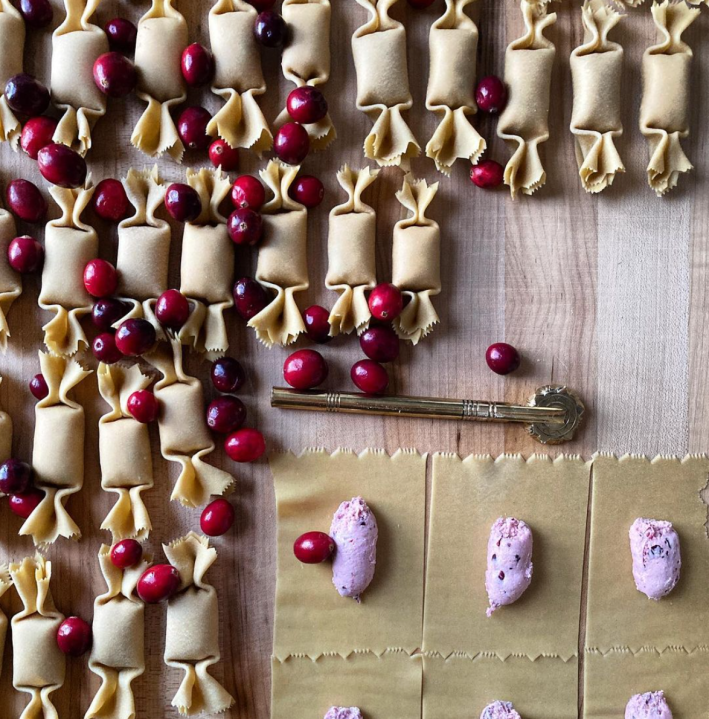 Cornelius Pasta Company
It's humbling, seeing a noodle that's better looking than you are. Yet here I am, scrolling through Cornelius Pasta Company's Instagram, admiring the soft curves of cozy culurgiones and delicate patterned edges of crimped caramelle. 
Rachael Cornelius McLeod and her husband Tyler have always loved pasta. Born and raised in Minnesota, they spent years working in restaurants around the Twin Cities before moving around a bit, as Rachel honed her pasta-making skills and learned new techniques in high-end restaurants around the country.
Luckily for us, the duo moved back to Minnesota, and when the pandemic hit, Rachel began offering delivery through Instagram. It was a greater success than they could have hoped for. "The ordering process itself became almost impossible," Tyler says, adding after a beat: "It actually did become impossible." They'd announce each weekly menu and be inundated with orders so quickly they couldn't look through them; five minutes later they'd be sold out.
Rachel puts a Minnesota spin on traditional Italian pasta recipes, filling her handmade creations with cranberries and camembert or koginut squash and contadina cheese. The fillings and sauces change week to week and seasonally, letting her highlight the best ingredients, many of which are locally grown or raised or foraged.
The intricate pastas are prepared in an array of shapes and colors, and are thoughtfully (and time-consumingly) crafted. "There's not a lot to hide behind when you're not finishing the dish—it's just the raw components, so it better be good," Tyler laughs. Sauces, sold on the side, might include a bison brisket bolognese or a lamb ragu or brown butter made with Hope Creamery butter and sage. 
It's just not the kind of thing that's readily available anywhere else around the Twin Cities, really. And to be able to get restaurant-quality pasta at home, "it's something we think everyone should be able to experience and enjoy," Tyler says. 
How to get it: Cornelius's online store is restocked at noon on Wednesdays, with pickup on Sundays (and they may add another pickup date and location soon). Order here, and find sexy pasta pics on Instagram.
Saturday Dumpling Club
"Always made from scratch and inspired by mom's recipes." That's the promise that greets those who visit Saturday Dumpling Club's website in the hopes of scoring their latest dumpling run. Peter Bian wants to make sure his mother gets the credit she's owed.
"All of the recipes are based off of—and when I say 'based off of,' I really mean 'stolen from'—my mom," he laughs. 
Bian had a longstanding hunch that with a little bit of branding, her dumplings would do really well here in Minnesota. So last year, when they got together to celebrate Chinese New Year, he asked her to write down her recipes, and he started making them out of his condo. 
Saturday Dumpling Club quickly became known as "the only club that matters" and "MN's hottest club," and it all started humbly one Wednesday last winter, when, not wanting to overthink it, Bian asked his 300 or so Instagram followers if they'd be interested in buying a dozen dumplings. They definitely were. "I was like 40, 40 times 12… holy shit, that's like 500 dumplings," Bian says. Saturday seemed like an easy pickup time, so that's when he told people they'd be ready. "My hands hurt like hell afterwards, I did not know how much work I had in front of me." 
For the next several months, Bian ran the business through Instagram, fielding hundreds of requests and responding to the lucky people who got their orders in on time each week. "It was super underground, people would come to the parking garage where I had a couple of coolers," Bian says. It was quite a sight, and his parents got a kick out of it, too: "people walking up to the condo, peering around, looking for the dumpling dude, and grabbing their dumplings and getting the hell out of there—because who buys food from a parking garage?"
Eventually friends in the restaurant industry encouraged him to make things a little more legitimate, which was convenient, since his condo association had also gotten wind of the new dumpling endeavor. He spent six months cooking out of the Bull's Horn kitchen in south Minneapolis, and, as of this year, Saturday Dumpling Club has a new home base at Dot's Gray Kitchen.
But though they've formalized things a little, with a commissary kitchen and a shiny new website for placing orders, the structure remains the same. Orders open on Wednesdays, with pickup on Saturdays. Bian hand rolls and wraps thousands of dumplings, some traditional and authentic (pork and napa cabbage, Szechuan peppercorn and onion) and some inventive and modern (currently, a cochinita pibil made in collaboration with Petit León). And you have to get your orders in early; I haven't seen a week yet that Saturday Dumpling Club hasn't been completely sold out. (Especially now that they're doing collabs with restaurants like Petit León.)
"Me and my wife talk about it all the time, we sit there in bed like… can you believe that we're dumpling people now?" Bian says, adding that they're still on pins and needles each week when orders go live. "What if this week is the week that nobody orders?" he asks. "It still feels surreal."
How to get it: Orders open here at 10 a.m. Wednesdays, with pickup at Dots Gray Kitchen from 10 a.m.-1 p.m. on Saturdays. Follow on Instagram for updates!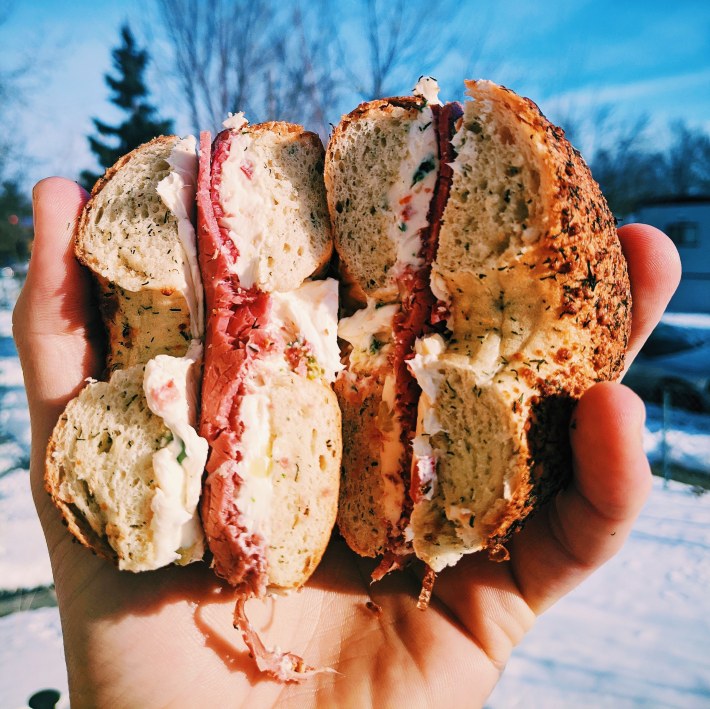 Bagel Taïm
Bagels are tricky little bread. No one knows that better than Leore and Sasha, the duo behind Bagel Taïm.
Over the last year, their fledgling business, which started in their kitchen during the pandemic, moved more than once, working with new ovens in new environments with different air—which impacts the rise of the bagels. Demand got so great that to make bagels fast enough, they needed to invest in a bagel machine, which was also complicated, and took a few weeks to figure out. They did some R and D in December, and opened for a week… just in time for Sasha to get COVID. 
"I honestly don't think we've been open for an entire month since June," Leore says. They've been reinventing the wheel "every day," Leore and Sasha say in unison. "That's the shitty thing about capitalism," Sasha adds, "it's really hard to not make money for like, a week." Bagel Taïm has no startup money, no investors. They're truly bootstrapping this thing and figuring it out as they go in what they joke has been an extended soft launch. 
If you're reading this now, then, your timing is good: Not only is Bagel Taïm in a place where they're consistently open, but they're in a place where Leore has some time to experiment with making new kinds of bagels and schmears. 
"That's one of the reasons I started this baby," she says, "doing something different and cool and [using] interesting flavor profiles but still being super affordable." In the not-too-distant future you might find a chai bagel and vegan schmears, or house-made hummus and whitefish salad, available for order alongside weekly standards like everything, pepper and salt, and herbs de provence. 
Sasha also wants to focus on doing more wholesale bagel-ing—right now you can get their wares with a Reverie breakfast sandwich—as well as more pop-ups like a recent fundraiser they hosted with Southside Harm Reduction. "Who we collaborate with is really, really intentional," he says. They're less interested in getting their bagels in co-ops than they are working with the little guys.
They're doing it all with a focus on the people. Their bagel business grew alongside the revolution here in Minneapolis; during their early days, bagel pickup was hosted out of George Floyd Square. And unsurprisingly, they have the support of the people; when they did a Kickstarter to raise money for their bagel machine last year, it was funded in less than 24 hours. 
At the end of the day, "It's bread," Sasha says. Bagels are historically modest, made with simple and accessible ingredients because that's what people had. It doesn't interest Sasha and Leore to offer a $20 bagel and lox special: "It's fucking working class food, and it should be delcious and affordable and readily available." 
"We don't want to make food for rich people," Sasha continues. "That's always at the forefront of our minds: Who are we doing this for? What community are we looking to serve?"
How to get it: Order here for pickup at The Black Forest Inn (4-5 p.m. Saturdays) or delivery (4-7:30 p.m. Saturdays), or join the Bagel Club and get fresh bagels every Saturday for a month. More info and mouthwatering bagel pics on Instagram.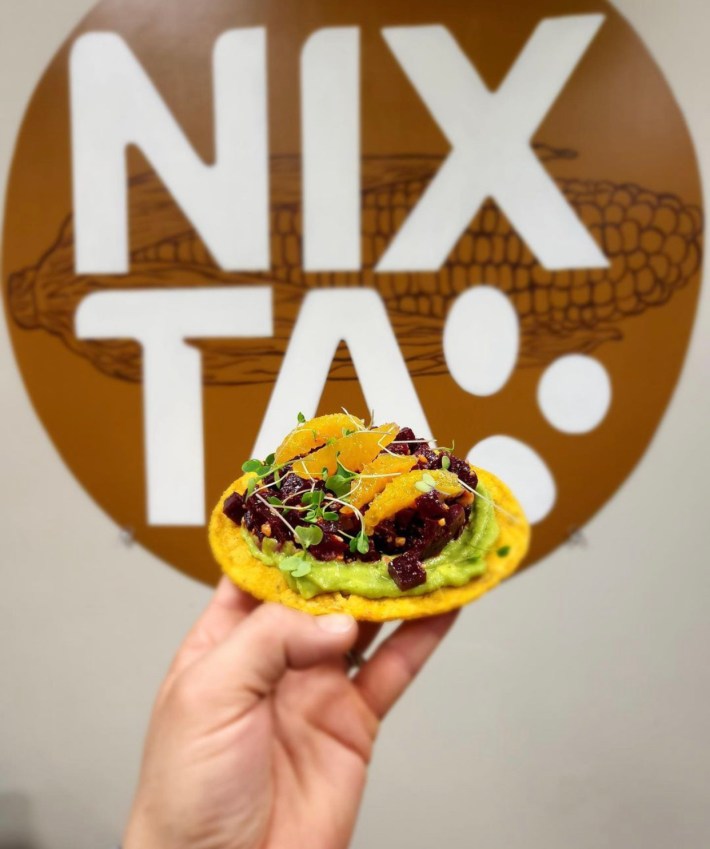 Nixta Tortilleria
Like a lot of local restaurants, Nixta Tortilleria started offering cook-at-home family style meals when it opened during the summer of 2020. Chef Gustavo Romero lost his job in the early stages of the pandemic, and says he founded Nixta because we needed it: "We didn't have a good tortilla in Minnesota, and it's something that I kind of missed," he says. 
But while most of the restaurants that pivoted to take-home family meals to make it through the pandemic have since gone back to their more restaurant-y ways, Nixta never stopped serving them. Though Romero says they saw a predictable decrease in orders when COVID numbers were down and restaurants opened back up, some families continued visiting every Friday, week after week. He wanted to support the community that was supporting them. It turned out to be prescient: With the Omicron surge making folks wary of restaurants once more, their Mexican family-style meals are again growing in popularity.
Nixta's weekly meals include between a pound and a half to two pounds of protein—typically chicken, pork, or beef—along with rice, beans, some salad or slaw, salsa, and accoutrements like radishes and limes. And of course, plenty of tortillas.
Romero founded Nixta to give people in the Twin Cities a better idea of just how important corn is, how central it is to the culture of Mexico and survival. Over the last few years, he thinks corn (and good tortillas) have started to take on more of a central role for chefs and diners in the Twin Cities. "It's really cool to see things like that." 
He's also been encouraged by the level of collaboration among Minneapolis restaurants—a pandemic byproduct, he thinks, that has helped Nixta tortillas make it beyond shelves at the co-op and into collaborations with restaurants like Petit León, Spoon & Stable, and their Northeast neighbors at Vivir.
"I don't think we've seen that a lot before, and now everybody wants to work with everybody. They understand that it's a mutual help," Romero says. "We're all in the same boat, and we all need it." 
How to get it: The weekly menu drops each Sunday. Order online, and pick up at the Nixta kitchen between 3 and 8 p.m. on Fridays. They also serve hot food to go—no need to preorder—from 3 to 8 p.m. Friday and 11 a.m. to 3 p.m. Saturday. Menu updates and more on Instagram.

Em Cassel (she/they) is a cyclist, a metalcore apologist, and a co-owner and editor of Racket.
Stay in touch
Sign up for our free newsletter