Events
This Week's Best Events: TC Horror Fest, Vampire Beer, Party on Lake
It's beginning to look a lot like Halloween in the Twin Cities
9:44 AM CDT on October 25, 2021
Welcome to Event Horizon, your weekly roundup of recommended things to do. This week we have a healthy dose of spooky fun, plus a few comedy gigs. Stay tuned if you're looking for more to do on Halloween week; our mega-roundup of horror is coming out this Wednesday and Freeloader Friday will be extra terrifying, too.
Stay in Touch
Sign up for Our Free Newsletter
WEDNESDAY 10.27
Tokyo Police Club
7th St Entry
This Ontario quartet made a bloggy splash with their debut EP at the height of the buzz band era in 2006. And just to remind you what career turnover was like during that period, here's how Pitchfork's review of their 2010 album Champ began: "In Internet years, Tokyo Police Club are just about ready for retirement." Eleven years later (and still not retired), they're celebrating the tenth anniversary of Champ (COVID has been hell on everyone's math) and damn if its spunky Strokes-next-door charm doesn't hold up. It's got the swinging beats and prickly guitar leads that tricked impressionable millennials into thinking punk rock was invented in NYC sometime around 9/11, though they're simpler (i.e., more fun), and in David Monks the band has a most un-Casablancan frontman who carefully articulates his anxieties and needs. Find more info here. 18+. $20. 8 p.m. 701 N. 1st Ave., Minneapolis.—Keith Harris
Anthony Devito
Acme Comedy Co.
As with any regular at the Comedy Cellar, Anthony Devito can tell a self-deprecating dick joke with the best of 'em. But the NYC-based New Jersian flashed a different side with his recent one-man show that explores the death of his father who, as Devito repeatedly points out, is not Danny Devito. The smirking, good-natured comic/writer has appeared on Colbert and This American American Life, and he'll be recording his new comedy album during this run of Acme gigs. $15-$35. 8 p.m. Wed.-Thu.; 7 & 9:30 p.m. Fri.-Sat. 708 N. First St., Minneapolis; find more info here.—Jay Boller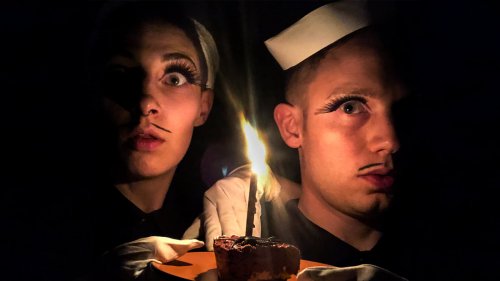 THURSDAY 10.28
Twin Cities Horror Festival
The Crane Theater
Last year, Twin Cities Horrorfest became an online-only event, as the risk of in-person entertainment was too scary. Now in its 10th year, the event is morphing into the best of both worlds: last week the scares were virtual while this weekend the freaks go live. The lineup includes genuine thrills, garish romps, and impromptu scares. Blood Nocturne offers historical chills, as Winding Sheet Outfit tells the tale of a Hungarian countess who killed, tortured, and bathed in the blood of 650 virgin girls. Sam Kruger and Grumms come all the way from Australia to present Creepy Boys, a kooky queer romp featuring clowns, drag, puppetry, and music. Dangerous Productions' Splinter goes inside the mind for a tale of two people trying to remember what happened after surviving a horrific event. Channel should have lots of jump scares as Dogwatch Productions takes audiences on an immersive ghost story that examines what it means to be alone. Finally, all-Black improv group Blackout has a spoooooky installation of their show planned for TC Horror Fest. Find tickets at tchorrorfestival.com. 2303 Kennedy St. NE, Minneapolis.--Jessica Armbruster
FRIDAY 10.29
Hausu (1977)
Trylon Cinema
Haunted houses, as we all know, will fuck you up. But few have massacred their unsuspecting visitors as ingeniously as the country home that works its wickedness on Gorgeous and her five school friends in Nobuhiko Ôbayashi's gory, giddy, sporadically incoherent cult favorite. If you've never partaken in a Halloweekend screening of Hausu, a long-established Trylon tradition, you should check in at least once. 7 and 9 p.m. Friday and Saturday; 3 and 5 p.m. Sunday. 2820 E. 33rd. St., Minneapolis. Find more info here.--Keith Harris
Night of the Macabre
Utepils Brewing
We're not talking about one night of terror at Utepils. Despite the event name, this is actually a two-day Halloween shenanigans weekend. Friday night things kick off with the release of Loonar Eclipse, a Czech dark lager, and at 7:30 p.m. the beer garden will host a screening of Beetlejuice, a cult-classic comedy/horror flick from the '80s starring scenery chewing Michael Keaton (he thinks he's stealing the show), Winona Ryder (rocking a very influential goth look), and Catherine O'Hara (who actually steals the show). On Saturday, the brew pub will turn into a spooky party, with a haunted forest to explore, horror trivia, costume contests, and spooky DJ tunes from 6 to 9 p.m. 225 Thomas Ave. N., Minneapolis. --Jessica Armbruster
Moe Yaqub
Comedy Corner Underground 
Hey, stand-up comedy is back at Comedy Corner Underground! City Pages, an old Twin Cities outlet we're familiar with, named the basement stage the Best Comedy Club (behind-the-curtain reveal: I named it the best Comedy Club), and CP named Moe Yaqub as one of its 2019 Artists of the Year. A charismatic storyteller, Yaqub was born in Pakistan, moved to the U.S. in 2012, and has since become a fixture of the local comedy scene. Fellow local Joey Hamburger opens. 8 p.m. Fri.-Sat. $12. 1501 S. Washington Ave., Minneapolis. Find more info here.—Jay Boller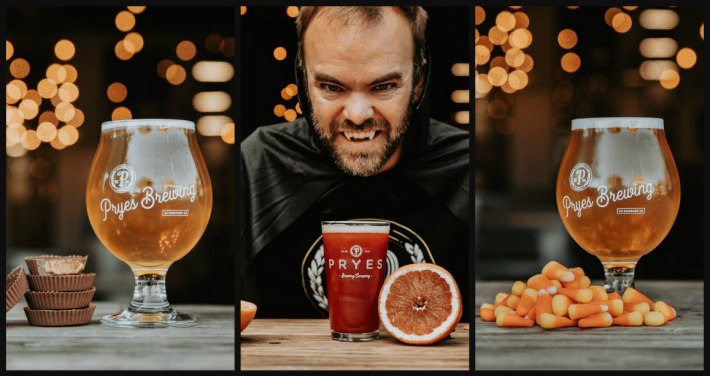 SATURDAY 10.30
Vampire Family Reunion
Pryes Brewing Company
Is vampire your "default" Halloween costume? Or do you just want to hang out with fellow bloodsuckers? This party at Pryes is for you. Vampire looks are encouraged, regardless of whether you're a creepy Nosferatu, a glamorously gloomy Anne Rice character, or a casually comical vamp from What We Do in the Shadows. There will be prizes for best dressed vampires (or vampyre, if you're old-school). Three special koooooky brews will also be on tap today, the highlight being the Blood Orange Miraculum, a fruity blood-red pint infused with glitter (take that, Edward Cullen!). Halloween candy-infused casks on tap include a peanut butter cup blonde ale and a candy corn blonde ale. Live music on the outdoor stage will feature Euphoric Nation, MilesPerHour, Brent Gee, ORNGESOTA, and Roll Model. Free. 5 p.m. to midnight., 1401 West River Rd. N., Minneapolis.—Jessica Armbruster
Dark Fatha Release
Bent Brewstillery
Each year, Bent Brewstillery marks a new iteration of Dark Fatha with a party that is a little bit Halloween, a little bit Star Wars, and all about drinking unique beers. The 2021 brew is an American Imperial Stout aged in Rittenhouse Straight Rye Whiskey barrels. You'll also be able to try some previous Dark Fatha takes, as there will be a vertical flight featuring 2017, 2018, 2019, and 2020 releases. Also on the menu is the Death Star cocktail, an ice cold mix of Dark Fatha Rye, Amaro, simple syrup, fresh lemon juice, egg whites, and Blackstrap Bitters. A Halloween costume contest starts at 8 p.m., so come in your spooky best. Food truck Griddle on the Go will also be stopping by. Free. Noon to 11 p.m. 1744 Terrace Dr., Roseville.—Jessica Armbruster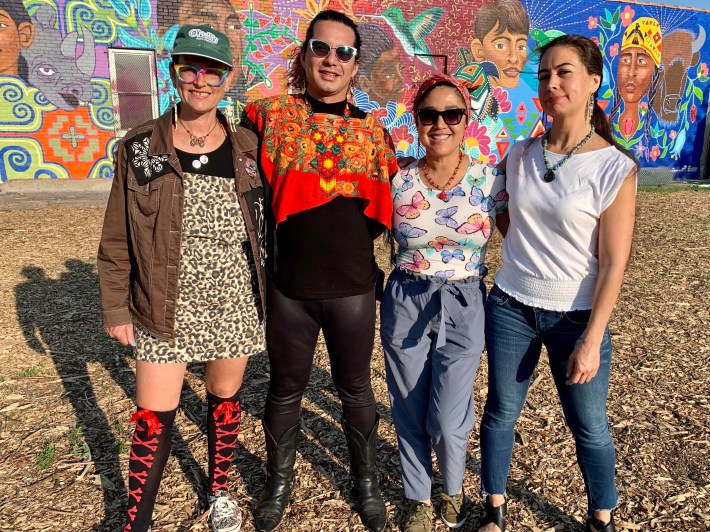 SUNDAY 10.31
Grito de los Ancestros
Lake Street
Festival de las Calaveras and BareBones Puppets have teamed up for Grito de los Ancestros/Cry of the Ancestors, an afternoon that is part parade, part community gathering, and part honoring of the dead we've lost along the way. It's also a celebration of collaboration between the Mexican, Indigenous, and Black communities. Things kick off at noon with a procession of giant puppets, stilt walkers, dance troups, and musicians making their way from Powderhorn Park to the vacant lot formerly known as Robert's Shoes. At the festival site, a variety of performers will take the stage, including Los Lobos Norteños, Lady Midnight, Caballo Cosmico, QueenDuin, and Palabristas Spoken Word Collective. Food trucks will be parked and offering tasty eats, and hands-on arts activities will keep the kids busy. "El Grito de los Ancestros is a call to continue doing the work for justice and the liberation of myself and my ancestors in a joyful manner," says event organizer Adriana Cerrillo. "I am super excited for our communities to come together to enjoy the art workshops, event, and food to honor and celebrate our ancestors." Free. 3 to 7:30 p.m. Open lot at East Lake Street and Chicago Avenue, Minneapolis.—Jessica Armbruster
Stay in touch
Sign up for our free newsletter