Before closing in 2014, Roberts Shoes sold footwear at the corner of Lake and Chicago for 77 years. Then, in 2018, the building caught fire, and what remained was torn down. But neighbors still have use for the space. In recent months, the site has begun hosting a series of queer, LatinX dance nights and community conversations. 
Since June, the Lake Street Truth Collective, a group of 10 residents of the area, has taken up residency on the corner formerly home to Roberts Shoes. They've been working with the Graves Foundation. The neighborhood nonprofit purchased the lot in March of 2020 with the intent to collaborate with community leaders on how the site should be used. 
Two members of the collective, Xochi de la Luna and Kay Adam, say that though the space has played host to plenty of positive and fun events, it is rooted in a need for community healing. 
"A group of folks came together a couple of months ago and started talking about the collective trauma that Lake Street has gone through," explains Adam. "We realized there was a need for a space where neighbors could talk to other neighbors and get to know each other." 
They ultimately decided that the lot would be the ideal place to gather. 
"It was perfect because this is the center of our city, and we could really connect all of the neighborhoods surrounding Lake Street together to process the year that has passed," says de la Luna.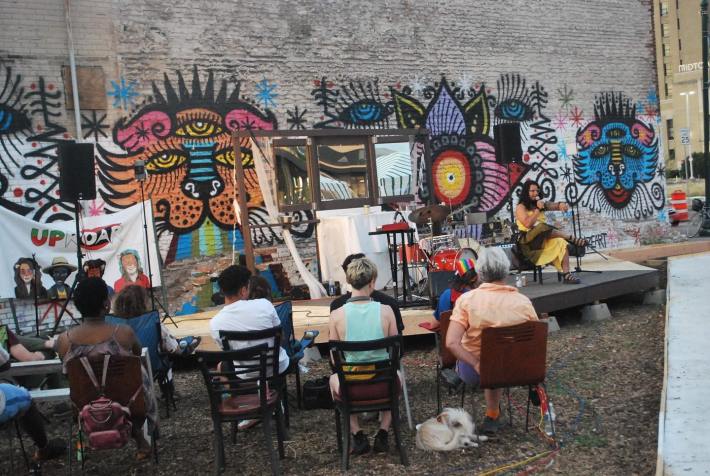 Since then, the site has played host to weekly community conversations, with topics ranging from community safety to dignified housing for all. The events have been hugely successful, with upwards of 80 to 100 people showing up for each conversation. 
Aside from the community engagement, the lot has also been transformed into a beautifully eclectic performance space, hosting zine workshops and an experimental arts festival. This Sunday, the Uproar comedy/variety show is celebrating its four-year anniversary.
"We get such a diverse group for our events," continues de la Luna. "We had a lot of activists who came out for our zine workshop; all the weirdos came to our experimental festival for poetry and music and puppetry, and then we've had elders and members of the community who show up for the conversation. It's been really beautiful." 
The Uproar event this Sunday will include comedy from Mike Brody, a puppetry set from Karly Bergmann, a Q&A with a sexologist, and more. Later this month, they'll host a teen fashion show, as well as another queer Latin dance night, and more community conversations each Tuesday and Thursday.
The collective is planning to continue hosting events through the fall, though de la Luna admits that they are in dire need of volunteers and resources. 
"We're starting to run out of funds," they share bluntly. "This work–providing resources like food and water to the general community, keeping up the structures–it all adds up. We're in need of community support."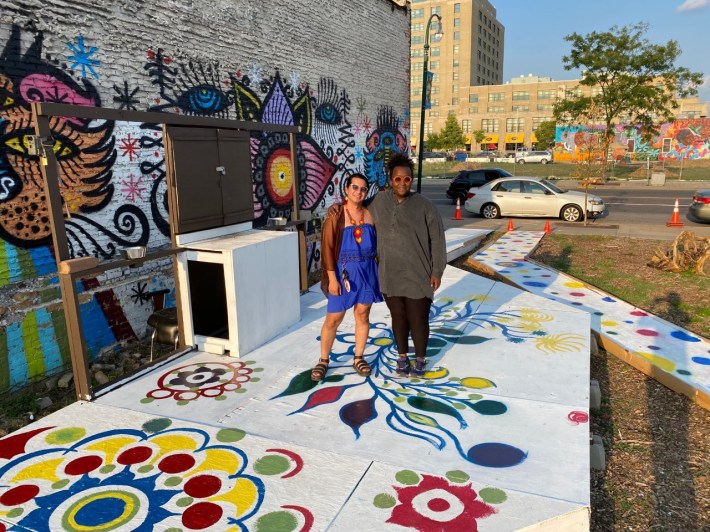 Beyond maintaining the space, Adam says they are already looking at how to share the information they've gathered from the community these past couple of months. 
"The truth and repair conversations have been the anchor for what we've done here," they share. "We knew this was going to be a limited-time experiment, and we've learned a lot about how to host these conversations. Now we're determining the best way to capture these thoughts and ideas and disseminate them out." 
As for the future, de la Luna says that the collective will definitely return next year, though the location may change.
"Next year, wherever we end up, we want to continue to work along Lake Street," they say. "We've made some great connections to continue to grow what we've accomplished here this year." 

To learn more about upcoming events and volunteer opportunities, visit the Lake Street Truth Collective's Instagram here. To donate, visit their GiveMN site here.