Events
This Week's Best Events: Sound Unseen, JPEGMAFIA, Beer Poking
Plus pro wrestlers, a bar crawl makers' market, and the Hold Steady.
9:42 AM CST on November 8, 2021
Welcome to Event Horizon, your weekly roundup of recommended things to do. This week we have a variety of great concerts, a musical movie fest, and a winter patio party.
WEDNESDAY 11.10
Jordan Carlos 
Acme Comedy Co. 
You'd probably recognize Jordan Carlos as Stephen's "Black friend" on The Colbert Report, but you've seen the Texas-born standup/writer everywhere: Broad City, Girls, The Nightly Show with Larry Wilmore. Onstage, he tells affably dorky longform observational jokes accented by dramatic flair ups. Fun additional credit: Carlos is a writer for The Drew Barrymore Show, a program that has quickly become a Twin Cities favorite (at least at Racket HQ). $15-$30. 8 p.m. Wednesday and Thursday; 7 and 9:30 p.m. Friday and Saturday. 708 N. First St., Minneapolis; more info here.—Jay Boller
Sound Unseen Fest
Various Locations
In some ways it's hard to believe that the Minneapolis-spawned music-film series Sound Unseen is in its 22nd year already. In others, it's hard to remember a time when Sound Unseen didn't exist. This year, the series leads with the much-discussed new Alanis Morissette documentary, Jagged, at the Parkway Theater on Wednesday; closing night will be in the Walker, where you'll get to see Emily Branham's Being BeBe, the story of Cameroon-born drag queen BeBe Zahara Benet. Other artists spotlighted in film include a-ha, known only for "Take on Me" in the U.S. but still superstars back home in Norway, and Kenny G, who's profiled by the same director who once examined anti-Christian tricksters the Satanic Temple. Oh and there's that Kickstartered Poly Styrene doc I've personally wanted to check out for a while and maybe you have, too. And a lot more, which you can read about here. Through Sunday—Keith Harris
​​Richard Thompson
Fitzgerald Theater
Sure hope you took the opportunity (possibly your last) to see the septuagenarian guitar ace performing on electric with his full band the last time he swung through First Avenue. For this theater show, Thompson is back to the simple tour set-up he's preferred for decades now: just him and an acoustic guitar. Which should be plenty for anyone who appreciates the depth of a songbook that reaches back more than half a century, from his time with British folk-rock standouts Fairport Convention through classic duet albums with his (now ex-) wife Linda through a solid-and-then-some solo career. That brooding voice has lost none of its command over the years, and anyway, he's not exactly a slouch on acoustic guitar either. With David Huckfelt. All ages. $35+. 8 p.m. 10 E. Exchange St., St. Paul; more info here.—Keith Harris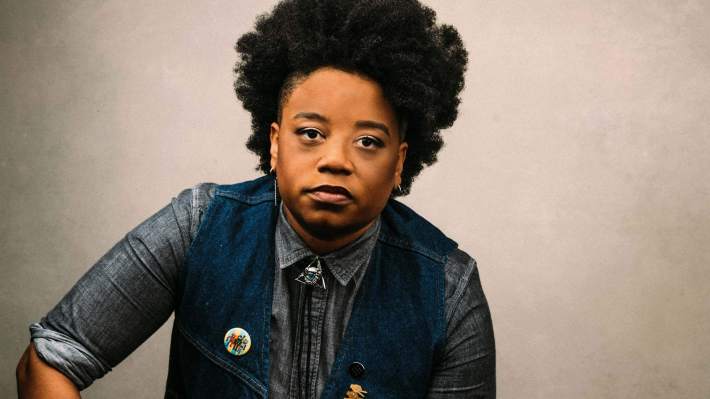 FRIDAY 11.12
Amythyst Kiah
Parkway Theater
Queer, Black, and country, Tennessee singer/guitarist Amythyst Kiah is among a new generation that's claiming roots music or Americana or whatever-you-call-it for musicians who look like her. Her 2021 album, Wary + Strange (Rounder), peaks with the stomp 'n' clang of "Black Myself," a full-throated anthem of outrage and pride, but its quieter moments are just as tough and resourceful. Recorded with production veteran Joe Berg (whose work you've most recently heard on Phoebe Bridgers's Punisher), the album boasts inspired touches like the bass harmonica on "Fancy Drones (Fracture Me)." All ages. $25-$45. 8 p.m. 4814 Chicago Ave., Minneapolis; more info here.—Keith Harris
AEW Rampage
Target Center
It's a great weekend for Minnesota wrestling fans. F1RST Wrestling Unleashed brings big-time brawling to First Avenue on Sunday, and before that locally produced showdown, AEW Rampage is taking over Target Center. Now, non-wrestling fans might be thinking to themselves: "AEW… that's not the wrestling acronym I'm familiar with." AEW (All Elite Wrestling) is a new-ish challenger to Vince McMahon's WWE, that monolithic institution that can trace its origins back to the early 1950s. (For a full explainer on AEW, we'll direct you to Collider.) Who's on the show Friday? Why, all the folks on this hastily copy-pasted list: CM Punk, Bryan Danielson, Chris Jericho, Cody Rhodes, Britt Baker, Miro, Darby Allin, Sting, Adam Cole, The Young Bucks, Jon Moxley, MJF, Thunder Rosa, and Orange Cassidy. Find tickets and more info here. $29-$90. 7 p.m. 600 First Ave N., Minneapolis.—Em Cassel
JPEGMAFIA
First Avenue
Though most of the tracks on JPEGMAFIA's excitedly titled LP! (EQT/Republic) are also ALL! CAPPED! WITH! EXCLAMATION! POINTS! (EXCEPT? FOR? THE? ONES? WITH? QUESTION? MARKS?), the rapper/producer's noise-for-noise's-sake sound is clamoring in subtler new directions here. The synth-bass is so pillowy you can sink into it; the squelchy little keyboard bits are so three-dimensionally tactile it's like they're brushing up against you. The man on the mic himself remains an aggressively elusive character, whether he's screwing his voice down to an ominous baritone or Auto-Tuning it upward to sing a Britney quote, but lest his skills get lost in the din, the throwback joint "OG!" shows off his bona fides. With Zelooperz. 18+. $22.50-$25. 8:30 p.m. 701 First Ave. N., Minneapolis; more info here.—Keith Harris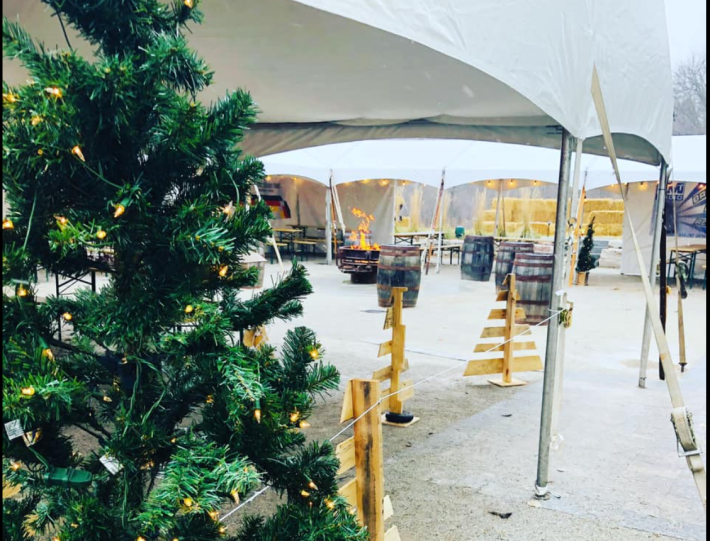 SATURDAY 11.13
Winter Beer Garden Grand Opening
Utepils Brewing Co.
Minnesotans love a beer patio. It doesn't matter the weather; if you set up a patio and serve drinks, even in the dead of winter, people will come. And as the pandemic rages on, outdoor patios are even more popular (and necessary!) than ever. This winter, you can find one such patio at Utepils. The bar has gussied up its slab of concrete with bonfires, tents, some Christmas-y decor, and benches. From noon to 2 p.m. this Saturday, guests can opt to have their beer poked, a 400-year-old practice of sticking a fiery hot fire poker into any beer. It's a neat trick that gives brews a richer, smokier flavor with a creamy finish. It also warms up the beverage, making it especially fortifying on cold nights. Other things to enjoy during festivities include eats from Potter's Pasties food truck and music will be provided by retro group the Good Time Gals and singer-songwriter Luke LeBlanc. Free. 11 a.m. to 10 p.m. 225 Thomas Ave. N., Minneapolis. --Jessica Armbruster
NE Makers Market & Bar Hop
Able, Indeed, 612 Brew
We're all annoyed by the term "maker," right? Sorta in the same way "content" feels cringe? Well, in any case, we won't hold vocabulary choices against this certifiably neat event, which will feature 50 local makers—i.e. jewelers, potters, knitters, painters, chandlers (no not from Friends, this is a term we just googled)—selling their goods at three Northeast breweries. MLM weirdos are not welcome, per the event invite, so don't worry about getting scammed as you shop artisanal what-have-yous while sipping craft beverages. The event is free, though the items you buy and drinks you slam are not—makers gotta make rent. Noon to 5 p.m. Find more info here.—Jay Boller
The Hold Steady
First Avenue
The weekend we were promised in April 2020 has finally come: Craig Finn's crew return to town for another two-night, three-show First Avenue marathon. Saturday night they'll share the Mainroom stage with two of the coolest (not to mention best) local openers you could ask for: Kiss the Tiger and Gully Boys. On Sunday the Hold Steady will move next door for two shows: an afternoon gig for the kids and a nighttime set for the drunks. And while you'll be hoping to hear your favorites from two decades of classics, let me just add that the band's latest album, Open Door Policy (Positive Jams), is their best in years. (I know critics are always saying shit like that in concert previews, but I mean it!) 18+. $50. 8 p.m. Saturday and Sunday; 3:30 p.m. (all ages) Sunday. 701 First Ave. N., Minneapolis; more info here, here, and here.—Keith Harris
AMTK + Rachel Youn
HAIR+NAILS 
Many activities are better with a little teamwork, but most people probably wouldn't include painting a work of art as one of them. But that's exactly what AMTK has been doing for over 13 years. Friends and collaborators Andrew Mazorol and Tynan Kerr describe their process as a mix of "negotiation, cooperation, and sabotage." The end result is a colorful mind-meld of people and places. These days, Mazorol lives in Brooklyn and Kerr is in L.A. Their latest collection, "Shadowlands," celebrates their first time working together in five years. Also in the gallery this month is "Underparty," featuring a kinetic sculpture that St. Louis-based artist Rachel Youn designed for the HAIR+NAILS space. At the opening receptions this Saturday from 7 to 10 p.m. you can watch the piece move and react to a dance track by local musician booboo. Otherwise, gallery hours are Saturdays and Sundays from 1 to 5 p.m. 2222 1⁄2 E. 35th St., Minneapolis. Through December 26 --Jessica Armbruster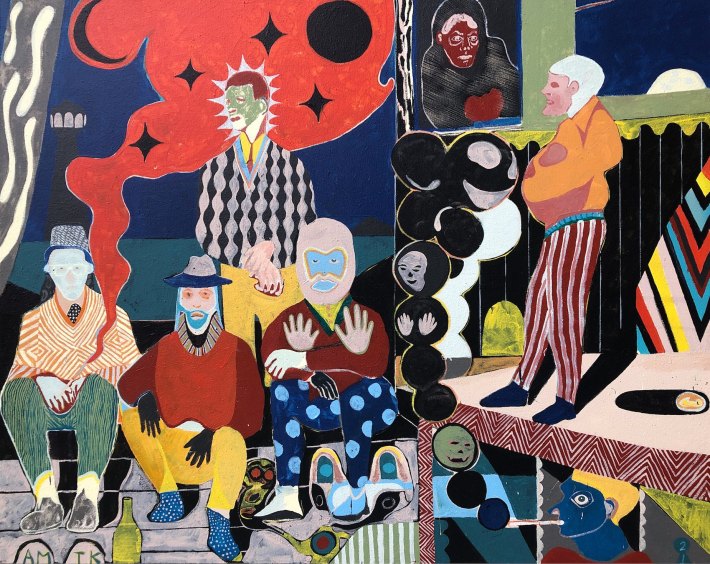 SUNDAY 11.14
Thundercat 
Palace Theatre
You've got to keep a close eye on virtuoso bassists—they're so fleet-fingered sometimes they forget to serve the beat. Fortunately Stephen Bruner, as talented a practitioner of the low-end theory as they come, has just as acute a rhythmic sense. He's advanced the most filigreed jazz fusion of the '70s in directions even folks who distrust the stuff can't refuse to follow, collaborating with Kendrick Lamar,  Kamasi Washington, and Flying Lotus. On his own, Thundercat's music is complex but diffuse, the explorations of a gifted, thoughtful dilettante, and I expect the musical sketches on It Is What It Is (Brainfeeder) take unexpected shapes in a live setting. With Channel Tres. 18+. $30-$50. 8 p.m. 17 W. Seventh Place, St. Paul; more info here.—Keith Harris
Stay in touch
Sign up for our free newsletter