Events
This Week's Best Events: 'Midsommar' at Franconia, beer parties at Arbeiter and Falling Knife, Cine Latino Fest
Here's your weekly guide to the best Minneapolis and St. Paul events.
9:03 AM CDT on October 4, 2021
THURSDAY 10.7
Idles
Palace Theatre
These Bristol U.K. punks, chart-toppers back home, are the kind of white blokes with rudimentary guitars and thumpy drums you can still get behind in 2021: class warriors with feminist and anti-racist underpinnings. On their third album, Ultra Mono, Joe Talbot's brashly earnest pledges of allyship, never subtle to begin with, got a little on-the-nose: "I raise my pink fist and say black is beautiful," "This is a sawn-off/For the cat-callers/This is a pistol/For the wolf whistle" and whatnot. But his heart's in the right place (on his left sleeve) and who's gonna quibble with "our government hates the poor" or "Carcinogenic," about capitalism? The band just gave us the first taste of their upcoming November release, Crawler, recorded with rap producer Kenny Beats: "The Beachland Ballroom" is a soulful mid-tempo song named for a Cleveland rock venue and dedicated to all the smaller rooms out there. With Gustaf. 18+. $29.50-$39.50. 7 p.m. 17 7th Place W., St. Paul.—Keith Harris
FRIDAY 10.8
Joey Hamburger & Friends
Sisyphus Brewing
Hamburger presents plenty of theater-kid energy, so it's no surprise that local comic also ringleads the "deranged sincerity" of Sheep Theater, winners of City Pages's 2018 Best Theater Troupe prize. The comedian/writer/videographer is also an effortlessly funny standup, whose bits mix storytelling charm with enthusiastic vulgarity. Tonight, Hamburger has assembled an impeccable sample platter of Twin Cities comedic talent, with performances from friends Ateh Akinde, Rudy Pavich, Courtney Baka, Ahmed Khalaf, MJ Marsh, Grant Winkels, and Cianna Violet. $10. 7:30 p.m. 712 Ontario Ave. W., Minneapolis; more info here.—Jay Boller
Cine Latino Fest
St. Anthony Main
Now in its 9th year, the MSP Film Society's festival presents a wide range of Spanish language films from the Americas and Spain at St. Anthony Main Theatre, with the addition this year of a platform that allows virtual viewing as well. The opening night film is Prayers for the Stolen (Noche de Fuego), directed by Tatiana Huezo, the story of the effect of the Mexican drug wars on three young women. (It's preceded by the animated short Rosa Rosae, A Spanish Civil War Elegy; there's also a 20th anniversary screening of Y Tu Mamá También that night.) Among the U.S. premieres to screen is Finlanda (Finlandia las Muxes), followed by a discussion between Cine Latino Artistic Director Hebe Tabachnik, Minneapolis Folk Arts Residency participants Jacobo and María Ángeles, and musician Azul Barrientos, whose work is featured in the film and will also perform at the opening night party at Terrace of the Hideaway (right near the theater). 115 Main St. SE, Minneapolis. Through October 14. Full schedule here.—Keith Harris
SATURDAY 10.9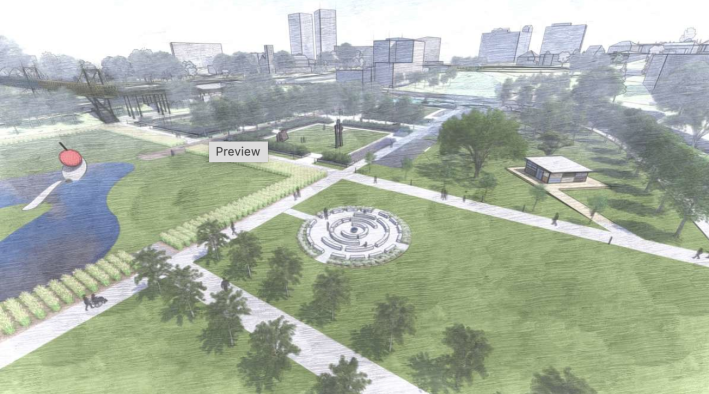 Angela Two Stars's Okciyapi
Minneapolis Sculpture Garden
The Minneapolis Sculpture Garden continues its glow-up with its latest addition, a new piece designed by Angela Two Stars. Okciyapi is a circular sculpture made up of benches for seating, all centered on a water installation. The shape is meant to be reminiscent of ripples that spring from a drop on the water. Two Stars was inspired by her grandfather's legacy as a Dakota language preservationist. It's a work that is as practical as it is poetic. "Language revitalization is a healing medicine for Dakota people," says Two Stars. "Without our language, we would lose an integral part of who we are as Dakota people." The unveiling celebration will include notes from Two Stars, kids' activities, and more. Free. 11 a.m. 725 Vineland Place, Minneapolis. --Jessica Armbruster
Midsommar 
Franconia Sculpture Park
That cute maypole dance is mere child's play for the Hårga commune in rural Hälsingland. That's where four grad students find themselves for a week of ancient Swedish-themed hell in Midsommar. The things you do to get a great thesis, right? What at first appears to be a quaint tradition from ancient times turns out to be far more sinister, starting with a bad psychedelic trip, followed by an ättestupa, skin masks, and a can-never-unsee Blood Eagle, which you might remember from Viking-era skaldic poetry. This Saturday, you can watch it on the big screen outdoors. Franconia will have snacks and beverages for sale. And, uh, you'll probably want to leave the kids at home for this one, unless they're Children of the Corn-type kiddos. $5 park admission. 7 p.m. 29836 St. Croix Trail, Shafer. --Jessica Armbruster
Arbeiter Brewing Oktoberfest
Arbeiter Brewing Co.
Another weekend in October, another variety of Oktoberfest parties. The two-day party at Arbeiter looks like it's going to be a lot of fun. A few local businesses will be stopping by to serve up eats, including smoked meats with Bark and the Bite and fresh pretzels served with Oktoberfest beer cheese from Geek Love. On tap will be Gayderhosen, Arbeiters team-up with Deviant Minds, a cooperative working to make the service industry safer for LGBTQ folks. Other fun to be had include bar games (bean bags, nails, and stein hoisting) and limited edition T-shirts for sale. Noon to 10 p.m. Saturday; noon to 8 p.m. Sunday. 3038 Minnehaha Ave., Minneapolis. --Jessica Armbruster
Lucy Dacus
First Avenue
Always a smart, talented generator of big moods, Dacus steps up as a great songwriter on her third album, Home Video (Matador). The music is more direct in every way: tempos brisker, lyrics crisper and more expressive, singing warmer and overflowing with tenderness for others. The key lyric here is "You can't feel it for the first time/The second time"—this is an album of awakenings, often but not exclusively sexual. Whether recalling tween Bible camp ("In the summer of '07/I was sure I'd go to heaven/But I was hedging my bets") or a pretentious beau ("You called me 'cerebral'/I didn't know what you meant/But now I do/Would it have killed you/To call me pretty instead?") the memories are distant but so sharply evoked as to feel formative. But the one where she fantasizes about murdering her beloved's estranged dad sounds like it might have happened yesterday. Bartees Strange opens. 18+. $20/$22. 7:30 p.m. 701 First Ave. N., Minneapolis.—Keith Harris
Drive-By Truckers
Palace Theatre
These veteran southern rockers faced that inexpressible storm that was 2020 head on, with two albums that bared their desperation in their titles: The Unraveling and The New OK. Patterson Hood's field reports from what the latter album called the "battle for the very soul of the U.S.A." didn't always make up for in urgency that they lacked in insight, though Mike Cooley contributed a brilliantly nuanced op/ed to each album: condemning incel-manipulating "Grievance Merchants" and granting overdue credit to a Alaska's great Trumpian precursor ("Tikis woulda never hit the streets/If it weren't for Sarah's flame"). But it's to their credit that they're still battling away nearly a quarter-century into the career, and I'm happy to report that the all-too-timely cover of "The K.K.K. Took My Baby Away" that highlights the latter album has earned a spot in their setlist. 18+. $29.50-$45. 7 p.m. 17 7th Place W., St. Paul.—Keith Harris
365 Days of Incidents: Falling Knife Turns 2
Falling Knife Brewing Company
Falling Knife Brewing Company has had one hell of a two year run. Nothing like opening a half year before COVID hit to complicate everything! So what can you expect from their second birthday party? What can't you expect! They're pulling out every possible stop to celebrate year two, including live music in their outdoor "amphitheatre" (feat. Sunless, Dead History, Products, and more TBA). Three food trucks'll be there, including Parlour, and UP Coffee Roasters' onsite coffee bar. Wanna shop? There's a craft market with local vendors. Wanna game? Enter the single-day Super League pinball tournament. Yes, there are prizes. And of course, there will be beers: a bunch of anniversary releases, including two barrel-aged guys and a new bottle release. For FK's sake, you won't wanna miss this. — Em Cassel
The Witches
Parkway Theater
Forget the Anne Hathaway version. We're talking about the OG 1990 Witches here, with Angelica Huston taking an iconic turn as a child-hating head witch. The plot: a young boy and his grandma take a charming vacation by the sea only to discover that a bunch of witches are also in town for their annual convention. After turning the boy into a mouse, he decides to take down the whole coven. Yes, this is a movie for kids. Also yes: It is kinda still scary AF as an adult. There's conceptual horror (the girl in the painting!), body horror (wait 'til the witches take their masks off, shudder), and comedy horror (Huston cranks the camp up to 10, and it's awesome). If you bring a kid, make sure they have a strong stomach. $5-$10. 1 p.m. 4814 Chicago Ave., Minneapolis. –Jessica Armbruster
SUNDAY 10.10
Neil Hamburger
Turf Club
Racket is recommending two comics with the surname Hamburger in the same week—how about that? This Hamburger was born Gregg Turkington, and his lounge-lizard persona has been prowling stages since the '90s. He's… much, much different from the affable local. Hamburger hacks, sweats, and snorts onstage; his punchlines are often deliberately aggressive groaners, the type of humor that folks used to call "anti-comedy." The veteran standup is also funny as hell, having won over admiring peers like Tom Scharpling and Tim Heidecker, the latter of whom serves as his co-host on the hilarious film-critic spoof On Cinema. The latest album from "America's Funnyman," Still Dwelling, had him croaking and shouting standards from Lennon-McCartney, T.S.O.L., and more. It dropped in 2019 via the otherwise respectable indie label Drag City. Major Entertainer opens. $20. 5 p.m. & 8:30 p.m. 1601 University Ave. W., St. Paul; more info here.—Jay Boller
Stay in touch
Sign up for our free newsletter