Music
There's More to Rocktober Than Rock in Your Complete Concert Calendar: Oct. 3-9
Pretty much all the live music you can catch in the Twin Cities this week.
3:30 PM CDT on October 3, 2023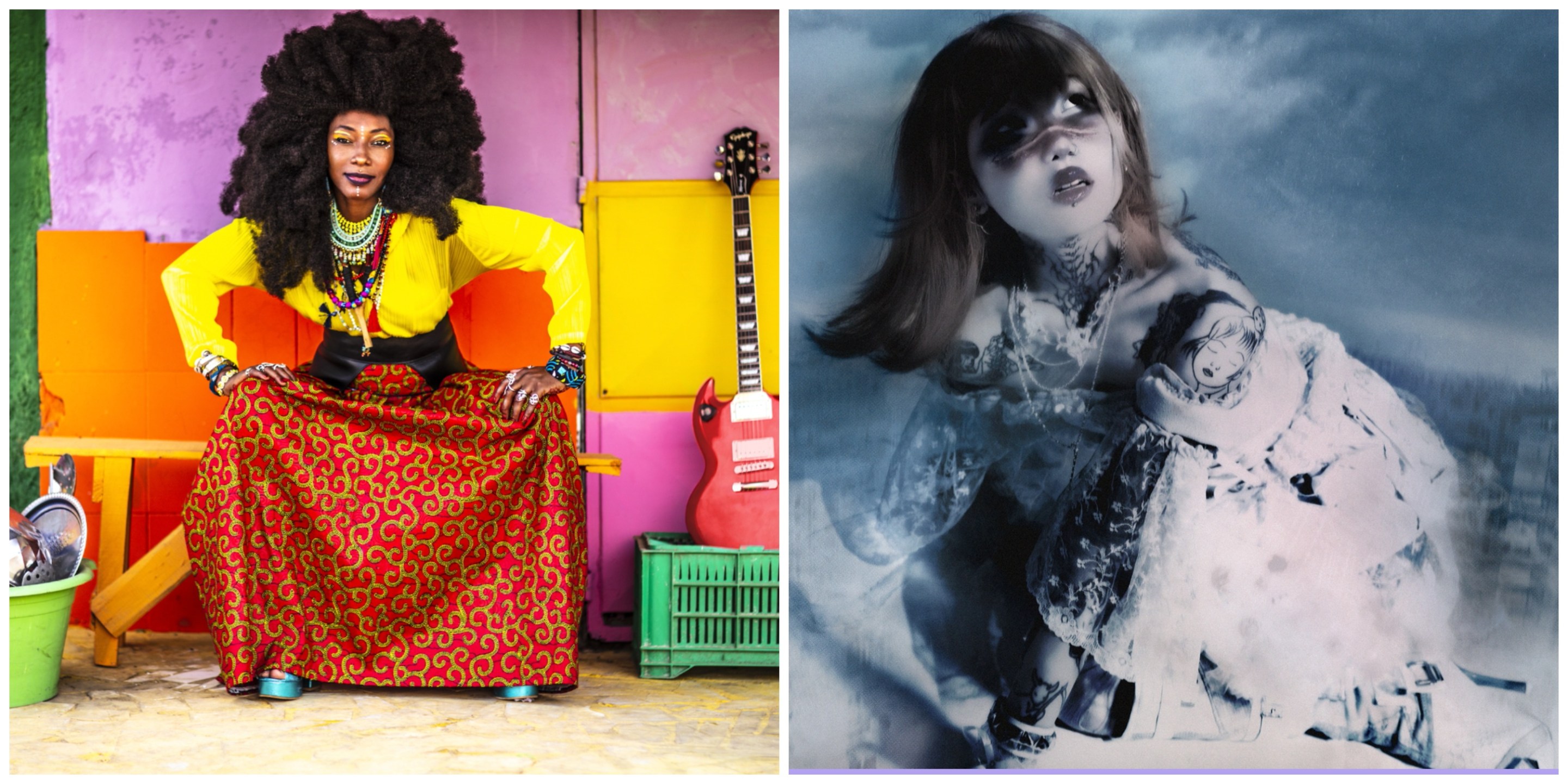 Ah, Rocktober! Too narrow a word, actually, to take in the different kinds of great music you can experience live this week. Does Fatoumata Diawara rock? Does yeule? Do you? Yes, Racket reader, you surely do rock.
Tuesday, October 3
International Reggae All Stars @ Bunkers
St. Dominic's Trio @ Driftwood
Karaoke With On Call Entertainment @ Eagles 34
The Brook & The Bluff with Bendigo Fletcher @ Fine Line
Saliva and Drowning Pool with Adelitas Way and Any Given Sin @ First Avenue
Kevin Gamble Trio @ Green Room
Coco Canary (EP Release) with James Samimi Farr @ Icehouse
Bill Simenson Orchestra @ Jazz Central
PG-13: Peter Gabriel Afterparty @ KJ's Hideaway
Bluewater Kings Showcase @ Minnesota Music Cafe
Jack Botts with Ben Camden and Ben Goldsmith @ 7th St Entry
Industrial Strength with DJ Sin @ Terminal Bar
Worker's Playtime with David Stoddard @ 331 Club
October Conspiracy Series featuring the Ya Ya Boys @ 331 Club
Cut Worms with Ryder the Eagle @ Turf Club
Two Steppin' Tuesdays feat. Sammie Jean Cohen, David von Schlegell @ White Squirrel
Whispered the Rabbit Tuesday Residency w. The Handsome Traveler, Gently Gently, The Old Smugglers @ White Squirrel
Peter Gabriel @ Xcel Energy Center
Wednesday, October 4
Dehd with Sarah Grace White @ Amsterdam
MN Songwriter Showcase hosted by Nick Hensley @ Aster Cafe
Vintage Crop, Dummy, Kapital, Miracle Debt @ Cloudland
Maggie's Wednesdays: Leslie Vincent @ Crooners
Brynn Batanni, Missing Tone Circuit, Turbo Pastel @ Driftwood
Miss Shannon's Swing Night @ Eagles 34
Miss Myra and the Moonshiners @ Eagles 34
Cannibal Corpse and Mayhem @ Fillmore
Samantha Fish with Eric Johanson @ Fine Line
Matt and Kim with Pkew Pkew Pkew @ First Avenue
The Runaway Grooms, Twine @ Hook and Ladder
Dream of the Wild with White Line Darko @ KJ's Hideaway
Craig Clark Band @ Minnesota Music Cafe
Werewolf by Night: Music in Concert @ Orchestra Hall
slowdive with Drab Majesty @ Palace Theatre
Bad Idea vs. Arson Class @ Palmer's
King Kustom & the Kruisers @ Schooner Tavern
Kate Bollinger with Sam Burton @ 7th St Entry
Harold's House Party on KFAI with Jackie Daniels @ 331 Club
Generationals with mmeadows @ Turf Club
Lars-Erik Larson & The 2nd Stringers @ White Squirrel
Loretta Lynn Tribute Night @ White Squirrel
Thursday, October 5
Slow Pulp with Babehoven @ Amsterdam
Jay Bee & the Routine @ Bunkers
Buio Omega, Night Witch, In Lieu, Lack @ Cloudland
Gregg Inhofer: Tribute To Fallen Heroes @ Crooners
Natania and Ticket To Brasil: A Tribute To Antonio Carlos Jobim @ Crooners
Jordan Johnston and The Elevation @ Crooners
Karaoke with On Call Entertainment @ Eagles 34
LGBTQ+ Twin Cities Latin Dance @ Eagles 34
Sour Guts ⏤ Olivia Rodrigo Dance Party @ Fine Line
Sturniolo Triplets @ First Avenue
Worriers with Kali Masi @ The Garage
Jest, Valors, Water Dog @ Green Room
Resonant Rogues and Steam Machine @ Hook and Ladder
Derecho Rhythm Section @ Icehouse
Dream of the Wild with Sabyre Rae Band @ KJ's Hideaway
Young Relics @ Minnesota Music Cafe
Dirty Lowdown Fools @ Minnesota Music Cafe
Sammy Rae & The Friends with Kiss the Tiger @ Palace Theatre
Joe Roberto's Poverty Hash @ Palmer's
Corzine & Zaq Baker, The Aftergreens, Rachael Bearinger @ ROK Music Lounge
Cosmo's Factory @ Schooner Tavern
Trousdale with Anna Vaus @ 7th St Entry
Celtic Thunder Odyssey @ State Theatre
Northeast Invitational @ 331 Club
Activity with ahem and JØUR @ Turf Club
Neckbolt, Big Chomp @ White Rock Lounge
Tiny Daggers with Zombies, Mean Magic @ White Squirrel
Friday, October 6
Devon Worley Band (Album Release) and Banshee Clothing Line Reveal @ Amsterdam
Martin Devaney + Faith Boblett @ Aster Cafe
The Good, the Bad & the Funky @ Bunkers
Kommuna Lux with Di Bayke @ Cedar Cultural Center
Nate Coles & the Blue Diamond Band, Lifestyle Shakes, Pill Cutter, Car Sliders @ Cloudland
Erin Schwab and Jay Fuchs: Ladies of the 80's @ Crooners
Maggie's Afterglow: Emily Green and Chris Lomheim @ Crooners
GZA and the Funk Nomads @ Dakota
Hater's Club, Street Hassle @ Driftwood
All Women's Dance Party @ Eagles 34
Vacations and Last Dinosaurs with Eliza McLamb @ First Avenue
Products Band (Album Release), Fenix Dion, Keep for Cheap @ Green Room
"Horn-ucopia" Fall Funk Fest @ Hook and Ladder
Sleeping Jesus (Single/Video Release) with The Get Together and Gabacho @ Icehouse
Will Kjeer Trio @ Jazz Central
Kijanna @ Minnesota Music Cafe
Cult of Lip (Album Release) @ Mortimer's
TopHouse with Craig Paquette @ Palmer's
Sammie Jean Cohen, D.C. Leonhardt and Ponyfolk @ Palmer's
The Robert Cray Band @ Pantages Theatre
MODWOP Collective @ ROK Music Lounge
Chris Farren with GUPPY and Gay Meat @ 7th St Entry
Craig Clark Band @ Schooner Tavern
The Roundabouts, Jason O'Dell @ Terminal Bar
FLOWTUS, Leslie, Getting By @ 331 Club
Possessed by Paul James with Placaters @ Uptown VFW
Octoberfest @ White Rock Lounge
The Matt Arthur Contraption with Todd Partridge @ White Squirrel
Saturday, October 7
Maude Latour with Devon Again @ Amsterdam
The Band Camino with Bad Suns and THE WLDLFE @ Armory
The Good, the Bad & the Funky @ Bunkers
Novalima with Radio Pocho @ Cedar Cultural Center
5 Cent Reality, Tiny Traces, the Plushies @ Cloudland
The Birthday Club: Dan Chouinard and Prudence Johnson @ Crooners
Kathleen Johnson's Kat Band Project @ Crooners
Maggie's Afterglow: Vicky Mountain and Chris Lomheim @ Crooners
Dee Dee Bridgewater & Bill Charlap @ Dakota
Not Quite Dead, Strolling Clones @ Driftwood
Good Trouble and Friends @ Driftwood
The Jazz Outlaws with King Baron @ Dusty's
Funk n Spuds, Pandelion, Efmi @ Eagles 34
Thank You GeorgeTown @ Eagles 34
KennyHoopla with Groupthink and Surly Grrly @ Fine Line
Low Cut Connie with Matthew Logan Vasquez and Mik Cool @ First Avenue
The Von Tramps, Cindy Lawson, The Carnegies @ Green Room
Molly Brandt with Eric Carranza @ Icehouse
Dave Hause and the Mermaid (Album Release) with Tim Hause @ Icehouse
Playtime Trio with Steve Kenny Quartet @ KJ's Hideaway
The Original Westside Band @ Minnesota Music Cafe
Cole Diamond with Redwing Blackbird & Jeffrey Robert Larson @ Mortimer's
John Roy + After Party @ ROK Music Lounge
Your Disco Needs You ⏤ A Kylie Minogue Dance Party with Lady Cummeal Cassadine and Cariño @ 7th St Entry
Jack Knife & the Sharps @ Schooner Tavern
Mean Magic, Dirty Pretty, Hayley Ann @ Terminal Bar
Ice Climber, Orthe, Linus @ 331 Club
Buffalo Nichols with Mary Cutrufello @ Turf Club
An Evening with Sweet Stache @ Uptown VFW
Discoproof with DJ Rowsheen & DJ TNA @ Uptown VFW
Adekunie Gold @ Varsity Theater
Rosie Castano @ White Squirrel
Ear Candy: A Live Electronic Music Series @ White Squirrel
Muun Bato with Erik's Iridescent Tent, LYXE @ White Squirrel
Sunday, October 8
Lauren Sanderson with poutyface @ Amsterdam
Swing Brunch with Patty & the Buttons @ Aster Cafe
Boots and Needles + Debbie Briggs @ Aster Cafe
The Small Glories, Newberry & Verch @ Cedar Cultural Center
Jens Lindemann: Rhapsody and the Blues @ Crooners
Red Hot Django Peppers @ Crooners
Mick Sterling and the Stud Brothers @ Crooners
Phine Friends, Shotgun Ragtime @ Driftwood
Twin Cities Country Dancers @ Eagles 34
Karaoke with Reina Starr @ Eagles 34
Shrimp Olympics (Album Release) with Rupert Angleyes, Larry Wish @ Green Room
Red Hot Django Peppers @ Icehouse
Bre Kennedy with Sarah Walk @ Icehouse
Church of Cornbread: Cornbread Harris and His Band @ Palmer's
Poor Nobody's with Chris Hepola @ Palmer's
Momentary Lapse of Floyd @ Parkway
Stephanie Was @ ROK Music Lounge
Krooked Kings with Caleb Dee @ 7th St Entry
Emmy Woods & The Red Pine Ramblers @ 331 Club
Emarosa with The Dangerous Summer and First and Forever @ Turf Club
French Cassettes & Immaterial Possession @ Underground Music Venue
Caitlin Robertson & Alex Sandberg with Ian Alexy @ White Squirrel
St. Paul Songwriter Rounds @ White Squirrel
Monday, October 9
Lucia Micarelli & Leo Amuedo @ Dakota
Tango Desperados Practilonga @ Eagles 34
Other Country Ensemble @ Eagles 34
Twin Cities Queer Contra Dancing @ Eagles 34
JUST DREAM PRODUCTIONS PRESENTS: A NIGHT OF RNB @ Icehouse
RiFFs: Jazz and Comedy @ Jazz Central
Auto-Tune Karaoke @ Mortimer's
Cowaoke with Ben Moooker @ Palmer's
Scowl with Militarie Gun, Big Laugh and Prize Horse @ 7th St Entry
Juliana Hatfield with On Being an Angel and DJ Jake Rudh @ Turf Club
The Roe Family Singers @ 331 Club
Matt Arthur Contraption @ 331 Club
Mumblin' Drew's Oldfangled Orchestrators Monthly Residency @ White Squirrel
Stay in touch
Sign up for our free newsletter