Food & Drink
The 12 Most Underrated Bars in the Twin Cities
Stop sleeping on and start drinking at these under-hyped pubs.
7:03 AM CST on February 2, 2022
Here's the thing: Most bars in town are properly rated. Cuzzy's, 19 Bar, Palmer's, 331? Everybody knows they rule. Wild Greg's, Pourhouse, Blarney's, Thr3 Jack? Trust your gut. 
The underrated bars we're here to celebrate fit a sneaky under-the-radar definition—regulars are in on the secret, but that barroom magic is mostly localized. Typically, these spots, new and old, occupy the enviable niche of "neighborhood bar." It's a loving but limiting term—why shouldn't these places, with all their comfort and charm and reasonable prices, be worth a journey across town?
It's time for Twin Cities drinkers to get low-key adventurous and step inside another 'hood's favorite tavern.
Como Tap
Address: 2124 Como Ave. SE, Minneapolis
Opened: 1963
Vibe: Old-school campus hangout
Fear gripped fans of Sporty's Bar & Grill in 2019. That's when news dropped that the Como neighborhood tavern, one that had served thousands of wobbly Gophers for decades, would be changing hands and rebranding under two new owners as Como Tap. Was a glitzy, North Loopy makeover in store? By the grace of the dive-bar gods, not even close. The menu received minor tweaks, including some upgraded veggie options, but the backbone of "famous" burgers and hand-cut fries remains un-fussed with. New couches arrived in the bunker-like karaoke/trivia wing, though the interior's well-worn surfaces and disjointed, dormy decor are largely intact. "It's so great, it's like being in your own house, only you're out and somebody else is cooking," says Hillary, a Sporty's/Como Tap bartender of a dozen years. "The gal who bought it in 2019 was a bartender and waitress here for 15 years, so not much changed." Including the prices: Generous afternoon and late-night happy hours remain friendly on the wallets of students and student-loan-paying alumni. Call it whatever you want—the 119-year-old building has been the Como Inn, Grutes Place, Sportsman's Bar—just never call the cozy, nostalgic barroom fancy. And to Manning's Cafe partisans shaking their fists skyward with rage from just across the street: Your bar is good too.
Salsa a la Salsa
Address: 920 E. Lake St., Minneapolis
Opened: 2006
Vibe: Hidden mall cantina
We feel for Salsa a la Salsa. Midtown Global Market endured plenty of hardship following the nearby 2020 rioting, yet its Mexican restaurant—an original anchor tenant—keeps chugging away with complimentary chips and salsa and 2-4-1 margaritas everyday from 3 to 5 p.m. The michelada ($6) we sipped on a recent visit was top-notch, as were the ice-cold pints of Pacifico ($4). "Customers love it," says bartender Bernabe. "The service is very good, we serve anybody. The ambiance is quiet, the specials are great, and we make our own mixes for the margaritas. The food is authentic, traditional Mexican food." All these years later, Salsa a la Salsa still feels like a charmingly roughed-in hideaway amid the sprawling mall, with its Spanish tiling and ample cacti tucked away in a quiet corner. Bonus draw: It's the only spot in MGM where you'll find hard booze, making SALS a great companion restaurant to Eastlake Craft Brewery.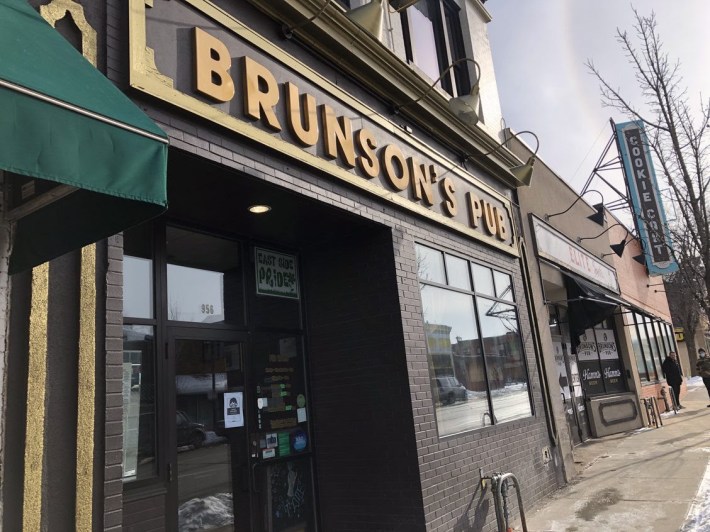 Brunson's Pub
Address: 956 Payne Ave., St. Paul
Opened: 2017
Vibe: Historic St. Paul hangout meets new-school gastropub
Brunson's Pub is a newbie compared to many bars on this list, but it feels like it's been around forever, and that's because it kind of has! The bar itself dates back to Prohibition, says Thomas LaFleche, who not only owns Brunson's with his wife, Molly, but also "pretty much lives at the bar" most of the week, making drinks and serving food with a smile. "The motto is if you're not leaving happy and full, then we're not doing our job right," LaFleche says. "We're just trying to provide a fun place to go." A formidable selection of liquor lines the warm mahogany bar, where photos of Payne Avenue in the 1940s are paired with more Hamm's and High Life memorabilia than your grandpa Hal has in the basement. Their 20 taps run a rotating list of creative craft beers—but there's always one for Hamm's—and at weekend brunch, you'll see as many guys drinking Mich Goldens at the bar as you will families sharing a laugh over baskets of fries. A word to would-be Brunson's brunchers: The bloodies are just six bucks. Come as you are; you'll leave feeling better than you did.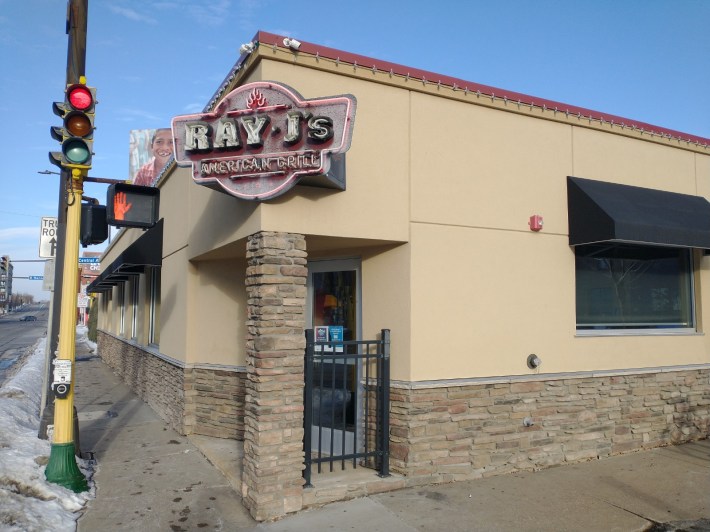 Ray J's American Grill
Address: 500 Central Ave. SE, Minneapolis
Opened: 2013
Vibe: Upscale neighborhood pub
Ray J's arrived in Minneapolis with established chicken-wing cachet. The original Woodbury location won WCCO's Best Chicken Wing prize that year, a well-deserved honor for its crispy, whole-wing specialty, which comes coated in a family recipe rub from 1975. "The food here is on-point; the Cajun chicken penne, the wings," says bartender Stephanie. "A buncha TVs, a great environment, a good location—what more can you ask for? We got downtown people, neighborhood people, college kids." With rip-free red vinyl seating and honest-to-god plateware, Ray J's boasts a cool, industrial feel that stands out among the other spots on this list. It's hardly pretentious, however, and while the taps run a little spendier ($5-$8), a pull-tab booth and laid-back patio remind you you're not downtown. Ray J's is a clean, expertly executed sports bar that tries without trying too hard.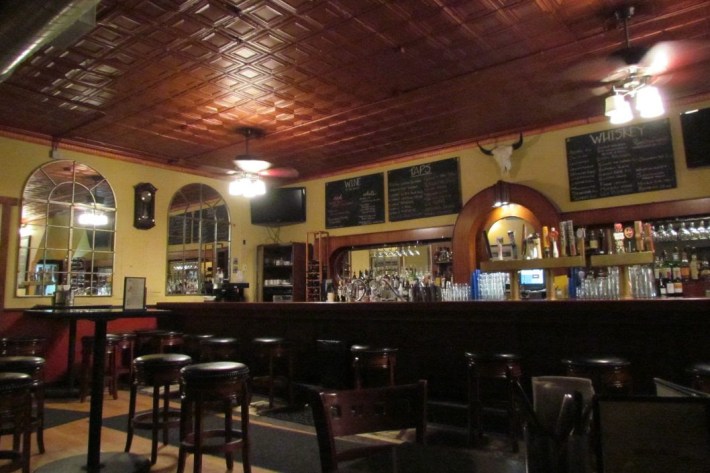 Tracy's Saloon & Eatery
Address: 2207 E. Franklin Ave., Minneapolis
Opened: 1979
Vibe: Cozy, Southside staple 
Few bars are quite like Tracy's Saloon, where you'll have to make the tough choice between house curry and the wings. The curry is a standout specialty here—truly spicy, beautifully seasoned, and as good as (or better than) anything you'll find at a more traditional Indian restaurant. And let's say you decide on the wings… which are you going to get? The berbere wings, which crackle with a warm heat that lingers delightfully on your tongue? Wings coated with oyster sauce, bursting with a kind of umami rarely tasted on flats and drummies? Buffalo sauce, which, sure, is also great? We selfishly hesitated to put Tracy's on this list, because being able to walk right in, grab a seat at the bar, and trade one of your wooden nickels for a drink—you'll get one with every beer you purchase during their frequent and generous happy hours—is among the greatest pleasures in this life. Tracy's isn't just an underrated bar. It's one of the most underrated places in the Twin Cities.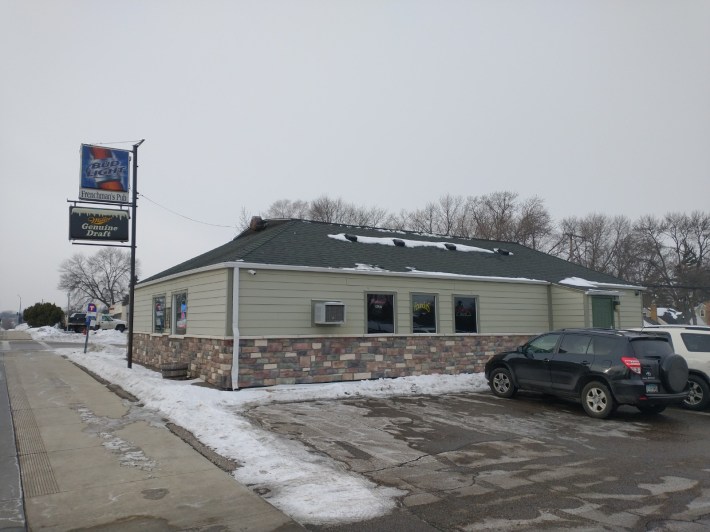 Frenchman's Pub
Address: 1400 E. 66th St., Richfield
Opened: 1933
Vibe: Legit small-town dive
As unassuming as bars get, Frenchman's Pub apparently has Prohibition-era roots as a south metro speakeasy. Inside, you'll feel transported back to the '70s. Well-worn carpet stretches from wall to wall, and Christmas lights dangle from the ceiling like stalactites year-round. An ornate pull-tab booth looms in one corner, while walls of windows cast a surprising amount of light on surplus amenities like jumbo TVs, arcade games, and wooden tables set out like a boozy cafeteria. "It's the vibe, the atmosphere here; it's just like Cheers—everybody knows each other's name," says bartender Ian. "The prices are really low, and we've got the best burgers in town." He's not kidding: Tap beers average $3.25, and get knocked down to $2.50 during happy hour. Ian recommends the Ghost Pepper Burger, while the Star Tribune's Rick Nelson rhapsodized the California Double back in 2017. Northeast may have an embarrassment of dive-bar riches, but south Minneapolis has, sadly, become something of a dive desert. So god bless Frenchman's, a lost-in-time treasure that sits wonderfully unchanged just below the city border.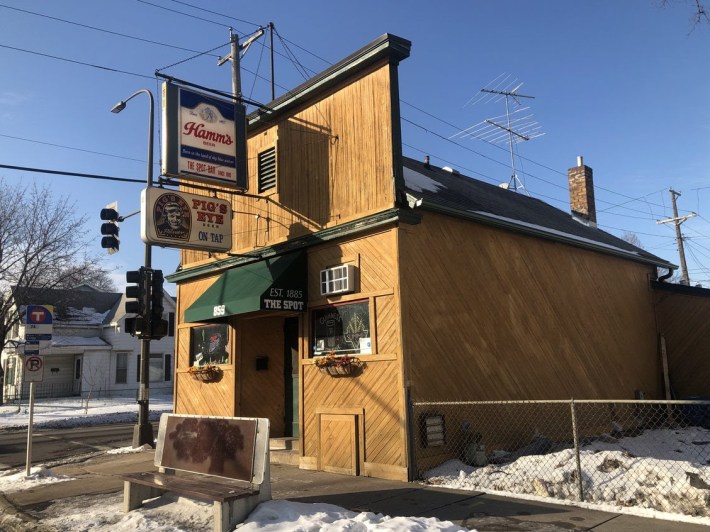 The Spot
Address: 859 Randolph Ave., St. Paul
Opened: 1885
Vibe: Your favorite neighbor's living room
Given that it's the oldest continuously running bar in Minnesota, you'd think more people would talk about, write about, and generally sing the praises of The Spot. It's impossible to replicate this kind of low-key comfort: the carpeted floors, the wood-paneled walls, the mounted press clippings from 50-year-old Oliver Towne columns in the St. Paul Dispatch about "the boys behind the bar" and their "feverish discussion and often dispute about the headline of the day." "Well, you've found the best one—the best bar in Minnesota," the fellow behind the bar chuckled when we called to inquire about this modestly wonderful St. Paul stalwart. There are the cribbage nights, the Friday meat raffles, the dartboards. Even if it wasn't established in the late 1800s, The Spot would be one of the finest places around to slide into a booth and drink an afternoon away. Then again, maybe theirs is the kind of hard-earned charm only 130-plus years can give a place.
Skinner's Pub
Address: 919 Randolph Ave., St. Paul
Opened: 2000
Vibe: Grandpa's favorite bar—in the very, very best way
The shortest, best bar crawl in the Twin Cities is the 100-yard walk from The Spot to Skinner's, where you can soak up a stomach full of beer with staggeringly huge trays of food. At Skinner's, whether you're a longtime customer, a server, or someone visiting for the first time, you'll feel like part of the family. "Our regulars keep our doors open, they're super important to us," says Amara, a server at Skinner's for about two years. "And we get new customers every day—I always see them come back, too." As for what keeps 'em coming back? It could be the drinks, or the fact that it's a perfect game day hangout, but our money's on the food. Some of the cooks have been there almost 20 years, serving pizza-pan nacho platters so wide you should get your name on a plaque if you're able to eat them all, or potato skins piled with enough cheddar and bacon it seems they'd go out of business selling them for just $6.95. With food so tasty at prices this low, it's an easy place to become a regular. "Our staff in general puts a lot of pride in their work, especially the cooks," Amara says. "Nobody ever leaves hungry."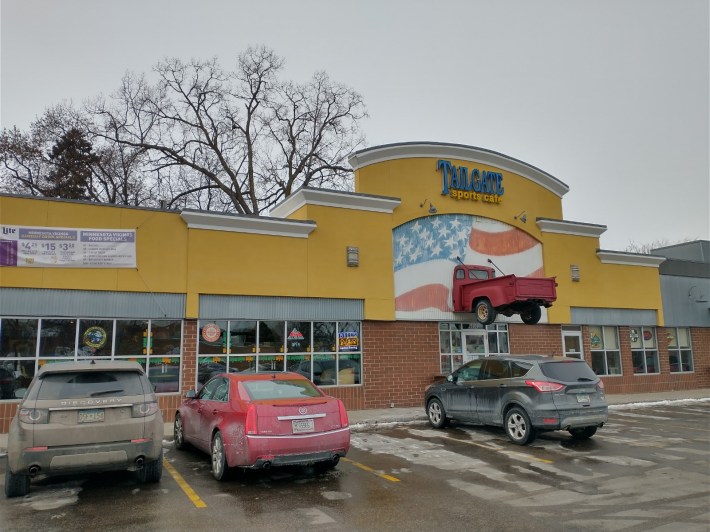 Tailgate Sports Cafe
Address: 6050 Nicollet Ave., Minneapolis
Opened: 2001
Vibe: DIY Buffalo Wild Wings
Places like Buffalo Wild Wings and, during its '90s prime, Champp's, are popular for good reason: spacious, clean sports bars where fans can comfortably gather to shout at rows upon rows of TVs. At Tailgate, the deep-south Minneapolis bar with a literal truck ass hanging from its exterior, that formula is carried out with the heart of a neighborhood pub. "The regulars are family to each other," says bartender Haley, who actually was a regular before getting hired. "Some of the bartenders have been here 17 years. This place is awesome, and it is underrated because, before I moved to south Minneapolis, I'd never heard of it." The draft pours come tall and icy, the no-nonsense bar food goes down easy, and nightly specials and weekend karaoke keep 'em coming back between games. As one Racket reader pointed out, the adjoining Paddy Wagon—the latest of several concepts attempted next door—curiously never draws a crowd even when Tailgate is stuffed to the gills. Maybe it's time to knock down a wall and expand the Tailgate magic.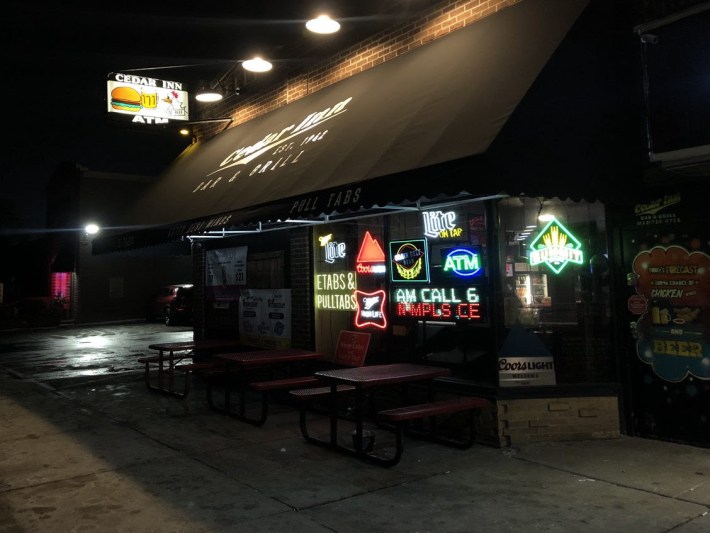 Cedar Inn Bar & Grill
Address: 4155 Cedar Ave. S., Minneapolis
Opened: 1970
Vibe: A biker bar for everyone
The glowing neon and blinking LEDs in the windows of the Cedar Inn beckon you inside like the bright lights of a big city. (The beer specials they're advertising don't hurt, either.) "My cook knows people who've been coming here since the '70s, and I know people who have been sitting here for 30 years in the same spot," says Lucy, one of their bartenders. "People have grown up here, and their children have grown up here. Our regulars have our backs—I have them dusting off my car when it snows or starting my car at the end of the shift, making sure we get there safe." As it should be at any dive worth its mettle, the pitcher and bucket-of-beer prices are low, and the menu is made up of classic comfort food done really, really well. (The jumbo wings, lovingly referred to by many as "pterodactyl wings," are especially great, as is the Cheezie Weezie, a Mack-Truck-sized take on a juicy Lucy.) But there's something more that makes this south Minneapolis gem so charming. Lucy recalls a couple who came in a few nights ago—they'd ended their first date, years ago, at the Cedar Inn, and they'd returned to celebrate their engagement. At the end of the day, we agree with her: "It's just a happy place."
Merlins Rest Pub
Address: 3601 E. Lake St., Minneapolis
Opened: 2007 
Vibe: British Isles by way of East Lake Street
There's nothing in Minnesota like Merlins Rest. "I started out in the kitchen, and before that, I was just a customer here," says Andie, an assistant manager. "What made me come back was, well, I love our cottage pie, and the atmosphere of the place. It's very community-feeling. We don't have TVs to distract you. You talk to the people that you're with, you don't just stare off." It feels like there are fewer and fewer places where you can just strike up a conversation with the stranger next to you at the bar, but Merlins Rest is one of them. If you do find yourself staring, your eyes have likely wandered to their whiskies, a selection literally unrivaled by any other bar around. With 340 single-malt Scotch whiskies and 140 Irish whiskies, it's a daunting list. (Lucky for you, they discount them on Sundays.) But if you'd rather a perfect pour of Guinness and a pretzel, who would we be to stop you?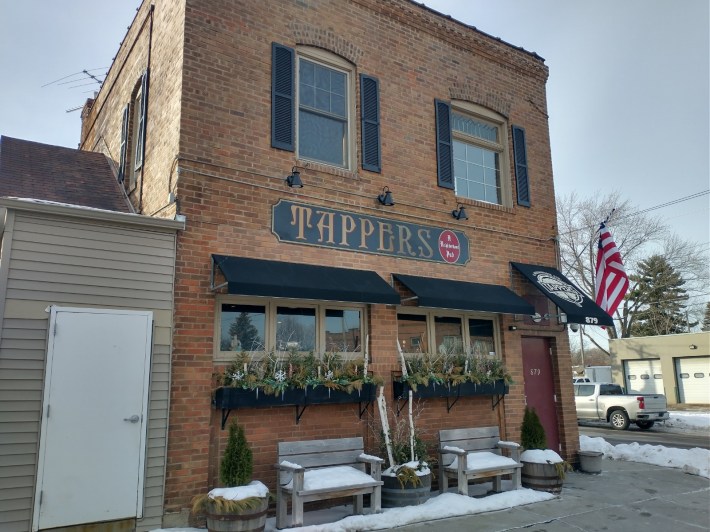 Tappers Pub
Address: 879 Stryker Ave., West St. Paul
Opened: 1914
Vibe: Historic pizza and pull tab clubhouse
Little light passes through its single narrow row of picture windows, but Tappers still feels cheerful on a Saturday afternoon. Inside the stately brick building, regulars rip at pull-tabs and chat amicably as old country music quietly fills the tiny throwback bar. Bartender Tommy offers this concise pitch for Tappers: "People love the lack of parking, the surly bartenders, the pull-tabs, and the homemade pizzas." Noting that she'd already eaten two that week, a regular confirmed that "the pizzas are the best ever." In particular, the Coney Island Pizza—sliced-up hot dogs, onion, mustard—has won neighborhood-wide acclaim. The drinks, poured stiff and generous, are priced right, and the tap list is just as long as it needs to be. Louie Hawkins, Tappers co-owner for the last eight years, suspects his bar might be one of the oldest in Dakota County, though he hasn't dug into the research quite yet. That's the pace of things at Tappers, the kind of bar that never goes out of style.
Em Cassel (she/they) is a cyclist, a metalcore apologist, and a co-owner and editor of Racket.
Co-owner/editor of Racket.
Read More:
Stay in touch
Sign up for our free newsletter