Music
Thank You, I'm Sorry Is a Minneapolis Band
Sure the singer lives in Seattle, but let's not get picky here.
11:11 AM CDT on October 10, 2023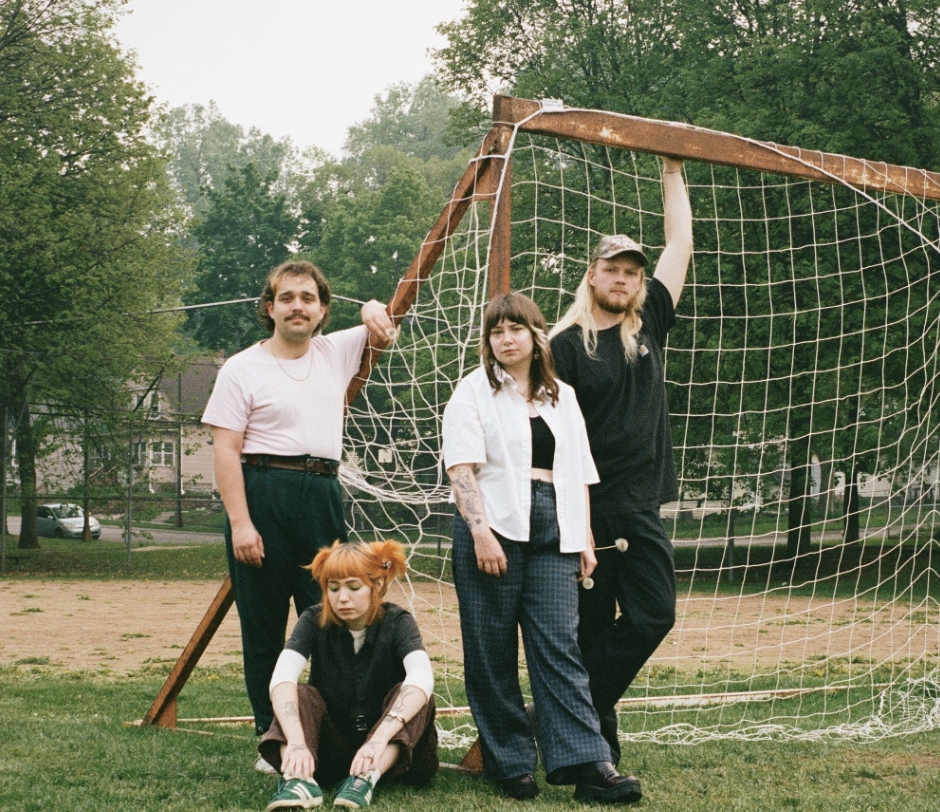 "Yeah, so I just insist on making everything really complicated," Lleen Dow says.
Dow is Zooming in from Seattle, where they now live. (We're actually on Google Meet, but that doesn't lend itself to as zippy a verb, does it?) The faces of the other three members of Thank You, I'm Sorry—guitarist Abe Anderson, bassist Bethunni Schreiner, and drummer Sage Livergood—share my screen with Dow's, but they're all in Minneapolis. 
We're gathered on my laptop today to discuss the making of the band's new album Growing in Strange Places, released at the end of September, and the show the band is playing tonight at the Underground Music Cafe. The songs on Growing in Strange Places tell a familiar story of fumbling toward self-discovery in early adulthood, its lyrics making the subject as fresh as it always seems to the person living through it. It's a tale well-suited to a take on pop-punk (and then some) that doesn't rewrite the rules but bends them in sneaky ways when it thinks no one is looking. But to get to the music, first we've got to talk logistics.
"I'm not from Minneapolis, but I had been living there briefly," Dow says. "And I met Sage and we became buddies and then I moved back to Illinois and then a little bit later, Chicago, and that's when Thank You really started. And I started looking for bandmates." The ones they found happened to live a six-hour drive away.
"And then I was like, 'I'm really sick of being in the Midwest,' and so last summer I moved to Seattle," Dow says.
If this seems a less than ideal situation for a band, think of Thank You, I'm Sorry as a long-distance relationship, albeit a creative, rather than romantic one—when you find your match, you make it work despite geography.  
Though singer Dow writes the words and usually the melodies, the new TYIS album does sound like the result of four people collaborating, its group dynamic coming to the fore on "Autonomy Shop" (a song for which, if all went well, they shot a video yesterday). You can hear it in that bit of electronic rhythmic trickery at the start, the fleet-fingered jumbo riff with which Anderson dominates the fill, the way the rhythm section breaks out of its speedy rush for a climactic break. 
Thank You, I'm Sorry's previous album, the earnest and jangling I'm Glad We're Friends, sounds thin in contrast, and why not? That was three years and an Abe Anderson ago, after all. Work on Growing in Strange Places began back in the tumultuous year of 2020, when Dow was living in Minneapolis; then the singer moved back to Chicago, necessitating regular road trips and studio cram sessions. "Abe has a studio in his parents' garage in Cannon Falls," Dow says. "It's so sick, it's decked out, such a comfy space."
"With this one, we worked a little bit on some structure and a little bit of 'What kind of vibe do we want this one to be?'" Livergood says. "And sometimes Abe does all the instruments…"
"Abe's amazing," Schreiner chimes in.
"A lot of that is unintentional—I'll just be messing around in my free time and it will turn into a Thank You song that was not necessarily planned to be," says Anderson. "A riff becomes a song, basically."
And so, though Dow mapped out the demos beforehand, there was room for spontaneity. "There were whole songs that were surprises," they say. "Like Abe's showing me the instrumental for 'Brain Empty'—we were packing merch and he was like, 'I wrote this thing. Do you want to hear it?' Then he played it and I was like, 'My god, let me write some lyrics really fast,' and then we were giggling, we were like, 'What if we made it sound like hyperpop? What if we made my vocal really weird?'" Forty-five minutes later, the track's new-wavey flair had earned it a place on the album.
A constant as the band toys with different sounds, Dow's voice is a plainspoken, idiosyncratic variant of pop-punk/emo vocals past, cannily dipping in and out of pitch in a way that suits lyrics that document the second adolescence of your early 20s. On "Autonomy Shop," Dow voices what could either be one side of an argument that both parties have fought through interminably before, or a recitation of the lines you come up with afterward in your head, leveling reasonable demands like "You should treat me like a person."
On "Mirror," Dow Blinkishly observes "Guess this is growing up" before concluding "I'm not into it." Most of the relationships here are ending, or seem on their way to it, but there's even a straightforward love song ("Parking Lots") with handclaps and "sha la la" vocals in the background. "I can finally accept that I'm allowed to be happy," Dow states conclusively on the closing track, "As I Should Be," or as conclusively as you can state anything at 24 years old. 
Like so many hustling musicians, the Thank You members are all in other projects. Schreiner plays bass in Goodluckry. Anderson drums for Fend, which he calls "Indie rock/emo-adjacent," and the hardcore band Father Melissa. Livergood is a member of the orchestral pop outfit NATL PARK SRVC, which has a new album, Magician, out later this month. 
Local music fans might also remember Livergood and Anderson as members of the band niiice, their main commitment when they joined Thank You I'm Sorry. Dealing with that scheduling conflict prepared the band for any future difficulties. "There was a kind of balancing that we got a lot of practice out of and I feel very confidently that if we could handle that, we could handle any other balancing act," says Dow, who acts as Thank You I'm Sorry's project manager on top of everything else, plotting the band's fate on Google Calendar.
"I feel like the distance kind of almost helps," Dow says. "Everything we do has to be planned, usually months out in advance, so we're really able to block out that time for Thank You. And then it gets prioritized because obviously I'm not in town super frequently. So of course, we're gonna make the most of the time that we have when we're together."
And the band has spent plenty of time together on the road, their bond solidified by dealing with the highs and lows of that experience. After a Brooklyn gig, for instance, attended only by friends ("I think that's more embarrassing than no one showing up, says Dow), they learned the New York Marathon was the following morning and they had to flee before they were trapped in the city for the weekend. Unfortunately, they wound up in a creepy Red Roof Inn in New Jersey.
"We got the weirdest vibe from the guy working at the front desk, and I remember we all got into the hotel room and I was like, 'We need to put a chair in front of the door,'" says Dow. "It smelled like wet dog—in the worst way. I remember I had anxiety as I was falling asleep. And I was like, 'what if they're pumping poison gas into this hotel room?' And then I told Bee about it, and they were like, 'I had the same fear.'"
"I know I'm tired but I'm falling asleep really fast and then I started getting a little worried because that's not usual," Schreiner recalls thinking.
Unpoisoned (and unmurdered in any other way), the band survived to enjoy their best day, which occurred in the Texas border town of Mission. "It was literally 20 miles from Mexico, and all of us were like, 'Why do we decide to play this far south? Is this gonna be worth it?'" says Dow. "It was at someone's outdoor barn, and they were like all these chickens."
But the turnout was great and, according to Schreiner, "We sold the most merch of all the shows that run. They almost cleared us out."
"Sometimes you'll play a small city, and because no bands ever go there, everyone is so grateful that you're even there," Livergood says. "We felt like rock stars honestly."
When they're off the road, Thank You, I'm Sorry consider themselves a Minneapolis band, no matter where Dow is living. "The three of us that live here in Minneapolis, we have a lot of friends here. a big community—and Lleen's a part of that too," Livergood says.
And Dow even sometimes wishes they lived here. But then... "My partner grew up in Southside Minneapolis and we're just constantly like, 'Wow, Seattle is a lot like Minneapolis—but also there's a mountain. And look, there's the ocean.' So…"
Thank You, I'm Sorry
With: Keep for Cheap, She's Green, Inconsistent
Where: Underground Music Cafe
When: 7 p.m. Tuesday, Oct. 10
Tickets: $19.09; more info here.
Stay in touch
Sign up for our free newsletter