Food & Drink
South Asian Pizza Finds Its Utopian Vision in the Twin Cities Suburbs
How Pizza Karma and Bombay Pizza Kitchen are perfecting a Bay Area staple.
9:38 AM CDT on August 8, 2022
It all started with the Mexican Pizza from Taco Bell.
Dubbed the "Pizzazz Pizza" when it hit menus in 1985, Mexican Pizza became a huge hit with diners—so much so that after it was discontinued, a recent push from customers caused Taco Bell to bring it back. Crucially, a simple swap of beans for beef made the Mexican Pizza vegetarian, striking a chord with parents and children of the South Asian diaspora, many of whom were raised on meat-free diets. Taco Bell's emphasis on spice and abundance of vegetarian substitutions brought many of these communities as close as they could get to fast food while maintaining a similar flavor profile to South Asian/Indian dishes, as NPR recently reported.
Though the Mexican Pizza was neither Mexican nor pizza, it was a kind of flash point that allowed South Asian communities to reassess the mechanics of the pizza, and what goes atop it. Then, along came Dalvinder Multani.
Multani started Zante Pizza in 1986, after he moved to New York City from India and got a job working for a pizza place in Queens. "Multani honed his pizza-making skills for four years in Queens, New York, then moved out west and opened Zante Pizza and Indian Cuisine," the San Francisco Chronicle reported in 1993, "where he has been spinning pizzas and stirring fragrant pots of Indian food ever since." 
For Zante's Indian pizza, chicken tikka masala sauce replaced the traditional tomato, and toppings included tandoori chicken, eggplant, garlic, spinach, and cilantro. Their daal makhne pizza added cooked creamed lentils alongside similar toppings to their tikka masala pizza for vegetarians; both stand as menu staples to this day. Zante served Indian pizzas side by side with traditional Indian and South Asian staple dishes like rogan josh and vindaloo, and in doing so, became an institution in the Bay Area.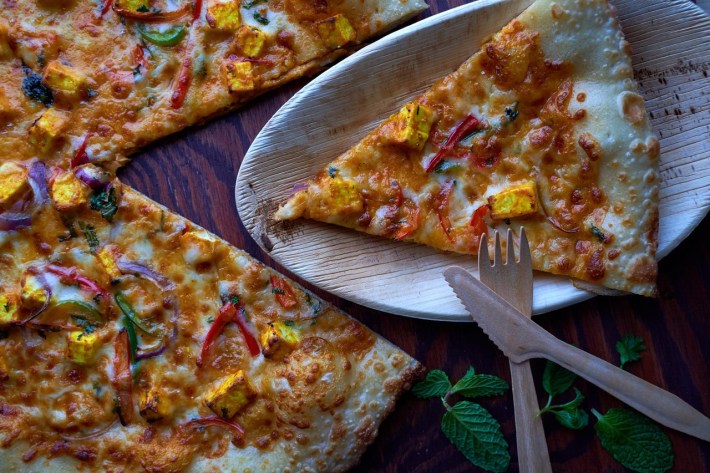 Since Zante's 1986 debut, many imitators have risen, each with their own a-ha twist on the style. But as Soleil Ho recently outlined in a review for the San Francisco Bay Chronicle, few successors have differentiated themselves in the way Zante has. The issues are plentiful. Some have topped their pizzas with excess prep from frequently ordered South Asian dishes, making them bland and unpleasant; others offer a not-so-mighty crust, whether naan or hand-tossed, causing the pizza to buckle under the pressure of the toppings. Ho concluded that while Indian/South Asian pizza is a Bay Area staple, finding one that offers an inventive twist, while respecting the ingredients, is relatively difficult.
There are some that do it well: In southern California, chef Ali Haider opened 786 Degrees in 2013 to immense critical praise for its twist on Napoletana pizza, such as its Bombay tikka masala pizza with mango chutney, and a blend of paneer and burrata cheeses. Can Am Pizza in Washington perfected the balance of delectable South Asian curries and toppings, bringing them to life in pizza form.
So, where do the Twin Cities fit into the mix of the rise of this Bay Area staple?
First, there was Football Pizza, formerly known as Crescent Moon Bakery. Opened by Meerwais and A.J. Azizi in 2000, the restaurant made a name for itself serving traditional takes on korma, tikka, and many other dishes, before making the transition to pizza. The pies are known (not surprisingly) for their football shape, and are served alongside traditional Afghan and Mediterranean dishes. While regional dishes such as their korma and kabobs have yet to be showcased in the pizzas they sell, Football Pizza provides halal beef toppings such as pepperoni and salami as a conventional, yet flavorful alternative for South Asians of Muslim descent who seek to keep it pork-free.
"If you think about a pizza, it's really three or four ingredients, and it has to be done right," James Beard award winning chef and author Raghavan Iyer, who opened Pizza Karma in 2018, tells Racket. "The chances of not getting it done right are very high, so you have to really pay attention to how each of those ingredients play a role."
Pizza Karma opened its first brick-and-mortar shop in Eden Prairie and expanded quickly, moving into Maple Grove and Blaine and introducing a food truck. Here, the Indian ingredients do make it atop the pies, in winning fashion. Signature pizzas include saag paneer, chicken tikka, and lamb meatball, and all pizzas are offered on a hand-tossed crust or a 10" tandoor-fired crust.
"Naturally, the tandoor lends itself to the same technique as a coal-fired or wood-fired oven, because you slap the raw piece of dough along the inner walls of the oven," Iyer says. "So, what we do at Pizza Karma is a double cooking technique, where we fire the oven, slap the dough in the tandoor, cook it three quarters of the way, and then top it off with all the ingredients, and then run it through a conventional pizza oven to finish it off. So they're maintaining the integrity of the crispness of the crust, and it doesn't get soggy."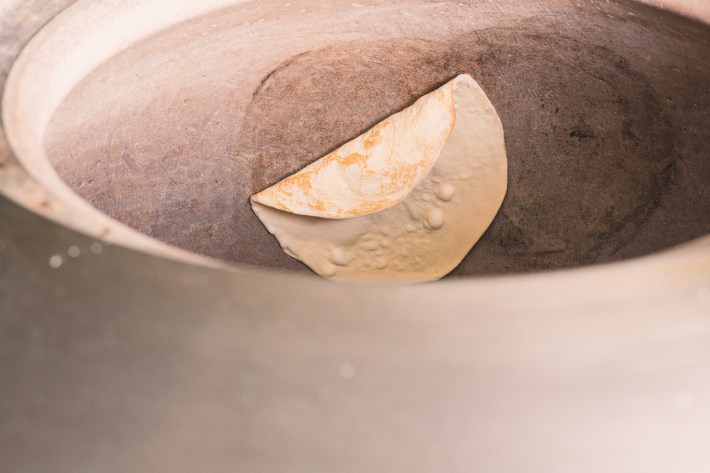 In addition to offering some South Asian/Indian staples on its pizzas, Pizza Karma serves a bevy of other pizzas highlighting flavors from around the globe, such as their chicken kebab, pan seared potatoes and veggies, and street corn, all of which are offered with similar crust choices. 
"I've always wanted to showcase flavors that are reflected in cuisines around the world," Iyer notes. "Pizzas are the perfect window to the world if you want to expose the cuisine to different parts of the world, especially when you want to bring in flavors that may not be familiar to the average Midwestern eater."
In August 2020, not long after Pizza Karma got its start, Ashok and Divija Penmetsa, (with some assistance from Parasole Restaurant Group's consulting wing), launched Bombay Pizza Kitchen. The Eden Prairie pizzeria was not only an ode to the fusion pizzas they'd had at Can Am Pizza in Seattle, it was also the fusion they witnessed in their daily lives growing up as third-culture kids. 
"When we started hearing about these concepts out in the West Coast, it really reciprocates what a lot of immigrant families are living under," Divija recalls. "With the huge migration of South Asians that happened in the '90s, you see much more of this blended heritage of people growing up in the US, so we thought it would be a really interesting way to cater to our generation, and how we grew up."
Like Raghavan Iyer, Ashok and Divija wanted to focus on making South Asian/Indian cuisine easy to approach, and to pique the interest and taste buds of different audiences in the Midwest through pizza. 
Pizza Karma and Bombay Pizza Kitchen represent something that the Bay Area has been trying to perfect when it comes to making a palatable, savory South Asian/Indian Pizza. Opening in the suburbs has been a positive for both businesses, as curious diners have flocked to order non-Italian takes on pizzas with ingredients like paneer and coconut shrimp. 
"It's a two-fold way to serve the community," Divija notes. "For non-South Asian people, it's a way to approach Indian food more easily. For those who identify as South Asian, it's a chance to try something different with existing flavors that they've also grown up with in a different way. It's been really nice to see that we're able to serve both of those communities, and it hasn't been stretched one way or the other to meet a certain crowd or people with taste preferences."
Pizza Karma and Bombay Pizza Kitchen continue to find their footing, showing how South Asian/Indian pizza can adapt and be employed as a gateway to wider flavor palates, and show how a Bay Area staple can be done right.  
"I have always said that's why Indian food, or any other food from another country is not classic, but it's dynamic, because it changes and it evolves," Iyer says. "When you go to India, every corner, even some of the remote cities in India, you will find pizzas, which have all the flavors, toppings, and have the quintessential techniques, ingredients and dishes that are reminiscent of multi-regional Indian cooking, because that's what they know."
"When you think about pizza, you don't hesitate about it," Divija adds. "Putting Indian flavors on pizza would just be a way to make Indian cuisine much more approachable, because it gives you a balance of comfort food pizza—something that you may not have tried before in terms of flavor profiles—with different Indian curries and toppings."
Stay in touch
Sign up for our free newsletter