Food & Drink
Some New Restaurants I Really Liked This Year
These 9 new restaurants were bright spots in another relentlessly weird year.
11:21 AM CST on December 22, 2021
Well folks, another year. We sure got through it. 
After taking much of 2020 and 2021 off from food writing due to a combination of COVID-19 and the surprise shutdown of the journalistic institution by which I was employed, it felt great to get out there and eat in public places again. What a concept! Not to get all sentimental, but I love restaurants, and after an almost totally stagnant 2020, watching them start popping up in earnest again was a bright spot in another relentlessly rough year.
What follows isn't an exhaustive list of every new restaurant in the Twin Cities, or even a definitive rundown of The Very Best. While we've covered Owamni, for example—the groundbreaking Native restaurant from chef Sean Sherman—I personally haven't been able to snag a reservation yet. I believe the folks who say Myriel is great. Sooki & Mimi, too. Just didn't make it over there this year! 
Such is navigating the dining world in a pandemic, and on a budget, while writing and editing a startup news and culture outlet. We've been busy ranking takeout pizzas and grocery store rotisserie chickens, you know? Covid stuff.
These are simply the new Twin Cities restaurants I visited and liked in 2021 and plan to visit again in 2022. (Pandemic permitting.)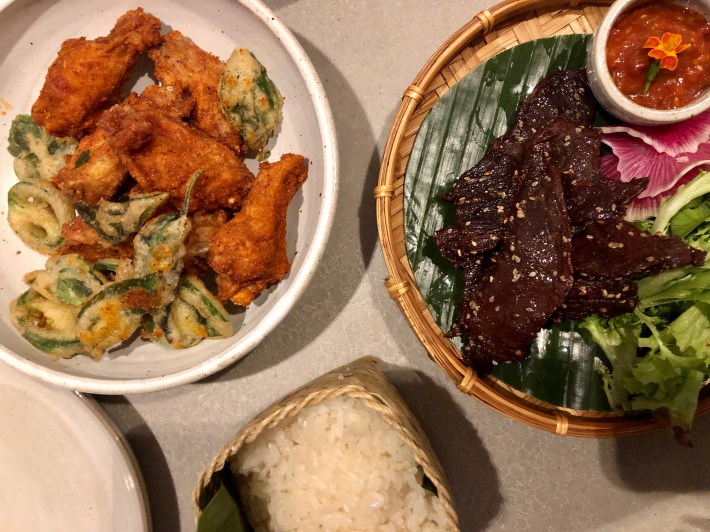 Khâluna
I was pretty bummed out when I heard Harriet's Inn was closing—it was a great little neighborhood-y burger and beer spot and I liked watching Wild games there—but after eating at Khâluna I'm not really sad about it anymore. Sorry, Harriet! This new Laotian restaurant blew me away at every turn, from the complete architectural transformation to the exacting and lovely cocktails to the rub on those Thai basil wings up there ($15), which we were told is chef Ann Ahmed's super secret recipe. (She brings it in from home, so closely guarded is the spice blend.) Eating here feels like being transported to some faraway oasis, all the way up until you step back out into the dirty snow. 4000 Lyndale Ave. S., Minneapolis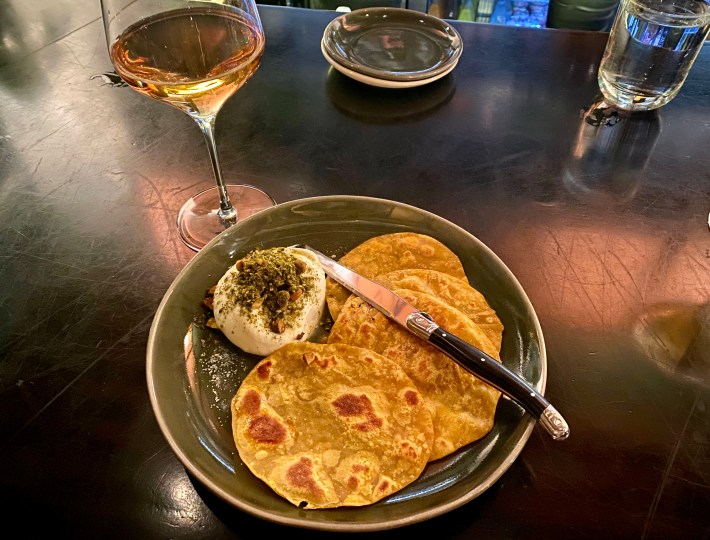 STEPCHLD
STEPCHLD was the runaway hit with my friend group this year, and after sneaking in a visit earlier this week, I can finally say: I get it. The food is unfussy and fun and all over the map, with globe-trotting interpretations of dishes like burrata ($15), which starts in Italy, swings through the Middle East (dusted with za'atar and pistachios), and makes a stop in India (it's served alongside warm, fresh chapati for dipping). Or take the birria ($17)—here, the traditionally Mexican dish is seasoned with East African berbere spices. And everything takes place in a tiny, shotgun-style space (formerly the burger bar JL Beers), with the bar and flat tops to the left and a handful of tables on the right. A really solid wine list rounds the whole thing out—bring your natural wine-loving bud who's always talking about carbonic maceration. And order the chubby garlic noodles ($18). 24 University Ave. NE. Ste. 100, Minneapolis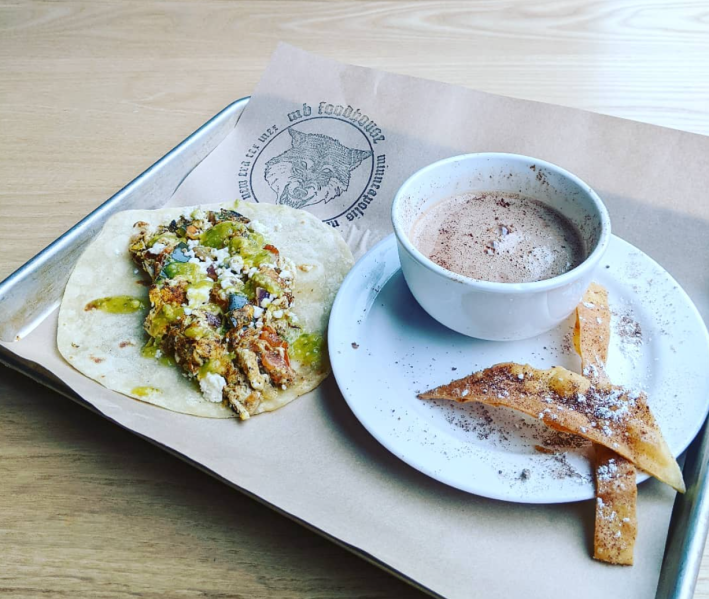 MB Foodhouse
The Twin Cities has some truly great tacos—I'm not taking anything away from Las Cuatro Milpas or Pineda when I say this—but one thing it doesn't have is tasty Tex-Mex. At least it didn't until earlier this year, when MB Foodhouse started popping up in south Minneapolis before moving to a space in the North Loop. Here, courtesy of native Texan Kristen Martinez, you'll find the cheesy, beefy, fried, and wonderfully messy cuisine popular along the U.S.-Mexico border. The taquitos ($8) are impossibly tasty. And you know what else you can't find enough of in this town? Breakfast tacos. MB Foodhouse has a bunch of 'em at $5 a pop. 729 N. Washington Ave., Minneapolis
AMA Sushi
Until this year, I had but one complaint about MOMO Sushi: It was a little bit far from my house. So imagine my delight when this Northeast gem (we gave it "Best Sushi" in City Pages' last-ever Best Of issue) opened up a location at 50th & France, in a spot that's a bit easier for some southsiders to get to. Brothers Sonam Nyorie and Rinpo Yak chose the name AMA for sushi spot number two, which means "mother" in Tibetan. Nyorie and Yak are Tibetan immigrants, and in addition to colorful sushi like the Lungta Roll ($12.95), which is inspired by the colors of Tibetan prayer flags, the menu here includes Tibetan momos ($9.50 for beef) that are just the tastiest little things. AMA's quickly becoming a go-to takeout spot. 5033 France Ave. S., Edina
All Saints
I'm going to list all the wood-fired food we ordered during a friend's recent birthday dinner at All Saints, because I'm convinced we couldn't have picked any better. It started with the grilled focaccia with charred scallion butter ($4)—two orders, because there were four of us, and we like bread. Next came the fried chicken with harissa honey ($12) and an order of salt and pepper mushrooms ($11), both of which I'd order again, but especially the mushrooms, which were the kind of craveable snack you can't stop popping. For mains, we went with pappardelle with mushroom bolognese ($17) and the New York strip ($28), and along the way, we drank a lot of really wonderful cocktails. (The $10 Crystal Collins was my favorite.) So if you need a cheat sheet for your visit, which I hope will be soon… there you go! 222 E. Hennepin Ave., Minneapolis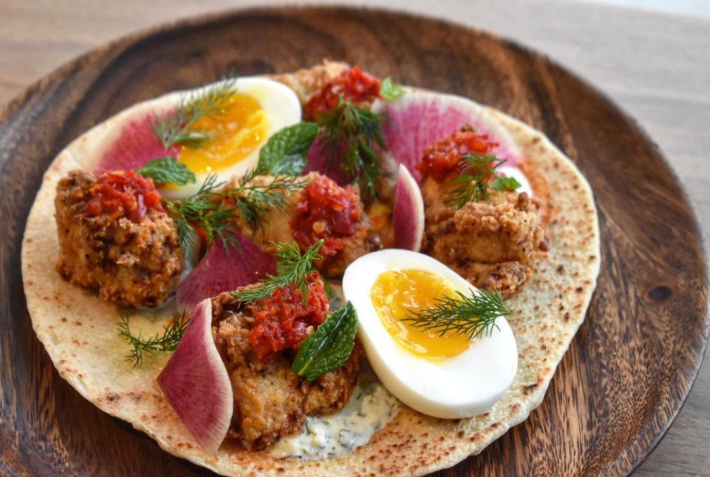 Cardamom
I never got a chance to eat at Esker Grove, the Walker Art Center's previous restaurant tenant, before it closed this summer to make way for Daniel del Prado and Shawn McKenzie's Cardamom. That means I can't quite compare the two, but I will say Cardamom's laid-back Mediterranean vibe seems like it really fits the space—a little less fine dining, a little more mezze and kebabs. The hummus ($13) arrives swimming in olive oil and begging you to scoop it onto a warm pita, while colorful cocktails like the sparkly Gazoz ($15) include flourishes of fresh flowers and berries. The whole place feels cool and casual and perfect for a pre- or post-museum snack. 723 Vineland Pl., Minneapolis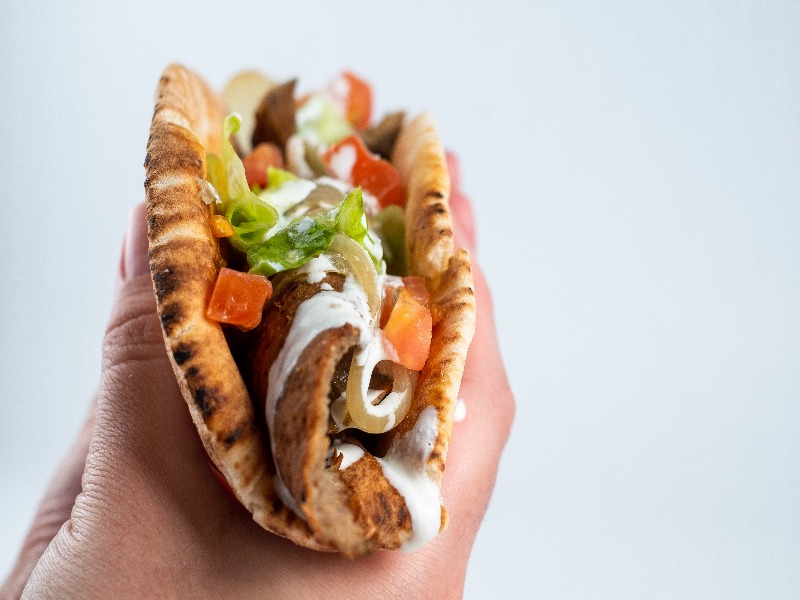 Oasis Market + Deli
Sometimes a restaurant is just a restaurant. In the case of Oasis, it's quite a bit more than that: "It's an oasis for immigrants," general manager Warsame Warsame told me when I spoke to him for a Heavy Table story earlier this year. This Somali-owned spot opened in the old Holy Land space at Midtown Global Market, and in addition to items like the chicken gyro plate ($12) and Greek Philly sandwich ($9), they've got a full-service deli and market stocked with hard-to-find international ingredients from East Asia and the Middle East. I'd put their hummus up against Holy Land's, and I definitely recommend the gyro sandwiches, which are massive in size and absolute flavor bombs. 920 E. Lake St., Minneapolis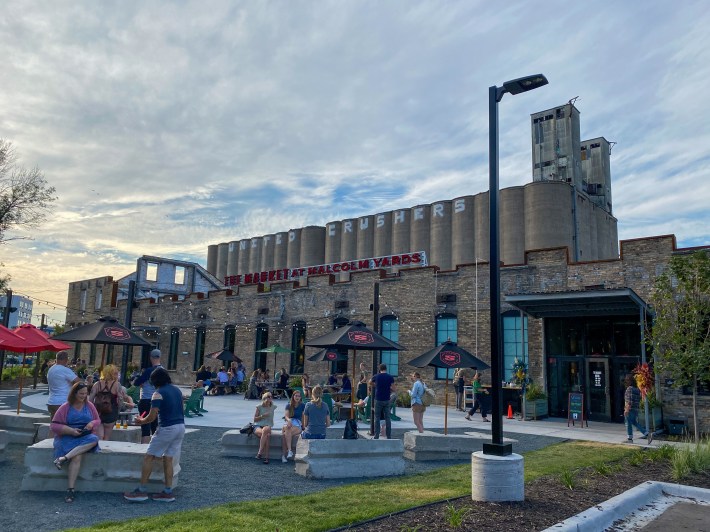 The Market at Malcolm Yards
I gave TMAMY a tough time earlier this year because the bike parking sucked—a situation they've since remedied. Which is nice, because there's a lot to like about this long-awaited food hall. Bebe Zito griddles up a contender for the best burger in town and does it cheaply: $5.95 for a single patty. On the other end of the spectrum, the all-veggie Advellum has been a real sleeper hit. Also enjoyed the veggie momos from Momo Dosa ($10)—no relation to the aforementioned MOMO Sushi. Plus they've got Wrecktangle Pizza, which topped our uncontroversial and objectively correct list of the best local pizza chains in the Twin Cities. Racket's staff members are split on whether food halls, generally speaking, are a good and enjoyable place to be, but I've gone to bat for Malcolm Yards more than once. 501 30th Ave. SE., Minneapolis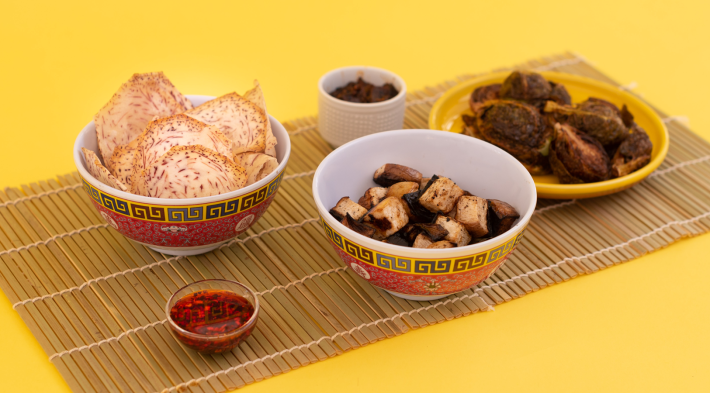 Union Hmong Kitchen
Union Hmong Kitchen popped up across the Twin Cities over the course of several years before landing a permanent space at Graze Provisions + Libations earlier this year. (See? Good things in food halls!) The staple here is the Zoo Siab Meal, or "happy" meal, which brings together the four ingredients on a Hmong dinner table: sticky rice, protein, vegetables, and hot sauce ($16-$18). This is fill-you-up, stick-to-your-ribs comfort food of the highest order; I'm partial to the BBQ pork. But the happy doesn't stop there, with Yaki skewers and pho and a Hmong breakfast sando that I haven't actually had yet but am making plans to go eat as I type this very sentence. 520 N. 4th St. Ste. 4, Minneapolis
Em Cassel (she/they) is a cyclist, a metalcore apologist, and a co-owner and editor of Racket.
Stay in touch
Sign up for our free newsletter