News
Should Minneapolis Adopt a Municipal Sidewalk Shoveling Program?
Property owners are currently tasked with clearing public sidewalks, but politicians and activists are pushing for a more equitable solution led by the city.
9:10 AM CST on March 2, 2022
This winter, Minneapolis had 29 days of snow, with over 43 inches dropped on its nearly 2,000 miles of sidewalk. And property owners were responsible for cleaning up every flake.
This has been standard practice in most North American cities. In Minneapolis, if your property abuts a sidewalk, it's your responsibility to clean that walk. Much like easement lawns, sidewalks are public land, but the onus of tending them falls to private citizens who live nearby and presumably benefit most from their use.
But this past November, city elections again surfaced an idea that challenges modern conventions of snow clearing, one that's been posed to the Minneapolis Transportation and Public Works departments for at least two decades: What if the city took responsibility for clearing snow from city sidewalks?
Accessible winter sidewalks are being discussed as part of a larger equity and public safety conversation within city agencies.
"We see a huge double standard in how the city treats people who are driving versus people who are walking," says Ashwat Narayanan, executive director of Our Streets Minneapolis, a nonprofit dedicated to making Minneapolis more pedestrian-friendly. "Even able-bodied people find it really hard to navigate our city on foot. It often means that, for people who are disabled, people who have cognitive challenges, people with strollers, the city pretty much becomes closed off, leading to a huge drop in quality of life."
Our Streets' "Making Winters Walkable" initiative has been at the forefront of a push to get the city government to pilot a municipal sidewalk clearing program, asking for $6 million in the 2023 city budget. Their cause was taken up in earnest by candidates in the 2021 city election—council members Aisha Chughtai (Ward 10) and Andrew Johnson (Ward 12) both won on platforms calling for increased city responsibility for shoveling. They were joined by Mike Norton (Ward 13) and mayoral candidate Sheila Nezhad who, though unelected, continue to advocate for the full city-led option. 
But could it actually happen? Narayanan is hopeful that the recent electoral attention, combined with yet another winter full of precipitation and ice, can help this long-discussed idea turn into action.
"When we advocate for bike lanes, for example, there are clear delineations of who supports them and who doesn't," he says. "We're not necessarily seeing that in this campaign, which makes me optimistic that this is one of those unicorn campaigns where we can actually turn out a broad part of the population to support it."
Cold, Hard Numbers
In early February, a Lynnhurst resident asked Nextdoor. "Could anyone explain how homeowners and businesses inherited the responsibility of snow removal from sidewalks?"
What erupted was a spat typical of the platform. In the 290 comments, a skeptical pattern emerged. "I personally have no problem with shoveling my walk," read one response. "Where I have a problem is with the city bureaucrats mandating it." Another chimed in "We inherited the responsibility by being a homeowner."
Though this is the predominant thinking in the Twin Cities, cities in Minnesota and throughout the cold climates of North America have adopted alternative methods to sidewalk clearing. In 2018, Minnesota Walks, a joint program between the Minnesota Department of Transportation and Minnesota Department of Health, released a first-of-its-kind report on the state of walking in Minnesota. The 17-page document was compiled from interviews with 6,000 Minnesotans and in-depth case studies on 13 northern cities from Shoreview, Minnesota, to Vaughn, Ontario.
The document, "The Sidewalk Snow Clearing Guide," is one outcome of the Statewide Pedestrian System Plan, an accessibility program first adopted by MnDOT in 2010. It outlines three functioning models in the state for sidewalk snow clearing—property owner removal, municipality-led removal, and partial municipality-led removal—analyzing the cost, equipment needed, and methodologies needed for adoption.
Though MnDOT and the MDH make clear that the document is merely a guideline and not a recommendation, organizations like Our Streets point to the study as evidence that city-led initiatives, like the one the Nextdoor poster pondered, are not only feasible but already exist. In Duluth, Crystal, Richfield, and Bloomington, the city takes on a larger responsibility for sidewalk clearing, following the lead of cities like Burlington, Vermont, Syracuse and Buffalo in New York, and Montreal.
"If we can afford to have the streets cleared after significant snow events, why can't we do sidewalks, right?" says Council member Johnson, who chairs the Public Works Committee. "In areas of downtown, you have very cohesive arrangements that are occurring. It's seamless, it's clear down straight to the concrete every single time. For all intents and purposes, that would be similar to municipal clearing."
The key difference between Minneapolis and the other Minnesota cities and towns is sheer scale. There are 1,910 miles of sidewalk in the city, nearly double the total length of streets. Street clearing can be inconsistent, and city plows leave windrows of snow blocking corners. What are residents supposed to do while they wait for the city to deploy Bobcats to clear the mess?
"I understand that argument, there's a lot of flaws in city services," Nezhad says. "But you know who's also not doing a good job clearing their sidewalks? My neighbors. And I think someone with a machine would do a better job."
City ordinance 445 specifies that anyone licensed for a property or business is required to clear snow or ice from their abutting sidewalks within 24 total hours of a snow event. If the sidewalk is left uncleared, a city engineer is sent to remove the snow and ice, and the owner is charged for the cost of labor. 
As Nezhad alludes, people routinely leave sidewalks packed with snow and ice. In 2021, 618 different properties were assessed at an average cost of $239, totaling $154,633. And these are only the properties that are reported via 311, a fraction of the actual offenders. 
Johnson has pushed for stricter enforcement, and in 2018, the city started sending out inspectors to proactively target offenders. Complaints to 311 have fallen every year since, from 3,531 in 2018 to 1,537 in 2021. So far in 2022, only 619 complaints have been called in, but the threat of getting cited by city officials isn't a strong enough deterrent. 
Nezhad's mayoral campaign was the only one to include a municipal shoveling program pilot. The pilot, nearly identical to the one Our Streets proposes, would've come in phases, starting with priority streets—those with the highest pedestrian use and closest to major bus routes—unfurling citywide from there. She sees it not only as an environmental and employment issue but a matter of public safety.
"The MPD SWAT team division costs $9 million," Nezhad says. "When we talk about what builds a safe community, safe sidewalks build a safe community. We could make a strong argument for taking some of that funding."
Johnson, who campaigns as a "a pragmatic progressive," is less confident that it would be so simple. If the pilot is successful, it could cost up to $20 million to purchase equipment and hire contractors for citywide rollout. Unlike Nezhad, he anticipates that the city would need to raise property taxes to make it happen, a probable barrier to widespread public support.
"We have opportunities for the city to take on more to improve the quality of the clearing, and I also think we have the opportunity to better enforce our existing requirements or existing laws," he says. "With a municipal program, I just don't foresee any way, short of spending $100 million, that you're getting 2,000 miles of sidewalk cleared in 24 hours or less."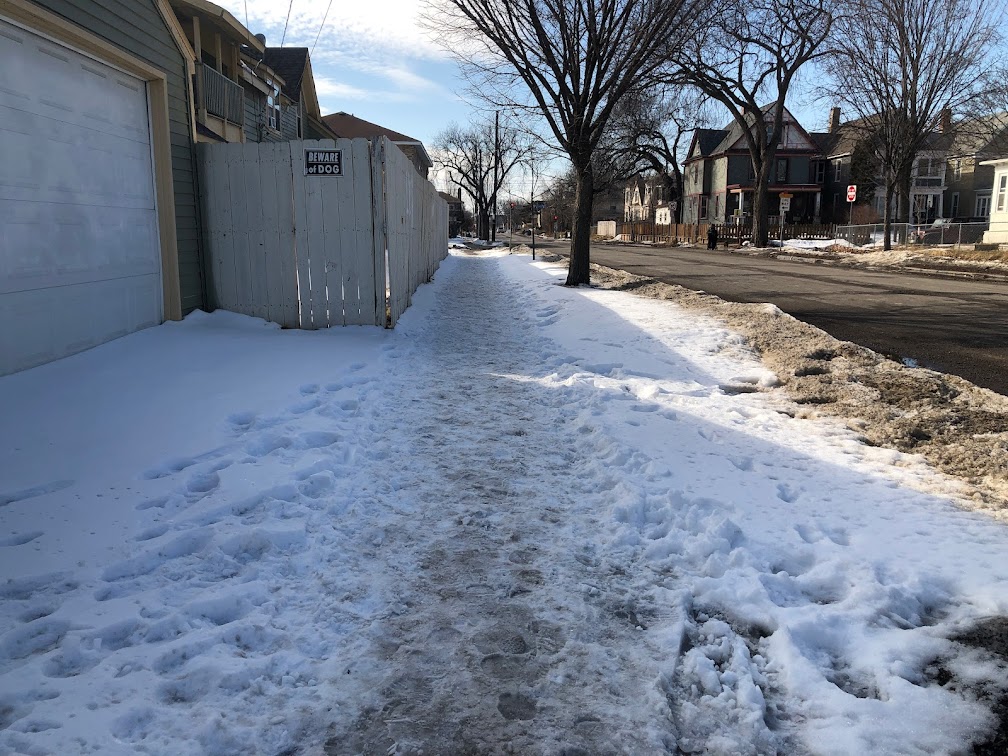 More Concrete Terms
In 2010, Jonathon Stalls spent nearly nine months walking across the United States, from Delaware to California, to better understand how people move through the world. What he saw were barriers, gaps where people who walk or roll through their environments are neglected in lieu of highways and overpasses. When he was done, Stalls settled in Denver, where he still walks every day, posting the follies of urban design on his popular TikTok channel Pedestrian Dignity.
Stalls didn't go through Minneapolis on his cross-country trek, but he has been to the Twin Cities twice to do workshops and trainings. He's met with organizers fromHennepin for People, an advocacy group for reimagining urban design on Hennepin Ave., and in those few experiences, he's seen the same disconnects, barriers, and equity concerns that prevent people from safely and happily getting around Denver.
"Just like you would want to make water accessible, like you would want to make sewage accessible, you would want to make this basic thing accessible to anybody," Stalls says. "Because of our relationship to private property, we're leaving the most fundamental human experience up to the whims of individuals."
Stalls is very purposeful in his use of the word "dignity." Through his art and advocacy program, he aims to wrest the focus of urban planners away from cars and roads and towards the people who walk, roll, bike, and take the bus as their primary form of transportation.
"We see a huge double standard in how the city treats people who are driving versus people who are walking," Narayanan says. "Even one property owner that fails to clear their sidewalks can render an entire neighborhood block impassable."
Minneapolis city government has made a broad commitment to improving winter walkability. The Transportation Action Plan, released by the city in 2020, put forth a vision that three out of every five trips would be made by biking, walking, or public transit by 2030. But the walking and rolling section only included education and enforcement efforts, nothing about changing the status quo.
"There's a lot of room for challenging how these departments are leading," Stalls says. "How are they communicating more intentionally in their messaging that being a pedestrian moving on a wheelchair or that taking the bus is a legitimate seen, respected, prioritized form of transportation?"
Stalls says this pressure needs to come from outside the city government. But meanwhile, freshman council member Chughtai is determined. She calls the prospect "promising," and she's already pushed incoming Public Works Director Margaret Anderson Kelliher to commit to a municipal shoveling pilot in 2023.
"We're living in layered crises: a public health crisis, a climate crisis, a public safety crisis," the Ward 10 council member says. "Residents being able to move from place to place year-round sits at the intersection of these issues. This is elevating solutions like municipal shoveling."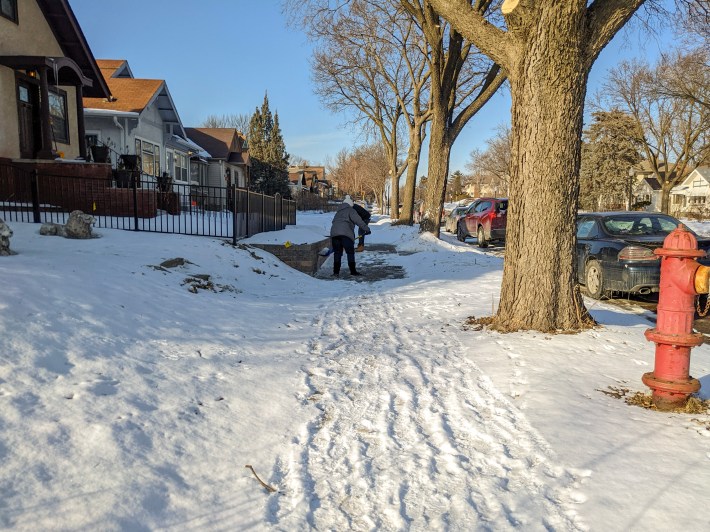 The Neighborly Thing
Last year, the Bancroft Neighborhood Association had $8,700 left over in their Neighborhood Priority Plan fund. Board member Brian Fanelli suggested they take the money and do something the city government hadn't yet mustered: develop a shared sidewalk shoveling program.
Executive Director Luke Stultz had heard from neighbors with mobility issues about their difficulty getting around the Ward 8 neighborhood, and he'd seen that even the local bus stops, which are supposed to be cleared by the city, weren't getting done in a timely manner.
The pilot started this winter with 25 non-adjacent addresses. Each homeowner kicks in $100 for the season (though the BNA did not charge senior citizens or people with mobility issues), and in return, that address gets their walk cleared by a team of a dozen teens hired out by the BNA. They also clear bus stops in the tiny south Minneapolis neighborhood and do some clearing around George Floyd Square.
The program is also a pilot in building equity. Shovelers primarily come from families experiencing poverty, and they're paid $25 per hour to take up boots and shovels, with equipment sometimes provided for kids that don't own snow gear. Stultz hopes to grow the program to cover the entire neighborhood, from Chicago Ave. to 14th Ave. and 38th St. to 42nd St., deputizing the more engaged participants to lead smaller teams of their own.
"It's a way to put the control in our hands on a hyperlocal level, and not rely on when they get to us," Stultz says. "I completely understand that other parts of the city get a lot more than our area. If we can do it for ourselves while giving opportunities to people who don't have them, I think that's the best."
Stultz doesn't go as far as those Nextdoor complainers, but it was local government's inaction that pushed the BNA into their pilot, and as such, he isn't confident that a city-led sidewalk clearing program would work. Their program has its flaws—shovelers are only deployed after snowfall reaches 1.5 inches, and shoveling has to be scheduled around school hours—but to him, building from the bottom up has much more promise than waiting on MnDOT, DPH, Public Works, and City Council to spring into action.
If one community can do so much with less than $9,000, what could dozens of communities with much larger budgets accomplish?
"My suggestion, if the city was going to look at doing this, would be to fund the neighborhood organizations," he says. "We'll build on it, and we'll make it better and keep going with it."
Jerard Fagerberg is a freelance beer writer and product manager in Powderhorn Park. His name is not Jared, but lotsa folks get that wrong.
Read More:
Stay in touch
Sign up for our free newsletter