Food & Drink
Red Wolf and the Renaissance of Chai 
Enough of that pump-and-concentrate carton bullshit—it's high time you had some real chai. These Minneapolis makers are here to help.
7:58 AM CDT on April 27, 2022
The routine plays like a record in a locked groove. You walk into a coffee shop, approach the counter, and request a chai. The barista rings you up, then turns and pours out concentrated chai from a carton in the refrigerator. They screw the cap back on and return it to the fridge, where it sits, nestled among cold brew and plant-based milks.
You can't beat it for convenience—but is that any way to treat a drink whose very origins are steeped in legend?
In Minnesota, as in most places around the United States, chai has not been treated with the same respect, care, and prestige as many of its cafe beverage counterparts. Chai is meant to be a personal experience, from the spices utilized in each blend to the way it complements whatever baked good it stands next to.
"One thing America has done with coffee and tea is that there is a culture of playing and tinkering around with things," says Azhar Muhammad of Red Wolf Chai. "The way they have taken coffee and tea, and are extracting all these flavor profiles and doing different technical things with it, you end up with a different taste."
Chai hasn't gotten the same care in the U.S.—until now. Minneapolis's Red Wolf Chai started popping up at local farmers markets last year, part of a growing movement to introduce a better kind of chai. 
"I grew up drinking my mother's chai at home, but in college, I would frequent different coffee shops to try the chai they had, because I wanted to check it out," says Mayzer Muhammad, Azhar's brother and a Red Wolf Chai co-founder. "They were completely different from what I was used to growing up."
Making chai is an involved and focused process. Red Wolf uses locally sourced spices and takes 11 hours to brew, with each spice added at careful intervals along the way. The recipe preserves everything that's innately beautiful about chai, characteristics and flavors that disappear when it's stored in a concentrated form or carried in a tea satchel for the sake of keeping things moving quickly at a cafe. 
Chai around the world
Chai is a Hindi word, derived from a northern Chinese pronunciation of chá (茶), which simply means tea.
Many different regions developed some form of chai. Originating from India, and widely interpreted throughout South Asia, is masala chai, which translates to "spiced tea." Many from the region recall seeing the matriarch of the household or a chaiwala on the streets huddled over a burner or stove, throwing in heaping teaspoons of assam black tea. The tea is followed by spices such as cardamom, cloves, black pepper, cinnamon, sugar, and ginger, all of which are brought to a rolling boil, with milk added at just the right time to temper it down before bringing the mixture to a boil a second time. Masala chai is often served alongside chapatis or samosas, like the English would with tea and crumpets.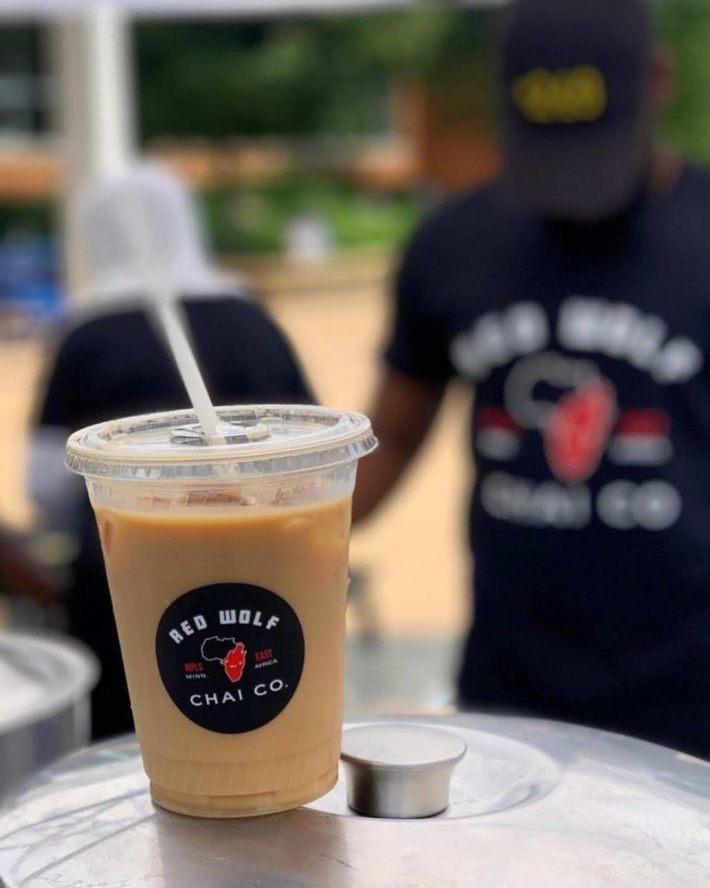 Many Asian regions brew their own take on the spiced tea. Pakistan has its variation, Doodh Pati chai, which uses milk instead of water as its base while maintaining most of the staple ingredients involved in masala chai. There's also Kashmiri chai; made with green tea and baking soda, it has a rosy hue once served. In Afghanistan, there's sheer chai, which is made strictly with black or green tea, milk, and cardamom.
Chai has since carried over to other areas in the world. In certain parts of East Africa, chai was given its own twist using Kenyan tea as a base ingredient. Along with those same spices (sans the black pepper, ginger optional), East African chai is sweetened after the boiling process and served with pita bread or chapatis on the side. 
Yemeni chai mirrors the chai of East Africa while adding their own twist: sweetened condensed milk. In some SWANA/MENA specific countries such as Egypt, you would have shay bi laban, which translates in English to "tea with milk," and it is, correspondingly, made with black tea and milk. For even more of a sugar rush, shay bi laban is often paired with desserts at a family gathering.
Redefinition: the Renaissance
The intimate and intensely personal cultural experiences surrounding chai can make you feel jilted when arriving at a cafe or coffee shop that offers limited tea options. But some spots have recently begun to reintroduce chai and the art of chai making—and not just as some seasonal cutesy-poo fall beverage topped with whipped cream and cinnamon for the Ugg-and-Lululemon set. (On a related note, there's no need to refer to it as a "chai tea latte"; you're only saying "tea" twice in the drink's name.)
Kolkata Chai Co., based in New York, was started by brothers Ani and Ayan Sanyal in 2019. And they do not mince words: "Chai has been repeatedly bastardized and appropriated in the Western world," their website reads. "We're putting it all on the line to make sure our culture and traditions are represented accurately and honestly." Kolkata chai stems not only from a dedication to the region their parents come from in Eastern India, but a need to reclaim the narrative of chai and how it's made.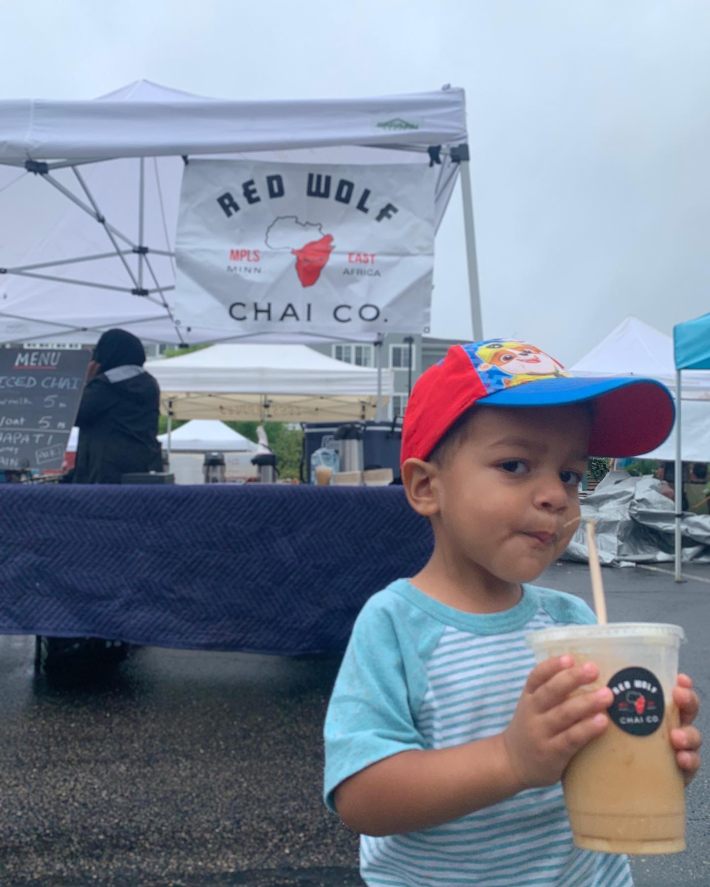 Qahwa House, which started in Dearborn, Michigan and now has locations in New York and Chicago, makes their chai with Yemeni black tea, cardamom, and nutmeg, and has also introduced Adeni chai to a whole new audience. Moving south, you've got The Horn in Nashville, Tennessee, which has popularized Somali chai. Started by Ahmed and Zakariya Sayid, their chai is a blend of black tea, cinnamon, cardamom, and cloves, with milk and sugar added after the boiling process.
In the Twin Cities, a similar renaissance is taking place. Red Wolf Chai, started by the Abdusebur siblings (Azhar, Mayzer, and Sumeya), and their two friends, Mohamed Yousif and Mowafag Mohamed, has been making the rounds at several farmers markets across Minneapolis since 2021.
Red Wolf Chai is set to return this May, serving their take on African chai. Using Kenyan tea as a base, they offer honey or brown sugar as a sweetener, and whole and oat milk options. Red Wolf Chai not only shows their chai's kinship with South Asian varieties, but offers a different spin on what the owners grew up with.
"I'm Oromo, so growing up in an Oromo household, coffee culture is huge," Azhar recalls. Oromo people were the first people in the world to create a ceremony around making and drinking coffee, and are responsible for approximately 60% of the world's coffee.
"As kids, parents or adults are not going to give you coffee, you know?" Azhar says. "One of my favorite meals was my mom making chai, and also giving us fresh baked bread with chai. We would do this thing where we would pour the chai over the bread and eat it with our hands or with spoons. It wasn't a healthy meal, but one of our favorites growing up."
Mayzer recalls what those family gatherings were like. "We would have family coming over to our house on Eid, and when you wake up, you could already smell the chai and chapatis that Mom was cooking, knowing that we would all have this big breakfast together, and it's going to be a good time. That was something that was always distinct in my memory."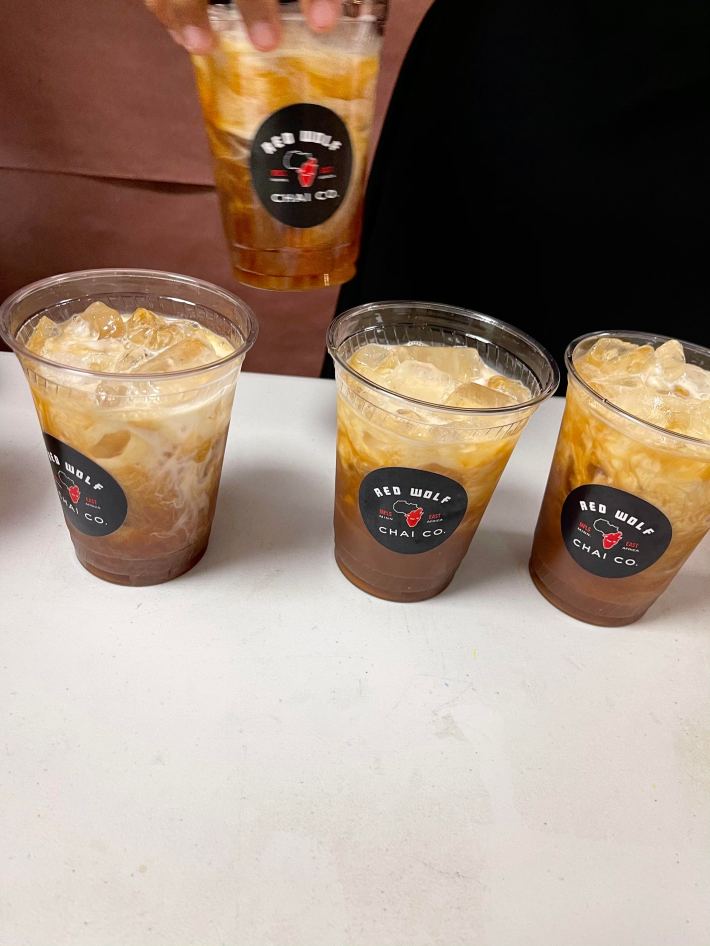 Red Wolf Chai sees its chai as a bridge between Somali and Masala varieties.  
"We've tweaked our chai a little to create a balance," Azhar says. "With some chai, the tea can be really strong as opposed to some of the spices that come through, and others can be a bit more sweet and less on the tea variety permeating through, so we're trying to tiptoe the fine line of what we like and what we grew up on with those inspirations as well."
Unlike cafes and coffee shops, which can involve high overhead costs, the creators of Red Wolf Chai have found farmers markets around Minneapolis to be the perfect way to introduce people to their chai, getting their start at the Nokomis and Fulton markets last year. 
"There's always people coming to farmers markets to try different things," Mayzer says. "People from all walks of life with different stories, so it's a unique experience that you don't get in other places, and it's what community should look like."
As Red Wolf Chai readies for the kickoff of another farmers market season in May (keep an eye on social media for updates), they continue to tweak and perfect their blend of chai, making sure it delivers on the balance and bridge they seek to create. Azhar stresses the main takeaway should be that their chai is distinctly East African.  
"When we were coming up with the name and our story for Red Wolf Chai, we intentionally wanted it to be East African," he says. "The way we make our chai, especially when you look at countries like Kenya, Tanzania, Ethiopian, Sudani, or Somalia, all of us have similar experiences, and we want to reflect those experiences specifically." 
Stay in touch
Sign up for our free newsletter