News
Racket's Year In Review: August 2021-July 2022
Highlights and takeaways from year one, plus a few goals and expectations for year two.
8:00 AM CDT on July 28, 2022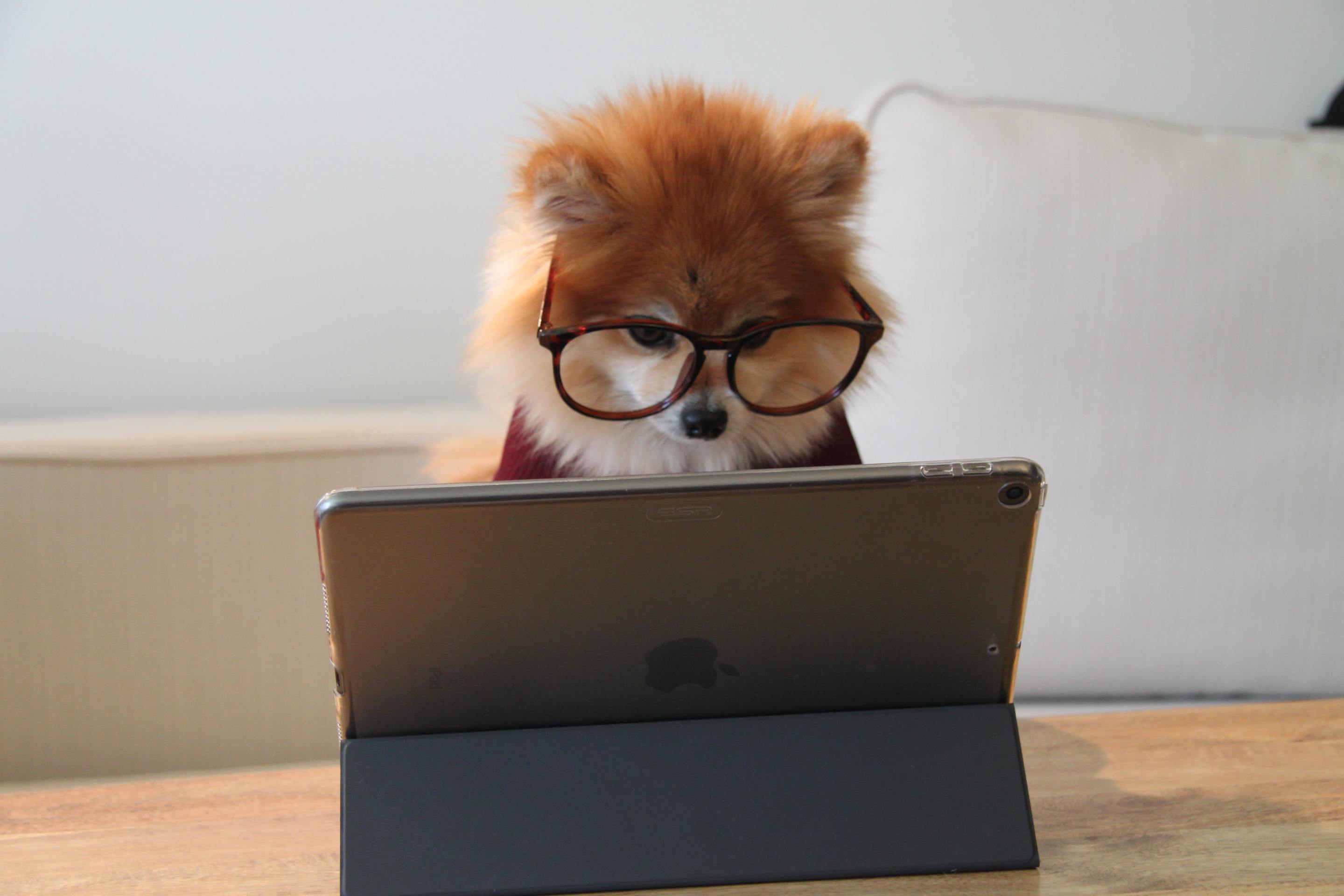 Welcome to Racket's first annual report. 
Hard to believe it's already been a full year, isn't it, folks? We went public with Racket on August 2, 2021 and started publishing stories two weeks after that. Time flies when you're gorging yourself on locally made pizzas, exposing rot inside public institutions, and arguing over all kinds of other local minutiae.
Which brings us to this: our first annual report. In the biz world, publicly traded companies are required by law to prepare and publish these yearly reports in order to help investors decide whether or not to provide funding. Racket is not publicly traded and has no investors—we each put up $1,000 in the summer of 2021 to get this thing running. But we do have you, our subscribers, without whom we would not exist and to whom we feel a sense of responsibility when it comes to operating the best website we can, both today and long into the future. That's why we've decided to bust open the books, à la Jon Taffer, and give you an in-depth look at how the Racket sausage gets made. 
If you're also a Defector reader, you'll notice that yes—this is modeled after their year one review, published last October. We have a lot in common with Defector, from our subscription-supported business model to our collaboration with Alley Lede. And like them, we may not issue a new report every year, because there might not be anything all that revealing to say in another 12 months. Unlike them, we're a tiny four-person newsroom without prestige journo personalities, as reflected in our much more modest numbers.
Financial Summary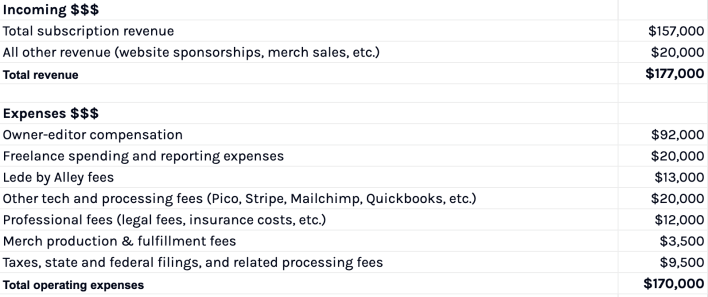 Breaking Down Those Numbers
Roughly 89% of Racket's year-one revenue came from paid subscriptions to our website. We can't overemphasize this: Reader subscriptions are the thing that lets us do what we do. The gross number of people who have ever held a paid subscription to racketmn.com is 2,856. Accounting for churned subscribers (people who once held a paid subscription, but no longer do), we have 2,702 active subscribers as of July 27, 2022. Of those, 2,101 are at the Lookout subscriber tier ($5 a month, $50 a year); 591 are at the Accomplice tier ($10 a month, $100 a year); and 10 are Racketeers ($99 a month, $999 a year).   
Since the initial bump of 903 subscribers during Racket's launch last August, we've been steadily adding around 150 newcomers each month. Things have been picking up as of late: More than 500 folks signed on between June and July, a spike that includes a record subscription spree in the days following publication of our MPR exposé.
The remaining year-one revenue came from website sponsorships with local businesses, venues, museums, and galleries. Walker Art Center was our launch partner, and shortly after introducing the site last August, we teamed up with Arts Ink, Inc., a creative nonprofit that does communications and brand strategy for area arts organizations. Since then, we've worked with a small but growing number of newsletter and website sponsors that includes Dakota Jazz Club, The Bakken Museum, Live Nation, the Minnesota Opera, Vuefinder Optical, and Fair State Brewing Cooperative. This arrangement lets us be thoughtful about who we do and do not partner with, and we've refused ad money from sources that don't align with our values. A teeny-tiny portion of revenue came from merch sales—did you know you can buy Racket koozies and tees?
Racket's four co-founders didn't take home a huge salary this year. We thought that might be the case—we launched a website out of nothing, with no up-front buy-in or venture capital—and we have various side hustles to supplement our Racket income. (For example, I sell merch and freelance to make it work—if you ever see a gangly green-haired merch clown at a show, say hi!) That we took home a salary at all is pretty impressive to us; plenty of startup co-founders don't, during the early years. Fun fact: Our individual year one earnings are about a grand more than Jessica made in her first year at City Pages in 2002.
Our goal is to hit more sustainable numbers here so that we can keep working at Racket full-time for a long time. If you agree that the Twin Cities media scene is improved with a viable alt-weekly-style presence and you're not among the 2,700 who've already pitched in, please help make that possible.
The Website
Other than paying ourselves and our freelancers, the bulk of our expenses went to the operation of the website itself. In order to create racketmn.com, we collaborated with Alley Lede, entering a three-year agreement which gives them a percentage of our revenue in exchange for their building and maintaining the technical side of the website. A fully functional site like ours, complete with paywall, membership and comment management, and email newsletter integration, would have cost thousands up front to build and maintain. 
For simplicity's sake, we'll paraphrase Defector here: The Alley Lede platform uses Pico for subscription management and Coral for commenting. Pico collects subscriber payments through Stripe. We pay for a handful of other third-party platforms including Mailchimp for newsletters and Google's G Suite for Business; these technology partners provide the framework that keeps the website running. At times, we realize this stitched-together situation can be frustrating for readers—the number of known glitches is frustrating to us, too. But this arrangement saved us a lot of money up front and continues to save us every day, as we have no web engineering or design talent on staff.
Our soft paywall—that's the Pico component—is the number-one way we add new subscribers. Any new visitor to the site is able to read a few stories per month before they're asked to give us their email address, allowing them to read a few more stories each month. At the time they fork over their email, readers are able to opt-in to our free daily and weekly newsletters: The Flyover, ICYMI, Event Horizon, and The Freeloader. 
Additional Operating Expense Details
As for the rest of our expenses? Pretty low! We handle everything from customer service to merch processing to accounting in-house; if you've ever emailed us about a technical issue or a question about your subscription, you know it's one of Racket's four full-time staffers who gets back to you. We don't have an office space, opting instead to work from home or "in the field" (journalism term), with periodic meetings at local restaurants, bars, etc.
Covering our asses does cost a fair amount. One of our biggest up-front costs was insurance, including media liability insurance (which we secured thanks to Kyle Garman of One Source Insurance). We have a few times relied on the counsel of lawyer-for-cool-locals Blake Iverson at Eastlake Legal, who helped us finalize our operating agreement, reviews contracts, and has provided his insight on stories that might come under legal scrutiny.
We've experimented some with paid advertising on Facebook—a tactic big media brains have traditionally encouraged—with mixed results. Overall, it doesn't feel like the conversions from Facebook ads justify the icky feeling we get giving Facebook (and/or Meta) money. So far we haven't done any advertising with Twitter, Instagram, or Google, though it's possible we'll explore one or all in the coming year as we look to reach new readers.
Payments to freelancers and general reporting costs made up another big chunk of our expenses this year—grocery-store rotisserie chickens don't pay for themselves, you know.
The Traffic
Because Racket doesn't have to answer to advertisers and hit pageview or content quotas, there's no obligation to fire off a half-baked take about the top news story of the day. We don't puke up the quick, 150-word blogs we would have at City Pages (or the tweet-length posts you sometimes see at local TV news sites) to chum for casual readers.
In fact, we've found that popular, high-traffic stories are the number-one thing that promotes subscriber growth. Typically, these are stories that Racket has an exclusive on, whether that's because we're breaking the news or because it's something really dumb with a unique Racket perspective. To this day, the best compliment one of us can give another is, "That's a real Racket story," meaning something you wouldn't see anywhere else in the local news universe.
We're nearing 2 million pageviews in less than a year—1,951,984 as of July 27, 2022. Most months, we welcome about 150,000 visitors to the site. 
To date, we've published 979 articles on Racket, and we expect to cross the 1,000 threshold before our one-year anniversary on August 18. Here are the 10 most-read stories from year one:
One of the saddest things about the demise of City Pages was that an entire ecosystem supportive of up-and-coming Twin Cities writers disappeared overnight, and we knew we wanted Racket to be a home for writers who might not have a consistent place to publish their work. We collaborated with more than 50 freelancers in year one; their work comprises some of the most interesting Racket stories so far and a number of them fall into the "high-traffic" category.
Stories written by freelancers that generated a large number of pageviews and/or new subscriptions during this year include:
The Subscribers
A quick note about our social channels: When we founded Racket, we asked the Star Tribune if it would be possible to purchase the now-dormant City Pages social accounts, including Twitter (180.9K followers) and Facebook (126K followers). They said no! And we've actually come to view that as a positive thing. 
While those accounts would likely have translated into more pageviews, at least at first, CP's social media drew some of the grossest comments on the internet. Trolls abounded; alt-right commenters from outside the Twin Cities and the state of Minnesota popped up as quickly as we could ban them. Racket's commenters, on the other hand, are overwhelmingly polite and respectful, both to our writers and to their fellow readers. (Even if we weren't very respectful to their favorite pizza place.)
Starting with nothing was daunting at first, but in hindsight, the kind of slow, steady growth we're experiencing each month feels much more sustainable in the long term. It also makes Racket much more of a community-minded publication, rather than an outlet whose readership is far-flung and largely anonymous.
Here's what we can say so far about Racket's subscriber community, thanks to Google Analytics and a subscriber survey conducted by U of M graduate student Caitlin Buckvold Neal earlier this year:
Racket's readership is 53.7% male and 46.3% female. (Unfortunately Google does not account for other gender identities.)
45% of our readers are between the ages of 25 and 44; 35% are between the ages of 45 and 64.
About half of our subscribers read one or more Racket stories a day.
75% of Racket readers also pay for one or more other news outlets.
Here's what readers had to say about Racket:
"Easy access to interesting stories not told by other publications."
"Unshackled alt weekly news."
"The City Pages you miss, but leaner and scrappier."
"A hyper local internet alt weekly who hates shitty bosses as much as we do."
"Answers to questions a neighbor would have, rather than answers/views an advertiser or lobbyist wants to deliver to me."
"It's like the local paper, but written by the funniest drunk guy at the bar."
A special shoutout to Taco Mike, the universally beloved comment section king whose ID remains a mystery, even to us.
How Racket Works
It's pretty simple: We're registered as an LLC (Goof Responsibly, LLC, to be exact). All four co-owners own a 25% stake in the company. There are no titles; we all pull the exact same salary.
Racket's Goals and Schemes for Year 2 (and Beyond)
The first and obvious thing we'd like to do next year, and ideally for many years to come, is to increase the number of paid subscribers to the site. With 150,000-ish monthly visitors, we know there are more people out there who love reading Racket and might eventually be convinced to sign up. We also knew this would be an uphill battle, since people were used to reading City Pages for free. But as more alt-weeklies move online, we think readers will become increasingly familiar with the idea of paying for news—even if it's news from outside the mainstream.
In an ideal world, Racket would be free for all, and we know the cost is a barrier for some. That's why, within the next few weeks, we'll be adopting another Defector system: the tip jar, a pay-it-forward subscription model. You can read a bit more about how that works here.
We've heard from a number of advertising folks who believe we can and should do more to pursue web and newsletter sponsorships; City Pages, after all, was almost entirely advertiser funded. We plan to explore ways to increase both of these revenue streams in the months to come, and we're sure we can do this without interfering with the reader experience, which is paramount. You will never, ever be barraged by pop-ups, auto-play videos, rows upon rows of strange third-party stories, and dancing 16-bit alien GIFs warning of rare medical conditions on racketmn.com. 
On the content side, we want to work with many more freelancers—especially freelancers who are new to us. Does that sound like you? Please email us at pitches@racketmn.com; we have pitching guidelines for hopeful freelancers here. 
We've done very little (some might say none at all) video and audio work so far, something that would involve either a steep learning curve and lots of sunk time for our existing staffers or lots of sunk cost in order to bring on a new one. We're not opposed to either of these paths, it's just that we want our sea legs to be a little less wobbly before we enter uncharted waters such as those. But yes: We'd like to introduce a Racket podcast one of these days… just as soon as we figure out how to… do that. 
We'd also want to do more in-person events, something that the ongoing, never-ending pandemic has made us more wary of with each subsequent surging variant. Maybe next year!
And As for You?
We're very proud of what we've done here at Racket so far, but we're also new to this whole "running a website as the media industry crumbles" thing, and we always, always welcome any thoughtful constructive feedback you have. You can reach all of us at yourbuds@racketmn.com, or email any of us individually at the addresses on our author pages. (Mine's here.)
Above all, thank you for reading and supporting Racket in its infancy. When we launched this thing, our biggest fear was that it would turn out no one cared—that the alternative perspective we valued wouldn't matter as much to readers as it did to us. It turns out that fear was unfounded.
We're so happy to be here.

Em Cassel (she/they) is a cyclist, a metalcore apologist, and a co-owner and editor of Racket.
Read More:
Stay in touch
Sign up for our free newsletter