Food & Drink
Nouvelle Brewing Stands in the Shadow of Pig Ate My Pizza But Shines on its Own
Travail's latest concept provides versatile options to sip, snack, or enjoy a whole meal.
7:30 AM CST on January 28, 2022
When the collective of local kitchen-wizards at Travail sadly announced the shuttering of Robbinsdale's Pig Ate My Pizza in December, the news wasn't all bad. After eight years serving up playful pizzas and sharing their passion for homebrewing, they planned to make beer the main event at a new concept, Nouvelle Brewing. 
Nouvelle (no-vell, rhymes with "propel"), which opened earlier this month after a quick turnaround, is here to show that sometimes when good things don't last, they don't need to die. They can evolve—a process the crew that brought PAMP to life is quite familiar with. 
Since 2014, Travail and PAMP have bounced around Robbinsdale. The original Travail opened at the address that now houses Marna's Eatery and Lounge before moving to the space where Nouvelle now exists. When Pig Ate My Pizza was conceived, it moved into the old Travail/Marna's Space, and Travail did popups at the old Bradstreet Crafthouse on Hennepin while they fundraised for a third location (4134 Hubbard Ave. N.), where they're located now, across the street from Nouvelle. 
The snug, low-lit old Marna's provided a classic tavern feel for the original PAMP. The creative pizzas were exquisite, there were glass boots full of suds, and you could buy a beer for the staff. In the hazy, golden light of a pre-COVID memory, everything felt a little more personal. In 2019, when PAMP moved to 4124 W. Broadway Ave., they relaunched as a brewpub, giving us the first glimmer of what would eventually become Nouvelle.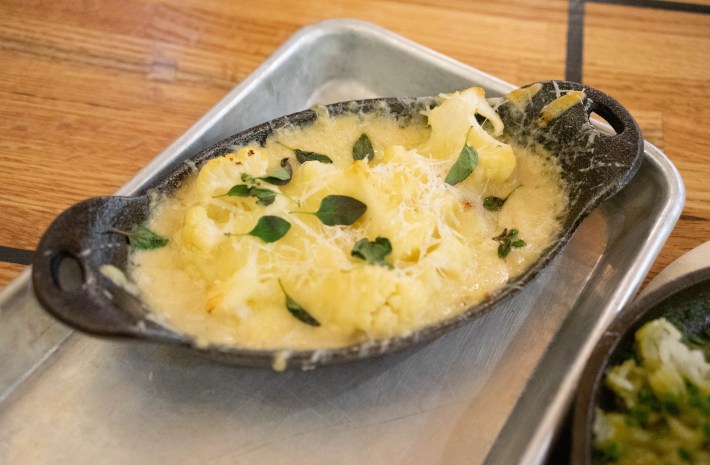 The new location felt a little more grown-up, with an airy, bright-lit, screened-in front porch overlooking Broadway, tall white walls, and blonde wood tables and chairs. It was a little more like a country home, and because it's a Travail joint, the food was still top-notch and inventive. There were fun treats like boozy slushies and ticketed tasting menus. Chef-turned-beermaker Andy Goettsch got to flex his larger-scale brewing muscles, expanding on his homebrewing experience. 
Goettsch's work as a chef-slash-brewer has finely tuned his palate, and it shows in his beers, whether hoppy, dark and malty, light and crisp, or tart and fruity. Visitors can tour each of those flavor profiles with four distinct flights, each featuring four 5-ounce tasters curated by Goettsch himself. The taproom now boasts over two-dozen varieties of rotating craft beers, including take-home crowlers and 750ml bottles of special releases like a 12% high-ABV Tiramisu imperial pastry stout. They also have cocktails (about half of which include Nouvelle beer), wine, hard seltzer, and a few non-alcoholic options. 
The food program, led by chef Nat Moser, is more pared-down, but they've promised big things like a menu where chefs will play along with some fancy-sounding pastries by executive pastry chef Alexandra Althoff.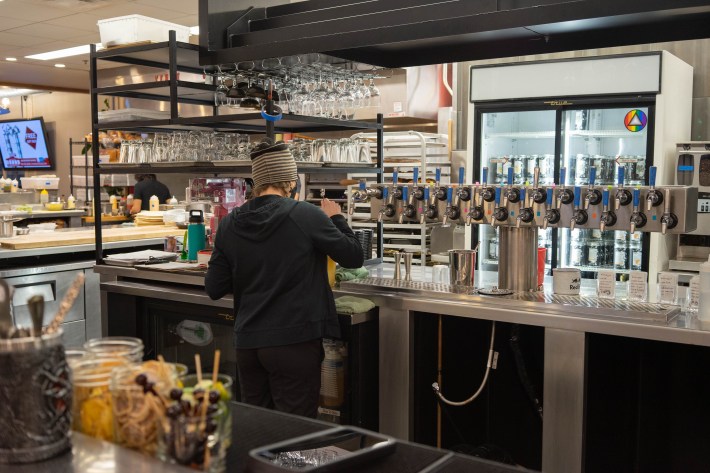 The interior hasn't changed much, but the screen that previously separated the kitchen from the porch is gone, opening up the space to make it feel more like a ghost of Travail past. Watching cooks whip up the meals adds an additional entertainment factor if you're not keen on watching TV. Because no Travail establishment would be complete without some amusements to bring people together, there are long tables for sharing conversation. Tabletop beer pitcher pong lines the wall just right of the entrance, with a foosball table, pinball, and Big Buck Hunter in the back. 
We each started the meal with drinks, and my partner grabbed a Large Fries ($5 a pint), a crisp and refreshing pilsner. I indulged in their fruity and fresh Beergarita ($14). The beer kept the flavor mellow and steered away from the booze-forward punch some margs impart, and the savory bitterness of the worm-salted rim was a welcome addition—kind of like adding Tajín to your fruit. With a truly gorgeous presentation, I can't wait to try more of their beer cocktails in the future. 
Later, we tried a New Release ($7), a New England Hazy IPA with a silky mouthfeel, a juicy, almost tropical smell, and mango-adjacent flavors. Drinking this felt like sipping nectar more than beer and finished with a pleasant, mellow bitterness that didn't dry out my mouth like some of the more pine-forward hop characteristics of other styles of IPAs. This one is a must-try. 
Standout dishes of the evening included the ricotta dip ($7), served up cutely in a tiny cast iron pan alongside deep-fried saltines. Each bite was a balance of the warm and toasty saltines, the fatty creaminess of ricotta, salty sprinkles of crispy ham, and peppered with pistachio gremolata. Bright green and zippy jalapeño pesto and lemon kept each bite from being too overwhelming.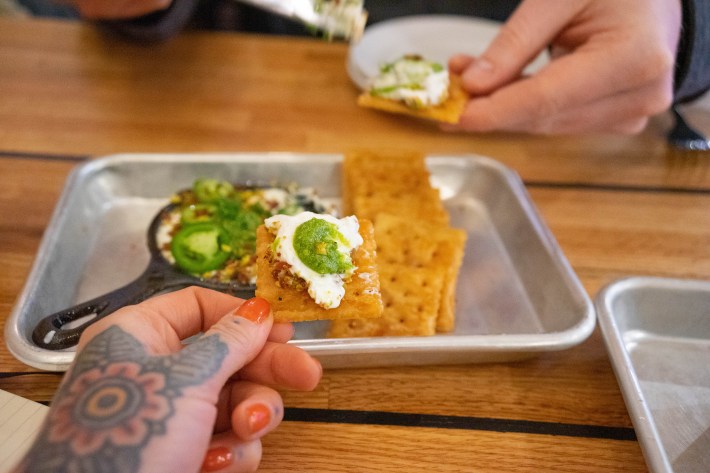 The Cauliflower Gratin ($7) could have been too rich had they used dairy cream, but cauliflower puree kept it from being too heavy. Floral nutmeg, black pepper, and aromatic oregano added a layer of depth, while lemon again kept things bright. This dish gets extra points for some of the most beautiful cheese pulls I've ever experienced (though I wished I had a little bit of bread to sop up the leftover cheesy sauce). Fortunately, we also ordered a Pizza Croissant ($9) to swipe through the leftovers. 
The croissant features onion-skin-thin layers, evidence of Althoff's precise dough lamination skills. You'll get one airy, crunchy bite after another. Inside, mild, meaty pepperoni and cheese is paired with sweet, seed-flecked dipping sauce, neither of which overwhelms the buttery pastry. 
Elsewhere on the menu, loaded tots feel like a steal for $12, with seasoned taters piled with savory pork pastrami and bacon. Pickled jalapeños add tangy heat, while scallions and sour cream cool things off along with ranch for dipping. These alone could make a great light meal. The crunchy and photogenic Pork Belly sizzler ($16) was served on a bed of crispy rice bathed in coconut green curry alongside a pile of seasoned cucumber and carrot, herbs, and tender leaves of bibb lettuce for wrapping. This was the only dish that perplexed us, leaving us wishing for a bit more salt. Only when we reached the bottom of the veggies did we reach a limey, fish-saucey flavor we needed to tie everything together.
To cap off the meal, we grabbed two pastries: a Brownie Croissant ($8) and a Bourbon Apple Streusel Tart ($7). Both featured Althoff's impeccable croissants as a base, with the former crowned with a decadent dark chocolate brownie, smooth chocolate ganache, and a healthy sprinkle of powdered sugar (plus some sea salt for balance). The tart features soft cinnamon sugar apples and a sweet crumbly streusel topping, a pillow of eggy pastry cream resting in a frame of beautiful crusty croissant pastry.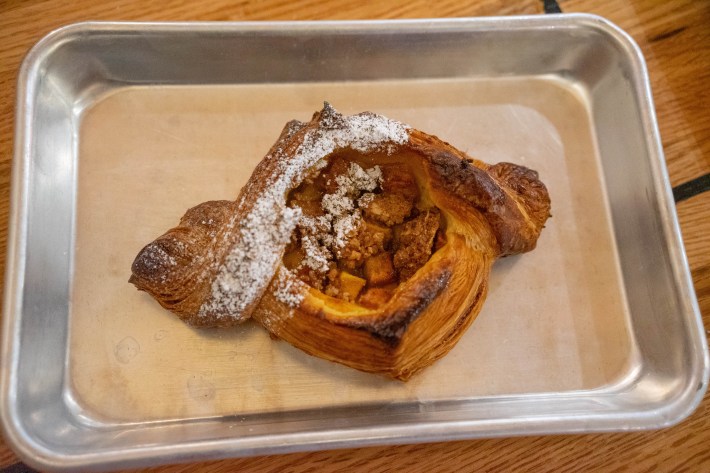 Our meal was all over the map, with upscale bar snacks and fancier platings. And that kinda feels like the whole point of Nouvelle: Your experience can be as fancy or laid back as you want it to be, with a high level of quality throughout. 
Sure, you can get a burger or pizza, but it comes with Travail's pedigree and trademark whimsy. They take a classically perfect laminated croissant and stuff it with pepperoni. The small-batch craft beer is brewed by a chef. 
It's one of the things that keeps me returning to Travail openings over and over again: their commitment to keeping it fresh and fun. The collective doesn't fear change in the face of a tremendously scary time to be a restaurant or bar—they just keep innovating. That kind of boldness keeps me coming back, raising a gleaming glass of one of their craft brews to toast them for it. You should, too.
Nouvelle Brewing
4124 W. Broadway Ave., Robbinsdale
Stay in touch
Sign up for our free newsletter