Events
North Side's FLOW, Pickup Truck Opera, Fat Beach Day: This Week's Best Events
Plus Loring Park Art Festival, a new gallery in Uptown, and Aussie girl group Camp Cope.
10:56 AM CDT on July 25, 2022
Welcome to Event Horizon, your weekly roundup of the best events in Minneapolis and St. Paul.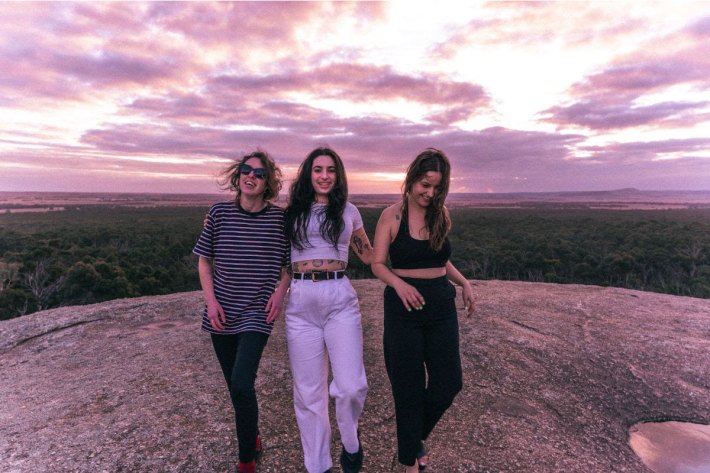 MONDAY 7.25
Camp Cope
Fine Line
"We're the only successful all-female band that has ever come out of Australia," Camp Cope frontwoman Georgia Maq told the New York Times this past winter. "We never have had that luxury of just being seen as a band." The Melbourne trio is, in fact, a band—and a really fucking good one at that. Camp Cope broke out in 2018 with "The Opener," a defiant, fist-pumping feminist punk anthem that remains their signature tune. All the CC ingredients are there: Kelly-Dawn Hellmrich and Sarah Thompson's chugging, minimalist rhythm section backing Maq's alternatingly sneering and aching vocals, all drenched in her country's accent and charged by her fuck-you attitude. On the group's recent third album, March's Running with the Hurricane, there's an evident pivot from punk underground toward cleaner alt-rock, with Maq's growing confidence as a vocalist teasing how big this successful all-female Aussie band can get. Scranton's Petal open. $20-$37. 7:30 p.m. 318 N. First Ave., Minneapolis; find more info here.—Jay Boller
WEDNESDAY 7.27
Foxing
Fine Line 
To be honest, though I enjoy Foxing's music very much, I haven't yet listened to their latest: last year's Draw Down the Moon. So, as I write this blurb, I'm queuing it up on Spotify. Foxing's previous three records (The Albatross, Dealer, and the exceptional Nearer My God) each drew the St. Louis-based trio nearer and nearer to indie rock indelibility, with varying and increasing degrees of heart-rending scream-singing and exciting experimentation. On Nearer My God especially, the title track and songs like "Slapstick" seemed like the kind of anthemic crowd-pleasers you could see translating to bigger, perhaps Armory-sized stages. As for their latest… I've gotten through "737" and "Go Down Together." Not bad! Love that screamy breakdown at the end of the former; the latter's much dancier and much less Foxing-y than I expected. The half of "Beacons" I heard sort of feels like it's giving Coldplay? So… that's nice for Coldplay fans. With Greet Death and Home Is Where. All ages. $20-$22. 6 p.m. 318 N. First Ave., Minneapolis; find more info here. July 27 —Em Cassel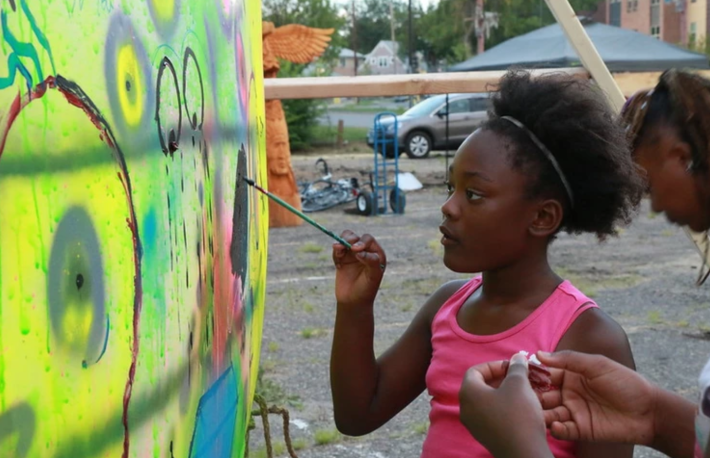 THURSDAY 7.28
FLOW Northside Arts Crawl
Various Locations
This will be the 16th year for FLOW, a sprawling festival showcasing and celebrating North Side artists, businesses, and communities. Things kick off on Thursday from 4-7 p.m. with a party at 4th St. Saloon featuring fire dancers, free tacos and ice cream, and artist Charles Caldwell, who will be working on a new Prince mural throughout the weekend. On Friday, folks will find a bunch of fun to be had on West Broadway; from 6-10 p.m. Freedom Square (Broadway at Logan) will spin DJ tunes while the Capri Plaza across the street will have African drumming and more during its weekly farmers' market from 3-7 p.m. Finally, Saturday will be a daylong affair, with a Youth & Arts market at Capri Plaza; special happenings at JXTA, Sammy's, Emerge, and Sanctuary's Art Garden; a rib cook off at 4th Street; the Glow Roll bike ride; and a mobile skate rink at North Market. For more details, visit westbroadway.org/flow-northside-art-crawl. –Jessica Armbruster 
Myq Kaplan
Acme Comedy Co.
In his roundup of great early pandemic comedy specials, the New York Times' esteemed comedy critic Jason Zinoman called Kaplan "standup's answer to Inception," a brainy, rapid-fire joke teller whose complex premises are loaded with punchlines—it's up to you to keep up. That's not to say the vocally vegan, polyamorous Bostonian is inaccessible; he's appeared on the full late-night circuit over the past dozen years. Kaplan simply rewards listeners who pay full attention, and that's easy to do with his kinetic, finely honed storytelling style. His latest special, 2020's A.K.A. (a.k.a. the one that impressed Zinoman), is billed as an hour of "truth, love, and not murdering, guaranteed to appeal to all the not-murdering enthusiasts out there." $18-$37. 8 p.m. Thursday; 7 & 9:30 p.m. Friday and Saturday. 708 N. First St., Minneapolis; find more info here. —Jay Boller
Pinegrove
First Avenue
I swear to god we'll never link to Reason magazine again, but the libertarian freaks have compiled the most conclusive rundown of what happened with Evan Stephens Hall, the Pinegrove frontman who, in 2017, seemingly self-canceled himself over head-scratching circumstances. (Spoiler: a messy romantic encounter was apparently exploited to #MeToo proportions by Hall's therapist without the knowledge of the accuser.) At the time, the rootsy indie-rock band with a cultish fanbase seemed poised to take over the world, though they'd instead take a hiatus after the scandal broke. Hall would spend the following years atoning in various ways. "There is no way to judge the sufficiency of Hall's atonement without deciding how much he had to atone for in the first place," the New Yorker wrote in 2020. Now, with a headlining First Ave show sponsored by Radio K, it seems the redemption arc is complete, at least in the eyes of fans. Pinegrove's latest album, 11:11, finds Hall navigating the existential dread of global warming, and it has been warmly received by critics. Gulfer and Poise open. $26-$30. 7 p.m. 701 N. First Ave., Minneapolis; find more info here.—Jay Boller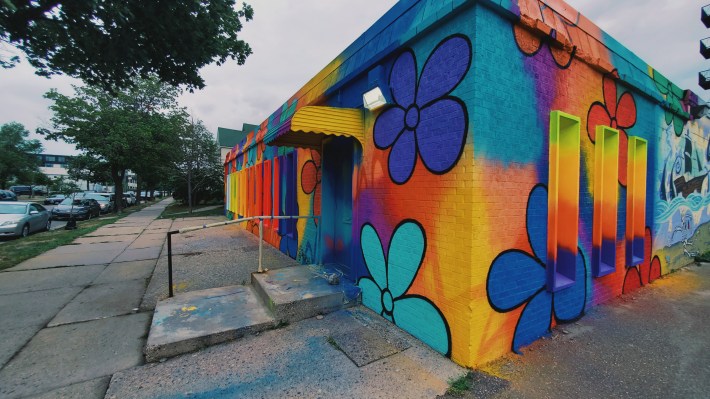 FRIDAY 7.29
You, Me and We. Exhibition Opening Night...
We...Artist Collective, Studios, and Gallery 
Well dang! Uptown is getting a new art gallery, and that is cause for celebration–especially since this is one of the first new spaces to open since the pandemic. This Friday, art lovers and the art curious can check things out and meet the artists at a special reception featuring drinks and eats from Bauhaus Brewlabs, Earl Giles, Caribbean Tasty, and Vegan Voyage. You might already be familiar with a few of the artists' work; Trace has been painting up a psychedelic storm lately, with murals at Provisions Community Restaurant, LSD Apartments, and Peer Pressure fitness studio. If you can't make it on Friday, the gallery will host open hours on Saturday as well. 5-10 p.m. Friday; noon to 7 p.m. Saturday. 2945 Garfield Ave., Minneapolis. –Jessica Armbruster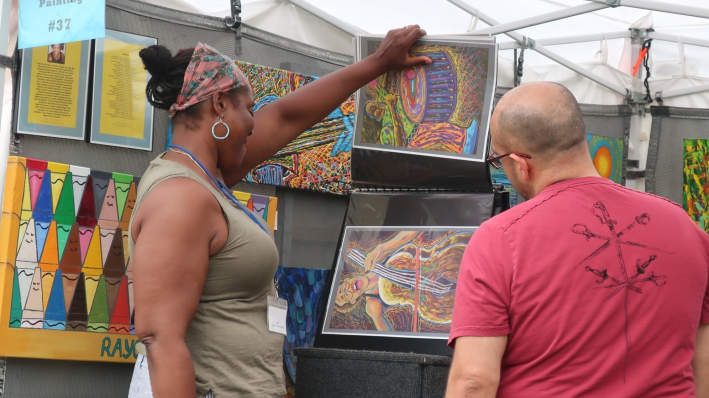 CRANEx
Underground Music Cafe
Remember Ted Talks? In retrospect, they feel like insipid, faux high-mindedness packaged for the the middlebrow masses, all in service of some semi-enlightened version of the status quo. Or maybe they were good, who can remember anything beyond five minutes ago on the internet? In any case, Ted Talks seem like an idea worth lampooning, and that's the thrust of CRANEx, a promising new local comedy showcase. "Inspired by the talks that focus on 'ideas worth spreading' CRANEx promises to be a show filled with punchlines and loose opinions strongly held," organizer Cianna Violet explains. This week's stacked lineup of locals includes: Lucy Zarns, Pearl Rose, Tommy Ryman, Aron Woldeslassie, Arman Shah, Justin Johnson, Lauren Rice, MJ Matheson, Lahiru Samarasinghe, Ellie Hino, Joey Hamburger, and Jesse Jacobs. $15. 408 3rd Ave. N., Minneapolis; find more info here. —Jay Boller
SATURDAY 7.30
Loring Park Art Festival
Loring Park
For over 20 years, the Loring Park Art Festival has hosted this two-day art party in one of the city's most unique parks. There are views of downtown, nature views near the pond, that cool dandelion water sculpture, and, uh, views of what I call the Hennepin/Lyndale/Walker traffic clusterfuck. This weekend, there will also be over 140 artists here showcasing their wares, which include paintings, woodworking, pottery, print art, jewelry, and more. Members of Urban Sketchers Twin Cities will create work throughout the park for all to see, and two performance stages will host bluegrass groups, the MN Mandolin Orchestra, and spoken-word artists. Try your hand at making art during wine and painting sessions, or sign up for a paper-making class using invasive plant species. Also: There will be food. Food trucks include Anchor Fish & Chips, Tibetan Family Momos, and NE Pretzels, among many others. Find all the deets at loringparkartfestival.com. 10 a.m. to 6 p.m. Saturday; 10 a.m. to 5 p.m. Sunday. 1382 Willow St., Minneapolis. –Jessica Armbruster
Grumpy's Big Kahuna
Grumpy's Bar & Grill Roseville
We'll get this out of the way up front: Yes, getting to Grumpy's Big Kahuna means taking a trip to Roseville's Grumplebee's—that suburban Grumpy's that's a little more chain restaurant-y than its Northeast sibling. But if you make the trek (or if you're a Racket reader in Roseville… anyone?), you'll find yourself at the Midwest's self-proclaimed largest one-day tiki event, with vintage cars, a scooter rally, tiki drinks, Polynesian food, music from the Swongos and the Phantom Surfers, and art by an international collection of tiki artists depicting their interpretation of the year's theme: "Surfin' Bird." Tickets and more info here. $20. 1 p.m. 2801 Snelling Ave., Roseville.—Em Cassel
Brandi Carlile 
Xcel Energy Center
It's taken a while, but Carlile has finally broken her way into the big rooms—Grammys'll do that for ya. Of course, the rural Washington-born folk-country songwriter always had the big tunes, big voice, and big feelings to reach the upper decks, while her audiences have remained as fervent as a cult even as its numbers grew. And she's still courting listeners: Her latest, In These Silent Days, has moments where it seems like she's gunning for Americana's answer to Dianne Warren, particularly on the lead single "Right on Time." Elsewhere that hint of a drawl still keeps her poppiest moves feel downhome, giving life to lines like "You're a stone wall/In a world full of rubber bands." Carlile's excesses are the essence of her charm. She'll be flanked as ever by Phil and Tim Hanseroth, the twin brothers, bandmates, and writing partners who've been at her side from the start. With Lake Street Dive and Celisse. $40.50. 6:30 p.m. 199 W Kellogg Blvd., St Paul; find more info here.—Keith Harris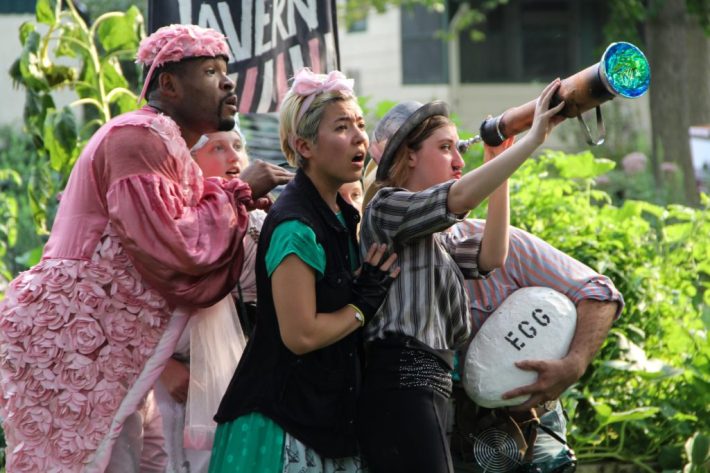 SUNDAY 7.31
The Magic Flute: A Pickup Truck Opera
Various Locations
For the past 14 years, Mixed Precipitation has brought accessible opera shows to parks, gardens, and wineries throughout the metro and beyond. They used to go by "A Picnic Operetta," but have rechristened themselves "A Pickup Truck Opera" as a nod to the 2011 Ford Ranger Pickup that serves as their ride and part of their stage. This year, they'll be presenting their take on The Magic Flute, Mozart's last production before he kicked it. The (modernized) plot follows a few young professionals facing burnout in their bullshit jobs, and explores the principles of Freemasonry. (Mozart was in the illuminati, y'all!) In addition to 18th century bangers, expect a few hits from Deee-Lite and Bjork. Make reservations at mixedprecipitation.org. $10-$20 suggested donation. Through September 11 –Jessica Armbruster
Fat Beach Day
Lake Nokomis Main Beach
From queer beach parties to Fat Beach Days, local organizations are celebrating all sizes and sexualities at Lake Nokomis this summer. This is the second Fat Beach Day Cake Plus-Size Resale has hosted on Nokomis this year (a third will take place on August 21), as they're hitting pause on their Fat Splash pool parties. Expect a casual, low-key hang—no formal RSVP or ticket necessary, BYO everything—where you can hang out with Cake's staff and a whole bunch of fat babes while soaking up some sun or cooling off in the shade. While we're at it, keep an eye on the body-positive consignment and thrift store's website and/or Facebook to keep up with their other events, whether it's the virtual "Fat Chats" series or their bi-weekly live sales. Free. 1-4 p.m. 5001 Lake Nokomis Pkwy. W., Minneapolis; find more info here.—Em Cassel
ONGOING
Artist Designed Skyline Mini Golf
Walker Art CenterNow in its 15th year, Artist Designed Skyline Mini Golf returns to WAC for another season of putt putt played in the sky. No really: You'll be heading up to the museum's rooftop to play these 10 holes, which means you'll see gorgeous city views in addition to the spectacle of the quirky course. The new hole this year, ​​Always Have Been Sewn, was designed by Asian American Organizing Project's Youth Action Team, and was inspired by Hmong "story cloth," a.k.a. a paj ntaub. Mini golf aficionado Tom Loftus also has two holes featured this year. $10. 11 a.m. to 9 p.m. Thursdays; 11 a.m. to 6 p.m. Friday–Saturday; 11 a.m. to 5 p.m. Sunday. 725 Vineland Place, Minneapolis. Through September 25 –Jessica Armbruster
Stay in touch
Sign up for our free newsletter