For husband-and-wife team Tom Loftus and Robin Schwartzman, mini golf isn't just a hobby. It's everything.
Their first date–and later their wedding–was at Big Stone Mini Golf in Minnetrista, a charming course featuring giant flowers, a Spoonbridge and Cherry homage, and chickens and goats roaming the area. "Neither of us had seen anything like that, and we were really excited," recalls Loftus. 
After repeatedly discovering limited and out-of-date info on courses, the duo decided to launch a mini golf review site, A Couple of Putts, in 2012. On the way home from a road trip, the two stopped in Eau Claire, Wisconsin, to review their first course, Action City. They gave it a mediocre score.
"No castles, bridges, moving objects or even sand traps," they wrote. "The terrain was well manicured but lacked personality. It's the mini-golf equivalent of a suburban home." 
Nearly 10 years later, the two have played and reviewed over 400 courses for their site, making stops in 26 states, plus Canada, Qatar, Iceland, and Japan. Their top rated destinations include Ahlgrim Acres, a course located at a funeral home in Palatine, Illinois. ("The idea of going to a funeral home has never been exciting… until now."); Goofy Golf in Panama City, Florida, where its creator is said to have brought his "creature nightmares" to life; and Putt Pub, a San Marcos, Texas, spot where "an open-air bar surrounded by swings serves as the centerpiece."
"In the music world, there'll be a website that gives you ratings and details of the 10 best avant-garde ambient noise records," says Loftus. Much like those in-depth music blogs, their goal with A Couple of Putts is to give mini golf similar niche explorations and consideration. (Loftus's music comparison is very apt, as many may know him for his other gig: founder of Modern Radio Record Label.)
Soon, their passion would take them to the other side of mini golf: hole creation. In 2013, the Walker Art Center put out a call for submissions for their next artist-designed course. Loftus and Schwartzman were intrigued. 
"I've always made whimsical and playful sculptures and installations," says Schwartzman, whose day jobs include 2D and 3D design, art installations, and lecturing at the U of M's Department of Art. "Submitting a design for a mini golf hole made perfect sense for what I was already making."
Their first hole, Can You Handle This?, featured a giant watering can with a loop in the handle. They had so much fun working on the project that they knew they were ready to design more. That led to consulting gigs with museums looking to create their own mini-courses in Seattle, Kansas City, and Detroit. They even teamed up with students at a Virginia Commonwealth University satellite campus in Doha, Qatar, to create a new course. Schwartzman also designed the Sparkle City Mini Putt, a free course in Spartanburg, SC, while working as an artist-in-residence. "As we've gone along, what we've seen is there's a lot of room for creativity and customization in courses," says Loftus.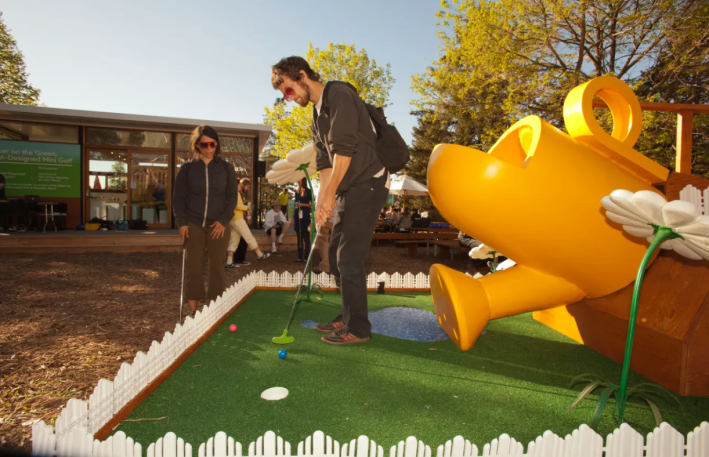 After playing and designing so many courses, they believe they have determined what makes a good mini golf hole. First, just being interesting or looking cool isn't enough. "If it's totally haphazard and sometimes your ball gets stuck and sometimes it doesn't come out in the right place–it's not a good hole," Loftus says.
The best holes are ones where the movement of the ball is well-considered. The ball can still do crazy things, but there needs to be, as Loftus explains, "a balance of skill and potentially some chance." The putter needs to have more say over the score than the design of the course.
But aesthetics do still matter.
"When you can step into a course and be transported to an entirely different world or time and really be immersed in not just the gameplay itself, or the competition, but also the story and the journey, that's when it's the best of the best experience," says Schwartzman.
Loftus and Schwartzman are currently beginning a new chapter in their mini golf lives. In 2019, they were on season one of Holey Moley, a competitive mini golf game show on ABC. There, they met other mini golf aficionados and founded the American Mini Golf Alliance (AMA), a collaboration launching this year.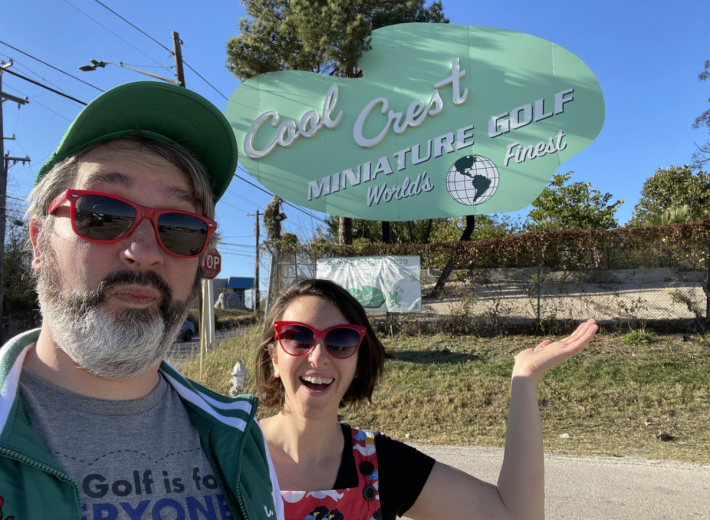 Since the earliest documented mini golf event in the 1930s, competitions have mainly been held in the South, and are intended for top-level putters. Today's big U.S. tournaments are still very serious events that are often restricted to official Putt-Putt courses. (Putt-Putt is actually a brand name like Kleenex or Band-Aid.)
The AMA hopes to offer something a little less intimidating and more inclusive. They plan to hold 10 tournaments in a handful of states this year, and will continue to expand. Unlike some of the older happenings offered around the country, their course selections will be "a little more goofy and whimsical as part of a tournament circuit," says Loftus.
The goal is to bring together the smaller, disparate competitions from around the country, and provide a national ranking for those putters. 
For all the things that Loftus and Schwartzman have done in mini golf, they feel it's possible… because it's mini golf. At every course, "the idea of the game is the same," says Schwartzman. "You have a putter, and you have a ball, and there's a cup as the end goal. But the way you get there can be done in an infinite number of ways."