Welcome to Event Horizon, your weekly roundup of the best events in Minneapolis and St. Paul.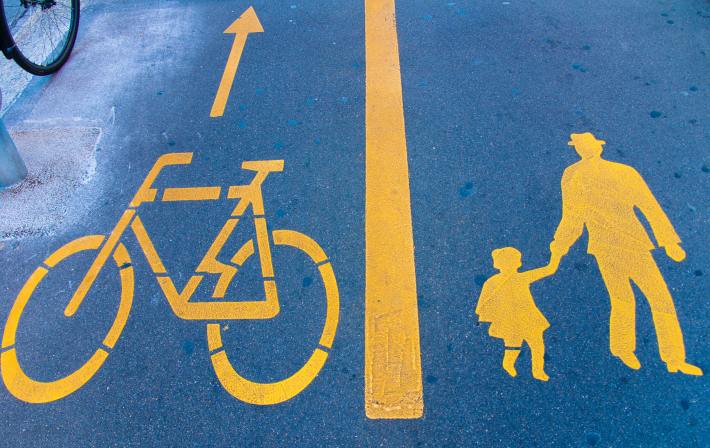 TUESDAY 5.17
Save Our Hennepin Bus Lanes — Rally and Bus Ride
Uptown Transit Station
If you read Racket—and here you are, doing just that—odds are good that you support dedicated bus lanes and protected bike paths and pedestrian improvements, perhaps even the contested ones on Hennepin Avenue. Want to show your support for said transportation infrastructure upgrades? Come on out to this rally and bus ride hosted by Hennepin for People. They're encouraging attendees to dress up to show their love for transit, and while we're not sure exactly what that entails, we understand this part of the event description loud and clear: "We want a vibrant and safe street that supports all people no matter how they travel and is good for our local business." Free. 6 p.m. Find more info and RSVP here. Hennepin Avenue and 29th Street, Minneapolis. —Em Cassel
WEDNESDAY 5.18
Carmen Lynch
Acme Comedy Co. 
If you're over 30, you might recognize Lynch from one of her many appearances doing standup on late-light TV—Fallon, Conan, Letterman, Colbert. If you're young, you might recognize her viral TikTok joke that received a full feature in the New York Times. While describing dating a man over 50, Lynch mimics her boyfriend and pleads, "Please live with me." To which she responds, "Please live!" In the clubs, as the NYT notes, the joke reliably receives a nice pop from the audience. On TikTok, however, the 50-year-old comic experienced over a million people losing their shit over the bit. The boyfriend, John Reynolds, isn't mad. You can hear him co-hosting the podcast Human Centipod with Lynch every week. $18-$37. 8 p.m. Wednesday and Thursday; 7 and 9:30 p.m. Friday and Saturday. 708 N. First St., Minneapolis; find more info here.—Jay Boller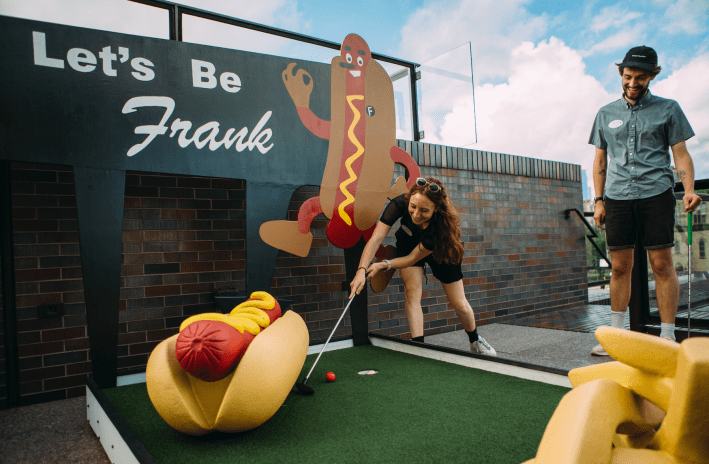 FRIDAY 5.20
Artist Designed Skyline Mini Golf
Walker Art Center
Now in its 15th year, Artist Designed Skyline Mini Golf returns to WAC for another season of putt putt played in the sky. No really: You'll be heading up to the museum's rooftop to play these 10 holes, which means you'll see gorgeous city views in addition to the spectacle of the quirky course. The new hole this year, ​​Always Have Been Sewn, was designed by Asian American Organizing Project's Youth Action Team, and was inspired by Hmong "story cloth," a.k.a. a paj ntaub. Mini golf aficionado Tom Loftus also has two holes featured this year. $10. 11 a.m. to 9 p.m. Thursdays; 11 a.m. to 6 p.m. Friday–Saturday; 11 a.m. to 5 p.m. Sunday. 725 Vineland Place, Minneapolis. Through September 25 –Jessica Armbruster
Art-A-Whirl
Various Locations
Now in its 27th year, Art-A-Whirl is the largest open studio art crawl in the nation, with over 1,000 artists in 60-plus locations. Over the course of three days, guests can enjoy a wide variety of happenings, including gallery receptions, demonstrations, live music, parking lot sales, beer releases, and family-friendly fun. A few highlights: paintings with bras at Supercharged Printmakers, an art show and monster truck crush at Turbo Tim's, Zine + Riot community talk with the "Blood on the Pavement" crew at Northrup King Studios, and music, art, and beer parties at 612Brew, Bauhaus, Indeed Brewing, Able Seedhouse, and Pryes. This truly is a stacked and sprawling event, so check out nemaa.org/art-a-whirl/activities for specifics. And check out Racket later this week for a few more highlights. Free. 5-10 p.m. Friday; noon to 8 p.m. Saturday; noon to 5 p.m. Sunday. Through Sunday –Jessica Armbruster
Greg Coleman
Comedy Corner Underground 
As our pals at Minnesota Comedy observed, Coleman, while still in his 30s, has become something of an elder statesman of the local comedy scene. The charmingly raunchy comic evokes Chappelle with his vocal tics, and he's effortless onstage while riffing about race, porn, mass shootings, and just about everything else. If Coleman's name sounds familiar, that's because his dad of the same name punted for the Vikings throughout the '80s. Greg Coleman the comedian is making a name for himself, having recently secured a writer's room job on a TBA Wanda Sykes project for BET. Expect the booming-voiced standup to have full command of this tiny basement venue. Ahmed Khalaf opens. $12. 8 p.m. Friday and Saturday. 1501 S. Washington Ave., Minneapolis; find more info here.—Jay Boller
Whirlygig
Indeed Brewing Co. 
There was no Whirlygig the past two years. Blame the ongoing pandemic. But the annual Art-A-Whirl block party is back, and goddamn the live music lineup slaps. Three of the bands—Gully Boys (Friday), VIAL (Friday), and Kiss the Tiger (Saturday)—have even received glowing Racket write ups, so you know we're not just hyping for the sake of a blurb. The weekend-long party also includes special brews from its host, chow from Red Cow and Revival Smoked Meats, and, yes, some visual art. Click here for the full music lineup and more helpful info, like the policy of leaving your damn dog at home. Free. Noon to 11 p.m. Friday and Saturday; noon to 9 p.m. Sunday. 711 NE. 15th Ave, Minneapolis; find more info here.—Jay Boller
Mountain Goats
First Avenue
This crew's last First Avenue show, in 2019, was one for the ages. John Darnielle led a solo acoustic mid-set pro-union singalong, and the night threatened to never end with one of those herculean encores that seemed to gain strength and momentum the longer it lasted. In the three years since, the Mountain Goats have released enough music they could play only their new songs tonight and it would probably make for even a longer show. Last recorded but first released was the lockdown-era straight-to-boombox throwback Songs for Pierre Chuvin. Then came two more albums, recorded on the cusp of the pandemic, within weeks of each other, in different storied studios: Getting into Knives, made in Memphis, and Dark in Here, cut in Muscle Shoals, one month after another. With Will Sheff. 18+. $38. 8:30 p.m. 701 First Ave. N., Minneapolis. More info here.—Keith Harris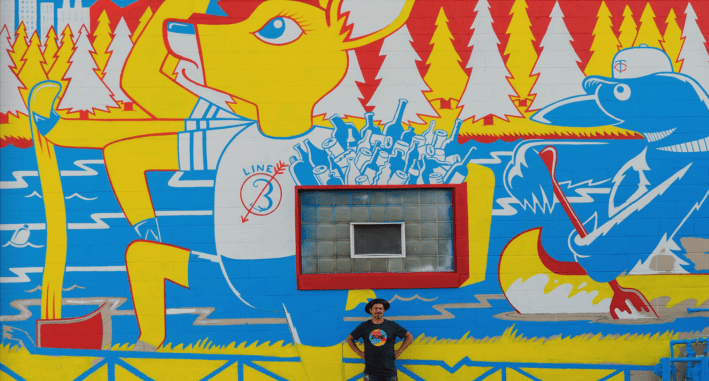 SATURDAY 5.21
Chroma Zone "Open Street" Kick-off 
Bradford & Endicott Streets
Mural makers Chroma Zone are celebrating public art with an epic afternoon offering all kinds of fun. Local history expert Bill Lindeke will be giving guided mural tours on the hour via bus, and Move Minnesota will lead a bike tour at 1 p.m. You can also pick up a map and take a self-guided tour of 10 Chroma murals in the neighborhood. Local artists will be on hand creating live art, DJ tunes will be provided by sound art collective Beatrix*Jar, food trucks will be stopping by, and Urban Growler and Bang breweries will host beer gardens. Find more info and RSVP for the bike tour at chromazone.net. 12:30-3:30 p.m. 2325 Endicott St., St. Paul. –Jessica Armbruster 
Cey Adams: ETCetera
NewStudio Gallery
After you check out Chroma Zone's mural festival, head on over to NewStudio Gallery for this impossibly cool show featuring graffiti artist/graphic designer/album artist Cey Adams. His career started over 40 years ago as a tagger in NYC, where his graffiti work made headlines with contemporaries like Jean-Michel Basquiat and Keith Haring. ("I was fascinated by the calligraphy. I loved the way it looked," he says via release.) Eventually he landed a gig as creative director at Def Jam, where he worked on album/CD covers, logos, and more for rappers like Run DMC, Beastie Boys, Public Enemy, and Jay-Z. For this show, he'll be reflecting on a variety of works, campaigns, and projects with works on paper. "I'm revisiting things I've worked on since 1980 up to the present day. While my son Eric wasn't born when I started my career, he's working with me on artworks created for this exhibition." There will be an opening reception this Saturday from 5-8 p.m., and a free artist's talk with Adams, Mike Davis, and Wes Winship at 1 p.m. Sunday. 2303 Wycliff St., St. Paul. Through August 12 –Jessica Armbruster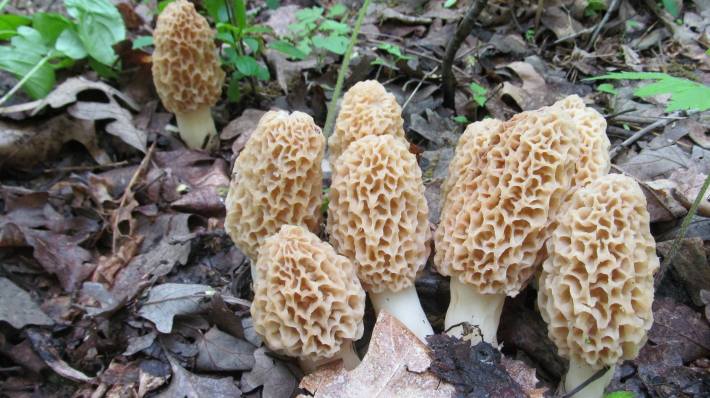 SUNDAY 5.22
Morel Fest 
Lakes And Legends
Foraging fiends will descend on Lakes and Legends this weekend for Morel Fest, a celebration of Minnesota's state 'shroom. It doesn't matter if you've never successfully foraged for these honeycomb-like little fungi in your life, as they'll have a morel shopping station where you can buy your own. Hungry? Snack on morel morsels from Sample Room chef Ashley Estrada that include morel and portobello tacos, burgers with house-made morel American cheese, poutine with morels and Ellsworth Cooperative Creamery cheese curds, and soft pretzels with morel salt and black garlic. There'll also be live music, cooking classes from the Gentleman Forager and Ojibwe Anishinaabe chef Austin Bartold, a morel costume contest for kids (with a $500 prize!), and a morel piñata. Find more info here—the morel the merrier, folks. Free. 1-9 p.m. 1368 Lasalle Ave., Minneapolis.—Em Cassel