Food & Drink
The Best, Worst, and Most Middling New Foods of the 2023 Minnesota State Fair
This town's most discerning review crew returns with the only fair food takes you can trust.
7:59 AM CDT on August 25, 2023
Earlier this year, your Racket pals took our best guesses at which of the 34-ish "official" new State Fair foods would be worthy of your time, money, and gastro real estate. (What's the difference between an official new food and a regular one? Ask the fair braintrust.)
On Thursday, the State Fair called our bluff, and we've returned from six hours of filling our guts to report our findings back to you. Were we right about what to anticipate? Not always! But now we've evaluated all those new fair foods according to our peerless, pitiless Scarf!, Shrug, Skip system. Accept no substitutes.
All italicized menu descriptions courtesy of the Fair's PR team; all photos by us.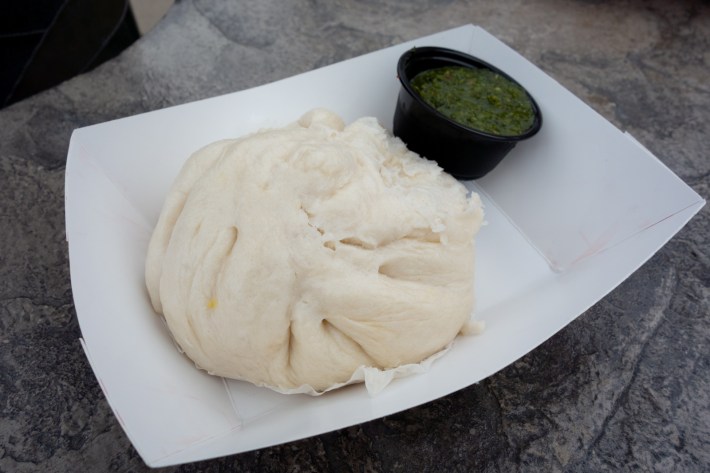 Galabao
Price: $12 at Union Hmong Kitchen

Traditional Hmong-style steamed bun stuffed with ground pork, egg and spices – a recipe from Chef Yia Vang's mom. Served with choice of Krunchy Chili Oil, Kua Txob Hot Pepper Sauce or Lemongrass Scallion Dressing.
We keep waiting for Yia Vang to slip up so we can pounce like the media jackals that we are. But the guy just does not miss. For Union Hmong Kitchen's second year at the fair he offers his take on the traditional Hmong galabao, and honestly, we could have eaten the pillowy, just-sweet-enough bun on its own and been happy. Or so we might have said before tasting the pork and hard boiled egg filling, especially when spiced up with some dynamite lemongrass scallion dressing. Perfectly satisfying without being too heavy. [Shaking fist furiously] We'll get you one day, Vang!
Verdict: Scarf!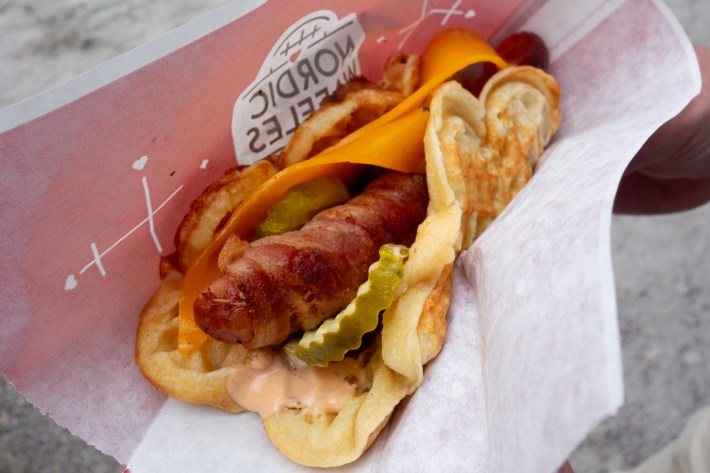 Bacon-Wrapped Waffle Dog
Price: $12 at Nordic Waffles
Griddled bacon-wrapped Kramarczuk hot dog served on a Nordic Waffle with cheddar cheese, pickle slices and crispy onions and drizzled with burger sauce.
If tubular meat hung in the galleries of the Louvre, Kramarczuk's Sausage Co. would easily lock down an installation. Snappy, meaty, exploding with flavor—they're the perfect dogs. The question then becomes: How do you best utilize this greasy work of art? You could slap one down between the folds of a squishy waffle, betting that the sweetness would interplay with the savory. You could place two pieces of unmelted, processed cheese on top, right alongside pickle coins and French's-adjacent fried onions. You might just drizzle the whole shebang, which wants so badly to unfold on you, with "burger sauce" that we're betting is Thousand Island dressing. But should you? That's the bet Nordic Waffles made, but we'd go a different route: Put that beautiful dog inside a sturdy bun! Until NW can crisp up its namesake carby flotation devices, they're doing a disservice to the fillings.
Verdict: Skip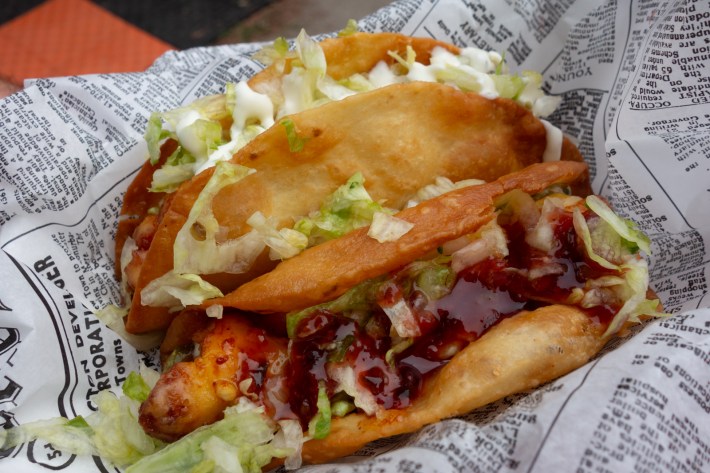 Dill Pickle Cheese Curd Taco
Price: Two tacos for $14 at Richie's Cheese Curd Tacos
Fried white cheddar cheese curds, sandwich stacker dill pickles, cream cheese, lettuce and raspberry chipotle sauce in a fried flour tortilla. (Vegetarian).
What makes these tacos a must-eat? The light fry on the tortillas and the fresh and delicate fry of the cheese curds. This is classic fair food, big and fried and fun, and these babies work because they're all about texture. A crunchy chalupa-like shell effectively holds together iceberg lettuce, creamy sauce, and fresh pickles, all of which serve to elevate and not overpower the main act of this dish—those gooey curds. As a vegetarian option, it's greasy and golden food, but balanced and light enough to eat without wanting to lay down and die afterward. The two sauce flavors, raspberry and chipotle ranch, are both solid, so get 'em both.
Verdict: Scarf!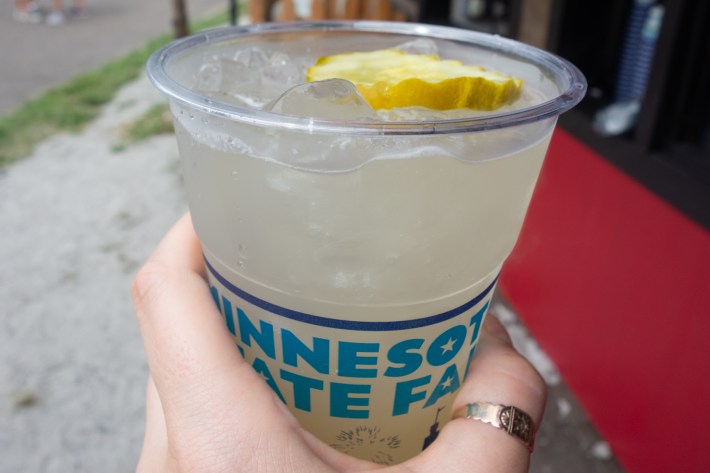 "Kind of a Big Dill" Pickle Lemonade
Price: $6 (regular) or $9 (large) at Nordic Waffles
Lemonade mixed with tangy dill pickling spices, craft brewed by Urban Growler and garnished with a crunchy slice of pickle.
We're rolling our eyes at the pickle mania of this year's State Fair as much as the next person, but we have to admit: This pickle lemonade slaps. It's not much of a stretch to meld the tang of a lemonade and the sour of pickling spices, and here it's done quite nicely. You won't feel like you're guzzling pickle brine, but rather clocking the subtle sour flair on the back end of each sip. It's a gentle whisper, a soupçon, like when you make a martini and merely wave the vermouth bottle over the glass. But with pickles.
Verdict: Scarf!
Fruity Cereal Milk Biscuit
Price: $8 at Lulu's Public House
A Betty and Earl's biscuit made with fruity cereal milk and cereal bits, drizzled with icing flavored with fruity cereal, and topped with more cereal bits.
It's a damn shame what they've done to Betty & Earl's biscuits here, as both the plain and bacon-and-cheese varieties are great. With this version, the sweetness is just plain overwhelming, reaching "sickly" by the second bite. Avoiding the icing and Fruity Pebbles bits on the top is ineffective; so, so much sugar is baked into the biscuit too. And maybe it's the "cereal milk" that ruins the biscuit's texture, but this was gloppy, doughy, and unappealing. Any childhood memories it evokes are less "Saturday-morning cartoons" and more "tooth-achingly sweet supermarket birthday cake." Your sugar-monster kids might like it.
Verdict: Skip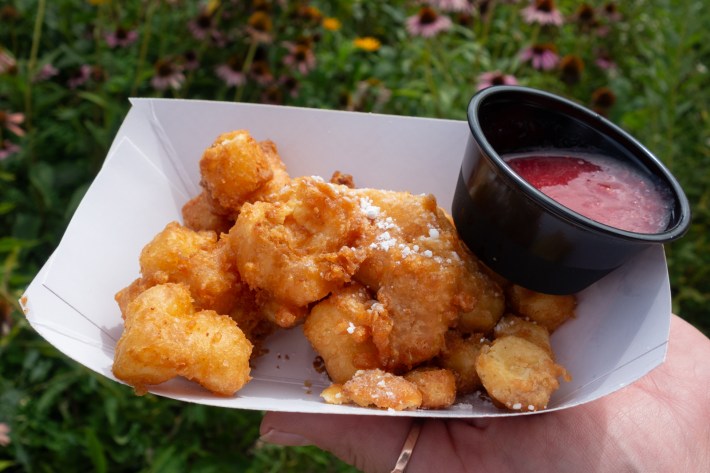 Cheesecake Curds
Price: $9 at Lulu's Public House
Eli's Cheesecake pieces covered in funnel cake batter, fried and dusted with powdered sugar and salt. Served with strawberry dipping sauce.
The problem with too many new fair foods is that they aim to fix what don't need fixin'. You know why folks have been deep-frying and chomping down on cheese curds for so long? Because they taste great, that's why. Curds don't need improving, and neither does funnel cake. So why try to combine the two, while bringing cheesecake into the mix on top of everything? The fried batter has a decent crunch, but the cheesecake innards had the consistency of toothpaste.
Verdict: Skip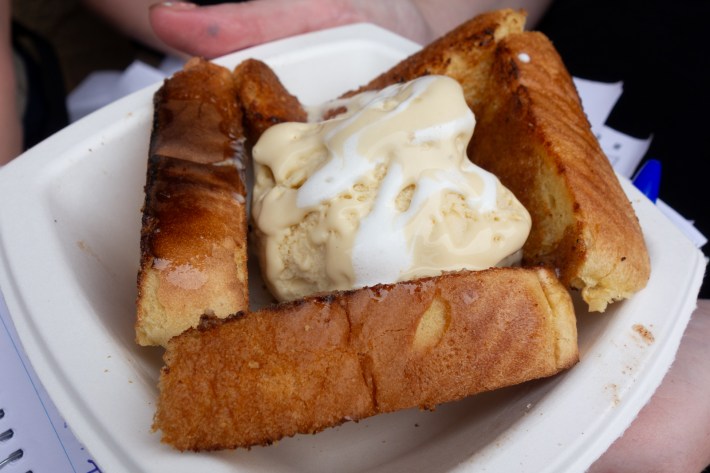 Irish Butter Ice Cream Over Brown Sugar Cinnamon Toast
Price: $9 at Blue Moon Dine-In Theater
Ice cream made with European-style butter served on brown sugar cinnamon toast, drizzled with butter syrup and sprinkled with sea salt flakes.
Turns out butter really does make everything taste better. The ice cream has a unique flavor reminiscent of Irish cream. The toast is a thick bread christened with a hefty dose of cinnamon-y sugar and a whisper of butter, and also works as a second spoon. A delicious bread spoon. Who knew that butter on butter would be a winner at the fair?
Verdict: Scarf!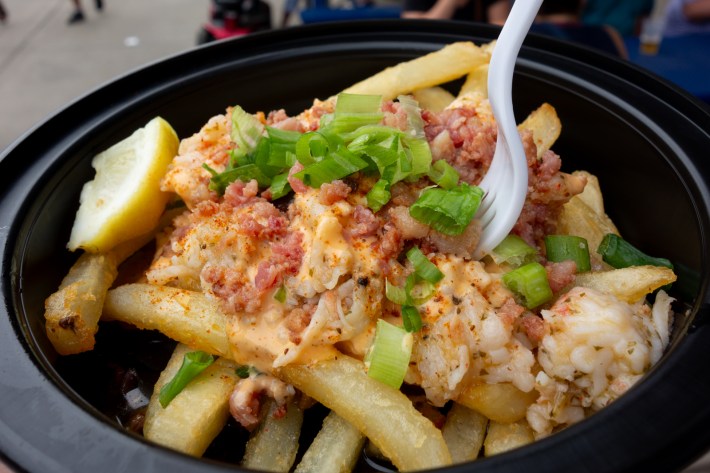 Loaded Lobster Fries 
Price: $15 at Cafe Caribe
Lobster in garlic and herb butter, served on a bed of french fries sprinkled with OLD BAY® Seasoning, topped with bacon, drizzled with homemade chipotle mayonnaise, and garnished with green onion and a lemon wedge.
These fries are definitely a fork food, and the greasy decadence of its disparate elements can feel heavy. But, in spite of this, Cafe Caribe's lobster fries are a win. Why? Because, as Einstein or Will Hunting or whoever first figured out, lobster + bacon = funtime happysmile high five; The heaping pile of buttery lobster chunks and crispy bacon bits which grace the top of these fries would be rich enough to work on their own, but the spicy mayo, dashes of Old Bay, and green onions add a poignant tang. Tip: Ask for extra lemon wedges and Louisiana hot sauce if you're looking for added kick. 
Verdict: Scarf!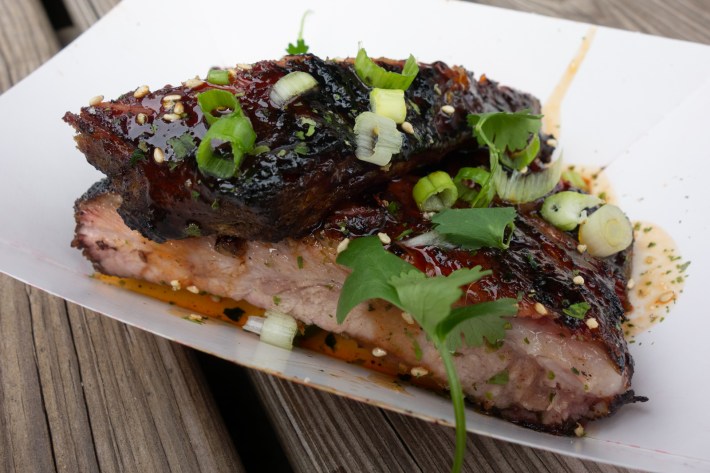 Maui-Sota Sticky Ribs
Price: $13 at RC's BBQ
Slow-smoked St. Louis-style ribs, caramelized with RC's Sticky Huli Huli sauce and seasoned with furikake, green onion and cilantro.
Not to come off like jaded old-timers who've seen it all and eaten even more of it, but when you make the "new fair foods" rounds long enough you start to expect just how you'll be disappointed. We had the same problem with these ribs that we've traditionally had with RC's ribs. The caramelized Hawaiian-style sauce had a nice sweet and smoky flavor, and the green onion and cilantro both added a nice accent. But the meat itself was just too chewy. RC's meat is always too chewy. Perhaps the platonic form of a shrug.
Verdict: Shrug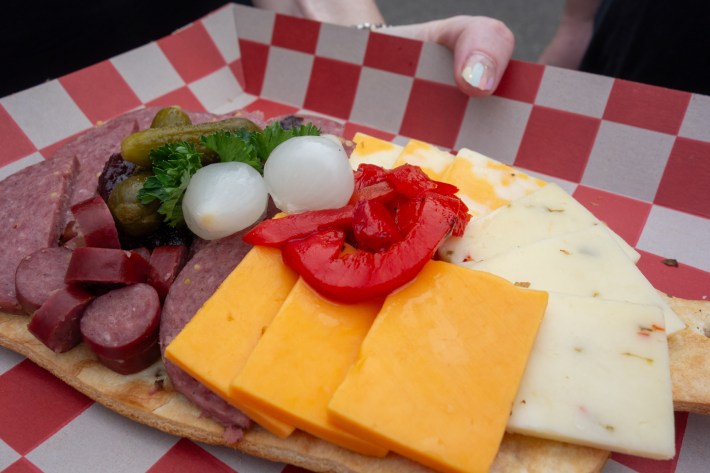 Sota-cuterie Board
Price: $14 at Sabino's Pizza Pies
Collection of Minnesota-made meats, cheeses, pickles and other charcuterie board favorites – served on an edible herb-crusted cracker "board."
A cute(rie) idea—basically, you've got all the non-liquid ingredients of a Bloody Mary here spread out on an edible "board." But the summer sausage and the cheddar slices were on the bland side, while the pearl onions, red pepper slices, and pickle (it's 2023, of course there was a pickle) were just pleasant garnishes. Ultimately this is an unremarkable Cub deli case lunch, hampered by a serious design flaw as well: You can't get to the cracker board underneath without eating most of the stuff on top of it first. Not to mention that this is hardly good walkin' around food.
Verdict: Skip
Bee Sting Sundae
Price: $9.50 at Bridgeman's Ice Cream
Bridgeman's vanilla ice cream topped with hot honey, spicy peanuts, whipped cream and a cherry.
The first couple bites of this sundae deliver, but here's the thing: Once you eat up those special toppings you're left with vanilla ice cream. Which is fine. But when you have a limited amount of real estate in your stomach this is not the best investment. The peanuts are incongruent—they taste like they belong in a Chex mix. The hot honey is nice, with a very mild amount of heat, but if you're jonesing for honey and ice cream, we recommend taking a trip to the Ag/Hort Building where the MN Honey Producers Association serves up sweet bee treats.
Verdict: Shrug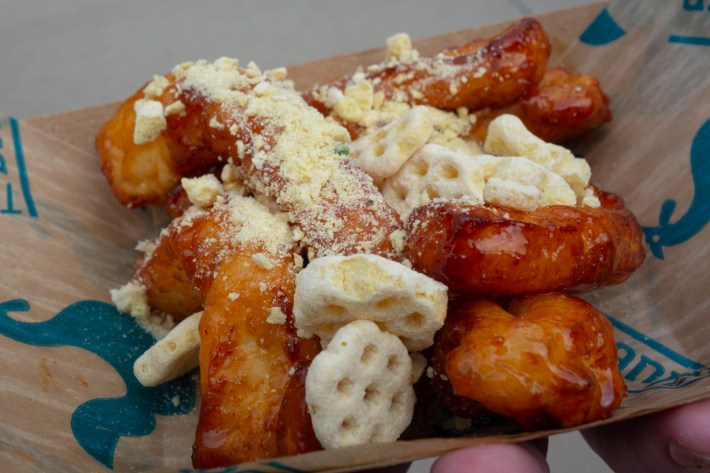 Hot Honey Cheese Sticks
Price: $9.50 at Blue Barn
Fried Halloumi cheese topped with hot honey and honeycomb crunch.
You're supposed to be able to pick up cheese sticks, but you don't want to touch these guys. Honestly, you probably aren't going to want to put this cheese into your mouth either. We have nothing against the halloumi cheese sticks, and serving them in a French-fry shape is a great idea! But the honey here is not good. It's vinegary, with a bizarre bitter aftertaste that doesn't leave you wanting more. The honeycombs are also not crunchy. The ones we were served ranged from stale to soggy.
Verdict: Skip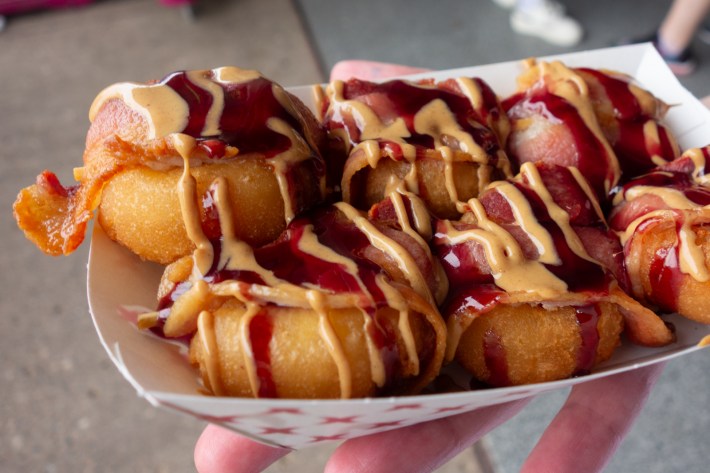 Donut Delights
Price: $7.50 at Coasters
Mini donuts wrapped in bacon, on-a-stick, then deep-fried, topped with a layer of peanut butter and drizzled with raspberry dessert sauce.
By description only, this would seem to fit right into the classic State Fair aesthetic: the deep-fried mini donuts, the Elvis-evoking decadence of peanut butter and bacon, the fact that it's served on a stick. What's not to like? Well... foremost, the donuts weren't cooked all the way through. A bite of raw dough in the middle really ruined the over-the-top PB&J vibe. The stick (a very thin skewer) was worthless here; entire donuts fell off even as we very delicately picked one up and tried to take a bite. That means eating these is a sloppy ordeal, which would be acceptable if the other components worked. In addition to the insult to mini donuts, the bacon was thin but included hard, unchewable bits, and the "strawberry dessert topping" (jelly) was glooped into an unappetizing pool on each donut (maybe "drizzling" is too much to ask of fair food stand employees). We were hoping for an indulgent upgrade of an after-school snack, and ended up with a gooey hot mess.
Verdict: Skip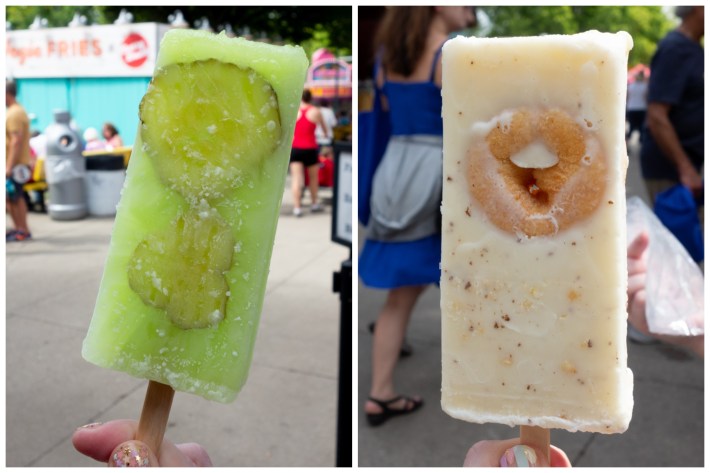 Paleta 
Price: $6 each at Hamline Church Dining Hal
Mexican frozen treats on-a-stick in two flavors made locally by La Michoacana Rose: Dill Pickle Lemonade Paleta is lemon-flavored, water-based and includes dill pickle slices (vegan); Mini Donut Paleta is vanilla ice cream with mini donut bits and a whole cinnamon mini donut inside (vegetarian).
Just delightful. Neither of these new flavors wallop you with sweetness. Instead, they showcase nuanced on-a-stick flavors while suspending honest-to-god pickles and mini donuts in ice, not unlike our old friend Frostillicus. The pickle option might be a trend chaser, though we can't fault it. Salty, tangy, and dilly, the refreshing pop almost evokes a margarita. The mini donut variety hits like a creamy chai tea, with a wonderful texture that, remarkably, preserves the tasty pastry inside. The fair is littered with gut-bomb desserts that can be day ruiners, especially if you prefer to avoid well-traveled public toilets. Yet these gourmet Mexican popsicles can function almost like affordable digestifs—sweet tooth satisfying, stomach soothing.   
Verdict: Scarf!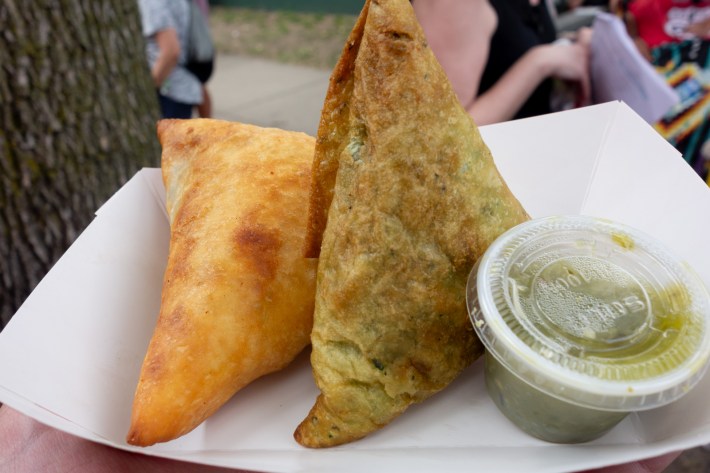 Afro Deli
Prices at the Food Building:
Sambusas: $6
Plantains: $8
Somali spiced tea: $6
Afro Deli serves Sambusas in three varieties - beef, chicken or veggie, fried triangle-shaped pastries with choice of meat or lentils, mixed with onions, garlic and cilantro, and served with "Basbaas," a spicy Somali dipping sauce made with fresh chili peppers, jalapeños, cilantro, onions and lemon juice; Sweet Plantains, pieces of ripe plantains fried until golden brown (vegetarian); Somali Tea, a fragrant, spiced infusion of tea leaves, cardamom, cinnamon, cloves, ginger and nutmeg, served hot or iced (vegetarian); and fresh mango juice (vegetarian).
So look, brand-new State Fair vendor Afro Deli slaps. We know this because the African fast-casual concept has expanded to four Twin Cities locations, from which they've been slingin' tasty curries, yassa chicken, gyros, and more for years. We can't recommend their trademark sambusa appetizers enough. Puffed and mighty, the fry work on these savory pastry pockets is exemplary. Inside, the meaty fillings pop with bright and exciting flavors. Our only wish? That the accompanying, teeny-tiny plastic cup of Basbaas —a spicy, green, chutney-like dippin' sauce—was sized more like a tub. The plantains, while cooked tender on the inside and crispy on the outside, just don't justify that $8 price tag. The Somali tea is a winner if you're looking for a creamy, slightly spicy, cinnamon-forward refresher over plenty of ice.
Verdicts: Scarf! for sambusas; Skip for plantains; Shrug for Somali spiced tea.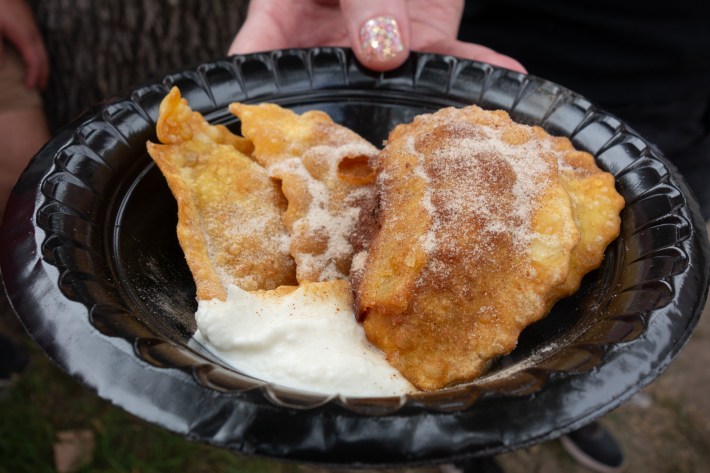 Fried Butternut Squash Ravioli
Price: $10 at Oodles of Noodles
Deep-fried butternut squash ravioli sprinkled with maple cinnamon sugar. Served with a side of whipped ricotta.
The wheel, the printing press, the chia pet—humans have dreamt up dang clever inventions. But nothing our species has devised tops the idea of filling up a bit of dough with something tasty—that's a winner across cultures. Not all treat-filled dough concoctions are created equally, though. Sometimes they're just… OK. That's the case with this nice enough sweet 'n' savory treat. The squash filling has a fine consistency and flavor, and the whipped ricotta on the side balances out the taste. But the ravioli itself crunches wrong—it's brittle rather than crispy. There are better dumplings to be dumpled, friends.  
Verdict: Shrug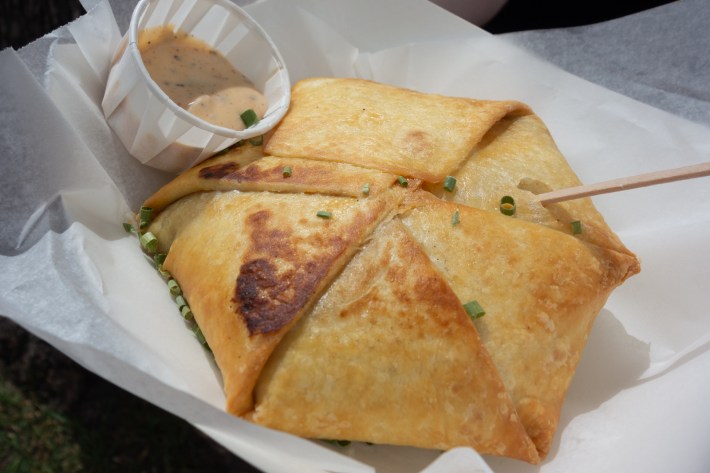 Crunchy Balboa
Price:  $15 at Herbivorous Butcher
Deep-fried tortilla filled with vegan roast beef, bacon and cheese sauce, plus peppers, onions and a hash brown patty. Served with vegan Follow Your Heart seasoned sour cream.
When our friendly server handed this thing to us, we were worried because it was heavy like a brick. But sometimes bricks are… delicious? That's the case here: This thing is packed with meat, or, rather "meat," but it works. It's juicy like a loose beef sandwich, with tasty peppers and onions cooked to their melt-in-your mouth point. The sauce is great, and adds a nice gooeyness. The shape is reminiscent of a Taco Bell crunch wrap, making it an easy-to-eat hand pie for the vegan/vegetarian/curious crowd.
Verdict: Scarf!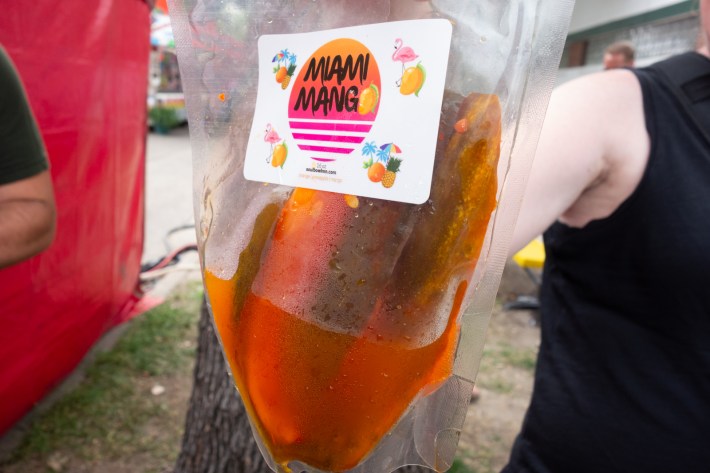 Miami Mango Pickles
Price: $5 at Soul Bowl
Dill pickles infused with Miami mango punch.
Okay, so this isn't for everyone: Our group had both fans and haters. A slightly fancier take on Kool-Aid pickles, these feature a strong mango flavor. Devotees of that type of sweet/sour combination should be pleased, as the sweetness doesn't completely overpower the vinegar of the brine, and the pickles are crunchy and refreshing. Make sure to get napkins—these are served in plastic bags that preserve the liquid, keeping the pickles cool and flavorful but also guaranteeing that your fingers will get sticky.   
Verdict: Shrug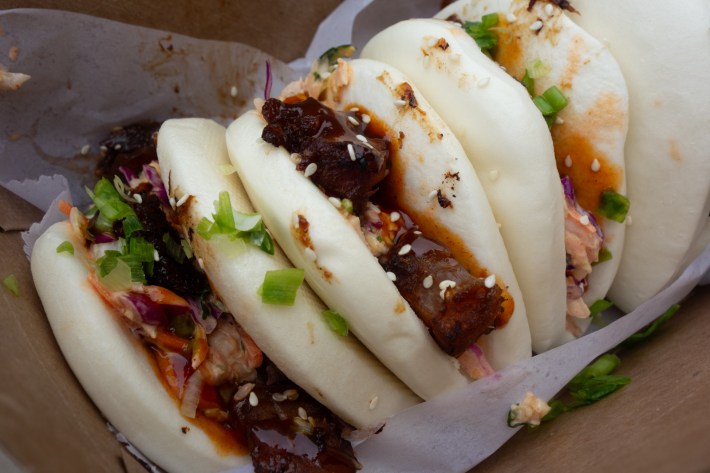 Crispy Lutefisk Steam Bun
Price: $14.25 at Shanghai Henri's
Steamed lotus bun filled with a blend of cabbage, carrots, cilantro and yum yum sauce, plus Olsen Fish Company lutefisk brined in salt water for 12 hours, covered in sweet hoisin sauce, then baked and topped with sesame seeds.
Perhaps the buzziest, most contentious new fair food. But botch up the bread and you destroy a good sandwich. This rule also applies to steamed buns, which dominate here when they should be seen but not tasted. The slaw is great; crunchy, nutty, fresh. The lutefisk has that iconic gummy texture and fishy aftertaste, and the sauce really plays off the brininess. This could honestly be a good intro for folks who have never tried lutefisk, but dang, the bun is just too much. 
Verdict: Shrug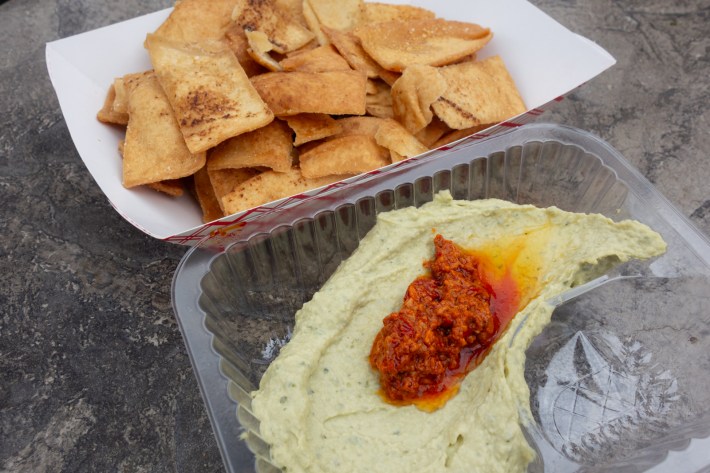 Basil Hummus with Spicy Walnut Topping
Price: $10 at Holy Land

Holy Land hummus blended with fresh basil and topped with a mix of crushed walnuts, crushed red chili pepper, garlic and olive oil. Served with homemade garlic parmesan chips. (Hummus is vegan and gluten-free; chips are vegetarian-friendly with gluten-free option available.)
Hummus may seem an odd choice for a fair food, and 10 bucks might sound like a high price to pay for it, but Holy Land comes through here. The hummus has a bright, fresh flavor where the basil really pops. It's delicious and refreshing alone, but adding the spicy walnut topping to any bite ups the ante. It has an actual kick, somewhere a bit above Minnesota-spicy, with a crunch that pairs well with the creamy hummus. And the sturdy, extra-crispy garlic parmesan chips make for just the right scoops. Plus the portion is generous and great for sharing.
Verdict: Scarf!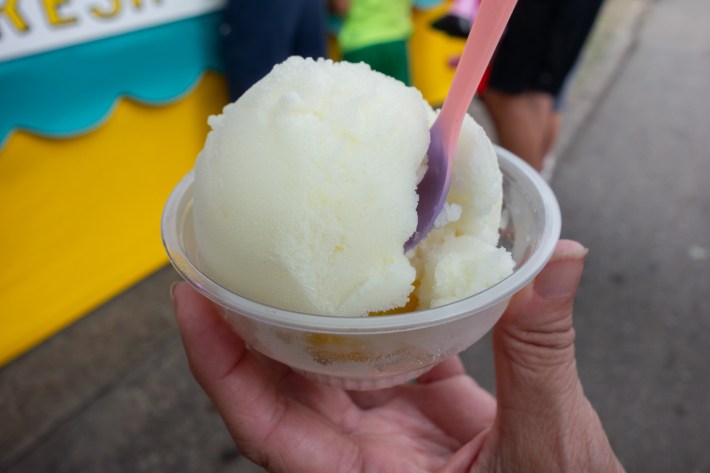 Lemonade Sorbet
Price: $5 at Quench'd

Lemon sorbet made with fresh-squeezed lemon juice, lemon zest and mint garnish, served in a frozen half-lemon shell. (Vegan, gluten-free)
This is absolutely perfect on a hot day after consuming all the requisite fried fair foods. The light, refreshing, very lemony sorbet is studded with tiny pieces of lemon zest, not big enough to alter the texture but adding a zing to the overall flavor. The dish even comes with a tiny plastic spoon that changes color with the temperature à la the Coors mountain cans. (Purple when cold; pink when warm–fun!) The clever idea of serving the sorbet in a frozen half-lemon shell is adorable, and would be an environmentally friendly hack if that lemon weren't then placed into a plastic cup. Oh well. We'll have to save the planet some other way.
Verdict: Scarf!
Chicken Momo With Tomato Chutney
Price: $13 for six momos at the Taste of the Midtown Global Market booth at the International Bazaar
Blend of ground chicken, cabbage, onion, ginger and other spices steamed in a dough wrapper. Served with tomato chutney. (Available Aug. 24-29 only)
These momos might not look like much. They look more like dumplings, and the chicken/tomato flavor pairing isn't revolutionary. But the ground chicken, ginger, and onion filling really shine when steamed together, and the spice profile on these momos pleasantly veers towards the Himalayas as soon as you bite in. The creamy chutney, which tastes korma- or tikka-masala adjacent, renders these momos rich and vibrant. Although they're served at a very Minnesotan-friendly spice level, a bit of heat sneaks up on you for a fun little kick. By the sixth one, you might just be saying "me-me like-like momo."
Verdict: Scarf!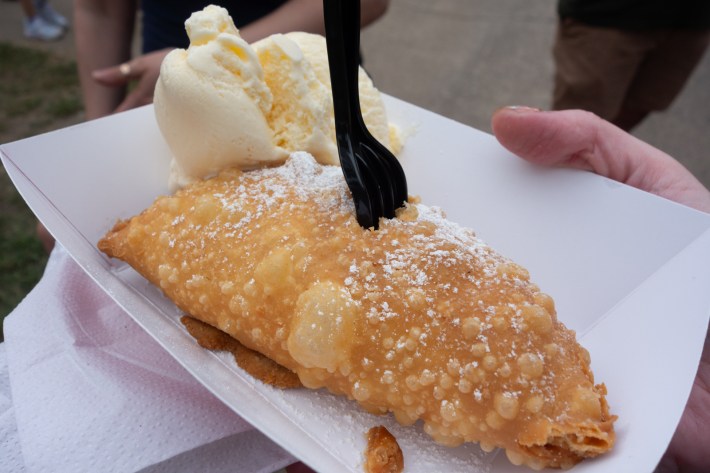 MinneCookieDough Pie
Price: $10 at Minneapple Pie
Homemade chocolate chip cookie dough in a flaky pie crust dusted with powdered sugar. Served with a choice of vanilla or cinnamon ice cream.
Adding cookie dough to things normally means clumps of Play-Doh-y dough. Not this guy! This pie is an ooey-gooey delight. The outside crust is a flakey casing that doesn't get in the way of the showstopper here: molten lava cookie dough. You're gonna want to share this fella with friends, and don't pass on the superb vanilla ice cream, as it keeps things all in check. This is super rich, super decadent, and unique. Everyone in our group loved it, which is pretty impressive. 
Verdict: Scarf!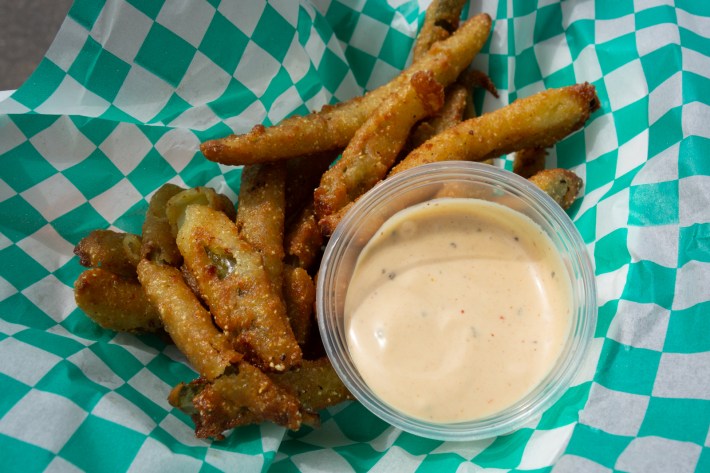 Pickle Fries
Price: $8 at Mike's Hamburgers
Crispy, tangy thin-cut dill pickle fries lightly coated in a cornmeal and seasoned mustard batter. Served with a side of chipotle dipping sauce.
You won't find any crow on this list, but we're willing to eat it anyway. In Racket's new fair food prognostications, we authored the following foolhardy sentence about fried pickles, "Coin shape is the way to go." Dumbassery of the highest order, and one of our wonderful readers called us out, writing, "As a fried pickle consumer for 24 years, pickle spears are highly superior to pickle chips." They weren't wrong. The crispy cornmeal batter barely clinging to these bad boys was expertly seasoned, delivering so much flavor that the creamy chipotle dipping sauce—which packed legit heat, a Minnesota rarity—wasn't even necessary. Dunkable, fun, oily yet crispy… Mike's nailed it. If this is the Year of the Pickle, we have a briney king. S-tier new food; don't hesitate.
Verdict: Scarf!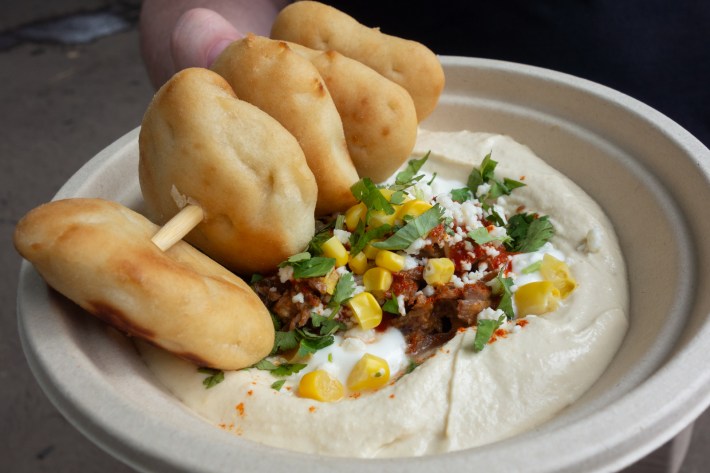 Al Taco Baba
Price: $13 at Baba's
Traditional hummus, harissa barbacoa, corn, queso fresco, chili dust, shatta (hot sauce), crema, cilantro and pita puffs.
Don't take that "taco" part too literally. Or even figuratively, really. What you're getting here is a hummus bowl with a generous scoop of beef and cheese and a handful of pita bites resting atop. I guess you're supposed to use the pita to scoop up the rest, but the meat doesn't cooperate with that process. We love Baba's food, and ingredient by ingredient this works—the hummus is plenty creamy, the meat pops with a fierce chili flavor—but the overall configuration is just not fair-practical. Slather all those ingredients inside a larger taco-shell-like pita and we'd be doin' business.  
Verdict: Shrug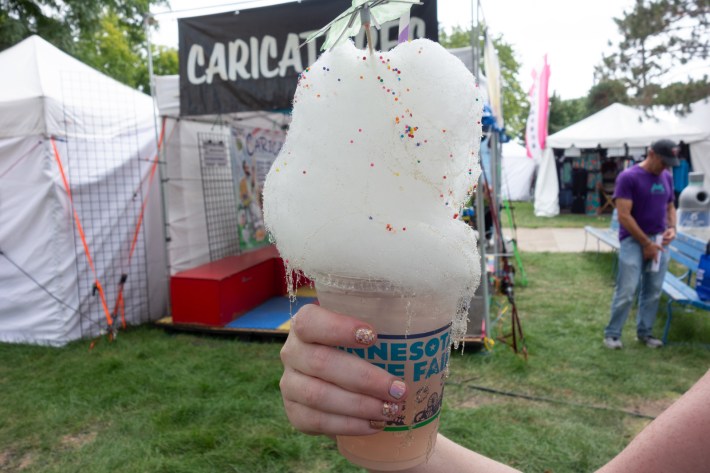 Cloud Coolers
Price: $12 at Spinning Wylde
Three choices of lemonade served with a cotton candy cloud spun onto the drinking straw: Summer Strawberry – strawberry lemonade topped with strawberry fields cotton candy; Happy Huckleberry – huckleberry lemonade topped with blackberry jam cotton candy; and Flower Power – violet lemonade topped with lavender love cotton candy.
This booth is for a specific demographic: princess children, kawaii adults, and Insta food hoes. There was a big line for these drinks on opening day, but everyone waiting with us was so nice, and there's something endearing about watching kids in wonder as they make the cotton candy for each customer. Here's the thing, though: the cotton candy melts fast. We couldn't get to it fast enough on our way to Giggles to meet up with friends. But the drink is good! We went with the lavender option, which was refreshing. Florals can be tricky, but of our group of six only one thought the drink verged on soapy. We'd drink this again, but without the cotton candy and sprinkles. 
Verdict: Shrug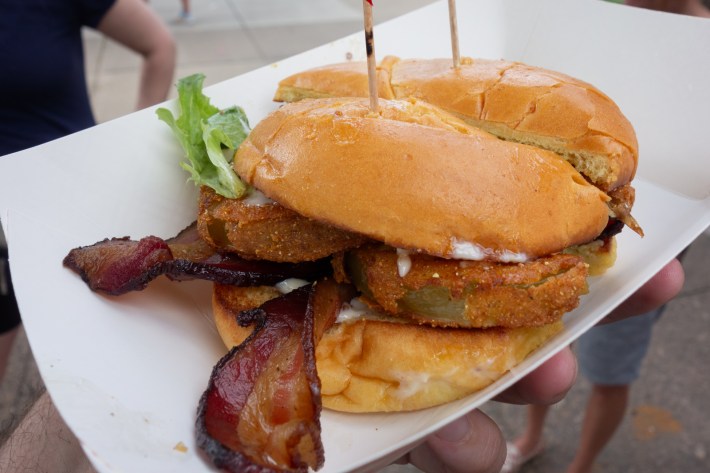 Fried Green Tomato Sandwich, BLT or Vegetarian
Price: $15 at Minnesota Farmers Union Coffee Shop
Two deep-fried locally grown green tomato slices in a crust of Whole Grain Milling Co. High Lysine Cornmeal, with mustard mayonnaise made with Lost Capital Economics Coarse Spicy Ale Mustard, and local lettuce on a toasted brioche bun from The Good Bread Company. BLT is served with bacon from Pastures a Plenty & Hidden Stream Farm. Vegetarian option is served with locally produced charred sweet corn relish.
It's not that this sandwich is outright bad. In fact, it's perfectly serviceable. Local ingredients, thick-cut bacon, light cornmeal batter, a buttery brioche bun—what could go wrong? Nothing. However, as a sammy that's essentially a dressed-up BLT that emphasizes the tomato, the headline aspect feels almost invisible when stacked up against the richer, saltier elements. Instead, go with one of last year's absolute home-run new foods: the massive, mouthwatering Pork Schnitzel Sandwich you can grab at the MFU shop. 
Verdict: Shrug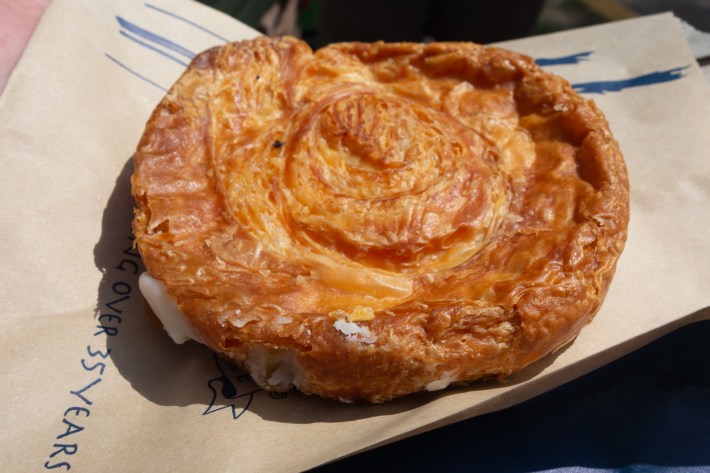 Ba-Sants, Everything Cream Cheese or Sweet Corn
Price: $7 at French Meadow Bakery & Cafe
A buttery, crisp and caramelized pastry–a combination of a bagel and croissant: Everything Cream Cheese Ba-Sant is rolled in poppy seeds, sesame seeds, onion flakes, garlic flakes, black pepper and sea salt with a scallion cream cheese filling; Sweet Corn Ba-Sant is filled with fresh sweet corn custard and garnished with crunchy caramel corn.
In the post-cronut landscape of trend chasing bakery hybrids, smashing together a bagel and a croissant might be the pastry combo that finally jumps the shark. Bagels are good, croissants are good… ba-sants are not good. This franken-bread highlights the worst possibilities of how a bagel or a croissant can fail. It loses the airy, flakey texture of a croissant by falling into a hockey puck-ish density as it attempts to mimic a bagel. But it achieves none of a bagel's soft, downy interior or exterior sheen either. Instead the ba-sant looks like a danish, tastes like a drink coaster, and boasts the texture of boiled leather. It's possible that the sweet corn ba-sant (the only one available when we visited mid-afternoon) might be more manageable as an accoutrement to your morning coffee. Without a beverage? This thing's drier than British humor.
Verdict: Skip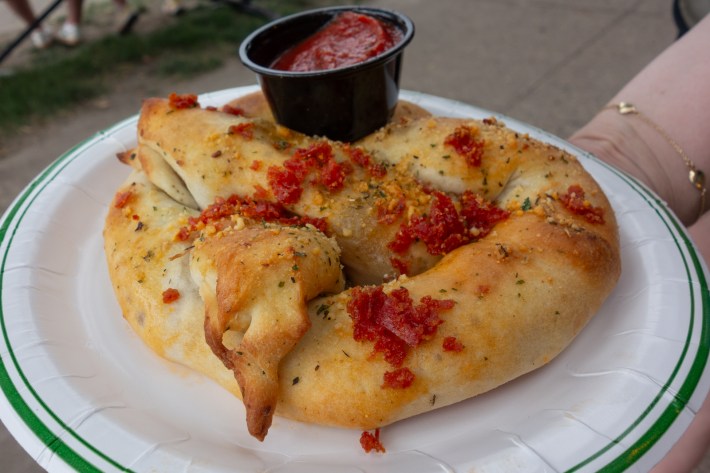 Cheese Curd Stuffed Pizza Pretzel
Price: $9 at Green Mill
Scratch-made jumbo pizza dough pretzel, hand-twisted and stuffed with Ellsworth cheese curds, pepperoni and a Green Mill blend of Italian spices. Brushed with garlic butter and topped with diced pepperoni, herbs and parmesan cheese. Served with Green Mill pizza sauce.
Can you tell that the cheese curds are Ellsworth? Absolutely not. Is the "hand-twisted" pretzel shape an unnecessary flourish? Probably. Is there another body part you might use to twist and stuff dough other than your hands? Unclear. That aside, the stuffed pizza pretzel scratches the itch for a portable, rippable, shareable pizza alternative. This chewy pizza dough tube filled with melted cheese and pepperoni is essentially a stromboli that has been stretched, contorted, buttered up and delivered into your grubby little hands for the low, low price of $9.   
Verdict: Scarf!
Holey Hamloaf Breakfast Sandwich
Price: $11 at Hamline Church Dining Hall
Hamline Church Dining Hall hamloaf, tangy glaze, caramelized onions and cheese in a sandwich made with fried egg-in-a-hole toast.
"This looks just like something my brother would make," proclaimed the man seated next to us at the banquet table, gazing admiringly at his breakfast handheld, before adding, "at 2 a.m." Akin to a breakfast patty melt, the hot-off-the-griddle hamloaf sammy is as close to real food as you might find at the fair, with a slightly sweet meat patty, grilled onions, and melty cheese to tie it all together. Plus, there's simply a transportive quality to the Hamline Church Dining Hall. Sit down, take a load off and get served a hearty breakfast like you're about to go spend a day working on the farm–or just scraping cowshit off your shoes from the Cattle Barn. 
Verdict: Scarf!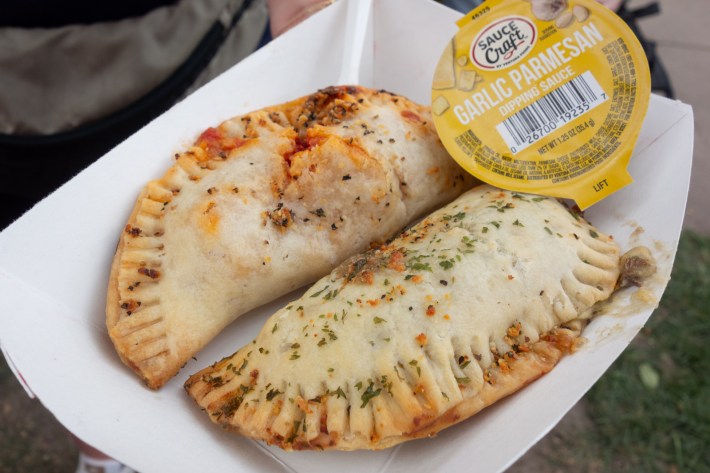 Italian Duo Dunkers
Price: $12 at Sara's Tipsy Pies
Two Italian-themed hand pies with seasoned parmesan crusts: one with sausage, pepperoni and mozzarella cheese in a 7 Vines Winery red wine-infused pizza sauce; and one with chicken, mushrooms and spinach in a creamy garlic alfredo sauce. Served with garlic butter dipping sauce.
Some days you dunk the dunkers and some days the dunkers dunk you. It's hard to fathom how a place that specializes in pies could turn out such a feeble duo of undercooked, flakeless crusts. Add to that two filling options that were equally bad in their own special ways—one too bland, one too salty—and a garlic dipping sauce that seemed freshly plucked from a Papa John's pizza box, and you have… this, I guess. The fact that we were $12 poorer after the experience made it all the more clear: We had been dunked. We're only giving this a "skip" because we don't (at press time) have a "Spew!" option in our system. 
Verdict: Skip!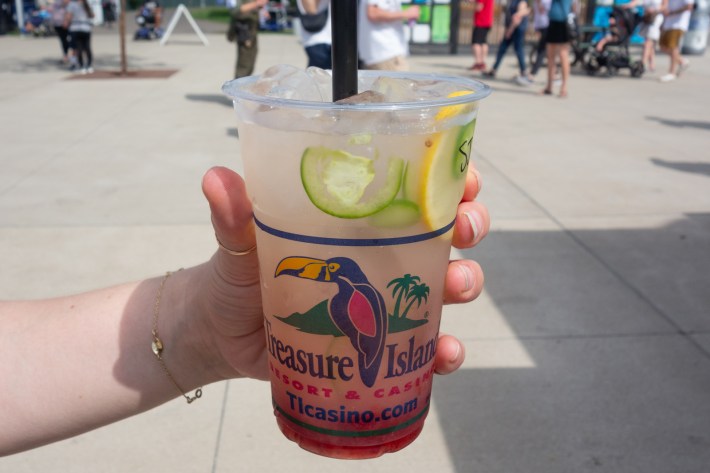 Jam'nades
Price: $7 at Jammy Sammies by BRIM
Organic lemonade infused with locally made jams in two varieties: Blueberry Mint Jam'nade with a spoonful of blueberry jam and topped with mint sprigs; Strawberry Jalapeño Jam'nade with a spoonful of strawberry jam and jalapeño slices. Served with a boba tea straw.
You don't need to go out of your way to find the Jam'nade, but if the sun is beating down and your State Fair stride slows to a shuffle somewhere near the northeast side of the Fairgrounds, consider this refreshing pick-me-up. Sure, it's slightly chunky with undissolved bits of jam, but that's what the wide boba straw is for. We liked the subtle heat of the strawberry jalapeno variety, and found the intermittent pops of sweet, gooey jam to be a treat. Texture-averse sippers might stay away, though if you like flavor globules in your drinks, this one's for you. 
Verdict: Scarf!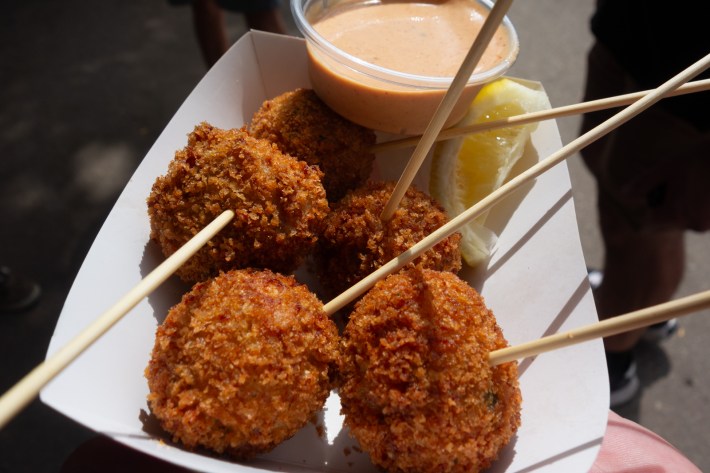 Walleye Fritter Pops
Price: $9.50 at Giggles' Campfire Grill
Smoked walleye mixed with a blend of cheeses, dill pickle relish, fresh garlic and spices, rolled in panko breadcrumbs and deep-fried. Served on-a-stick with a side of comeback sauce and a lemon slice.
Is it a fishy hushpuppy? A walleye-infused crab cake? It's somewhere in between, and it's a true treat from the deep. The crumbly, crispy shell of batter encasing these seafood orbs breaks away upon first chomp, so it's best to pop 'em whole after a generous dunk in the mysterious "comeback sauce" (seasoned mayo, but seasoned well). They explode with just the right amount of smoky fishiness, which is tough with a species as mild as walleye, letting you know this ain't Gorton's from the freezer aisle. The latest in a long line of top-notch northwoods-inspired fare from Giggles.  
Verdict: Scarf!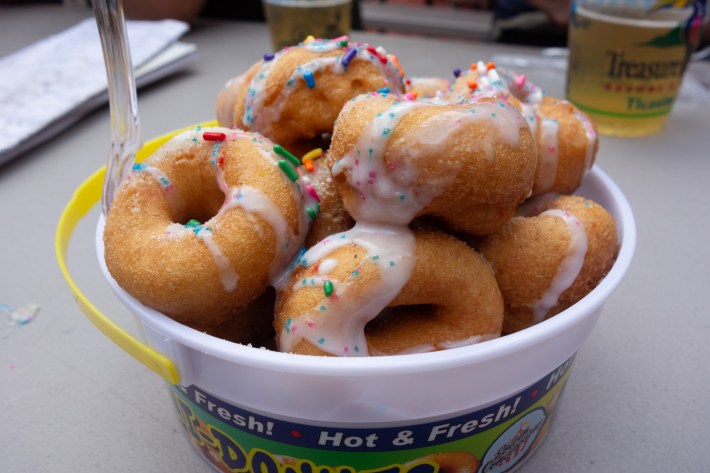 Birthday Cake Mini Donuts
Price: $10 at Mini Donuts & Cheese Curds
Birthday cake-flavored mini donuts coated with vanilla sugar, drizzled with icing, and dusted with sugar crystals and sprinkles.
Stop it! What are we even doing here? There's already a donut king at the State Fair, and his name is Tom fuckin' Thumb. You needn't look elsewhere; they're perfect. "This is going to be so gross," chuckled a young man in line for this bastardized bday knockoff. You ain't wrong, young man. To their credit, these lil fellas roll fresh off the fry line as you wait. To their discredit, they're waxy to the mouth once they're done burning it, due to the unnecessary dribbles of frosting and shakes of sprinkles. Don't overthink this, stop gilding the lily: Tom. Thumb. Donuts.  
Verdict: Skip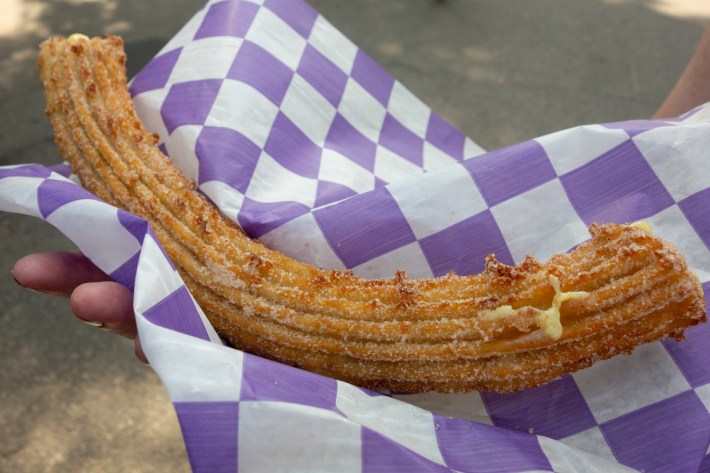 Filled Churros
Price: $5 at Churros & Aguas Fresca
Churros filled with strawberry, Nutella, or Bavarian cream.
This was the last thing we ate before heading home, and it really was a good snack to close out on. Churros are light, easy to munch on, and easy to share. These were warm and fresh, as a good churro should always be. We opted for the Bavarian cream, which ran the whole span of our foot-long dessert, keeping things moist. 
Verdict: Scarf!
All reviews by Jessica Armbruster, Jay Boller, Keith Harris, Ian Power-Luetscher, Bridgette Reinsmoen, and Hannah Sayle
Stay in touch
Sign up for our free newsletter