Food & Drink
New 2023 MN State Fair Food: Predicting the Winners and Losers
Let's get all Mel Kiper on the Fair's 34 new food concoctions.
11:33 AM CDT on July 11, 2023
Every summer, absent last year's sad omission, MinnPost rounds up critical reactions to new Minnesota State Fair food offerings. Reliably, the City Pages review chew crew was the toughest to satisfy. CP's demise and a global pandemic sidelined us for a couple years, but we came chompin' back in '22 with the only new Fair food reviews you can trust.  
To preemptively rev our wannabe Jonathan Gold-ian engines this go-'round, we decided to scout the 34 new fair food items for 2023, which were revealed this morning to standard local media fanfare. No news outlet has yet sampled these fairground delicacies, so we figured: Why not call some shots, churn some excitement, and even talk a lil shit? And we'll happily eat crow if⁠—when teeth finally meet Loaded Lobster Fries⁠—the forecasted duds prove to be delightful surprises. (Deep-fried crow on a stick when?) Or, in the language of our proprietary Scarf!, Shrug!, Skip! system, prove to be Scarfs! 
The Fair runs from August 24 through September 4. Let's get hungry. 
(All descriptions and images come courtesy of the Fair's PR team.)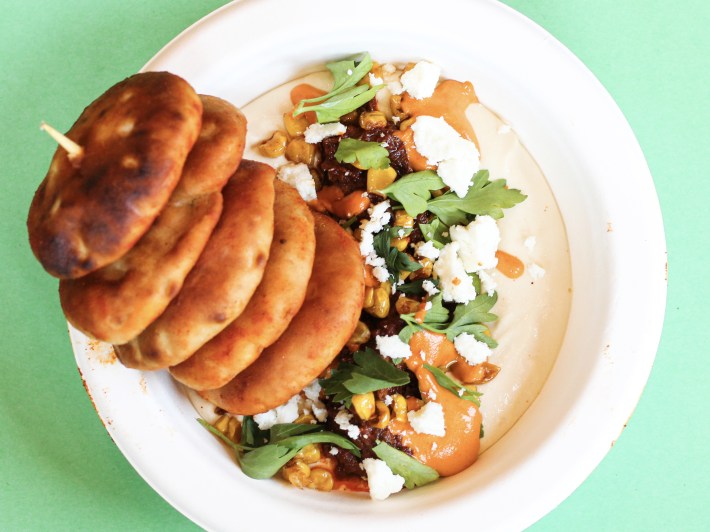 Al Taco Baba
Description: Traditional hummus, harissa (pronounced hr-ee-suh) barbacoa, corn, queso fresco, chili dust, shatta (hot sauce) (pronounced shat-ta), crema, cilantro and pita puffs.
Prediction: Look, Baba's rocks. We enjoyed their savory offering at the Fair last year, but not so much their dessert hummus. Will these pita puff tacos be good? Almost certainly. Do they get a ton of points for creativity, by putting a protein between a carb and adding hummus? Not so much.
At Baba's, located on the east side of Underwood Street between Lee and Randall avenues, just south of Little Farm Hands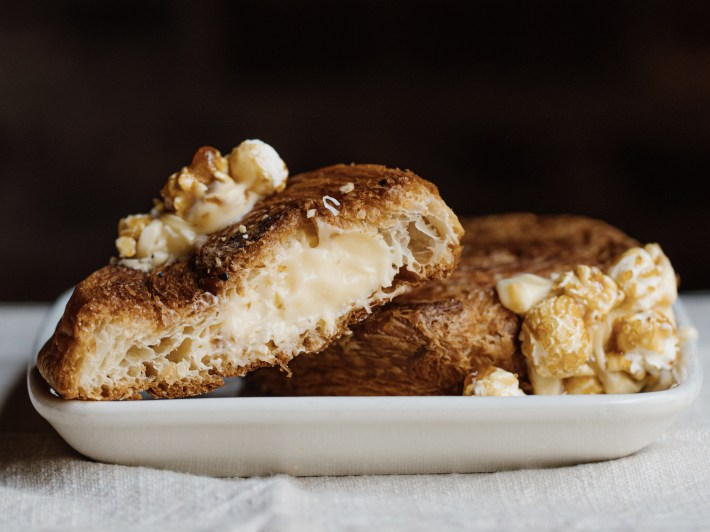 Ba-Sants
Description: A buttery, crisp and caramelized pastry – a combination of a bagel and croissant: Everything Cream Cheese Ba-Sant is rolled in poppy seeds, sesame seeds, onion flakes, garlic flakes, black pepper and sea salt with a scallion cream cheese filling; Sweet Corn Ba-Sant is filled with fresh sweet corn custard and garnished with crunchy caramel corn.
Prediction: Hurry up with my damn... ba-sant?! While bakery hybridization is nothing new at the Fair, we have a hard time seeing how this item won't default to either sturdy bagel or flaky croissant. The corn-forward toppings and fillings sound fine.
At French Meadow Bakery & Cafe, located on the north side of Carnes Avenue between Nelson and Underwood streets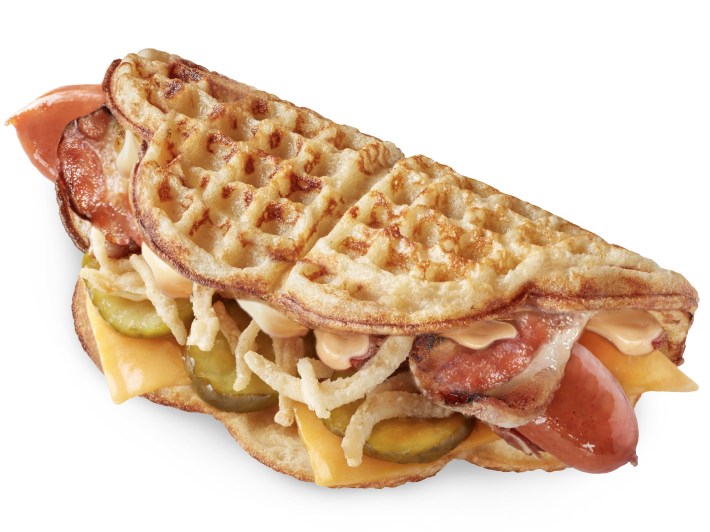 Bacon-Wrapped Waffle Dog
Description: Griddled bacon-wrapped Kramarczuk hot dog served on a Nordic Waffle with cheddar cheese, pickle slices and crispy onions and drizzled with burger sauce. 
Prediction: Once the sweetheart of the Fair, Nordic Waffles whiffed in a major way with last year's pork belly and custard creations. Is this the year of the comeback? It's hard to go wrong when you put killer Kramarczuk's links at the forefront, though the trendy pickle addition (more on that throughout) is a bit of a head-scratcher.
At Nordic Waffles, located at West End Market, south section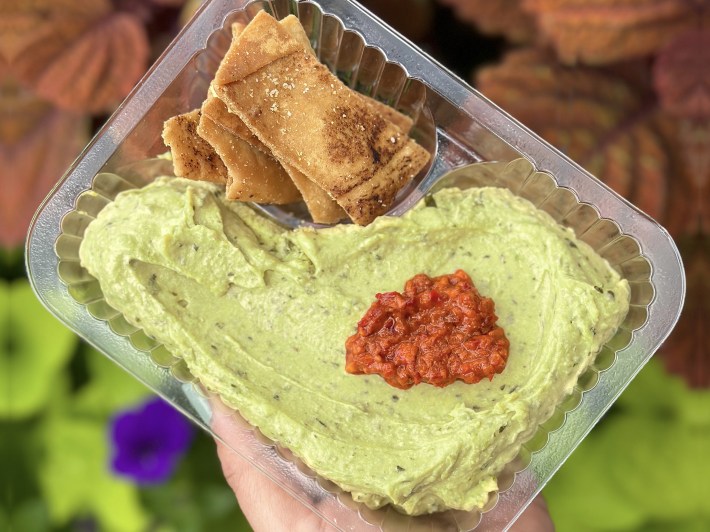 Basil Hummus With Spicy Walnut Topping
Description: Holy Land hummus blended with fresh basil and topped with a mix of crushed walnuts, crushed red chili pepper, garlic and olive oil. Served with homemade garlic parmesan chips. (Hummus is vegan and gluten-free; chips are vegetarian-friendly with gluten-free option available.)
Prediction: Cool, creamy treat on a hot day at the Midway? Sign up the hell up. This screams summer. Hopefully the price point remains in the snackable realm.
At Holy Land, located at the International Bazaar, southeast corner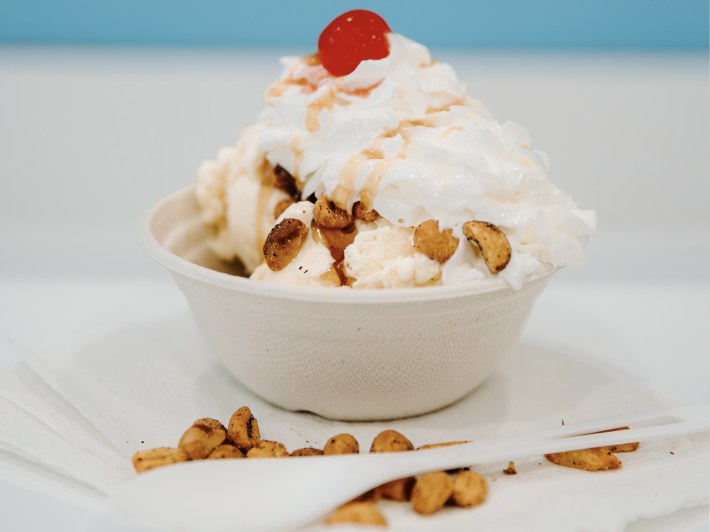 Bee Sting Sundae
Description: Bridgeman's vanilla ice cream topped with hot honey, spicy peanuts, whipped cream and a cherry. (Vegetarian, gluten-friendly)
Prediction: Ol' venerable Bridgeman's got weird with it with last year's black licorice sundae. We weren't fans. This spicy/sweet concoction seems much more agreeable, while still pushing the ice cream boundaries. Bonus: Bridgeman's plays it fast 'n' loose with its trophies, which appeals to this soft millennial:
At Bridgeman's Ice Cream, located on the northeast corner of Judson Avenue and Liggett Street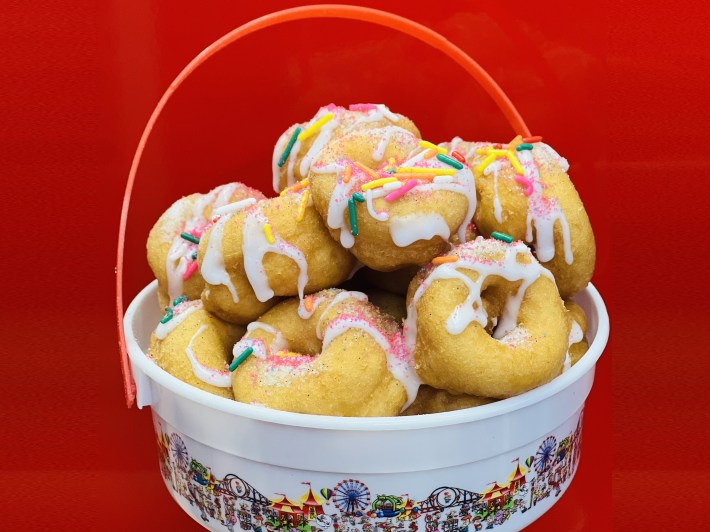 Birthday Cake Mini Donuts
Description: Birthday cake-flavored mini donuts coated with vanilla sugar, drizzled with icing, and dusted with sugar crystals and sprinkles.
Prediction: There's already a mini donut king at the Fair, and his name is Tom Thumb. Eating any other mini donut is blasphemous—why are we doing this?
At Mini Donuts & Cheese Curds, located on the east side of Underwood Street between Murphy and Lee avenues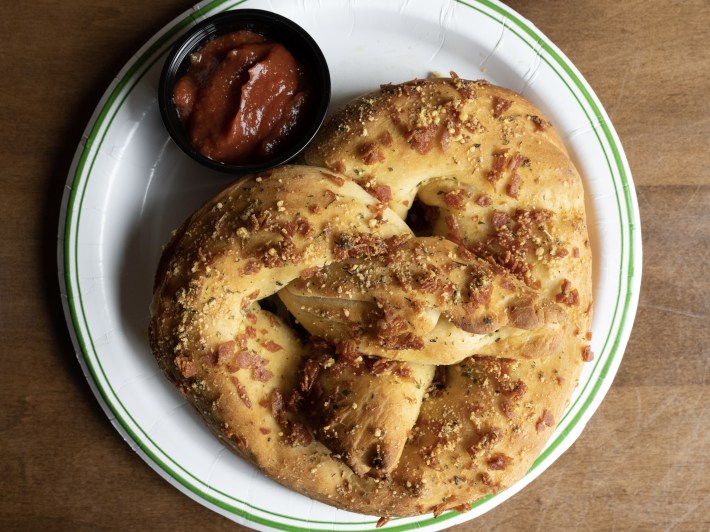 Cheese Curd Stuffed Pizza Pretzel
Description: Scratch-made jumbo pizza dough pretzel, hand-twisted and stuffed with Ellsworth cheese curds, pepperoni and a Green Mill blend of Italian spices. Brushed with garlic butter and topped with diced pepperoni, herbs and parmesan cheese. Served with Green Mill pizza sauce.
Prediction: With all due respect to Ellsworth cheese curds... no. Stuffed inside this carby gut bomb, those curds'll be unidentifiable from any other cheese. Just imagine eating this hot frisbee of goo and walking the hot pavement afterwards.
At Green Mill, located on the east side of Cooper Street between Randall and Wright avenues, at Family Fair at Baldwin Park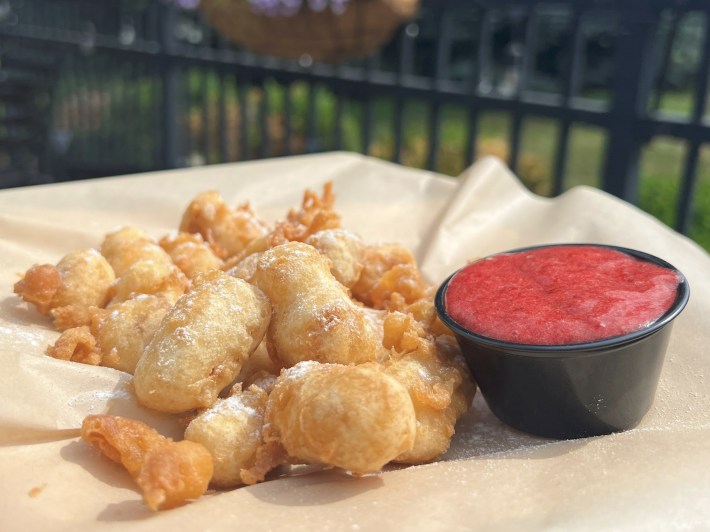 Cheesecake Curds
Description: Eli's Cheesecake pieces covered in funnel cake batter, fried and dusted with powdered sugar and salt. Served with strawberry dipping sauce.
Prediction: LuLu's is a high percentage slugger at the Fair; last year's Tot Dog was among our very favorites. The moving parts here—curd, cheesecake, funnel cake—are a bit dizzying, but the end product will likely shine.
At LuLu's Public House, located at West End Market, south of Schilling Amphitheater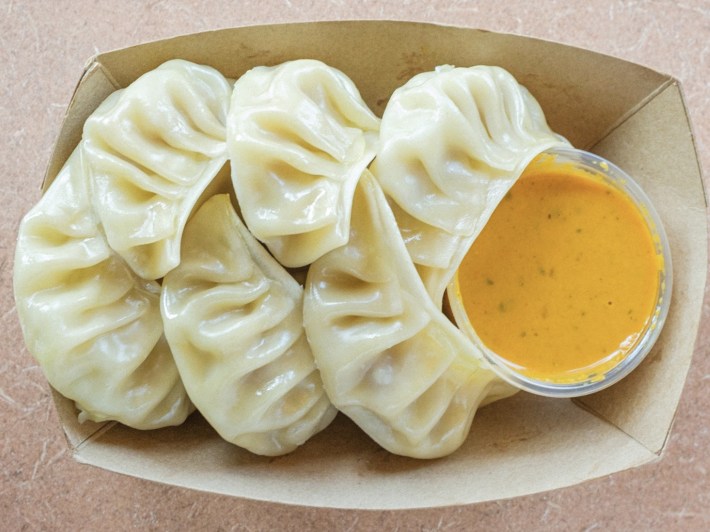 Chicken Momo With Tomato Chutney
Description: Blend of ground chicken, cabbage, onion, ginger and other spices steamed in a dough wrapper. Served with tomato chutney.
Prediction: We're momo freaks. Love dunking and popping those badboys! That said, our limited MomoDosa experiences have been a little meh—unremarkable momos, eye-popping prices. Still, we're happy to see the dish at the Great Minnesota Get-Together, if only to serve as a gateway drug to the exurban crowd.
At Midtown Global Market's MomoDosa*, located in the Taste of the Midtown Global Market booth at the International Bazaar, east wall (Available Aug. 24-29 only) *New Vendor
Cloud Coolers
Description: Three choices of lemonade served with a cotton candy cloud spun onto the drinking straw: Summer Strawberry – strawberry lemonade topped with strawberry fields cotton candy; Happy Huckleberry – huckleberry lemonade topped with blackberry jam cotton candy; and Flower Power – violet lemonade topped with lavender love cotton candy.
Prediction: It happens every year–the Instagram-bait stunt item. Some turn out fine, some are pure gimmickry. This one, likely too-sweet lemonades topped with mushroom clouds of cotton candy, is probably just fine on a hot summer day, and who can put a price on racking up Insta likes?
At Spinning Wylde, located north of Wright Avenue between Cooper and Cosgrove streets, at Family Fair at Baldwin Park (new location)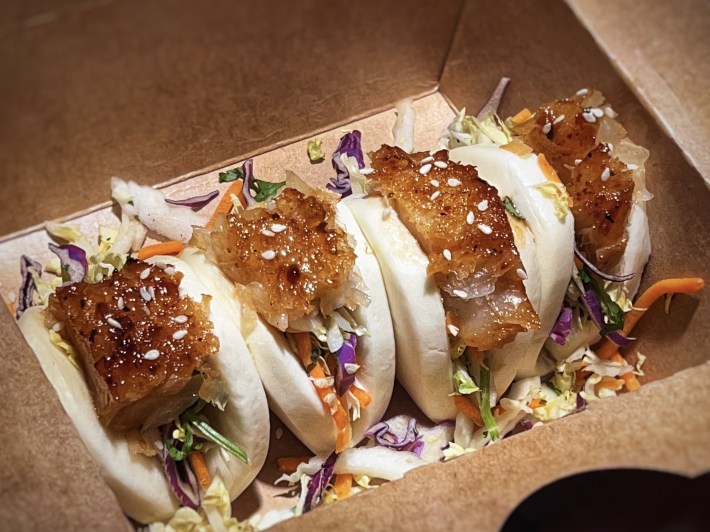 Crispy Lutefisk Steam Bun
Description: Steamed lotus bun filled with a blend of cabbage, carrots, cilantro and yum yum sauce, plus Olsen Fish Company lutefisk brined in salt water for 12 hours, covered in sweet hoisin sauce, then baked and topped with sesame seeds. 
Prediction: Hell yes. So excited. Rather than plopping our state's famous and/or infamous Scandinavian staple on a paper plate, Shanghai Henri's is updating it with influences that reflect the shifting demographics of Minnesota circa 2023. Fusion is hit or miss, but we can't think of a better way to present this divisive fish dish that King of the Hill once confronted.
At Shanghai Henri's, located at the International Bazaar, north wall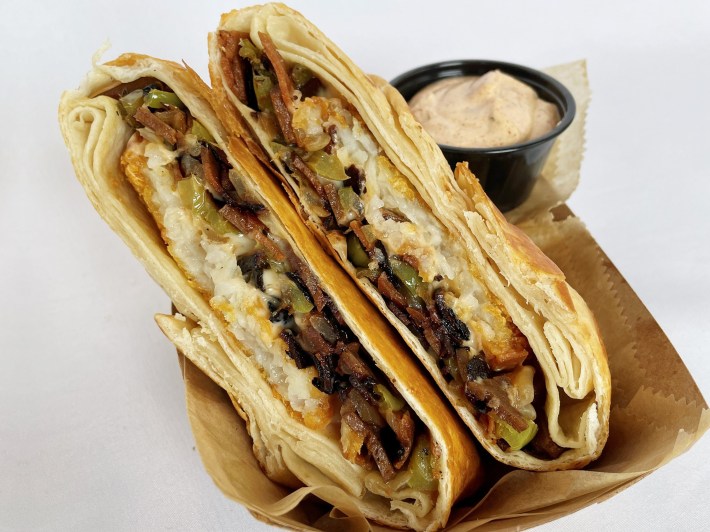 Crunchy Balboa
Description: Deep-fried tortilla filled with vegan roast beef, bacon and cheese sauce, plus peppers, onions and a hashbrown patty. Served with vegan Follow Your Heart seasoned sour cream. (Vegan)
Prediction: Historically, Herbivorous Butcher fares pretty well at the Fair, and we'll do our broadly left due diligence and applaud meat-free options. We recently explored the benefits and limitations of riffing on Taco Bell's Crunchwrap Supreme, finding that the formula seems to work best with the lily un-gilded; that appears to be the case here, with HB opting for faux meat and real taters covered in their reliably great vegan sauces.
At The Herbivorous Butcher, located in the Food Building, west section, south wall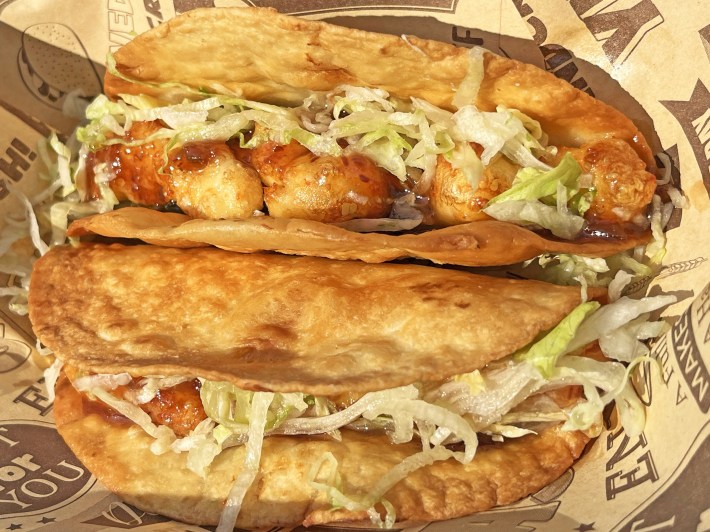 Dill Pickle Cheese Curd Taco
Description: Fried white cheddar cheese curds, sandwich stacker dill pickles, cream cheese, lettuce and raspberry chipotle sauce in a fried flour tortilla. (Vegetarian)
Prediction: The parts summing this whole are screamingly obvious, trend-wise. The double-fried nature of these tacos, combined with the arbitrary "put a pickle on it" approach, forecasts a low ceiling.
At Richie's Cheese Curd Tacos, located on the north side of Judson Avenue between Liggett and Clough streets, outside the Sheep & Poultry Barn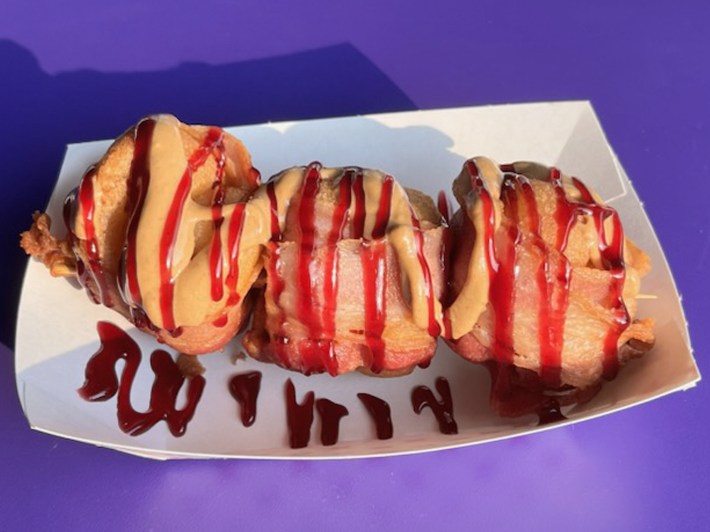 Donut Delights
Description: Mini donuts wrapped in bacon, on-a-stick, then deep-fried, topped with a layer of peanut butter and drizzled with raspberry dessert sauce.
Prediction: Respect to the old-school approach of deep frying the living shit out of a sweet thing and stabbing it with a stick. That's the sort of gastro monstrosity that put us on the map. As an over-the-top dessert novelty, hard to see these falling flat.
At Coasters, located on the southeast corner of Carnes Avenue and Liggett Street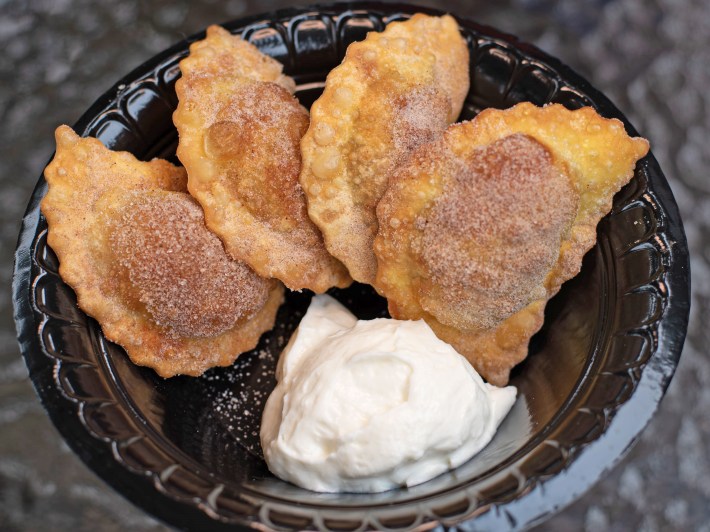 Fried Butternut Squash Ravioli
Description: Deep-fried butternut squash ravioli sprinkled with maple cinnamon sugar. Served with a side of whipped ricotta. (Vegetarian)
Prediction: Interesting sweet spin on rav! This looks delightful, indulgent yet light, and un-messy. High hopes.
At Oodles of Noodles, located in the Food Building, east wall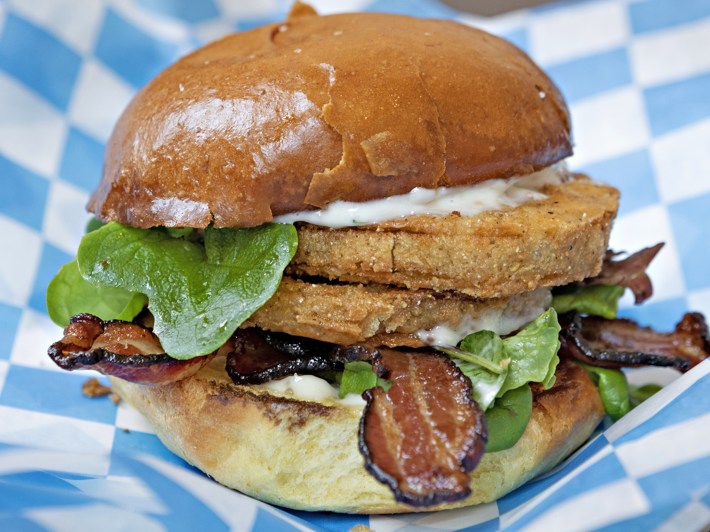 Fried Green Tomato Sandwich
Description: Two deep-fried locally grown green tomato slices in a crust of Whole Grain Milling Co. High Lysine Cornmeal, with mustard mayonnaise made with Lost Capital Economics Coarse Spicy Ale Mustard, and local lettuce on a toasted brioche bun from The Good Bread Company. BLT is served with bacon from Pastures a Plenty & Hidden Stream Farm. Vegetarian option is served with locally produced charred sweet corn relish.
Prediction: With fried green tomatoes, it's all in the preparation, batter recipe, and frying technique. Will it be a crunchy-tart treat loaded with spicy-creamy condiments, or a soggy mess of tomato slop in breading served on bread? We hope it's the former.
At Minnesota Farmers Union Coffee Shop, located on the north side of Dan Patch Avenue between Cooper and Cosgrove streets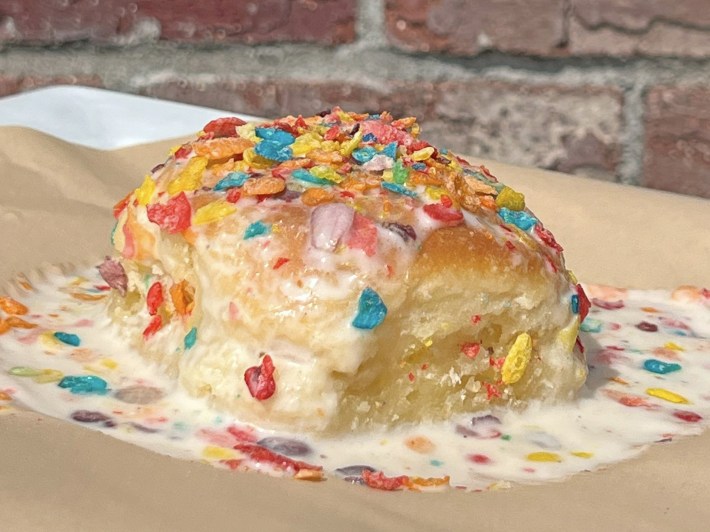 Fruity Cereal Milk Biscuit
Description: A Betty and Earl's biscuit made with fruity cereal milk and cereal bits, drizzled with icing flavored with fruity cereal, and topped with more cereal bits.
Prediction: Do you like biscuits and gravy? Well this thing is just like that, only it was prepared by the Trix bunny mid-sugar bender. These could be really good; the citrus of Fruity Pebbles can really save an overly sweet offering, but we're already having flashbacks to the "wet dream" Nordic Waffle from last year.
At LuLu's Public House, located at West End Market, south of Schilling Amphitheater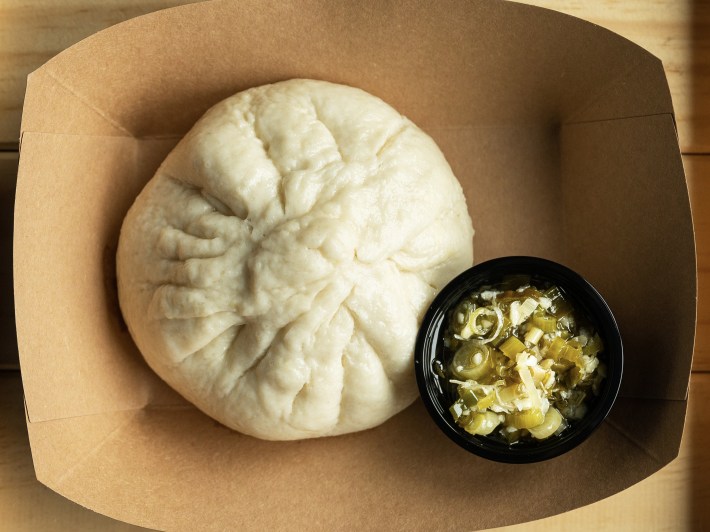 Galabao
Description: Traditional Hmong-style steamed bun stuffed with ground pork, egg and spices – a recipe from Chef Yia Vang's mom. Served with choice of Krunchy Chili Oil, Kua Txob (pronounced kuwah-tsaw) Hot Pepper Sauce or Lemongrass Scallion Dressing.
Prediction: Chef Yang? He simply don't miss. And the mom angle! Just take our money! In the meantime, read Yang's victory-lap interview with Racket following his triumphant debut at last year's Fair.
At Union Hmong Kitchen, located at the International Bazaar, south wall, west corner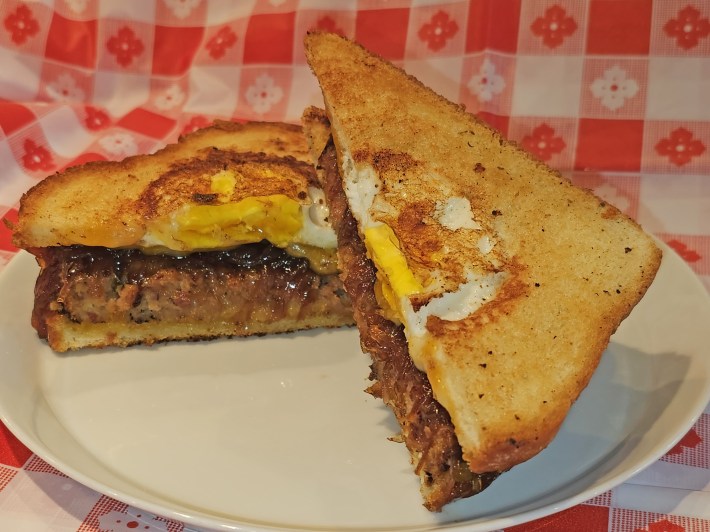 Holey Hamloaf Breakfast Sandwich
Description: Hamline Church Dining Hall hamloaf, tangy glaze, caramelized onions and cheese in a sandwich made with fried egg-in-a-hole toast.
Prediction: That egg toast! There's a whole lot to like here. Just put it in our Midwestern veins.
At Hamline Church Dining Hall, located on the north side of Dan Patch Avenue between Underwood and Cooper streets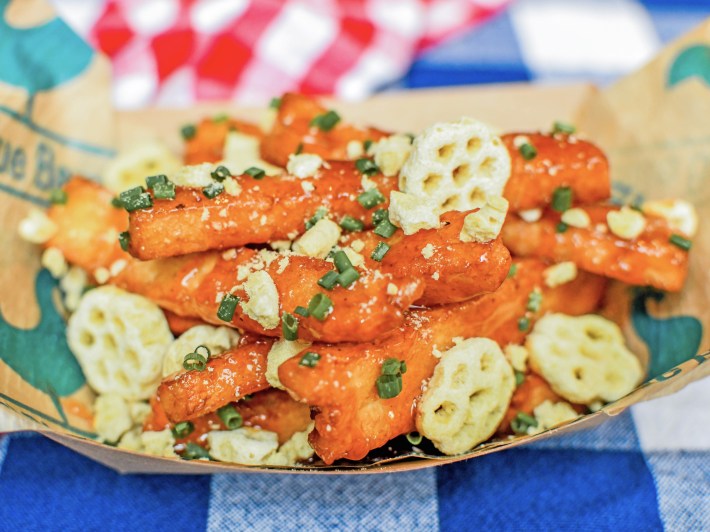 Hot Honey Cheese Sticks
Description: Fried Halloumi (pronounced hal-lou-mi) cheese topped with hot honey and honeycomb crunch. (Vegetarian)
Prediction: Spicy honey is definitely having a moment right now in the condiment world, showing up on pizzas, wings, nachos, and other savory eats. And, in general, it works. You can't really fuck up fried cheese at the fair too much, and these look highly shareable, kinda fun, and very sticky. Bring Wet Wipes.
At The Blue Barn, located at West End Market, south of the History & Heritage Center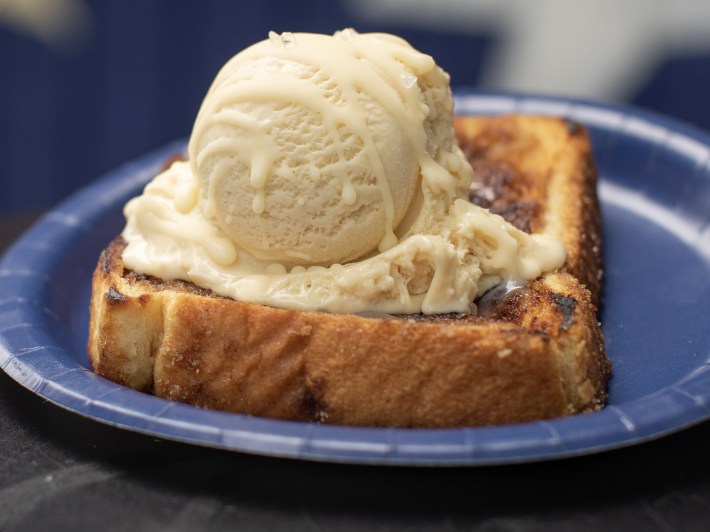 Irish Butter Ice Cream Over Brown Sugar Cinnamon Toast
Description: Ice cream made with European-style butter served on brown sugar cinnamon toast, drizzled with butter syrup and sprinkled with sea salt flakes.
Prediction: Holy hell, that's a lot of butter. Is butter the missing ingredient we never knew we wanted in ice cream? We're about to find out. You can never go wrong with butter syrup, though.
At Blue Moon Dine-In Theater, located on the northeast corner of Carnes Avenue and Chambers Street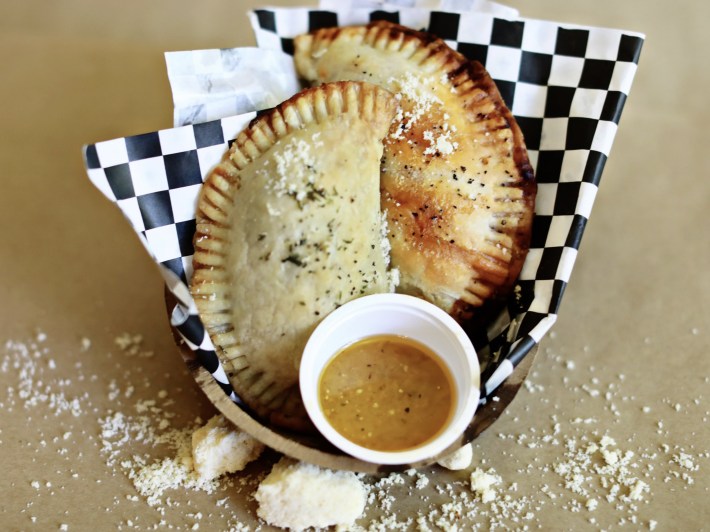 Italian Duo Dunkers
Description: Two Italian-themed hand pies with seasoned parmesan crusts: one with sausage, pepperoni and mozzarella cheese in a 7 Vines Winery red wine-infused pizza sauce; and one with chicken, mushrooms and spinach in a creamy garlic alfredo sauce. Served with garlic butter dipping sauce.
Prediction: Make the wine-infused wine sauce alcoholic! What are you afraid of, sauce makers?
At Sara's Tipsy Pies, located in the Food Building, northwest wall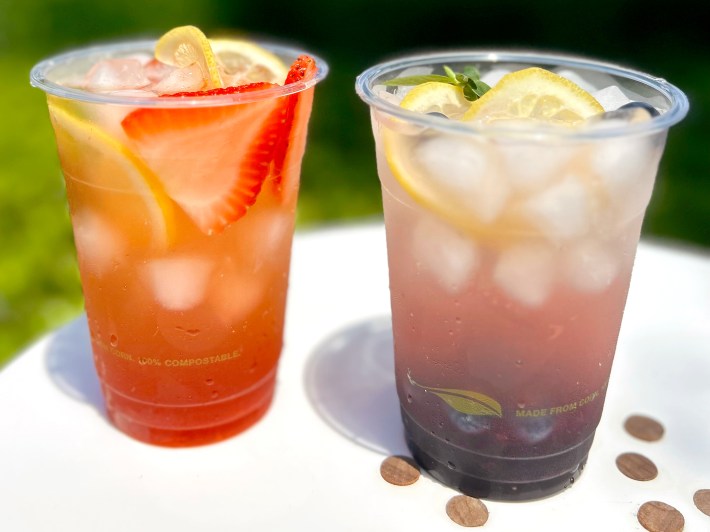 Jam'nades
Description: Organic lemonade infused with locally made jams in two varieties: Blueberry Mint Jam'nade with a spoonful of blueberry jam and topped with mint sprigs; Strawberry Jalapeño Jam'nade with a spoonful of strawberry jam and jalapeño slices. Served with a boba tea straw. (Vegan, gluten-free)
Prediction: So, are there going to be chunks of jam just floating around in the drink? Is that why it's served it with a boba straw? Whether this is good or super gross depends on where you stand on the chunky beverage spectrum.
At Jammy Sammies by BRIM, located at the North End, northwest section, across from the North End Event Center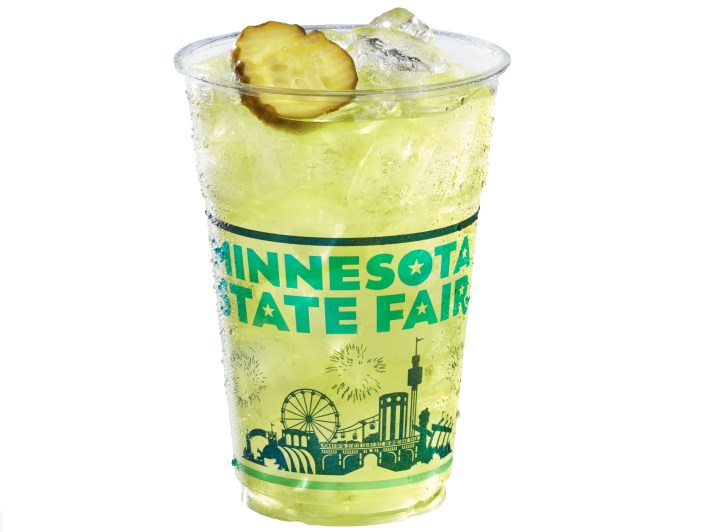 "Kind of a Big Dill" Pickle Lemonade
Description: Lemonade mixed with tangy dill pickling spices, craft brewed by Urban Growler and garnished with a crunchy slice of pickle. (Non-alcoholic)
Prediction: Bars have been adding pickle and olive brines to drinks for decades, so this is probably going to hit the spot for a lot of people, especially the kombucha-loving crowd. It could also be used to make an impromptu shandy if you have a beer on hand. Also, we love Anchorman as much as the next guy, but the millennial nostalgia takeover of all marketing is not going great.
At Nordic Waffles, located at West End Market, south section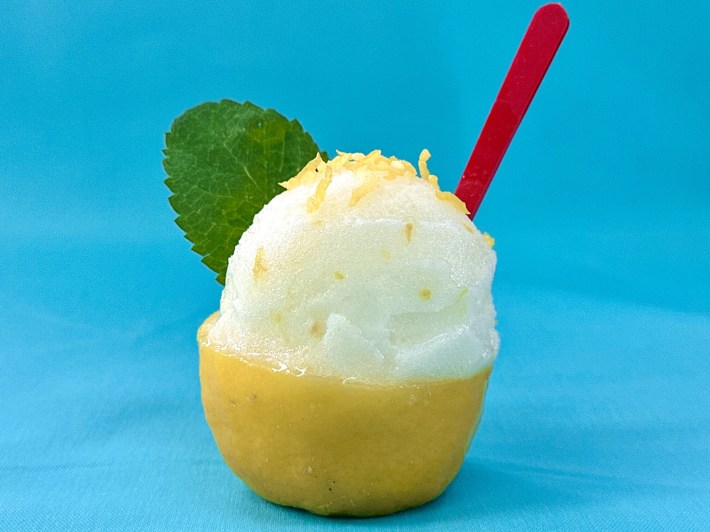 Lemonade Sorbet
Description: Lemon sorbet made with fresh-squeezed lemon juice, lemon zest and mint garnish, served in a frozen half-lemon shell. (Vegan, gluten-free)
Prediction: An easy hit. Sorbet in a fruit half is one of the most popular treats at the Renaissance Festival out in Shakopee for a reason: It's easy to carry and eat, and nearly impossible to mess up.
At Quench'd: Lemonade/Bottled Water, located on the south side of Dan Patch Avenue between Nelson and Underwood streets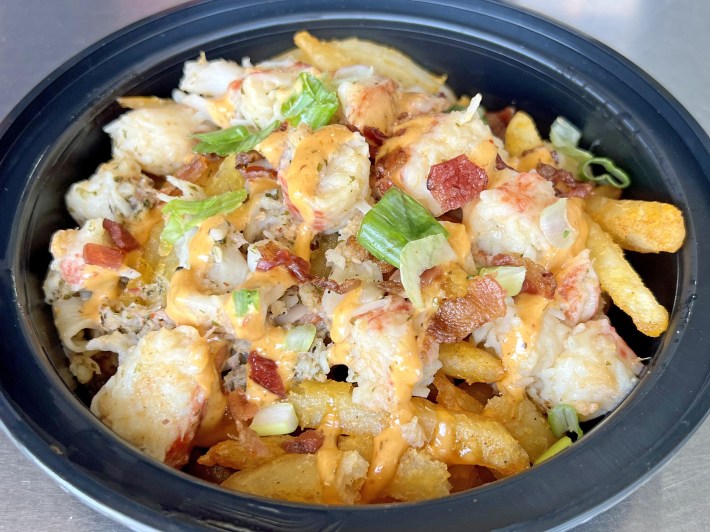 Loaded Lobster Fries
Description: Lobster in garlic and herb butter, served on a bed of french fries sprinkled with OLD BAY® Seasoning, topped with bacon, drizzled with homemade chipotle mayonnaise, and garnished with green onion and a lemon wedge.
Prediction: Lobster is a delicate flavor. The second you add it to anything other than a roll or a salad it just disappears. (I'm looking at you, overpriced lobster mac.) Ideally, you want to showcase your most spendy ingredient, and we're not sure you can do that by adding fries, bacon, and chipotle (chipotle??!!) mayo.
At Cafe Caribe, located on the south side of Carnes Avenue between Chambers and Clough streets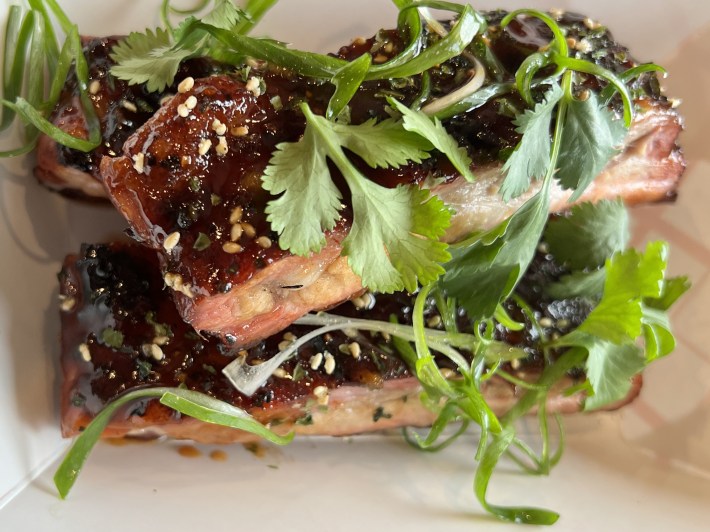 Maui - Sota Sticky Ribs
Description: Slow-smoked St. Louis-style ribs, caramelized with RC's Sticky Huli Huli sauce and seasoned with furikake (pronounced fur-uh-kaa-kay), green onion and cilantro.
Prediction: Each year, RC's BBQ serves up heaping, hot piles of meat smothered in sticky sauce, all to be consumed by hand during the hottest days of summer. And, with apologies to Mr. RC, those cuts are often tough, chewy, and/or fatty. With the formula and vender track record working against it, we pray for these Sota Sticky Ribs.
At RC's BBQ, located on the north side of West Dan Patch Avenue between Liggett and Chambers streets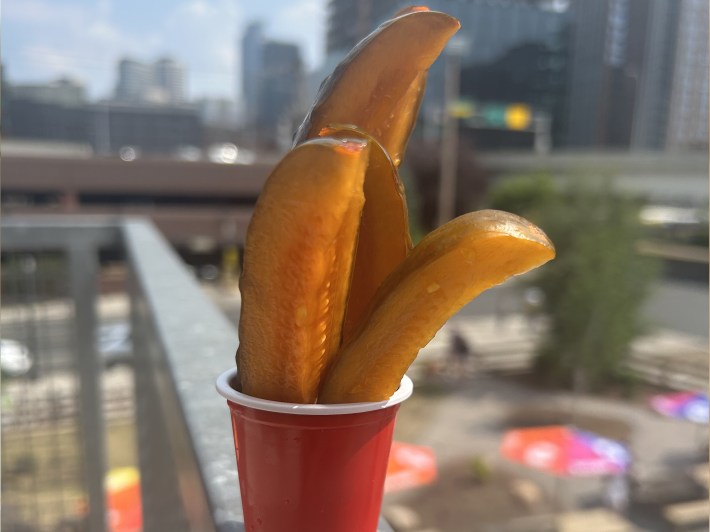 Miami Mango Pickles
Description: Dill pickles infused with Miami mango punch.
Prediction: How much griping can we devote throughout this list about the ceaseless pickle ubiquity? Get a new idea, any idea! This one has a Joey Gallo chance of striking out or, perhaps, going yard. We're not predicting the latter.
At Soul Bowl, located in the Food Building, east wall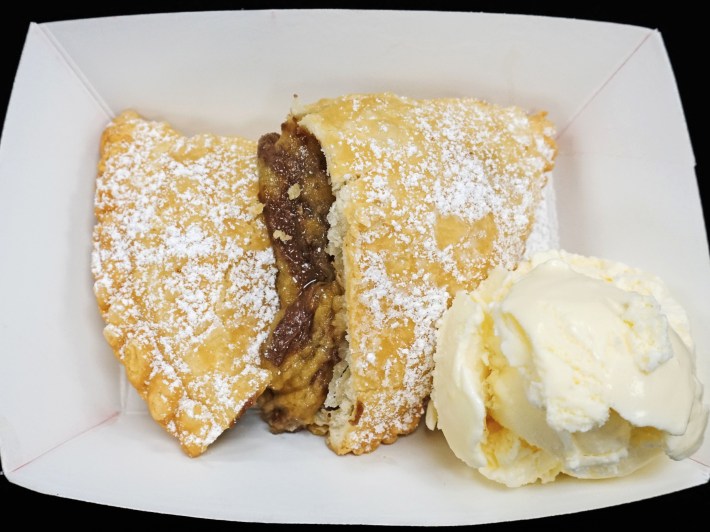 MinneCookieDough Pie
Description: Homemade chocolate chip cookie dough in a flaky pie crust dusted with powdered sugar. Served with choice of vanilla or cinnamon ice cream.
Prediction: This one risks being a sticky, heavy day ruiner. When you think cookie dough, are you really thinking, "The only thing missing is pie crust"? A hat on a hat, as they say. The ice cream is a nice touch.
At Minneapple Pie, located on the south side of Judson Avenue between Nelson and Underwood streets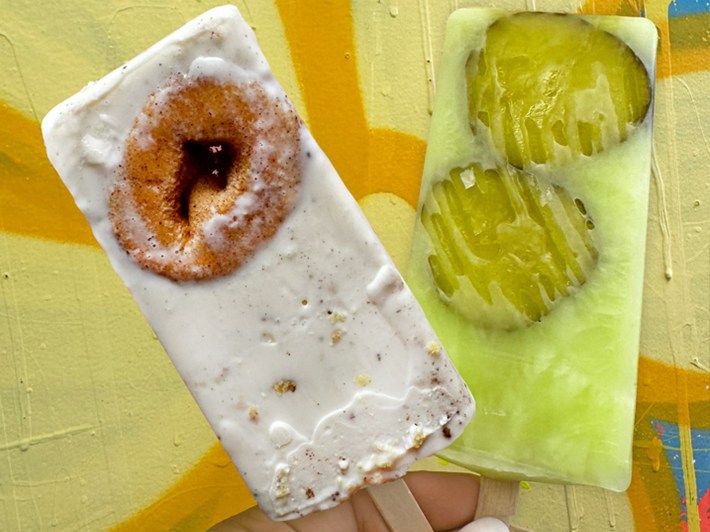 Paletas
Description: Mexican frozen treats on-a-stick in two flavors made locally by La Michoacana Rose (pronounced meech-oo-a-kahn-a): Dill Pickle Lemonade Paleta is lemon-flavored, water-based and includes dill pickle slices (vegan); Mini Donut Paleta is vanilla ice cream with mini donut bits and a whole cinnamon mini donut inside (vegetarian).
Prediction: While certain folks might stare, mouths agape, at the wild appearances of these pops, color us intrigued. Thank you to the Fair's PR team for noting that the water-based, pickle-entombing one is vegan.
At Hamline Church Dining Hall, located on the north side of Dan Patch Avenue between Underwood and Cooper streets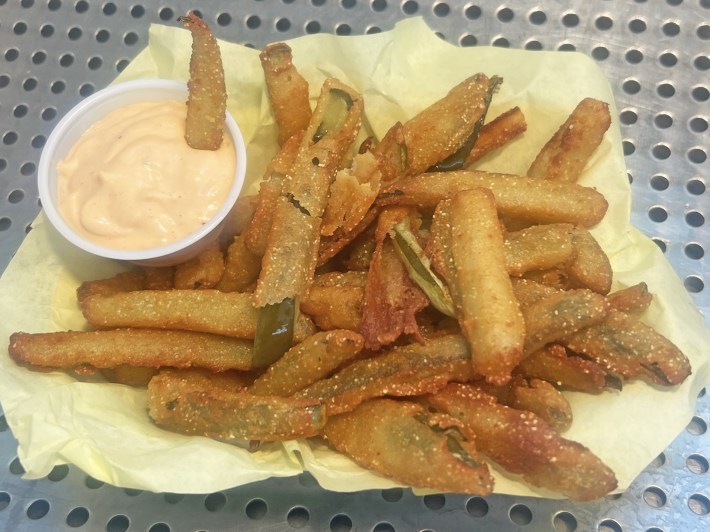 Pickle Fries
Description: Crispy, tangy thin-cut dill pickle fries lightly coated in a cornmeal and seasoned mustard batter. Served with a side of chipotle dipping sauce.
Prediction: We blame last year's runaway hit, the Pickle Pizza at Rick's Pizza. Pickle fever has reached a point of diminishing returns, especially when the execution is this low rent. As frickle apologists, even we can't pretend the above photo looks appetizing. Coin shape is the way to go.
At Mike's Hamburgers, located on the northeast corner of Carnes Avenue and Nelson Street
Smoked Beef Arepa
Description: Smoked roast beef, avocado puree, fresh tomatoes, red onions and arugula in a baked Venezuelan crispy corn pocket. (Gluten-free)
Prediction: Arepa Bar is rock-solid, and the inclusion of smoked roast beef feels pretty failsafe. Also look at that damn thing! The only concern: Will it taste too dry? The juiciness of the beef and the avocado puree have some heavy lifting to do.
At Midtown Global Market's Arepa Bar, located in the Taste of the Midtown Global Market booth at the International Bazaar, east wall (Available Aug. 30-Sept. 4 only)
Sota-cuterie Board
Description: Collection of Minnesota-made meats, cheeses, pickles and other charcuterie board favorites – served on an edible herb-crusted cracker "board."
Prediction: This one won't be cheap! Beyond that, we're sure it'll be agreeable; it's hard to fuck up adult Lunchables—aka the so-called "Girl Dinner." Is a treat that's this high-brow really in the spirit of fried whathaveyours pierced by wooden sticks? Not really.
At Sabino's Pizza Pies, located in the Warner Coliseum, north side
Walleye Fritter Pops
Description: Smoked walleye mixed with a blend of cheeses, dill pickle relish, fresh garlic and spices, rolled in panko breadcrumbs and deep-fried. Served on-a-stick with a side of comeback sauce and a lemon slice.
Prediction: Considering Walleye is such a mild fish, it's hard to see how its flavor, in addition to its flakiness, won't be nullified by the cheeses and relishes. That said, they appear fun and popable plus Giggles has a strong track record.
At Giggles' Campfire Grill, located on the southeast corner of Lee Avenue and Cooper Street, at The North Woods

Co-owner/editor of Racket.

Co-owner and editor at Racket.
Read More:
Stay in touch
Sign up for our free newsletter