Culture
Minnesota Sports Mascots Are Trash (Except One)
More like land of 10,000 dogshit mascots.
10:05 AM CDT on September 3, 2021
Mascots are conceptually strange.
As a culture, we've normalized weirdos like Stanford Tree and Pierre the Pelican 1.0, never second-guessing why these unholy fan-boosters exist or why we let them near our children. On the other hand, some mascots do indeed rule, such as acid-trip monster Phillie Phanatic, iconic ball-headed badboy Mr. Met, and leftist hero Gritty. Life would be worse without them.
The Minnesota mascot landscape is bleak. Here are the state's dud mascots, ranked from worst to still pretty bad to the only one that's timelessly cool.
Minnesota Wild: Nordy
With Nordy, the Wild committed to a non-idea (Nordy is an amalgam of unspecified animals) and loaded it with arbitrary backstory (the team "found" him skating near Eveleth; he now lives somewhere inside the arena). Some Nordy details are interesting, like his occultist upside-down forehead "W" and endearing mullet, but mostly he feels designed to be inoffensive while skating around Xcel, popping into birthday parties, or, for truly deranged couples, joining weddings for 30 minutes.
Minnesota Vikings: Viktor the Viking
Contrived corporate interference is the theme of this list, and nowhere is that more apparent than with the Vikings. The Vikes once had a living, breathing, motorcycle-riding mad man of a mascot named Ragnar. I interviewed the real-life Joe Juranitch, but due to Star Tribune Media Co.'s commitment to erasing its alt-weekly journalism from the internet, I can't link to the Ely native's story of competitive ax shaving, beating addiction, finding god, and then beating the odds to become Ragnar in 1994. In 2015, one year before the Vikes moved to U.S. Bank Stadium, Juranitch apparently asked the team for a raise and was shown the large, glassy, taxpayer-funded door. He was replaced by dead-eyed loser Viktor the Viking.
Minnesota Twins: T.C. Bear
Hey T.C. Bear: Go hibernate—permanently. What a lazy, focus-group-safe shrug of a mascot. It wasn't always this way. In early the '80s the Twins briefly enlisted a leggy, juggling, clearly goofball'd mascot named Twinkie the Loon, MLB.com's Do-Hyoung Park reports. When the team moved to Target Field in 2010, it settled on T.C. Bear as its hype-beast. Interestingly, Park reports, T.C. was partly inspired by the Hamm's Brewing Bear, a local ad icon who fascinates collectors and appears promotionally in bars to this day. Here's the key distinction: Look into Hamm's Bear's droopy, buzzed eyes and you'll see a pitchman who believes in the product he's selling.
My man's drunk as hell!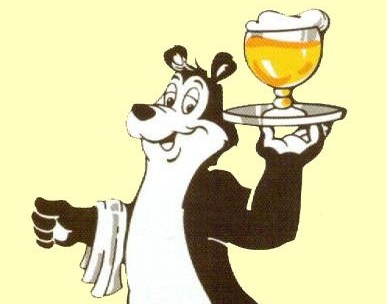 Look at T.C.'s vacant, generic teddy bear face? It's hard to see much of anything at all.
St. Paul Saints: Mudonna 
You'd think the Saints mascot is the literal pig they subject to a punny naming contest each year (Space Ham for 2021). You'd be half-right. It's unclear why the minor league club trotted out a flashy, cartoonish, kinda sexy pig as its official mascot in 2013, and it's additionally unclear why the pig is tethered to Madonna in a way that informs her unpleasant diva personality.
Minnesota FC United: P.K. Loon
P.K. is passable by virtue of our state bird being an elite bird. The boilerplate, here's-a-loon execution leaves a lot to be desired. Plus, he looks a little too alert if you catch my drift. (Cocaine.) Worth noting: P.K. got verified on Facebook four years ago, then ghosted the platform. What's he up to?
Minnesota Golden Gophers: Goldy Gopher
Affable, energetic, and historic, Goldy has been a pleasant campus fixture since 1952. Problem is, Goldy is a gopher and gophers are perhaps the least intimidating creatures in the animal kingdom. Just across the river, the rival Wisconsin Badgers chose a rodent that's notoriously snarly and aggressive. Elsewhere in the Big 10, the Ohio State Buckeyes—who stomped the Gophs last night 45-31—went the psychedelic route with an anthropomorphized nut; Michigan State leaned into history with a 'roided-out Greek; Purdue at least makes, uh, a statement with Purdue Pete, the creepiest mascot in America. Goldy, bless his heart, looks like Eugene Levy and brags about wearing pants.
(Editor's note: Several readers have correctly noted that Goldy is fashioned after the 13-striped ground squirrel—his entire premise is a lie!)
Minnesota Lynx: Prowl  
Alright, Prowl—a slam-dunking lady lynx with dangerous eyes—is actually pretty cool. But she's an obvious ripoff of Crunch so… trash that cat!
Minnesota Timberwolves: Crunch
Crunch is an in-your-face wolf who slam-dunks from a trampoline. Perfect. No lilies gilded, all fans entertained. The historically dreadful Timberwolves may be clueless when it comes to basketball, but they've aced the mascot element of running a professional sports franchise. When he's not dunking, Crunch enjoys bacon, classic rock, and the works of socialist author Jack London. The only blemish on his record since debuting in 1989? That time he injured Karl Towns Sr., prompting potential legal action. We forgive you, Crunch.
Stay in touch
Sign up for our free newsletter