Food & Drink
Minnesota Beers of the Year 2021
We drank a few beers this year, didn't we folks?
8:47 AM CST on December 22, 2021
Ah, 2021. Another beer-drinkin' year.
If there has been any balm to the constantly spiraling nightmare that is our prolonged public health crisis, it's that beer has been there for us, sitting in the fridge bewitchingly, promising to make it all disappear (if only for a brief moment). Beer is good, people, even if the way we drink it is being challenged by little microscopic buzzkills.
I spent a lot of this year drinking from as many new breweries as possible. I tried places that I hadn't been to in years. Others that I'd never sampled. I drank way fewer IPAs. And I had some thoughts. Here's the good shit I enjoyed in 2021 while simultaneously not dying (yay!).
In memoriam: Leisure Force by Stacked Deck Brewing
Double New England IPA, 8% ABV, n/a IBU
2020 and 2021 have spelled the end of quite a few breweries. Some pretty good (Birch's, The Herkimer, Pig Ate My Pizza) and most just awful (Nutmeg Brewhouse, Blue Wolf, and recently Clockwerks). But in October, St. Paul's oddly located but nonetheless excellent Stacked Deck Brewing closed their doors for good, marking a rare occasion when a well-regarded brewery making consistently good beer closed up. 
I've heard lots of chatter of packaging woes in their latter days, but ultimately, it was Stacked Deck's strange location that sunk them. Former brewer Jason Hunziker is continuing on at BlackStack, but Leisure Force, his pillowy brainchild double IPA, has unfortunately been lost in the shuffle.
Honorable mention: Union Lager by Fair State Brewing Cooperative and Schell's Brewery
Lager, 5.2% ABV, 19 IBU
This was, by a hefty margin, my favorite beer of the year. But I've written about it twice already on Good Beer Hunting: in this quick vignette from Fair State Co-op Workers Union steward Anders Bloomquist's garage and in Bloomquist's profile in the annual Signifiers list. Instead of gushing more about the fun little Dortmunder lager, I've thought up 10 more beers to talk about.
10. Dunkel by Waldmann Brewery & Wurstery
German-Style Dunkel, 5.4% ABV, n/a IBU
A couple weeks ago, I found myself at Waldmann Brewery & Wurstery for the first time since I wrote about their opening for City Pages in 2017, and I was impressed by how the historic brewpub has grown and evolved in that time. Not only do they have one of the best winter patios in the Cities, but their selection of Old World-syle beers is lovingly done. My chilly afternoon was complemented perfectly by a pint of their dark, lightly toffeed Dunkel. It's been sitting with me ever since.
9. Deep Space Brine by Tin Whiskers Brewing Company
Dill Pickle Kolsch, 4.5% ABV, 20 IBU
Had to give you one weird boy. Tin Whiskers chucked a bunch of fresh dill, cucumbers, and acidulated malt into their Kolsch-style lager and made a beer that is basically a pickleback in a 16 oz format. It's not as confrontational as it sounds, but it's definitely an herbal pint of brine. Pair it with a fried chicken sandwich, and everything will make sense.
8. Peace Offering by Pryes Brewing Company and Peace Coffee
Coffee Stout, 5.8% ABV, 28 IBU
It's about damn time Peace Coffee got a local brewery collab. Back in March, the North Minneapolis brewery blended their silky Yeti Cold Brew with a cacao-forward Pryes Stout and created a near-perfect 2:30 pm beer. Coffee beers have become far less popular in the past half-decade, and this perky limited release is a reminder that they can be an absolute treat when they can be found.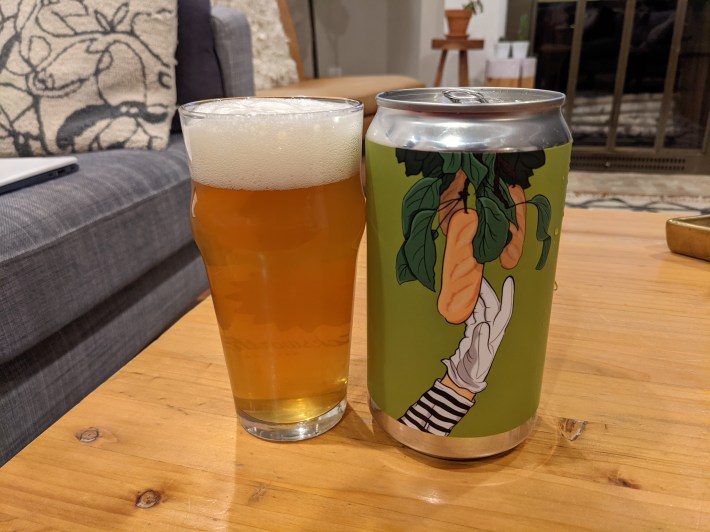 7. French Bred by Wild Mind Artisan Ales
French-Style Blonde Ale, 5.2% ABV, n/a IBU
I'm hesitant to lord too much praise on Wild Mind given their dicey legal history, but I'm helpless to the allure of an American-made Biere de Garde. French Bred is a rustic dream, equal parts herbal and citrusy. Rye is one of my least favorite flavors in beer, but its presence in the malt bill here adds a sharpness that breaks through the biscuit and grapefruit pith. A whole bushel of flavor.
6. Retro Ski Suit Double Dry Hopped by Junkyard Brewing Company
DDH Hazy IPA, 7% ABV, n/a IBU
Hopheads will notice a dearth of hazies on this list, and that's because most breweries don't do them very well. Moorhead's Junkyard is one of the ones that excels at hype beers (see my 3,000-word adulation in Good Beer Hunting). To herald the launch of their first-ever 16 oz. cans, Junkyard reformulated Retro Ski Suit with Citra and then double dry hopped it with more goddamn Citra. A lovely, soft beer that just exudes pineapple juiciness. This is how you do it.
5. Hoop Jump by Arbeiter Brewing Company
Cold IPA, 8.1% ABV, 80 IBU 
I could have listed a dozen beers from new Longfellow brewery Arbeiter in this list, but their Hoop Jump IPA has to be the one on my list for its role in breaking the Cold IPA trend locally. Crisp and bitter, Hoop Jump combines everything there is to love about lagers with all the sexiness of an IPA. This trend might go the way of the black IPA by the time 2022 comes to an end, but Arbeiter has made a lasting impression with their ingenuity here.
4. Soup SZN by Wooden Ship Brewing Company
Golden Ale with Spices, 5.4% ABV, n/a IBU
Wooden Ship's culinary approach to brewing has led to some immensely creative beers in the brewery's short five-month tenure. In Wooden Ship's brewhouse, beer styles become less relevant than the additions thrown in. Soup SZN is basically as Massaman curry turned into a beer—a neutral golden ale dressed up with ginger, lemongrass, coconut, turmeric, curry, thai basil, and scallions. No one in Minnesota is making beer like these folks in Linden Hills, and Soup SZN is the best evidence of that.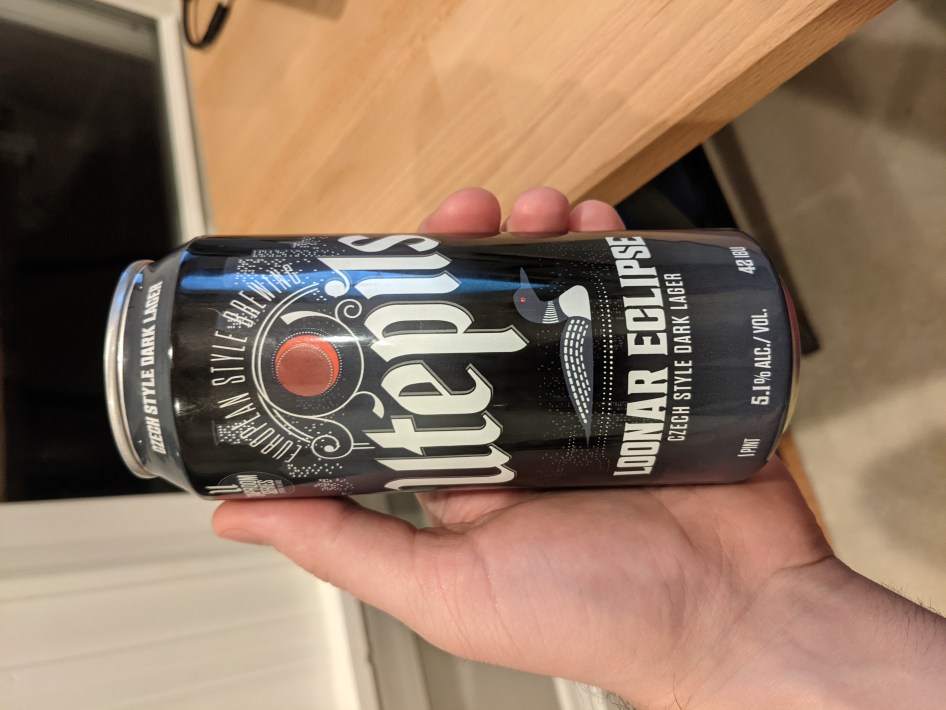 3. Loonar Eclipse by Utepils Brewing
Czech-Style Dark Lager, 5.1% ABV, 42 IBU
In September, I took a new day job, and one of my coworkers turned out to be Alistair Reece, proprietor of the Fuggled blog and an impressive beer nerd. His unquenchable love for German and Czech Lagers is infectious, and we made a few mail trades. His admiration for Utepils has made me reconsider my whole perspective on that brewery, and when I went into their winter Tmavé Loonar Eclipse, I was ready to appreciate just what an achievement it is. Incredibly rich for such a light, sessionable beer, it's a master class that I slept through until this year.
2. Oak Aged Amongst the Madness by Modist Brewing Co.
Oak-Aged Kolsch, 4.5% ABV, n/a IBU
The fact that I almost put Campfire Jeans smoked Helles in this spot is evidence that Modist has really found a stride with lagers. The highlight of their cold-fermenting awakening was Amongst the Madness, a crackery Kolsch with a snappy finish. But then they went and aged a batch in an oak foeder and added a whole new depth of flavor. With the additional time in the barrel, the beer takes on a woody Chardonnay character, mellowing the crispness and adding a barn-like aroma.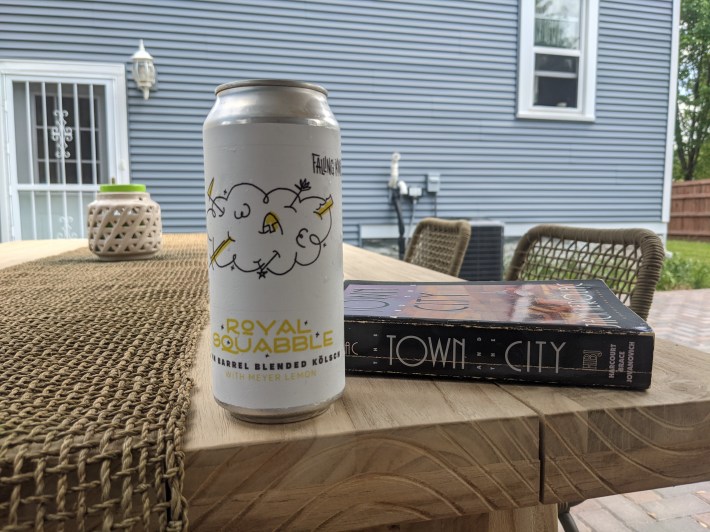 1. Royal Squabble by Falling Knife
Barrel-Aged Kolsch, 5.8% ABV, n/a IBU
Three Kolsches made my top 10, each completely different than the last. The growth of flavor in the Lager category has been the most delightful trend of the past year, and no brewery turned out a more effusive, fun Kolsch than Northeast's Falling Knife. They aged their pilsner in gin barrels and then dosed it with Meyer lemon, giving hints of gin and tonic all while retaining a strong bready malt flavor. It's a whimsical beer with one of the year's most memorable labels (courtesy of Patmos Design and Alxndr Jones). Still thinking about the four-pack I scored in May.
Jerard Fagerberg is a freelance beer writer and product manager in Powderhorn Park. His name is not Jared, but lotsa folks get that wrong.
Stay in touch
Sign up for our free newsletter