Arbeiter Brewing has only been open since December, but you wouldn't know it from the list of nonprofits and community organizations they've collaborated with.
They've hosted a series of events with Auto Outreach Minneapolis, a mutual aid organization that provides no-cost car and bike repairs to BIPOC and houseless people. As part of the Black is Beautiful campaign, they raised money for Appetite for Change North Minneapolis, and they've collected funds for Project for Pride in Living, which builds and operates affordable housing in the Twin Cities. And they're members of Longfellow Rising, a new organization that brings together community leaders and landowners after the unrest in the neighborhood last summer.
The list goes on: In April, Arbeiter hosted an event for women in the brewing industry. Their Oktoberfest beer, "Gayderhosen," is a collab with Deviant Minds, a nonprofit supporting LGBTQ+ members of the hospitality industry, and they've raised money for Reclaim, which provides mental health support for queer and trans youth and their families. There was a burger pop-up to raise money for South High School. On the mid-October afternoon when we meet, the group has just gotten back from hammering nails at Habitat for Humanity's House that Beer Built, where they're one of two-dozen participating local craft breweries.
"When we were dreaming up Arbeiter, I think a big thing for us was being a community, neighborhood taproom," says co-founder Juno Choi.
Choi is Korean, making him one of the 2% of Asian brewery owners in the country—and it feels like we hardly have to say it at this point, but Arbeiter has shown up for Asian-American organizations as well, hosting a thank-you event for the Coalition of Asian-American Leaders and fundraising during Asian American and Pacific Islander Heritage Month month.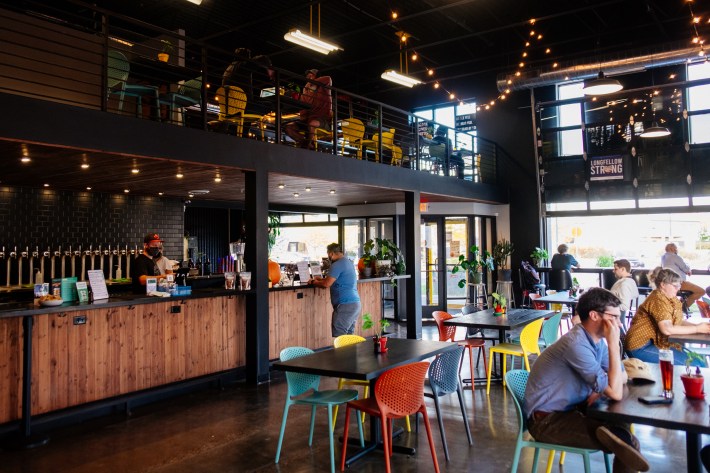 A community focus has always been important to Choi and to his co-founders, Josh Voeltz and Garth Blomberg, who chose the name "Arbeiter" because it's the German word for "worker." They share a belief that hard work is important—and they had to put in a lot of work to open, spending years on a buildout that was supposed to take no longer than 16 weeks.
But the type and intensity of that work shifted after the murder of George Floyd. Their brewery is located at 3038 Minnehaha Ave. in Minneapolis—steps from the 3rd Precinct—and it's not lost on them that theirs is one of few buildings in the immediate Longfellow neighborhood that didn't burn down last year.
"We know that anything we can do to help this area is going to be that much more beneficial and needed," Choi says. "We feel like it's a challenge to us, to step up and do more community events, especially in our immediate area."
They've spent the last year getting to know people in that area: At their recent Oktoberfest event, Choi guesses about 70% of people were from their Longfellow community. "That's just been a joy, providing space for people to gather in the neighborhood. We feel good about them coming here and finding a place."
Because it's not all arbeit and no play, of course—this is a socially-oriented brewery, but it's a brewery nonetheless. There are pinball machines beneath the plywood murals bearing George Floyd's name, and the beers themselves are fun and cheeky. (See: Gayderhosen.)
"The initial idea for the space was kind of 'German beer hall meets up North dive bar,'" head brewer Aaron Herman says. He's been brewing for more than a decade, most recently and extensively for Town Hall Brewery, where he spent almost six years. 
Herman wanted some of that German influence to make its way to the taps, but their small 10-barrel system is meant for experimenting with lots of styles: kettle sours, hazy beers. Take Arbeiter's Yuzu Cold IPA—their take on a totally new crossover style of IPA that uses pilsner malt and lager yeast, it's already their second cold IPA. 
They've had other brewers reach out to ask… "How do you brew that, exactly? Dip hopping: What's that all about?"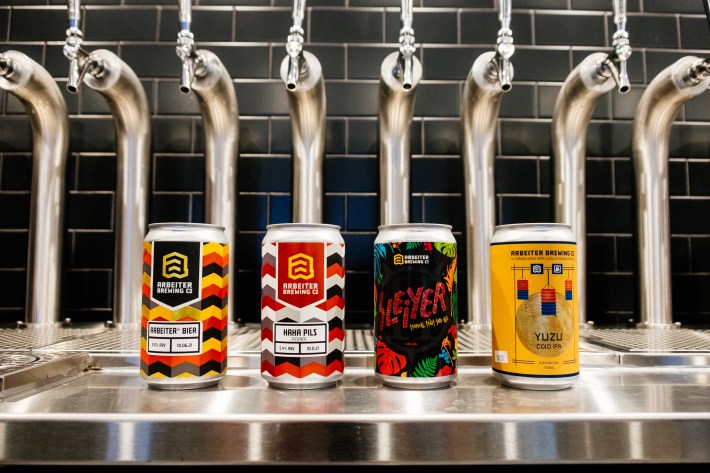 "It's been fun seeing them pop up around town, because we're fairly certain we're the first brewery in the Twin Cities, maybe even the state, to brew one," Voeltz says. 
"I think Aaron's done a great job at not only making classic styles of beer—we all have an affinity towards the Haha Pilsner and stuff like that—but it's been really fun to watch him grow and watch his mind work," adds Choi.
The Arbeiter team thinks being adaptable is what helped them weather the long road to opening, and then opening during a pandemic… and then navigating what it means to run a brewery after that pandemic doesn't end.
"We had three really good months in the middle of the summer to give us a glimpse of what it could be like," Voeltz says, before Delta hit and things slowed down again.
Conveniently, Choi says that making connections with neighborhood groups and businesses in their community—always a priority of theirs—has helped them get through the challenges the pandemic has thrown their way. 
"We're just hoping, because we don't have any history pre-pandemic, that things keep going up from here," he says. If you're a community member in Longfellow (or beyond), Arbeiter will throw open its doors this weekend for Minnehaha Open Streets, and they're participating in a Harvest Ride that takes cyclists on a Minneapolis brewery tour from LynLake to Eastlake to Arbeiter to Northbound to Venn Brewing Company.