Events
Freeloader Friday: 22 Free Things To Do This Weekend
Rollerskating, beer bashes, and parties in parks round out our list.
5:39 AM CDT on September 10, 2021
Are you broke like the rest of us? Fear not! Freeloader Friday is your weekly guide to having fun no matter what your budget looks like. Each week we have a list of happenings including 100% free events like gallery parties, music, and films in the park, as well as free admission events, like special happy hours, markets, and more.
Do you have a free or $5 event coming up? Feel free to email me at Jessica@racketmn.com (bonus points if you put "Free" or "$5" in the subject line. 
FRIDAY
East Side Roller Skating Party
Join the East Side Freedom Library and Saint Paul Parks and Recreation for an evening of roller skating, art, food trucks, music from DJ Kirk Da Captn, and a screening of the film Roller Dreams. Bring your own skates if you have them, as only a limited number of rollerskates available. 6 to 10 p.m. Phalen Recreation Center, 1000 Wheelock Pkwy E, St. Paul.
Minneapolis Cider Company's Expansion Party
Minneapolis Cider celebrates an expansion that is doubling their space. Featuring free open play pickleball and play clinics, ping pong, a makers' market, crêpe demonstrations and sampling, s'mores on the patio, and live music from Riverside Hitmen. All ages. 3 to 10:30 p.m. 701 SE Ninth St., Minneapolis.
Justice for Our Kids
Protest to demand justice for Marcos and Elijah, children killed in Maplewood police chase. Find more info here. 5 p.m. 2100 White Bear Ave. N., St. Paul. 
Golden Girls Happy Hour
The Golden Girls weekend kicks off with a free party for all buddies. There will be themed drinks, trivia, and a little bit of singing. 21+. AC Hotel by Marriott Minneapolis, 401 Hennepin Ave., Minneapolis.
James J. Hill Days
This citywide, three-day celebration features a street market, fireworks, sporting events, and more. Many events are free, but some do have admission charges; find the complete schedule here. Wayzata.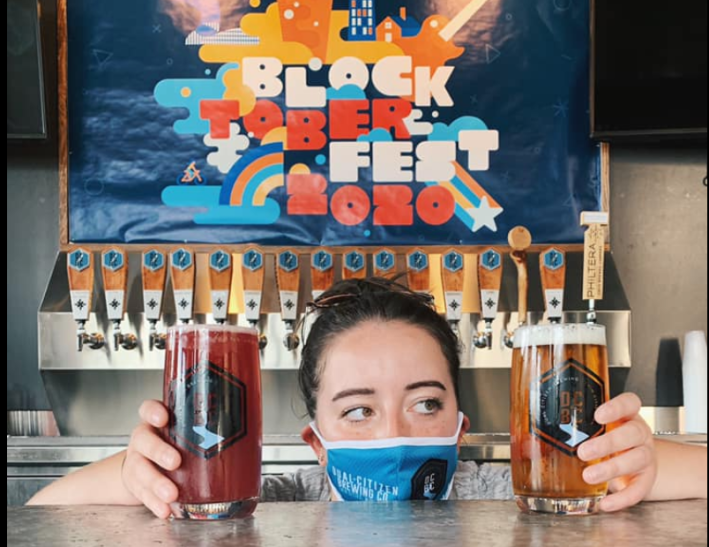 SATURDAY
Blocktoberfest
Folks, it's officially Oktoberfest season; a very special time where taprooms amp up their beer offerings and host daytime parties in their parking lot. This Saturday, Dual Citizen will do exactly that, pouring pints and offering free music all day. The lineup: smooth electro rockers Solid Gold, geek rapper Nur-D, loud AF garage-rock lady trio Bruise Violet, and blues fueled Mae Simpson. Participating breweries include northeast Minneapolis's Broken Clock Brewing Cooperative, St. Paul's self-pour taproom the Lab, Duluth's Wild State Cider, and Minnetonka's Unmapped Brewing Co. Food trucks will be offering smoked meats, southern eats, and Greek snacks. Free. Noon to 11 p.m. Dual Citizen Brewing Company, 725 Raymond Ave., St. Paul.—Jessica Armbruster
Punk Rock Flea Market
Dig through those record collections and sort through those closets, y'all: It's another punk rock flea market. Have some stuff you want to get rid of? Stuff you want to pick up? Punk Rock Flea Market is a pretty great bet. Records, books, clothing—whatever it is that's taking up too much (or not enough) space in your home, you can sell (or buy) this weekend at Extreme Noise. The annual parking lot flea-for-all is free to attend. Do ya wanna vend? Email alilisha42@gmail.com. 10 a.m. to 2 p.m. Extreme Noise, 407 W. Lake St., Minneapolis. —Em Cassel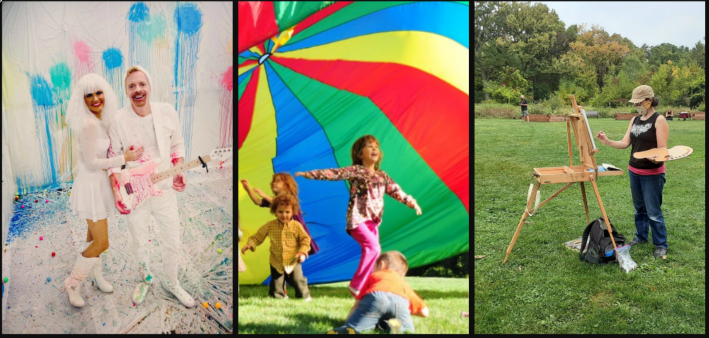 Field Trip 2021
Featuring live music from Space Hug and Purple Funk Metropolis, locally-made work from Minneapolis Craft Market artists, ceramic demonstrations, reptiles, indoor art exhibitions, self-guided walks with poetry and sculptures to discover, yard games, food from KCM Eggrolls, and craft beer from Omni Brewing Company. Noon to 4 p.m. Silverwood Park, 2500 Cty. Rd. E W, St. Anthony.
Godflow 2021
Featuring faith-based hip-hop performances, food, cheap haircuts, grocery giveaways, vaccinations, youth services, and more. Click here for the complete lineup. Noon to 8:30 p.m. 1250 W. Broadway Ave., Minneapolis.
Root River Jam
6 p.m. 612 Brew, 945 Broadway NE, Minneapolis.
2021 Selby Ave JazzFest
11 a.m. to 7:30 p.m. Golden Thyme on Selby, 934 Selby Ave., St.Paul.
2021 Edina Fall into the Arts Festival
Featuring over 250 artists, plus food trucks and other fun. 10 a.m. to 6 p.m. Saturday; 10 a.m. to 5 p.m. Sunday. Centennial Lakes Park, 7499 France Ave. S., Edina.
Red Hot Workshops
A free, hands-on art workshop exploring the art of postcards. Sign-up is required, you can do that here. 10 a.m. to noon. Stevens Square Park, 1801 Stevens Ave. S., Minneapolis.
The Great Calamity Medicine Show
It's still theater in the park season. Which is great, because we're probably not heading back indoors anytime soon. One such offering scheduled for September is The Great Calamity Medicine Show. This month, Physical Theatre will travel to various parks around the Twin Cities for an adventurous romp about a Flim Flam man who comes to a small town to shill a miracle elixir that causes more chaos than calm. Saturday's show will be a Phalen Park, while on Sunday the crew will travel to Powderhorn Park. These shows are free (but it's great to tip at the end if you can), and blankets, lawn chairs, and picnicking are welcome. Free. 3 p.m. Saturday's show is at  Mattocks Park while Sunday's is at Phalen Lake Poetry Park. Find the complete schedule of locations and times here. Saturdays and Sundays through September 19 –Jessica Armbruster
Pickup Truck Opera Volume 1: The Odyssey
Mixed Precipitation is taking its Picnic Operetta on the road with an adaptation of Homer's Odyssey, using selections from Monteverdi's 1639 opera, Il ritorno d'Ulisse in patria (The Return of Ulysses to his Homeland), baroque melodies, and Dolly Parton tunes. Admission is free, but donations are encouraged. 2 p.m. Saturday; 3 p.m. Sunday. Saturday's show is at Swede Hollow Park (657 Beaumont St. E., St. Paul) and Sunday's is at JD Rivers' Children's Garden in Theodore Wirth Park (2900 Glenwood Ave. N., Minneapolis).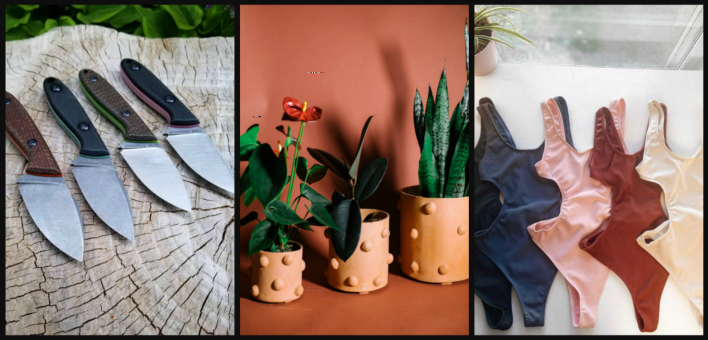 SUNDAY
Art Party Sunday Market
Cactus shop Fractal turns into an artsy mall this Sunday, hosting over 30 local makers, artisans, and crafters. A few things you'll find: home remedies (ROMI Apothecary, Everwild Herbal), hand-forged knives (Deep Cuts Cutlery), fanny packs and leather bags (Maat Mons, Malachite Leather), local hot sauce (Anton's Hot Sauce), vintage wares (Everyday Ejiji Vintage), and more. Vendors will be set up indoors and outside, and masks are requested. Another thing that should keep you feeling good about the afternoon: A portion of the day's proceeds will benefit Bridge for Youth, a Twin Cities homeless shelter for LGBTQ youth. Free. 3 to 7 p.m. Fractal Cactus MPLS, 3750 Minnehaha Ave., Minneapolis. Find the whole list of vendors here.—Jessica Armbruster
Dogs and DJs
Featuring tunes, adoptable dogs, and freebies for pups. 1 to 6 p.m. Minneapolis Cider Company, 701 SE Ninth St., Minneapolis.
RuDeGiRL Digital Release Party
Outdoor rooftop party features live Clash music and British vinyl spun by DJ Meow_mix and RuDeGIrl. 4 to 8 p.m. Brit's Pub, 1110 Nicollet Mall, Minneapolis.
Stay in touch
Sign up for our free newsletter