Food & Drink
Rail Drinks: Where to Get a Drink at All 37 Light Rail Stops
We answer the age-old question that we might be the only ones asking: What's the best watering hole at every single light rail stop?
7:13 AM CDT on October 6, 2021
Despite what the comments section of every light-rail-related article would have you believe, people do in fact ride it. A lot of people, actually. Even after COVID-19 obliterated ridership rates, there were still around 30,000 average weekly rides between the Blue and Green Line in 2020, all adding up to 10.3 million total trips. Pre-pandemic, that number was more than twice as high. 
With so many folks taking the train each day, we have to assume that plenty of them are plenty thirsty—as in parched, not horny (although there's nothing hornier than a train so some are probably both).
But where are our favorite spots to quench that thirst? (Again, we're talking about drinking here; quenching horniness is a topic for another day.) Behold: The ultimate guide to drinking at all 37 Twin Cities light rail stops.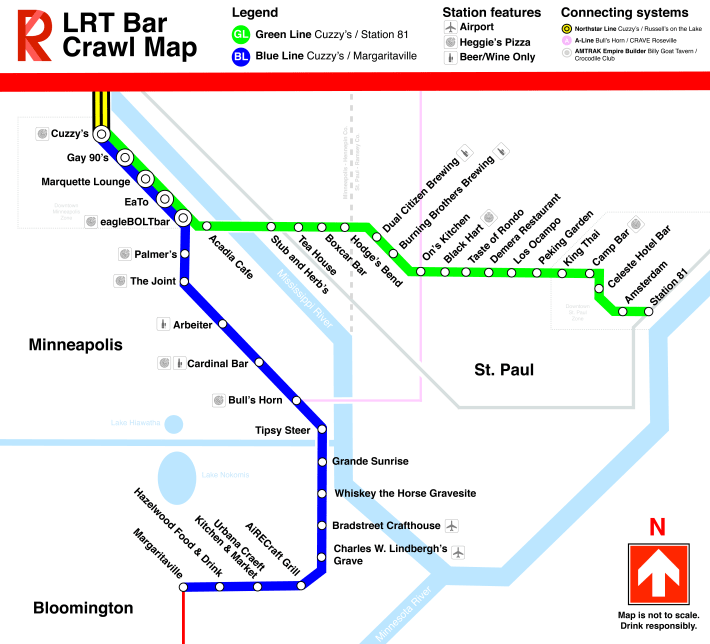 Green + Blue Line
Target Field
Cuzzy's

A mere six-minute walk from Target Field station sits Cuzzy's, the last bastion of a much grittier Warehouse District. No matter how packed it is or how many dozen Grape Apes you order, the staff is perpetually attentive and honestly nicer than they need to be to the gentrifiers of the neighborhood. And from personal experience, I can confidently say that the alley out back is a great place to tell your partner you love them for the first time as you drunkenly struggle to unlock your bike. As much as people like to say that romance is dead, it turns out it's just been holed up at Cuzzy's all this time. 507 N. Washington Ave., Minneapolis.
Warehouse District/Hennepin Avenue
Gay 90's
Whatever vibe you're looking for, you'll probably find it at the Gay 90's. This multi-story club has just about all there is to offer in entertainment. The first-floor bar is somehow cozy and huge at the same time, with good service and seating that sprawls for days. Or enjoy the sunshine and streetside people-watching on their front patio. Bring a fistful of $1s for the drag performances at night (be sure to visit the kitschy bar, too) and a room with go-go dancers in thongs doing wild things on stripper poles. Head to the main floor for more traditional bump-'n'-grind tunes, and enjoy a photo op riding the golden schlong. 408 Hennepin Ave., Minneapolis.
Nicollet Mall
Marquette Lounge

Once, when I was working as a bellman at the Marquette Hotel, Bret Michaels of Rock of Love (and I suppose Poison) fame asked me how to get to the subway. I directed him towards the Nicollet Mall light rail stop. He looked me dead in the eyes and said, "No, no, no. Not the subway train. The Subway—like the sandwich," and made the motion of eating an invisible sub sandwich. The. Subway. I told him where to go, and off he went. He came back, Italian BMT in hand, and sat at one of the empty Marquette Lounge tables, where he made small talk. Eventually, he said he didn't think he could finish his footlong and asked if I wanted some. Anyway, the Marquette Lounge is a great place to grab a drink and/or awkwardly split a Subway (like the sandwich!) with a lonely, aging rock star. 710 S. Marquette Ave., Minneapolis.
Government Plaza
EaTo
This space has been through a lot of change over the last year and a half. (And haven't we all?) It was Eastside when the pandemic hit, followed by such pop-up incarnations as Woodfired at Eastside (pizzas), Between Two Slices (sandwiches), and La Pistola (a seafood and ham bar). Now Eastside is gone, although not in spirit: EaTo—because it's in East Town, get it?—serves a similar menu of pizzas, sandwiches, and snacks. But the cocktail menu is a special thing, with a dozen or so drinks all priced at $10 a pop, ranging from a peach bellini to a boulevardier to a strawberry americano to a grand spritz. 305 Washington Ave. S., Minneapolis.
U.S. Bank Stadium
EagleBOLTBar
This chill gay bar gives off friendly VFW vibes whether you're cruising for dudes or just want to eat an entire Heggie's alone. The drinks are hella cheap—EagleBOLTbar was known for its pre-COVID 3-4-1 happy hours, after all—and the food is tasty bar fare: pizzas, burger baskets, chili, and salads. Their karaoke competitions are the stuff of legends, and the pool table and heated patio are also big draws. This is a leather-friendly bar, folks, so if that's your thing you're going to have an adventure taking the light trail here. 515 S. Washington Ave., Minneapolis.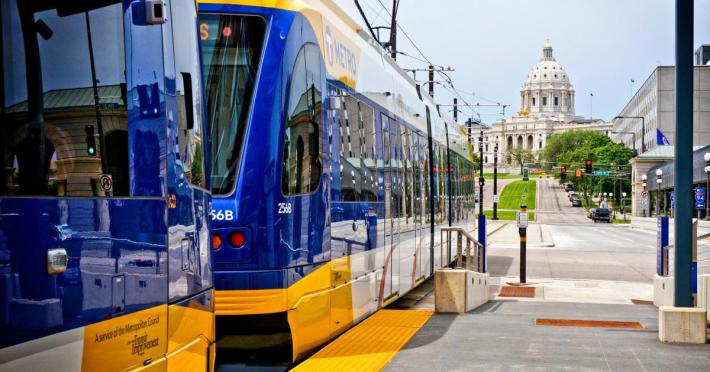 Green Line Bars
West Bank
Acadia Cafe
Located about a block from the traffic-heavy Seven Corners area of the West Bank, Acadia Cafe is an excellent beer bar that's also kind of a pain to get to. If, that is, you're coming by car. But you don't have to worry about that, because you're on the light rail, baby! Their brew list is robust, with around 28 beers on tap at a time. The selections are always changing, but usually include a ton of local pints as well as a few worldly pours you won't find anywhere else in town, and the food menu is small but solid, with fried apps, fresh salads, and burgers. (Vegetarians and vegans: The black bean burger is definitely a highlight.) 329 Cedar Ave., Minneapolis.
East Bank
Stub & Herbs
Tough to top this Stadium Village institution's longrunning tagline: "Your Grandpa Drank Here!" Opened in 1939, Stub & Herbs absolutely served the grandad of at least one Racket staffer, and given the high-end development takeover of campus, it remains a goddamn frozen-in-time treasure today. Thirty-two suds deep, the sprawling taplist is immaculately curated, and the weekly happy hour specials are always generous. The scratch-made bar food satisfies every time; the decor feels like it hasn't been updated in decades, the way a good bar should feel. Unlike the nearby Gopher football team, ol' Stub & Herbs never lets ya down. 227 SE. Oak St., Minneapolis.
Stadium Village
Tea House
Tea House is probably the best Chinese restaurant in Minneapolis, and we'd argue it cracks the top 10 overall restaurants list as well. The atmosphere here is at once dark and cavernous and warm and welcoming, and the menu goes on and on, page after page of Sichuan deliciousness. Luckily, you kind of can't go wrong no matter what you order… you could also, say, get a few snacks and share them? Grab a platter of dumplings or dan dan noodles, order a drink, and feel the warmth flow through ya that only Chinese comfort food and a cocktail can provide. 227 SE Oak St., Minneapolis.
Prospect Park
Boxcar Bar
If you don't support union-busting, there's really one viable option for a drink near the Prospect Park stop: The Market at Malcolm Yards. The Market gives you two ways to imbibe. One is the pour-your-own beer wall. If, like me, you're an idiot who can't tilt a beer glass, it can be a bit intimidating at first. My first pour-your-own pint was a poured-very-poorly pint made up of more foam than beer. So it goes. Your other option is the Boxcar Bar, where pre-made tap cocktails make the ordering to drinking pipeline very quick. Plus, all the Market's food vendors have a signature cocktail on tap so you can enjoy your meatballs from Joey Meatballs with a refreshing Gabagool Spritz. 501 30th Ave. SE, Minneapolis.
Westgate
Hodges Bend
Hodges Bend is one of the classier joints on this list, so if you're heading there for a drink, know it's a little less Heggies and Hamm's and a little more Pacific Striped Bass and Tobacco Old Fashioned than a lot of the other spots. In addition to being a gussied-up change of pace for your pals at Racket, it gives us a chance to briefly proselytize: You can, and should, take public transportation on your big, fancy night out rather than relying on Ubers or driving home a little drunk. Normalize taking the light rail to stuff! 2700 University Ave. W. #100, St. Paul.
Raymond Avenue
Dual Citizen Brewing
The thing that makes Dual Citizen cool, besides the beers, is that community care is baked into their brewery's mission thanks to a program called Dual Purpose. It has a lot of different arms, from charitable event planning to collaborative marketing, but the easiest one for you to partake in? Pull up a barstool and order their beer of the month. Each time you do, $1 goes to a nonprofit partner that rotates each month. Look at you, you're giving back. 725 Raymond Ave., St. Paul.
Fairview Avenue
Burning Brothers Brewing
Tucked away in an industrial park about a half-mile away from the Fairview Avenue stop is Burning Brothers Brewing. As a 100% gluten-free facility, Burning Brothers is as much a taproom as it is a bodega, with plenty of gluten-free snacks, frozen pizzas, grocery staples, and a wall of hot sauces available to purchase. But it's worth a stop regardless of your body's gluten processing abilities. In addition to all the traditional beer styles you'd expect, Burning Brothers has a hard Kool-Aid seltzer made with actual Kool-Aid that'll have you smashing through walls with the best of them. 1750 Thomas Ave. W., St. Paul.
Snelling Avenue
On's Kitchen
The "On" in On's Kitchen is On Khumchaya, who started cooking for her siblings when she was eight years old. These days, her namesake restaurant serves up delicious Thai eats to folks who visit on University Avenue. Delights to be discovered include hot soups perfect for a cold winter night, stir fries, and noodle dishes to fill you up after a long day at work. The salad list is great, with lighter fare like papaya salad as well as heartier dishes with seared steak and shrimp. Oh, and it's worth adding shrimp to any dish; they serve the big buddies. Menu prices here are a buck or two less than what you might find elsewhere, and they have a full bar. 1613 University Ave. W., St. Paul.
Hamline Avenue
Black Hart
Depending on the time of day, you're equally likely to catch a drag show or a Minnesota United FC game when you stop by the Black Hart of St. Paul. Is it a sports bar that's also very gay? A gay bar that also has sports on TV? Who cares! As a queer person who loves football (even if it is the other, American kind), I think we could all use a little more LGBTQ-ification in our sports spaces. Plus they have darts, pool, and karaoke on weekends—something even you straights can get behind. 1415 University Ave., St. Paul.
Lexington Parkway
Taste of Rondo Bar & Grill
You're disembarking on one of the less bustling stretches of University Avenue, so hope you don't mind taking a quick walk. Charles and Kasara Carter's soul food joint, which opened mid-pandemic and seems to be thriving regardless, salutes the storied Rondo neighborhood with offerings like wings, shrimp and grits, and, if it happens to be Sunday, Momma's Pot Roast. If you're feeling adventurous, down the Rondo Ave. Punch, which includes rum, vodka, gin, and "our favorite mixers." You'll have to cross I-94 to get there, but at least there's a convenient walkway—and anyway, the freeway interfering with culture is the story of Rondo now, isn't it? 976 Concordia Ave., St. Paul.
Victoria Street
Demera Ethiopian Restaurant & Bar
Across the street from the Victoria stop sits Demera, an unassuming little gem that serves incredible Ethiopian food. They have a fully stocked bar, but resist the urge to order your standby beer or cocktail. Instead, ask for one of several Ethiopian beers that Demera keeps on hand, like Habesha Cold Gold and Meta Premium. It's worth trying one of each before deciding that Habesha is the golden nectar that's been missing from your life all this time. It pairs perfectly with an order of lamb tibs or misir wot (spiced red lentils), all sopped up with the original wonder bread: injera. 823 University Ave. W., St. Paul.
Dale Street
Los Ocampo

Overlooking University and Dale from wrap-around windows, Los Ocampo's St. Paul location is spotless and tastefully updated, offering affordable, fresh eats from a long, fully stocked bar or the sizable dining room. Nineteen tequila brands help flavor Ocampo's 12 margarita recipes; a respectable beer list provides 24 ounces of a frosty-mugged IPA for $7.50; the horny roster of 15 cocktails includes the Kinkyrita as well as the Sexo en la Playa. Enjoy afternoon and late-night happy hours, but expect to get the boot relatively early—the place closes at 9:30 p.m. (an hour later Saturday/Sunday). 615 University Ave. W., St. Paul.

Western Avenue
Peking Garden
Rioting destroyed Peking Garden's Midway Shopping Center location in 2020, but owner Mary Lau was determined to reopen ASAP. In May, that's exactly what happened, as the 30-year-old Cantonese restaurant was reborn inside the former Mai Village Vietnamese Restaurant two miles down University. Business is booming. A bridge over Mai Village's old koi pond sends guests into a hangar-like dining room where fresh seafood and hotpot dominate dozens of tables. Drink-wise, there's an abundance of milk and bubble teas, while boozers can enjoy saki, wine, affordable $20 bottles of bubbly, and various $5 beers—Tsing Tao, Sapporo, plus a handful of macros. 394 University Ave. W., St. Paul
Capitol/Rice Street
King Thai
Upon our recent visit, King Thai's takeout table was bustling and the well-worn dining room was almost empty; a PLEASE DO NOT TOUCH sign adorned the giant wooden elephant that greets customers. A limited $5 beer bottle selection proved even more limited than usual: only Heinekins and Blue Moons available that night. Cases of suds, presumably for larger parties, were listed for the bargain price of $65. The short saki and wine list featured $7 pours. Shots—Jameson, Patron, Grey Goose, Hennessy—set ya back $8, though Johnnie Walker Blue Label costs $20. Service was spotty at best, though the mammoth portions of spicy panang curry proved delightful enough that you won't mind. 225 University Ave. W., St. Paul.
Robert Street
Camp Bar
Since opening in 2007, Camp Bar has been the kind of unassuming neighborhood staple with a lot going for it. It's a little divey, a little fancy, and very welcoming. Their menu includes a shit ton of Heggie's, or you can order and BYO food from nearby haunts like Sawatdee and Key's Cafe. And of course, there's also a hearty cocktail, beer, and wine list. Entertainment includes a pool table and Big Buck Hunter. There are also a few trivia nights, a separate stage that brings in everything from standup to theater, and a big-ass TV you can guarantee will screen the Packers game when they're on. 490 Robert St. N., St. Paul.
10th Street
Celeste Hotel Bar
Most hotel bars feel like… well, you know. Hotel bars. Celeste feels like the tea room of a glamorous, mysterious aunt. The plush, purple, high-backed bar stools. The long wooden tables. The fireplace with its tiled hearth. The spiky, iron-ring chandelier (is there a word for those?) looming over everything. But this former convent knows how to laugh at itself, too, with cocktails like the Rosary, the Kneeler, and Deacon Carl's Holy Water. 26 E. Exchange St., St. Paul.
Central
Amsterdam Bar & Hall
If it's late at night and you're in downtown St. Paul, simply follow the crowds. They're going to Amsterdam. And don't worry about getting in: This spacious hotspot is often hopping, but rarely feels packed. The food is Dutch-inspired, featuring a variety of fries smothered in things like gravy and satay sauce. The broodjes—tiny sandwiches stuffed with things like beer braised pork, smokey gouda, hamburger meat, and roasted veggies—really hit the spot. The beer and wine list is serviceable, and some nights you might find local bands, traveling comedians, and other performers onstage. 6 W. Sixth St., St. Paul.
Union Depot
Station 81

Congratulations—you made it to the end of the line. You deserve to lounge now, so stroll up along the stately stairway of Union Depot and kick back at Station 81. In addition to a full bar, the cute little bistro offers a menu of salads, tacos, and sandwiches, including lots of vegan and vegetarian options. You'll be supporting Appetite For Change's urban farm and youth development programs when you eat and drink there. And if you feel like traveling on, head on into the concourse—Amtrak awaits. 214 Fourth St. E. #110, St. Paul.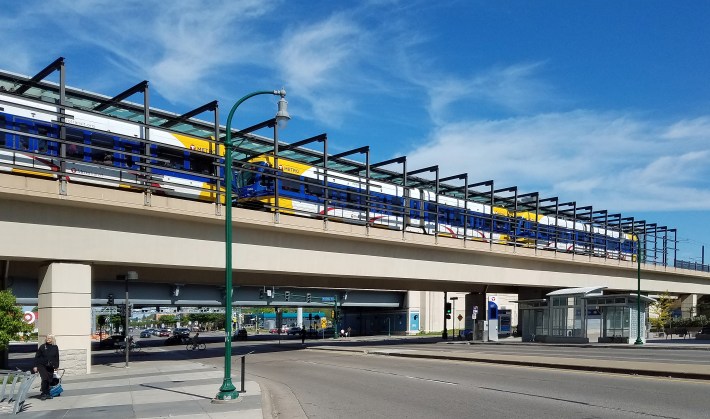 Blue Line Bars
Cedar Riverside
Palmer's Bar
Palmer's is a damn fine drinking establishment. One of the best and biggest patios in town? Check. Lots of live music? You bet your ass. A history that dates back to 1906? Incredibly, yes. And an owner, Tony Zaccardi, who's one of the most universally well-liked musicians and bar managers around? It has that, too. Palmer's made it through Prohibition, two world wars, more than one pandemic, and thousands of drunk and messy nights along the way so you could mosey up to its bar and down pint after pint of Hamm's in this historically divey setting. 500 Cedar Ave., Minneapolis.
Franklin Avenue
The Joint
Put on your finest leather and grab a bandana—we're going to the Joint. One of the oldest biker bars in Minneapolis, The Joint checks every last good-bar-in-Minneapolis box. They've got pull tabs; they host a weekly meat raffle. The burgers are greasy and great for soaking up an afternoon's worth of drinking; the enormous patio encourages you to do an afternoon's worth of drinking. There's live music, and they serve up drink deals when the Vikings are on, but the prices are pretty low across the board even when it isn't game day. They also host regular group rides and bike nights if you are the Harley sort… and on top of everything else, brunch here comes with a complimentary bloody Mary. 913 Cedar Ave., Minneapolis.
Lake Street/Midtown
Arbeiter Brewing Company
A few blocks off of Lake Street, you'll find Arbeiter: home to one of the finest pilsners in Minneapolis. Arbeiter opened in the former Harriet Brewing space along Minnehaha in mid-2020 after building a ton of anticipation in the neighborhood for a few years. While many of their beers have a heavy German lean, there are brews here to please plenty of different palates. A bonus? Arbeiter's proximity to the world's largest gender-neutral bathroom: the Minneapolis 3rd Precinct. 3038 Minnehaha Ave., Minneapolis.
38th Street
Cardinal Bar
Cardinal Bar—or Cardi B, as we like to call it—has always had a special place in our hearts. It feels like a quintessential neighborhood watering hole, and it is, but the food is really good—better than you might expect if you stepped into the pint-sized space looking for a pint. The bartenders are wonderful and the skinny little fenced-in patio is the place to strike up conversations with strangers. And all of that is to say nothing about the light rail mural on the side of the building, making it an automatic shoo-in for inclusion in this list. 2920 E. 38th St., Minneapolis.
46th Street
Bull's Horn
Have you ever been riding the Blue Line and thought: "Man, I could really go for an Old Style and some Schell's Deer Brand and a 40 of High Life?" You have? Well, that's awfully specific, but go ahead and get off at the 46th Street station and head on down to Bull's Horn, aka the happiest place on earth. Not only does Bull's Horn have all of the aforementioned beers, but they also have a solid rotating tap list, several varieties of Heggies, one of the best burgers in town, and pull tabs. What else could be missing from your life? Ramen? Well, sometimes they have that too! Belly up and pull some tabs, why don't you. 4563 S. 34th Ave., Minneapolis.
50th Street
Tipsy Steer
Look, there's nothing like Sea Salt in the summertime. A po' boy on that patio by the falls? C'mon. Untouchable. But sometimes you're not in the mood to stand in a 45-minute line for fried seafood. Other times, it's winter. In those cases, give Tipsy Steer a try. The light rail literally stops in front of its parking lot, so you need only walk a few feet to wander onto the patio. The menu is a mix of high and low; flatbreads, crab-stuffed avocados, and pink bubbly hint at fanciness while beer-battered onion rings, tacos, burgers, and po' boys are just good bar food. The prices are a little high, but pretty typical for the area. This place is also great for vegan fare, with nachos, Impossible burgers, and tacos. (Definitely try the tacos!) 5000 Hiawatha Ave., Minneapolis.
​​VA Medical Center
Grande Sunrise
Speaking of tacos, let's talk about Grande Sunrise. I'll admit it: This one falls into the category of "places I had not heard of and never would have checked out were we not looking for light-rail-adjacent restaurants and bars for this list." (And even then, this Nokomis Mexican restaurant with a seafood-heavy lean is a little bit of a hike from the VA Medical Center stop.) Use the 20-minute walk to peruse the menu of tortas, tacos, and chimichangas, and then hurry—when you see the low, low prices of beer here, you'll wonder why this cute and colorful spot hasn't been your happy hour go-to for years now. 5554 S. 34th Ave., Minneapolis.
Fort Snelling
Whiskey the Horse Gravesite
Way back in 1921, a horse arrived at Fort Snelling fresh from the wilds of Montana. Legend has it this feral fella had disproportionately long rear legs, causing him to walk with a slight swagger. He ​​"didn't even wear shoes" and could "kick a hole in a battleship," but the army being what it was, that meant a one-way ticket to the glue factory. That is, until one Lt. William Reuben Hazelrigg claimed this barefoot little weirdo as his mount and named him Whiskey. In no time at all, Hazelrigg and Whiskey excelled at polo, hurdles, tricks, and all kinds of other taxpayer-funded bullshit. Seeing as Whiskey's grave is just a short jaunt from the Fort Snelling station, why not BYOB and pay your respects? Come to think of it, Whiskey's Grave would be a pretty good name for a bar… 
MSP Terminal 1
Bradstreet Crafthouse
When Bradstreet Crafthouse opened in downtown Minneapolis many years ago, it was one of the first restaurants around making craft cocktails—you know, the kind of specialty drinks you can now find all over the Twin Cities. After making a brief stop in Linden Hills, the bar and restaurant landed at the airport. Technically it's a hotel bar, as it's located in the InterContinental Hotel. But that hotel is at the airport, pre-security, at Terminal 1, making it one of those rare spots where you don't need a plane ticket to get in. Be aware that you absolutely will be paying airport prices: We're talking $15 snacks, $18 sandwiches, and $12 cocktails. (The beer and wine list is actually pretty reasonable, though.) But hey, it's all pretty dang tasty, and that's the price you pay for a convenience and location. Terminal 1, 5005 Glumack Dr., St. Paul.
Terminal 2 Humphrey
Charles W. Lindberg's Grave
The Humphrey Blue Line stop has two ways to enjoy a drink. One is to go into the airport with no luggage, smelling like you spent the day drinking at every light rail stop, buy the cheapest ticket you can, and head to one of the bars past security. But that's a pretty good way to end up on a no-fly list. The other is to pack a beverage and mosey on over to Fort Snelling Cemetary because you heard that's where notable Nazi sympathizer Charles A. Lindbergh's grave is and you want to give it a good piss. But then it turns out it's actually highly decorated Battle of Iwo Jima veteran Charles W. Lindberg's grave, so you just drink your beer and leave. Man, that could've been bad. Sorry, Charlie.
American Boulevard Station
AiRECraft Grill
This deep in the land of parking garages and office buildings, it's assumed that anyone without a car is headed to an airport hotel—the Crowne Plaza, that is. With its woody décor and amber tinted windows, the hotel's bar and grill is a classic example of its genre, and its menu reps Minnesota proudly. For passers-through who want to drink like the locals, they've got Castle Danger, Fulton, and Bent Paddle on tap, plus bottles of Grain Belt and cans of Sociable Cider. And if you're hungry, there's an odd variation on a Jucy Lucy with cheddar, bacon, and an oval burger. 3 Appletree Sq., Bloomington.
Bloomington Central
Urbana Craeft Kitchen & Market
Folks, the Bloomington Central stop is a pretty barren wasteland when it comes to finding a drink. Your only real choice is the Urbana Craeft Kitchen & Market in the Hyatt Regency. (Depending on when you're reading this, that might not even be an option; Urbana Craeft recently went back to only offering room service to hotel guests due to the recent increase in new COVID cases.) Until your dipshit family members (and mine) get vaccinated, you might be out of luck at this stop. But if society somehow manages to pull its heads out of its ass, stop by Urbana Craefthouse aend graeb ae drink. 3200 E. 81st St., Bloomington.
28th Avenue
Hazelwood Food + Drink
Surrounded by hotels and spitting distance from the Mall of America is Hazelwood Food + Drink and, unless you opt for one of the hotel bars, it's your best bet for a drink at the 28th Avenue stop. But be warned, from the moment you walk in the door, you'll be painfully aware that you're in the suburbs. They have some signature cocktails on their drink list, but honestly, you're better off ordering a beer or glass of whiskey. Or you can just skip 28th Avenue altogether, go straight to the mall, and double down on your drinking efforts there. 8150 26th Ave. S., Bloomington.
Mall of America
Margaritaville 
By this point in your journey, you're likely so tossed you can't find your own ass with both hands. And that's good, because you're going to need both hands free to tackle a Cheeseburger in Paradise and Perfect Margarita from everyone's favorite Jimmy Buffett-themed restaurant, Margaritaville. After a quick dessert of some 20-oz. Landsharks, travel from the Porch of Indecision to the jungles of the Rainforest Cafe for a Blue Nile and/or a Coronarita (no relation to humanity's current health hellscape… probably). Seeing as the Mall of America is the end of the Blue Line, why not treat yourself to some of the luxury accommodations that it has to offer, like the Radisson Blu, the J.W. Marriott, or the Sleep Number Store? You earned it! 60 E. Broadway, Bloomington.
Stay in touch
Sign up for our free newsletter