Events
Klondike Dog Derby, Loppet Racing, and Art From the Bar: This Week's Best Events
Plus the Art Shanty Project, Saint Paul Winter Carnival, and the Great Northern carry on.
11:42 AM CST on January 30, 2023
Welcome to Event Horizon, your weekly roundup of the best events in Minneapolis and St. Paul.
Stay in Touch
Sign up for Our Free Newsletter
WEDNESDAY 2.1
Black 2 the Future: An Afrofuturistic Experience
Artspace Jackson Flats
Does the future look bright or is it bleak and dystopian? That glass-half argument is up to the artist, but the future is definitely Black in this group show. Coined in the '90s, the term "Afrofuturism" is an art movement that speculates on the future while celebrating Black culture, history, and perspectives, be it through literature (Octavia Butler), movies (Black Panther), music (Janelle Monae), and more. See it in action at this gallery show, which will feature the artwork of Ron Brown, Christopheraaron Deanes, seangarrison, Shae Maze, Christopher E. Harrison, Dio.Mpls, and Jordan Malcom. Futuristic looks are encouraged at the opening reception, so if you have a sexy robot costume, now's your chance to shine. $10 suggested donation. 5-9 p.m.; artwork will be up through February 29. 901 18th ½ Ave. NE, Minneapolis.—Jessica Armbruster
James Adomian 
Acme Comedy Co. 
This much is certain: Jesse Ventura will make several appearances this week at Acme. That's just one of the many voices Adomian has mastered over his very funny career, which first took flight via George W. Bush impressions on Craig Ferguson's Late Late Show. Other unhinged Adomian favorites that've delighted listeners of Comedy Bang! Bang! and Chapo Trap House: shock-jock sleazeball Tom Leykis, epic Trump toady Sebastian Gorka, and, as featured on his 2016 Trump vs. Bernie live show, that loveable, grumpy senator from Vermont. The L.A. comic is already daunted by our climate, so here's hoping he gets a warm reception at Acme. $18-$22. 8 p.m. Wednesday and Thursday; 7 and 9:30 p.m. Friday and Saturday. 708 N. First St., Minneapolis; find more info here.—Jay Boller
THURSDAY 2.2
Argentine Noir
The Heights
The amazing thing about film noir is just how damn much of it there is, yet lots of us keep watching the same dozen (admittedly great!) Hollywood examples over and over. That's where this annual series, now in its fourteenth year, comes in, exposing us to the dark corners of cinematic crime we might otherwise have overlooked. The four movies this year emerge from postwar Peronist Argentina, a time and place whose films I'm sure no expert in. I'm a little tardy bringing this to your attention: The festival began last week with Hardly a Criminal (Apenas un delincuente). But that still leaves us with four more installments, each with suitably noirish titles, none of which you're likely to have seen before: The Beast Must Die (La Bestia debe morir), The Bitter Stems (Los tallos amargos), The Black Vampire (El Vampiro Negro), and If I Should Die Before I Wake (Si muero antes de despertar). 3951 Central Ave. NE, Columbia Heights; find prices, showtimes, and more info here.—Keith Harris
FRIDAY 2.3
Fluidity: Identity in Swedish Glass
American Swedish Institute
Glass artist Jo Andersson doesn't just want you to gaze upon her works. She wants you to experience them as a meditative tool for self reflection. "Being is a light installation which is intended to help bring individuals into the present moment," she says via artist's statement. "I wanted to create a safe space where viewers could lose themselves and fully experience the work as well as their responses to the work." So, what does that entail? At ASI, you'll enter a dimmed room full of glass sculptures filled with water. You'll be encouraged to use camera phones to illuminate pieces and place with the lighting. From there? Take some time for self reflection. (If nothing else, this show should make for some good visual ASMR.) In addition to Andersson's ambitious installation, the exhibition will also showcase pieces by female glass artists from the museum's permanent collection. Friday's opening night party will feature an artist's talk, live music, an outdoor glass and fire installation, and a hands on glass activity from 6 to 9 p.m. Tickets are $25. 2600 Park Ave., Minneapolis. Through May 28–Jessica Armbruster
Klondike Dog Derby
Lake Minnetonka
Couldn't drive four hours to last week's Beargrease Sled Dog Marathon along the North Shore? Then enjoy another celebrated, historic sled-dog race right here in the Twin Cities. With roots dating back to the '30s, the Klondike Dog Derby will send 300+ doggos racing around Lake Minnetonka for a top prize of $10,000. Snow dogs rule the entire weekend, with family-friendly events like dog sled rides, wrap party featuring beer and live music, and a hug-a-husky hour where you can meet, and yes, hug the canine competitors. Free. Friday-Saturday. View the trail map here; find more info here.—Jay Boller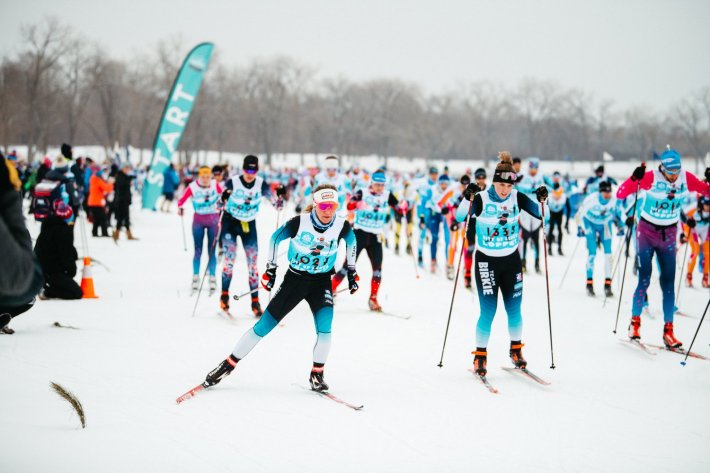 SATURDAY 2.4
City of the Lakes Loppet Winter Festival
Theodore Wirth Park
Now in its 20th year, this two-day festival offers a variety of urban ski races, games, and special events. That includes 37K races for skiers and fat-tire bikers, snowshoe races, skijor (doggy!) races, sitting ski races, and kids' races. There's a kubb tourney for those who appreciate lawn games–even if they're in the snow–and the Luminary Loppet invites families, friends, and athletes to stroll, snowshoe, or ski around the Lake of the Isles, enjoying a variety of bonfires, performances, and ice-themed art installations that ends in a beer garden featuring food trucks and brew (that event was rescheduled for February 18–remember when we had warmer weather?). For a complete list of events or to sign up, click here. 1301 Theodore Wirth Pkwy., Minneapolis. Friday and Saturday–Jessica Armbruster
Murf
Turf Club 
You don't have to be a hardcore fan to enjoy a Murf show. Aficionados of fake blood, real confetti, and other zany visuals will be satisfied as the blistering quintet plays for the Turf. The group also happens to be Shaq's favorite Minneapolis punk band. Seriously! "That's fuckin' nice man," hoops legend Shaquille O'Neal said of Murf, whose gregarious frontman, Dan Hoffstrom, happens to work in video production alongside Big Aristotle. (For much more on that, revisit this Racket profile.) Tonight, Murf will be loudly joined by grunge-punk group Civil Decline and post-punk act Basketball Divorce Court. Shaq, a noted basketball player, is also divorced—the local connections just keep mounting! $12. 7:30 p.m. 1601 University Ave. W., St. Paul; find more info here.—Jay Boller
Great Minnesota Bike Swap
Michael's Cycles
Ah yes, the dead of winter, when cyclists look at all the bike parts and accessories sitting untouched in their garage and/or basement and/or in various piles on the floor and chairs of their house and think, "I'm really sick of staring at all this shit." Their hoarding is your reward at The Great Minnesota Bike Swap this weekend, where you can find tons of bikes, parts, and gear from mechanics, collectors, and riders around the state. It's free to shop—and crucially, heated, thanks to its location in the indoor courtyard of South Lake Village mall—with a makers' market, refreshments, music, and a bike show. Free. 10 a.m. to 3 p.m. 16731 Highway 13 S., Ste. 120, Prior Lake; find event info here.—Em Cassel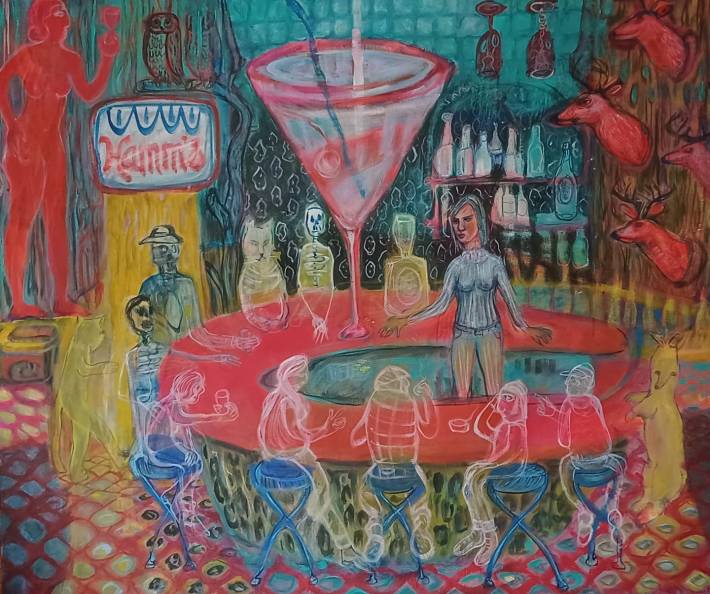 Funhouse Waiting Room
Rosalux Gallery
Artist Mary Gibney draws inspiration from a variety of sources: dive bars, old circus photography, the Hamm's sign, old-school matchbooks, a 1959 Wards Catalog. Her latest collection of pieces, featured in "Funhouse Waiting Room," includes paintings, drawings, collages, and prints filled with bartenders, giant martini glasses, deer heads on walls, and ghost patrons from previous binge drinking expeditions. Her portraits of circus strong men examine  homoeroticism, gender expression, and fluidity (sometimes she swaps the men for cats because, why not?). This joyous exhibition should be a little odd, definitely a good time, and won't give you a hangover. There will be an opening reception on Saturday, February 4, from 7-10 p.m. 315 West 48th Street, Minneapolis. Through February 26–Jessica Armbruster
Naeem & Cheeky
Icehouse
With his brilliant 2020 album Startisha, Naeem Juwan bid farewell to his longtime rap alter ego, Spank Rock, and reinvented himself as a smart, falsetto-favoring R&B singer. Last year, Naeem, who spent about two pre-pandemic years in Minneapolis, recorded a bit of a tribute to us. The album art for his latest EP How Can We Lose When We're So Sincere? (real Peanuts heads know) features the singer in full Lovesexy pose, and the seven covers he chose to record lean heavily on Minnesota-originated material. There's Prince, of course, represented by an aching version of "Neon Telephone," which was recorded by L.A.-based Paisley Park signees the Three O'Clock, along with Andre Cymone's "Kelly's Eyes," Corbin's "Dragged," Fog's "Cockeyed Cookie Pusher," and Vampire Hands' "No Fun." Naeem rounds out the EP with two Justin Vernon-affiliated projects: a heavily Auto-Tuned take on James Blake's "Fall Creek" and Bon Iver's "45." For this event, Naeem will be occasionally joined by the electronic artist Cheeky, both on his own material and on their newer collaborative work. Part of the Great Northern festival. $25. 9:30 p.m. 2528 Nicollet Ave, Minneapolis; mind more info here.—Keith Harris
Bad Bad Hats
7th St Entry
Wanna feel old? Bad Bad Hats' five-song debut EP, It Hurts, turns 10 this year. That's so long ago that Kerry Alexander wrote a whole song ("Super America") about a convenience store brand that no longer exists, though "I want a Reese's / And a nice boy to date" remains a timeless sentiment, even in the Speedway era. And speaking of a decade ago, do I hear a girl-groupy take on "ho hey rock" in the "ooh ooh ooh ooh" backups on "It Hurts" or am I being a jerk? But the record holds us great, and to celebrate the anniversary, the band has released a remastered version with original demos included as bonus tracks. And they're also playing two shows at the Entry—an all ages day show and a 21+ nighttime gig. (Wanna feel really old? Go to the all ages show.) I'm guessing they'll perform songs from later in their career as well, though playing five songs, leaving the stage, and returning for an encore of the same five songs would rule. With Beemer. $22/$25. 5 & 9:30 p.m. 701 N. First Ave., Minneapolis; find more info here.—Keith Harris
ONGOING
Saint Paul Winter Carnival
Various Locations 
Is this the best carnival born out of spite? Probably! For the past 137 years, St. Paul has been celebrating winter, proving to the world that the weather here isn't so scary. So bust out the hand warmers and get in on the fun. This year's multi-day, multi-event party returns with more free stuff to do than ever before. That includes parades like the nighttime Moon Glow Parade and the daytime march for King Borealis. Rice Park is home to beautiful ice sculptures, trivia nights, live music, and a warming house offering beer, seltzers, wine, and warm mulled drinks. Other locations loaded with fun include the Landmark Center (family fun!) and Xcel Energy Center (cat and dog shows!), and the Vulcan Snow Park at the Minnesota Fairgrounds, which is stacked with things to see and do: snow sculpting contests, a giant snow slide, and sporting events and competitions. For a complete schedule of events, see wintercarnival.com. Through February 5—Jessica Armbruster
The Great Northern
Various Locations
Yes, it's a cliché, but this sprawling, multi-city festival offers a little bit of everything. There will be a sauna village, there will be concerts (pow wow singer Joe Rainey), there will be art installations (Seitu Jones, Aaron Dysart), and there will be festivals within festivals (the Saint Paul Winter Carnival, Out There, and the U.S. Pond Hockey Tournament are all part of this fest). Orfield Labs will once again invite people to sign up for sessions in its anechoic chamber, billed as one of the quietest places on Earth. K'óoben's pop-up will feature guest chefs who will prepare meals under the theme of Minnesota in the dead of winter. And a little snow won't stop Minnesotans from watching a movie outdoors, apparently, as the David Bowie biopic Moonage Daydream will screen at Malcolm Yards. Find the complete schedule at thegreatnorthernfestival.com. Through February 5–Jessica Armbruster
Into the 21st Century Dystopias
Trylon
What's dystopia like these days? The Trylon is offering up 12 variations on that theme this month, with a look at the grim futures some 21st century films have imagined. The series started yesterday with briskly selling anime standout Ghost in the Shell, which continues through tomorrow. From there on in, they'll cover Japanese horror (Pulse), contemporary classics (Children of Men, Mad Max: Fury Road), a couple Spielbergs (War of the Worlds, A.I. Artificial Intelligence), and plenty more. Looks like they've got a punch card for anyone who plans on catching the whole series, with unrevealed prizes for the diehards. (Perhaps a ticket to the off-world colonies, where a new life awaits you?) Depending on your outlook, this series can be an opportunity to look on the bright side: Things could be worse! Or you could look on the darker side: They probably will be! $8. 2820 E. 33rd St., Minneapolis. See here for full schedule and showtimes. Through January—Keith Harris
the bull-jean stories
Pillsbury House Theatre
Although it got its start as a novel, Sharon Bridgforth's the bull-jean stories is a piece that was made for the stage. It's a fusion of storytelling, spoken word, history, and fiction. It's also a love story, following the titular character as she navigates Black queer life in the Deep South of the 1920s. Bridgforth is known for shows that are much more than they appear to be; Pillsbury's 2018 production of dat Black Mermaid Man Lady/The Show was part book, part performance, part oracle deck/reading sessions, and part collaboration with Powderhorn Park Neighborhood Association to mentor several artists toward homeownership. The return of Bridgforth's work to the Pillsbury Stage, this time directed by Signe V. Harriday, is an excellent addition to the venue's 30th season lineup. 3501 Chicago Ave. S., Minneapolis; pillsburyhouseandtheatre.org. Through February 5–Jessica Armbruster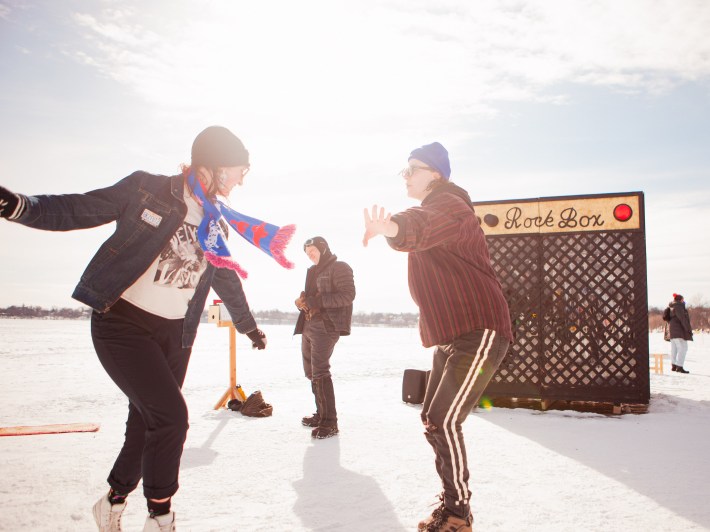 Art Shanty Projects
Bdé Umáŋ/Lake Harriet
One of the most unique festivals in Minnesota, the Art Shanty Projects returns this winter for wacky, wholesome, creative fun on a frozen lake. Actually, scratch that. This year's unseasonably warm weather has made the ice too thin for the shanties, so they're moving things to the beach and bandshell area of the lake. "We started off the new year celebrating 13" of good, clear ice," says operations director Kerri Jamison via release. "Unfortunately the recent snowstorm created a warm cozy blanket over the whole lake, acting as insulation." This year's happening will feature 15 new shanties with three returning structures. Installments are leaning towards music and movement in 2023, with Booom Box providing DJ tunes, Klezmer on Ice doing just that, and tons of concerts from local artists. The Free Store Shanty will be back; pick up some free gloves or bring something warm to donate. The Winterized Chicken Coop will feature feathered friends and fortune-telling eggs, and American Ice Theatre will present ICE. COLD. JAZZ!, a modern ice skating show. If you're 18 or older and looking to get hitched, the Chapsicle of Love will wed you and your beloved for free (and yes, it is a real, legal marriage). Walk-ins are welcome (very Vegas!). Other fun to be had includes frozen yoga, artsy parades, an ice sculpture garden, and climate walks. Find more deets about this rad event at artshantyprojects.org. Free; $10-$20 suggested donation. 10 a.m. to 4 p.m. Saturdays and Sundays. 4135 W. Lake Harriet Pkwy., Minneapolis. Through February 12 –Jessica Armbruster
The Minnesota Ice Maze
Viking Lakes
Getting lost in a pile of ice and snow in nature? Potentially deadly! Getting lost in an ice maze during this ongoing party in Eagan? Potentially a lotta fun! This year, Vikings Lakes has brought in over one million pounds of ice to create an epic maze that will take guests through a half-mile of disorienting twists, turns, and beautiful icy spectacle. Oh, and there's also a slippery ice slide, of course. Once you make it out, you can enjoy the trappings of Winter SKOLstice, a free festival featuring a warming house with drinks and food from Omni, plenty of bonfires, and free ice rinks for skating, curling, and pond hockey (just bring skates). Special events scheduled during the winter include trivia nights, live music, a winter princess gathering, and a Cry Baby Craig's hot sauce night where the maze will be lit red and orange and a special spicy menu will be offered. Find tickets and more info at minnesotaicemaze.com. $14.14-$26.14. 4-10 p.m. Mondays through Fridays; 10 a.m. to 10 p.m. Saturdays and Sundays.  2645 Vikings Circle, Eagan. Open daily through February 19 –Jessica Armbruster
Minnesota Ice Castle
Long Lake Regional Park
Folks, this is the big one. This is the ice castle that has more square footage than your own home. It starts as a single icicle, but by the end of construction it becomes an epic thing you can wander through and enjoy. There are architectural marvels, sparkling caverns, slick tunnels that funnel you to more adventure, and slides made of ice. In addition to the big frozen structure, there's also an illuminated trail to explore and an ice bar serving up wintery adult beverages. The castle was supposed to be ready in mid-January, but our weather sucks so hard this year that the event was able to open a few weeks early. Lucky us! Find dates, times, and tickets at icecastles.com/minnesota. $11-$15 weekdays; $15-$20 weekends. Wednesdays through Mondays in January; Thursdays through Sundays in February. 1500 Old Highway 8, New Brighton. Now through February 23'ish –Jessica Armbruster
Out There 2020: Sarah Michelson, /\ March 2020 (4pb)
Walker Art Center
For nearly 20 years, U.K.-born, NYC-based performer Sarah Michelson has created pieces often performed outside of traditional stages, tumbling about the Walker's galleries and even the Minneapolis Sculpture Garden. She works hard to create movements that may look impromptu or off-the-cuff, but are typically planned and practiced down to the breath. But her latest work, "Sarah Michelson: /\ March 2020 (4pb)," is an exhibition, not a performance piece. Here guests will be able to peruse a variety of ephemera, all laid out with the Walker in mind (the pieces are now part of the museum's permanent collection). At the opening reception, which will take place from 6 to 9 p.m. during the Walker's weekly Free Thursday Nights party, Michelson will discuss her work with Kristin Van Loon and Arwen Wilder of the two-woman dance troupe HIJACK. 725 Vineland Place, Minneapolis. Through April 23 –Jessica Armbruster
Paul Chan: Breathers
Walker Art Center
Can those inflatable tube guys used to drive people to sales be art? If it's in the Walker Art Center then, yes, it can. But that would be oversimplifying the work of Paul Chen, a Hong Kong-born, Nebraska-raised, NYC-based writer, publisher, and artist. In the '90s and '00s, Chan garnered attention releasing videos, animations, fonts, and more, often for free on his website, nationalphilistine.com. These pieces explored pleasure, war, politics, and human interactions. But by 2009, he had burned out, tired of looking at a screen. Relatable. Five years later, after a brief, you know, "breather," he found a new way to explore movement and meaning without a computer, instead using physics, fabrics, and fans to create shapes that move about in interesting ways (and, thankfully, won't try to sell you a car).  You can see these kinetic sculptures at the Walker; the show will also include some video installations as well as pieces from his publishing company, Badlands Unlimited, which releases poetry, erotica, artists' writings, and more. 725 Vineland Place, Minneapolis. Through July 16, 2023—Jessica Armbruster
Stay in touch
Sign up for our free newsletter