Music
I Went to Karaoke 7 Days in a Row
Creepy guys, a sore throat, an incredible amount of Chris Stapleton—and a lot of fun. Here's what happens when you commit to a solid week of karaoke.
8:24 AM CDT on October 11, 2023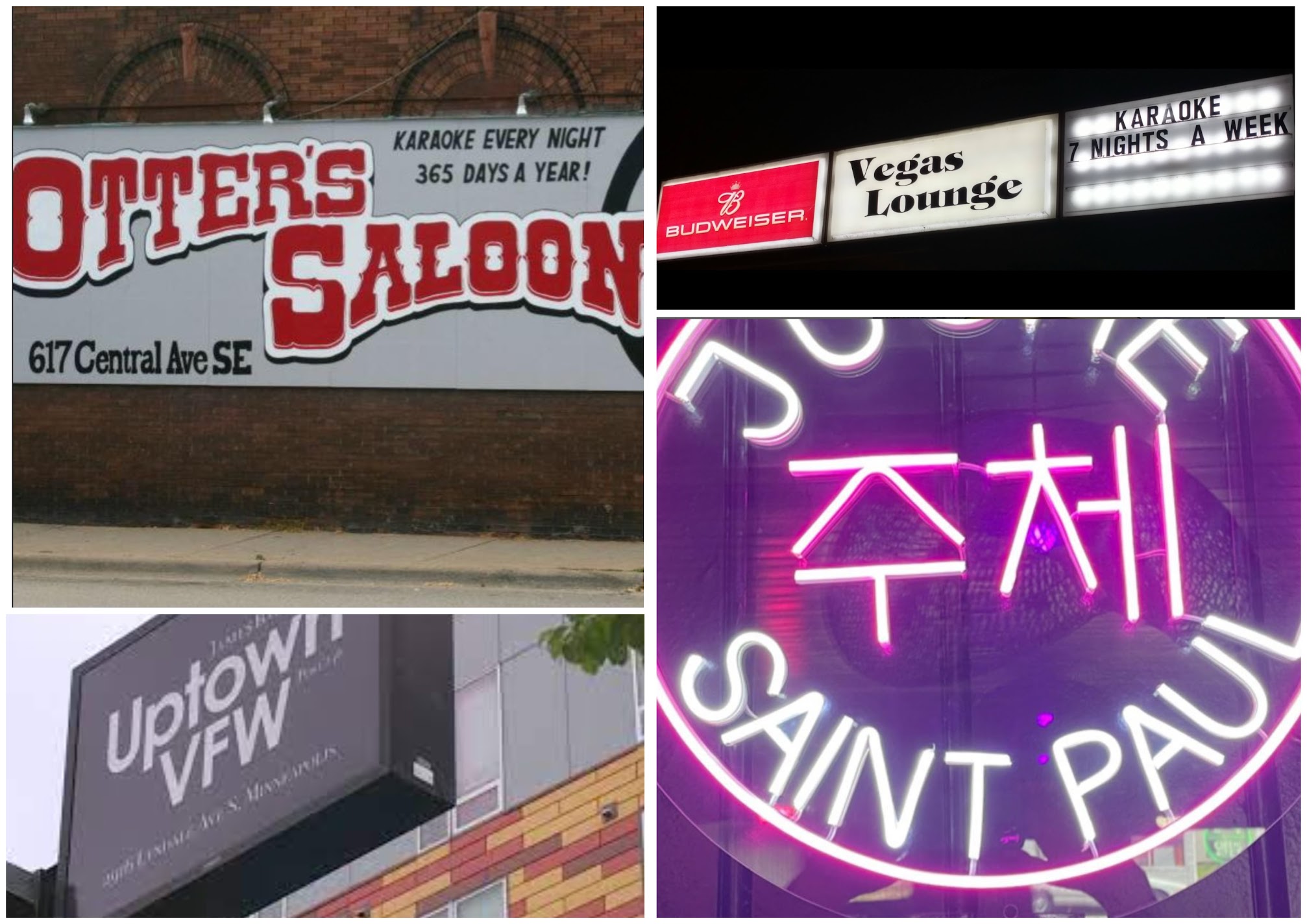 On any given night, your favorite local musician might be belting "Valerie" in a dive bar. A couple dozen goofballs might be radiating joy as they caterpillar around tables in a conga line. A senior citizen might be crooning Sinatra into an Auto-Tuned mic.
Despite my once-violent stage fright, I've grown to love karaoke over the past year, mostly due to weird, silly, and 100% true moments like these. At first I tagged along with my more vocally talented coworkers. Then I started organizing Vegas Lounge hangs and even singing on the mic myself. Eventually I got my 54-year-old mom to duet the Pet Shop Boys with me. This recently culminated in the ultimate karaoke joyride: seven straight nights out on the town, singing my little heart out.
"What I like about karaoke is that anyone can do it," karaoke jockey (or "KJ") John Welch told me via phone a few days after I visited his show at the Black Hart of Saint Paul. "You don't have to have any particular talent. … Anyone old enough to be in that building can do karaoke. That's why it's fun."
At its best, karaoke isn't just fun, it's euphoric: That song, with whoever happens to be in the room, voices lifted toward the bar ceiling. As concert tickets get more and more expensive, karaoke has become one of the cheaper ways to celebrate music with other people, and more places host it than I expected.
So I called the bars, wrangled the friends, and sang the songs; I ripped up my vocal cords and missed sleep and fended off creepy men. All to tell you these zany tales of Twin Cities communal singing after dark.
I started my adventure at a classic 365/7 karaoke spot, both to get a good baseline and to beat the weekend crowds. Otter's is a tiny, wedge-shaped bar with maybe 50 chairs, and it fills up fast on a Friday. On a Tuesday, it turns out, as few as eight souls might be hanging out as karaoke ramps up.
I ordered a $5 gin and tonic at the Central Ave. dive and snagged a hightop against the wall, watching the KJ warm up with a little Gordon Lightfoot. The Otter's walls are covered with framed photos, beer and liquor signs, TV screens, and even a coin-op breathalyzer. It's not the fanciest joint, but this bar has been loved and lived in for more than 100 years.
As a few more people drifted into the bar and regulars sang Modern English and Childish Gambino, a man named Carlos parked himself between me and the stage. He'd just come from Station 280, he said, and he didn't like to waste time. Did I want to go to Conga and then Burrito Loco for more karaoke? I did not. Mercifully, the KJ soon called his name. "They can wait," Carlos promised me, but I shooed him toward the stage. Having witnessed this, a regular visited my table to offer me a no-pressure spot next to him at the bar. I took him up on it, fearing Carlos's return, but then this fellow and his friend offered some iffy comments themselves.
I get the "bar of misfits" vibe, and I'm usually a big fan. But these regulars were a little too welcoming to a solo woman. I split to go eat sad wings at Ray J's.
I brought friends for this one! Vegas Lounge, another seven-days-a-week karaoke spot in Northeast, is the go-to for the staff at my restaurant job. Like the Otter, it fills up on Fridays and Saturdays, so we like to take advantage of service industry specials on Sundays and Mondays after 10 p.m. Plus, anyone can enjoy two-for-one rail drinks in the 8 p.m. hour before karaoke starts. (Vegas Lounge is cash only, so you may need to stop by the ATM before chugging your whiskey Cokes.)
On this particular night, a few of us headed to Central Avenue and Spring Street after work, joining a healthy crowd of mostly 30- and 40-somethings. We watched one duet featuring a man who did not really know Jay-Z's parts on "Empire State of Mind" and another duet featuring a woman who kept expelling sex moans on the upbeats of Kid Rock and Sheryl Crow's "Picture." We also ran into Benjamin, our former coworker, whom you may remember from a different Racket story; he celebrated his birthday by crushing "Daydream Believer."
At Vegas Lounge, the Entertainment Plus songbook is only available via QR code, and Mike, the KJ, will take your handwritten slip. If necessary, he will point to one of the many karaoke commandments tacked up in his booth: Don't try to skip the line, for example, and don't request a song someone just sang.
With its wood walls and ceiling and its generally older crowd, Vegas Lounge feels extra hospitable to country music. Johnny Cash and Patsy Cline tunes are just as popular as those by Billy Joel and Alanis Morissette. In fact, Vegas Lounge is where I first encountered Chris Stapleton's "Tennessee Whiskey," which ended up being my most-heard tune throughout my karaoke week, with five separate renditions.
I love this bar for its absolute characters. On Wednesday, an older man brought a harmonica to accompany himself during Toby Keith's "As Good As I Once Was." A younger guy yelled his way through "I'm A Little Teapot" at 1 a.m. ("Are you seriously going to sing this?" the KJ asked him before he got on stage). I played it mellow with Dido's "White Flag," which, as it turns out, is too high for my singing range. But hey! Night two rocked much harder than night one.
"That's the biggest calculator I've ever seen," my friend Forrest joked as we prodded the remote at DoReMi Karaoke. Not only was the remote shaped like a calculator, but its buttons were in Hangul, the Korean alphabet. The good news was the staff had also given us a laminated printout of the English translations.
DoReMi is a cluster of private karaoke rooms (or "noraebang") in the back of Hoban, a Korean restaurant in Eagan. While I stayed within the actual Twin Cities' limits for the other outings, we had to try a private room during Karaoke Week. For $30/hour (or $24/hour if you eat at the restaurant beforehand), up to six people can take turns regaling each other in one of the small rooms. Bigger rooms are a bit more spendy. Either way, a private set-up seems much more COVID safe than a bar.
As our neighbors in the next room yowled "All I Want For Christmas Is You," Forrest, their partner Sulia, and I finally got our tunes rolling. DoReMi's selection, particularly of contemporary pop songs, is staggering. They had nearly full catalogs from Dua Lipa, Lorde, Olivia Rodrigo, and Billie Eilish—all of whom are barely represented at the Vegas Lounge. DoReMi also serves excellent soju cocktails and hot sake. The hours and reservation system are a little unclear, but just call during Hoban's business hours, and the staff will sort you out.
After DoReMi, Sulia and I headed to the James Ballentine VFW in Uptown, which hosts karaoke in the back room from Monday through Saturday. It's another wood-walled establishment that draws old-timers and youngsters alike. Tunes flipped from Bon Jovi to Brandi Carlile to ABBA, and for anyone who wanted extra entertainment, the Packers-Lions game played on screens around the bar.
The VFW has plenty of regulars, including Shelly—the best vocalist I heard in all my karaoke travels—and Deb, who sketches singers every week and sounded just like Ann Wilson while singing Heart. Sitting with Deb was Rory, who recognized Sulia because he used to be her elementary school piano teacher. This 70-something fellow told me he used to be ambivalent about karaoke, because after all, he's a professional musician. But he got hooked at a birthday party several years ago and started practicing—and now he has 186 songs in his repertoire, including "Hooked On A Feeling," with which he serenaded us that night.
I'd planned to swing by Can Can Wonderland's all-ages karaoke for 45 minutes before meeting a friend at the Black Hart—but I'd completely forgotten about the admission fee I'd need to fork over to access the tunes. I got all the way to the front desk, watching couples and families stroll into the mini golf emporium/arcade, and I debated dropping the 13 smackers. But as I hovered, the tender strains of "Tennessee Whiskey" curled toward me from afar, and I walked away to grab a sandwich.
After a lovely dinner from Due Focacceria, I found the Black Hart of Saint Paul, the queer soccer bar on University Avenue. They had a drag show going in the main room, but they don't charge a cover for karaoke (run by Mia Dorr's Premier Entertainment) in the lounge, so I waltzed in and ordered a super-solid $9 Ibson Negroni.
"Once I get into karaoke, I am everybody's hype man," my friend Amalie told me inside the lounge, and she was absolutely right. Her golden retriever energy made a big impact in the snug back room, which can only fit 40 to 50 people. While a somewhat shy person performed the Fugees' "Killing Me Softly With His Song," Amalie beamed at them and backed them up. This is the kind of person you want with you at karaoke.
I loved the randomness of the song selections at the Black Hart. I couldn't escape "Tennessee Whiskey," of course; Teresa, the bartender, sings the Stapleton love song every week. But where else are you going to hear someone power through Louis Prima's "Just A Gigolo"? Where else can you watch a person in a Frog and Toad "Fuck the Police" shirt sing Meat Loaf's "I'd Do Anything for Love (But I Won't Do That)"? I chose the Fergie banger "Glamorous" and made it through the Ludacris verse prompted only by "16-bar rap."
KJ John Welch says that more straight patrons have been attending karaoke since the historic gay bar the Town House became the soccer-themed Black Hart in 2018, but it largely still felt like a queer space to me. After Amalie congratulated one person on a song well sung, he shared that he's trans and had grown up without the right vocal range for that song; now he has the range he'd always wanted.
The Black Hart was my favorite karaoke venue, and I'll definitely be back to sing on Tuesdays in the main room.
Here's where things started going downhill.
First, I have a whole new respect for touring artists, because after four straight nights of singing, my voice was fried. I'd slept in and replaced my morning coffee with ginger tea, but there was no resuscitating my sore throat. How do people ride in a van around the country and pull this off? How do I train my body to sing limitless Lady Gaga? I'll never begrudge a musician for canceling or delaying shows for vocal reasons again.
I'd been hoping to hit Apoy, the Filipino restaurant in Kingfield, with friends this evening. But my restaurant job demanded I stay an hour later than originally scheduled, and the remaining time frame required I default to famed northeast Minneapolis cop bar the 1029, which holds karaoke from Wednesday to Saturday.
I'd been to the 1029 in the daytime, but I didn't expect the scene that greeted me around 11:30 p.m.: a hundred undergrads pressed against the bar and each other. Empty Coors Light bottles littered most surfaces, and the screeches of young women sounded in the distance.
Once I pushed my way to the back of the bar, I found the karaoke zone, a 10-by-15-ish-foot area presided over by a KJ in a slightly elevated booth. Someone was yelling Yellowcard's "Ocean Avenue," and hetero couples in Gopher garb were grinning sloppy smiles while twirling each other on the floor. We were in full shitshow hours, I realized, as a security guard bounced a guy who had been doing Fortnite moves to an EDM track.
I know this sounds like college party Mad Libs, but consider this quote from the KJ: "I've had to say this three times tonight, and I shouldn't have to say this three times a night. The next person who steals the mic, I'm going to ask to leave. You know who you are."
It was terribly sweet to hear everyone chorus "Take Me Home, Country Roads," and I loved Sunny D, the sloshed kid in sunglasses whose love for "Careless Whisper" transcended the morass. She earned those fistbumps from the guy in the backwards baseball cap.
I'm always rooting for Juche. It's a late-night restaurant on Payne Avenue on St. Paul's East Side—not far from Brunson's Pub or Caydence Records & Coffee—that used to be Cook St. Paul, a Korean-ish breakfast nook. During the pandemic, the owners turned the small restaurant into a K-lounge with black walls and pink and white neon signs. They serve some of my favorite wings in the Cities, plus spicy mac and (kim)chi and soju cocktails, until at least midnight Thursdays through Mondays. I'd remembered reading that Juche was hoping to host karaoke, so I called them as I was planning my itinerary. Turns out their first-ever karaoke night fell perfectly in my schedule.
When I walked in around 9:45, the front-of-house staffers warned me about karaoke, apparently hoping the music wouldn't drive away people who only wanted food. Juche hadn't really publicized karaoke, so it's true that most of the customers on this particular evening were indifferent to the music, at best. 10 p.m. came and went as the staff weathered a rush. Once things settled down, they turned on the karaoke system, but no one broke the ice with a song.
Was this story about to turn into "Six out of seven nights of karaoke"? My voice was still trash, so I couldn't take the mic. Thankfully, a group of eight giggly youths saved the day. Six girls, many of whom had known the K-pop songs playing over the PA, sang gang vocals on the alphabet song. (Yep, the ABCs.) Then, they switched to "Baby" by Justin Bieber. It was all so terribly silly, and yeah, probably annoying for the adults doing their catch-up sessions or dates or whatever, but those girls were loving every last minute.
Monday at Mortimer's the James Ballentine "Uptown" VFW
For the grand finale of Karaoke Week, I rustled up a posse of Commutator Collective artistes to partake in AutoTune Karaoke at Mortimer's. According to event creator and longtime host Dimitry Killstorm, Dylan Brady of 100 gecs swung through Mort's and performed "White Lines" by Grandmaster Flash & the Furious Five last time his band played Minneapolis. Between that and the fact that the Commutator folks had rehearsed an a cappella rendition of Bon Iver's "Woods," I was hyped. But inside Mortimer's, a sandwich board announced, "NO KARAOKE TONIGHT." (Killstorm was booked at the Amsterdam, and the event's back-up host had fallen ill). More like heart crushed by a mallet!
We ended up back at the Uptown VFW, where the amazing Shelly was duetting "Shallow" from A Star is Born with Thursday's KJ, Steve. It was slow enough that the bartender, Xavier, could hop over to the stage to sing "At Last." My husband, Emmet, who has seen the newly remastered concert film Stop Making Sense no fewer than three times in theaters, performed Talking Heads' "Life During Wartime" while running in place.
The VFW is a good place to be a patriot and a good place to sing karaoke. "Best activity in the world," Commutator friend Emma proclaimed about singing in public. And when the opening piano notes of "In The End" by Linkin Park interrupted our group's exit, forcing us to stay and rap and headbang together, I had to agree. 
Was seven the right number of nights? Absolutely not. Unless you like waking up with no voice and resentment of the sun, I wouldn't recommend going to karaoke even two nights in a row. But depending on your COVID comfort levels, do go to karaoke. Just please don't sing "Tennessee Whiskey."
ALL THE MINNEAPOLIS AND ST. PAUL KARAOKE I COULD FIND
And now, I present you with this almost-definitive round-up of karaoke locations in Minneapolis and St. Paul. If you know of other karaoke events, holler at me in the comments.
Otter Saloon | Southeast | Every night from 8 p.m. to 2 a.m. (link)
Vegas Lounge | Northeast | Every night from 9 p.m. to 2 a.m. (link)
James Ballentine VFW Post 246 | Lyn-Lake | Mon-Sat from 9 p.m. to 1:45 a.m. (link)
The Saloon | Downtown Minneapolis | Mondays from 7:30 to 11:30 p.m. (link)
Mortimers | Lowry Hill East | Mondays from 9 p.m. to 2 a.m. (link)
Black Hart of Saint Paul | Midway | Tuesdays from 8:30 to midnight and Fridays (in the lounge) from 9 to midnight (link)
NE Moose | Northeast | Tues-Sun 9 p.m. to 2 a.m. (link)
Burrito Loco | Dinkytown | Tuesdays at 9 p.m. (link)
Korea Restaurant | Stadium Village (link)
Tailgate Sports Café | Windom | Tuesdays from 8:30 to 11:30 p.m. (link)
Mother Clucker's Pizza | Loring Park | Tuesdays and Thursdays from 9 p.m. to midnight (link)
Nye's Bar | E. Hennepin | Wednesdays from 7 p.m. to 12:30 a.m. and Thursday through Sunday from 7 p.m. to 1:30 a.m.
Eagle MPLS (FKA EagleBolt Bar) | Downtown Minneapolis | Wednesdays from 8 p.m. to midnight (link)
Apoy | Kingfield | Wednesdays and Saturdays around 9 p.m.
1029 Bar | Northeast | Wednesday through Saturday around 9 p.m.
On the RoX | Downtown Minneapolis | Thursdays from 5 to 8 p.m. (link)
Half Time Rec | St. Paul | Thursdays at about 8 p.m.
Can Can Wonderland | Midway | Fridays from 6 p.m. to 9 p.m. (all ages) and 9 p.m. to 12:30 a.m. (21+) (link)
Los Sanchez Mexican Restaurant & Bar | Whittier | Fridays and Saturdays at 6 p.m.
Cheers Pub | St. Paul | Saturdays from 7:30 to 11:30 p.m. (link)
Stanley's NE Bar Room | Northeast | Saturdays from 8:30 to 11:30 p.m. (link)
Moxy Minneapolis | Uptown | Sundays from 7 to 10 p.m. (link)
Northeast Palace | Northeast | Sundays around 8:30 p.m.
Juche | East Side St. Paul | Sundays from 10 p.m. to midnight (tentative)
PRIVATE ROOMS
Doremi Karaoke | Eagan | Starting at $30/hour (link)
Punch Bowl Social | St. Louis Park | Starting at $40/hour (link)
Shin's Karaoke above Korea Restaurant in Stadium Village (four rooms; no outside food; no alcohol)

Cecilia Johnson (she/her) is a journalist, copy editor, and bartender from Minneapolis.
Read More:
Stay in touch
Sign up for our free newsletter