Food & Drink
I Took the 19-Meal Twin Cities Vegan Challenge
And I only made it to six places. But wait! Here are all the delicious (and kinda meh) things I discovered along the way.
9:49 AM CDT on September 13, 2023
I moved to the Twin Cities for vegan food. That's only a minor exaggeration. In the cities, my days of only being able to get a sad salad and fries when dining out are over. Now I can have crunchwraps, cheeseburgers, fried chicken—even a 10-course tasting menu. I feel spoiled by suddenly having options. 
My move couldn't have been better timed. Last month, 19 restaurants vied for the Twin Cities' Best Vegan Chef title, adding special vegan items to their menus for everyone to try. (The challenge leads up to Veg Fest, the biggest plant-based food festival in the midwest, which is this Sunday.)
New to the cities and determined to partake, I vowed to eat at all 19 spots—what better way to experience the vast vegan food scene than with a crash course? But in the end, I made it to six places. Logistics got me, as it's hard to squeeze in that many restaurant visits in one month. There was also the cost: It's tough to justify any $80+ dinner for two, let alone more than once a month. 
So I had to be strategic about the places I visited. I started with my go-to neighborhood restaurant: J. Selby's.
J. Selby's
169 Victoria St., St. Paul; jselbys.com
J. Selby's is one of those places I'll take my non-vegan friends because the food is familiar: burgers, crunchwraps, bowls. It's nothing groundbreaking, but it's great for a quick bite out. I can still remember the first time I went there. It was 2015, and I literally teared up realizing I could eat everything on the menu. A bit sappy? Sure. But after five years of highly limited restaurant choices, it was overwhelming.
So I was stoked to try something new for the chef challenge, as I've had nearly everything on their menu (many items twice or thrice over). But their Monte Cristo was a letdown. The cheese wasn't quite melted and the spicy-sweet jam was too sweet. I still love you, J. Selby's, but the Monte Cristo was not it.
Total meal cost: $38 (Monte Cristo, chicken sandwich)
Rating: 5/10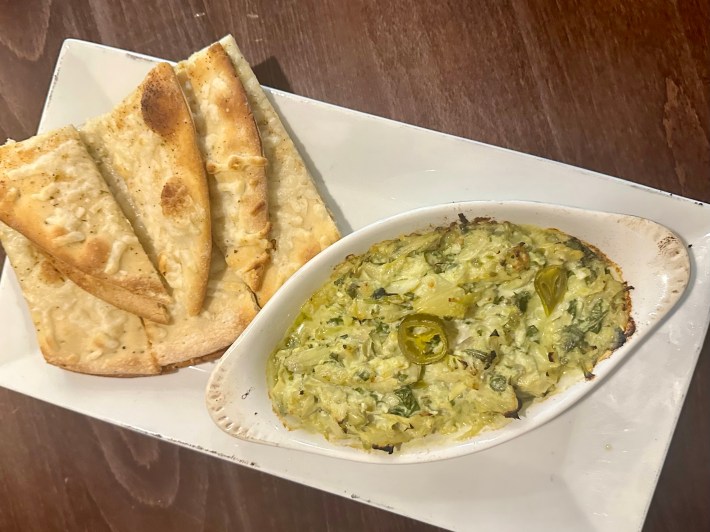 Parkway Pizza
Multiple locations, parkwaypizzamn.com
Parkway presented a spinach artichoke dip that was so creamy it made me go, "Wait, is this actually vegan?!" But it was. It was also quite greasy, so I assume at least part of the creaminess was from using plenty of olive oil. The first bite was intense, but once my mouth adjusted to the jalapeños and garlic, I could fully appreciate the flavor and texture. I actually ended up going back multiple times throughout the month for this one. 
Total meal cost: $11 (spinach artichoke dip)
Rating: 8/10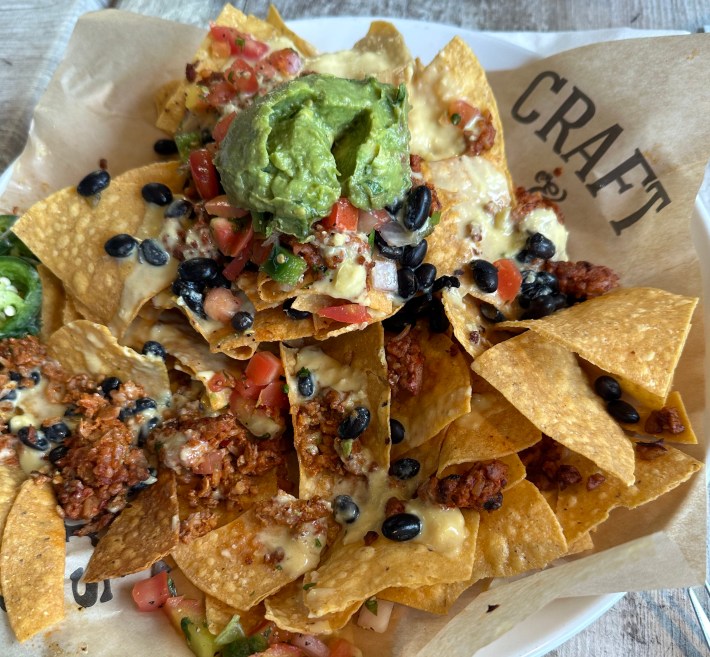 The Block Food & Drink
7007 Walker St., St. Louis Park; theblockslp.com
The Block entered their Jucy Lucy in the challenge. The patty was an Impossible burger, which has become the go-to vegan option for most casual restaurants. While I enjoy them on occasion, I feel they've lost their novelty. While it was fun to have the cheese melted within the patty, there really wasn't anything distinguishable about it. 
The nachos were great, though. They nailed their toppings-to-chips ratio and their vegan chorizo was flavored nicely. Even the cheese sauce was delicious and perfectly melted; I will definitely go back for these.
Total meal cost: $110 (one THC drink, one mocktail, nachos, two burgers; we also took advantage of the "pawtio" and got our dog meatloaf from the pet menu)
Rating: 5/10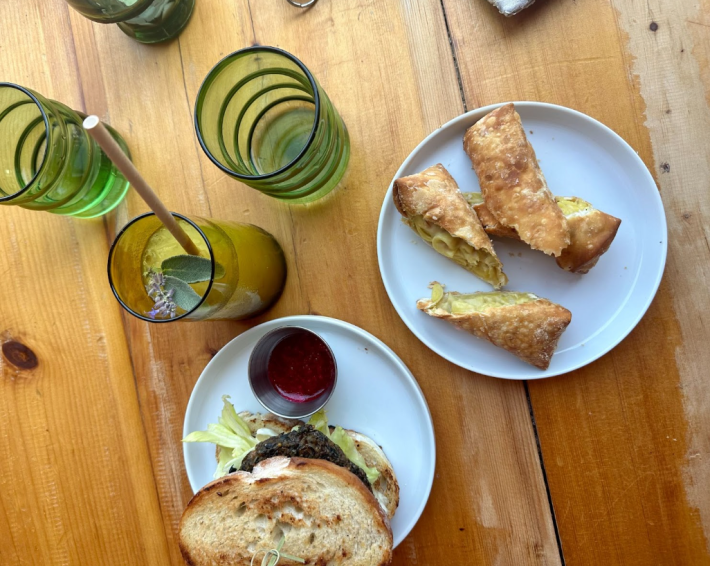 Hi Flora!
2558 Lyndale Ave. S., Minneapolis
I'm a sucker for excellent aesthetics, and Hi Flora! delivers. I'm pretty sure the water glass I drank out of was technically a votive holder, and I'm all for that level of repurposing. Fortunately, their food was equally appealing. It was refreshing to have a classic wild rice burger, not a patty by Beyond or Impossible. It felt like I was returning to my crunchy vegan roots. 
The wild rice was cooked down and mixed with flaxseed to create a perfect patty. People who are used to Beyond/Impossible faux meat may find wild rice patties lacking as they have a tendency to fall apart. But that's what I like about it: It's not trying to be meat. It has a richer, earthier taste, and pairing it with beet ketchup added the perfect touch. 
The cost of this burger was on par with any other vegan burger (~$15), but the quality of ingredients and overall experience made it well worth the price. 
Total meal cost: $58 (kava lemonade, wild rice burger, mac 'n' cheese vegrolls)
Rating: 10/10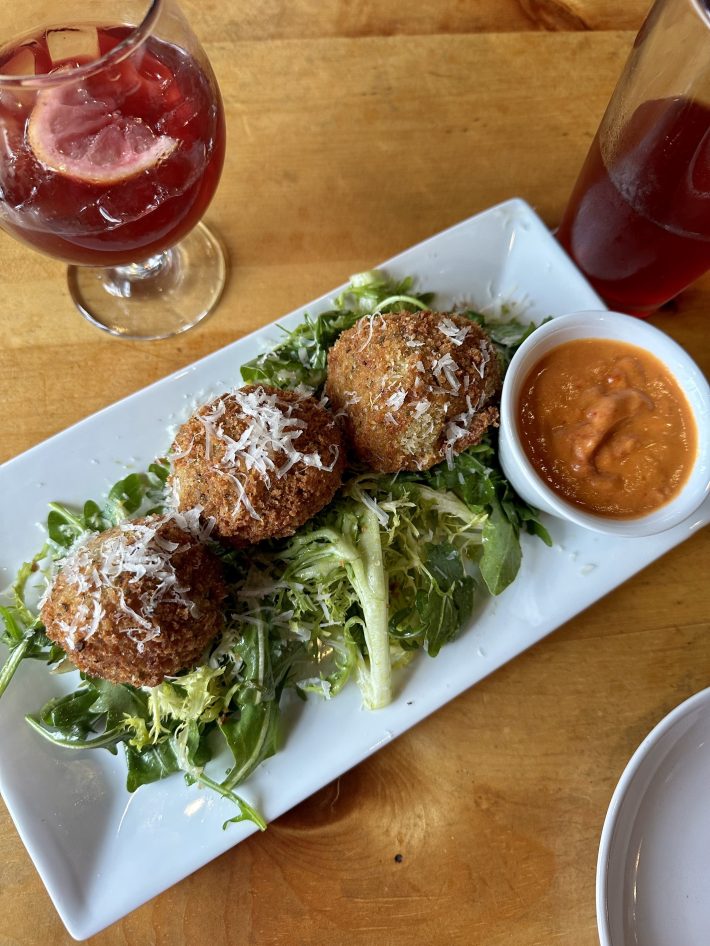 Reverie
1517 E. 35th St., Minneapolis; reveriempls.com
I didn't realize Reverie's challenge dish was only available during dinner, though it was clearly listed that way on the website—my bad! So when I arrived the first time I used my mistake as an opportunity to try the brunch, ordering the French toast with mango jerk sauce and coconut-lime creme fraiche. The bread was perfectly cooked; I only wished it had berries instead of mango (I'm basic like that and prefer a sweeter French toast). 
I returned later for dinner so I could try their chef challenge dish, a carbonara arancini. The outer shell was fried perfectly, and the noodles inside were silky and delicious. The carbonara sauce was the best part, though it was slightly bitter and could have used a bit more sweetness. Regardless, the meal showcased why they're a top player in the local vegan food scene and I'm excited to go back for more.
Total meal cost: $40 brunch (French toast, polenta rancheros, kombucha); $80 dinner (carbonara arancini, KBLT, Cuban sandwich, two kombuchas)
Rating: 8/10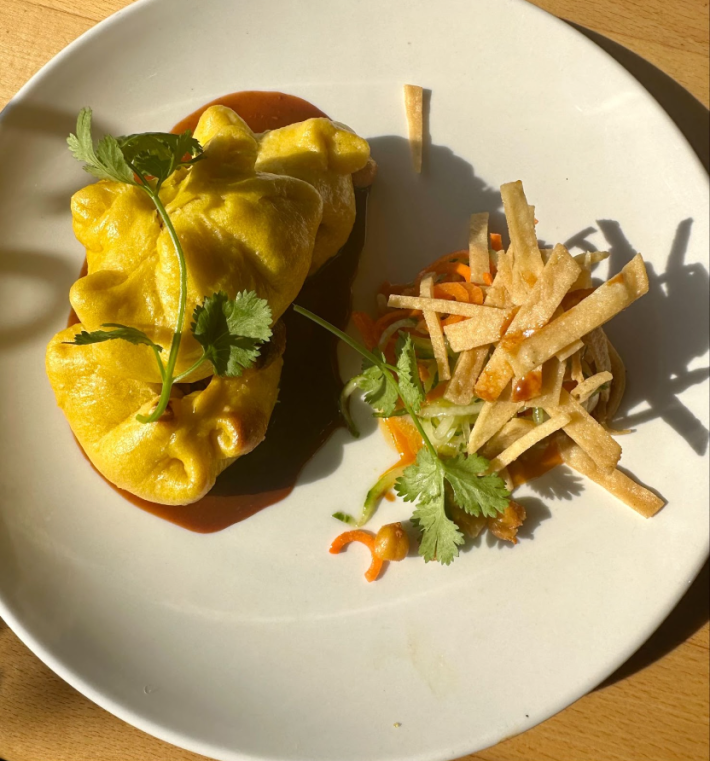 Book Club
5411 Penn Ave. S., Minneapolis; bookclubrestaurant.com
I made it here on the last day of the challenge and I'm so grateful that I did. I don't think I've had a better vegan meal than the carrot bao at Book Club. The steamed buns were so soft and springy. There were three on the plate and I wanted more—if only for the pleasure of cutting them open. The carrots and water chestnuts inside were so delicately cut they created one cohesive bite. And the small cucumber-carrot salad on the side added the perfect citrus touch to complete the flavor profile while the small, crunchy tortilla crisps on top helped balance out all of the soft textures. 
I likely wouldn't have ever visited Book Club were it not for the chef challenge. It's not listed on Happy Cow or any of the other prominent vegan food lists for the city. These are the kinds of meals that make me excited about the future of the vegan food scene in the cities: finding a new, undiscovered gem. 
Book Club was definitely on the spendier side of things (nearly $30 for the meal and a kombucha), but it was absolutely worth it. 
Total meal cost: $30 (carrot bao, kombucha)

Rating: 11/10 (please put this on the main menu!)
Stay in touch
Sign up for our free newsletter