October, in the opinion of Racket's entire editorial staff, is the most spooktacular of all the months, surpassing even November. So you can imagine our delight when the spooky-ass property listing for the ol' Pokegama Sanitorium came across the MLS.
For $99,000, you can own the .72-acre Pine City estate that still houses a tuberculosis hospital that operated from 1905 through 1944, according to the Pine City Area History Association. Featuring electric blankets, fresh-grown food, and telephone access, the facility was considered high-end in its prime, a lakeside retreat where patients could fight TB in a woodsy setting. (Click here to read about that era's anti-vax weirdos.)
Two fun Pokegama facts: Harold Stassen, the 25th governor of Minnesota, received treatment there in 1930; the healthy "Boy Governor" went on to seek the Republican presidential nomination a staggering seven times, all of 'em losses. Also, this pig!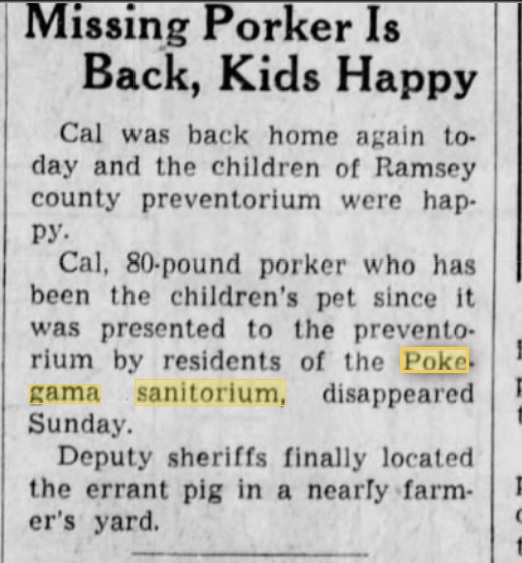 Pokegama would change hands—religious group, hospital, rehab center—until 1986. It's been vacant ever since.
But enough mind-enriching history! Let's talk mind-spookifying paranormal gossip. How haunted, exactly, is the creepy old Pokegama hospital? Not haunted enough to make the Star Tribune's recent roundup of Minnesota's most haunted places. But still pretty haunted, if we're to believe local ghost hunter Eric Moen.
"My belief in ghosts finally solidified after visiting the tuberculosis sanatorium in Pine City," Moen told the Pine City Pioneer in 2016.
The nonprofit that owns Duluth's Nopeming Sanatorium, which did make the Strib's list, has actually monetized its ghost population, offering "majestic (possibly haunted)" tours for $25.
So that's one idea for a Pokegama buyer. In the interest of journalistic due diligence, we reached out to the listing agent and asked if he'd like to discuss the potentially haunted property he's trying to sell. No word back yet.
Enjoy this urban exploration of the Pokegama Sanatorium.