I've considered that Good Times Pizza might truly, actually be cursed.
Back in April 2019, when I wrote about Good Times for the first time, it was because someone had been smashing all their windows, making a tough renovation job tougher still and delaying the Kingfield pizza shop's opening.
When Good Times Pizza finally did open, almost a year after that window-smashing story, it was February 2020. In March 2020… well, you know. Pandemic shutdown and all that. It wasn't until October 15 of last year that my esteemed former coworker Sarah Brumble finally wrote about an open, functioning, and wonderful-to-visit Good Times Pizza. Two weeks later, the Star Tribune shut down City Pages, rendering Brumble's delightful story mostly inaccessible.
So just know that in writing this, I could be jeopardizing my own future and the future of my Racket cofounders. And yet? I'm compelled to do it. I like Good Times Pizza that much, and I haven't seen stories about it in too many other local publications. (Hm, actually, looks like Southwest Journal did a write-up… oh. Oh no.)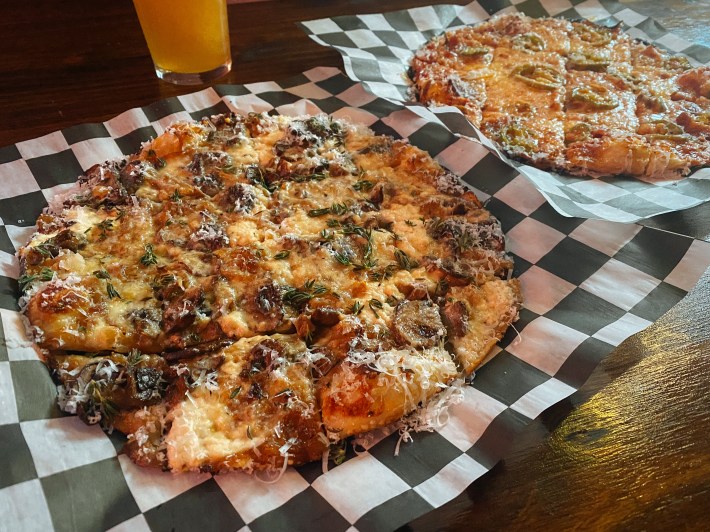 Just a few of the things about Good Times Pizza that are Good:
The Pizzas. They've got a handful of pies—pepperoni and pickle (trust us, it rules), a white pizza with toasted garlic, mushroom, and caramelized onion—and they all come dusted with Grana Padano. The crust is cracker-like but not quite; it's more of a… crepe crust? Thin and just the littlest bit chewy, not the hard crunch of some bar pies.
The Prices. How much does a bar Heggies go for these days? The cost is probably just a little bit higher here: $14 for a sausage and onion pie, $16 for a sweet and spicy number with Nueske's bacon, pickled chiles, and Mike's Hot Honey.
The Pitchers. You can get any of their draft beers in a pint glass ($6) or by the pitcher ($15). Just as it should be at any dive bar or neighborhood pizzeria.
I like the menu here, which is small but not too small: a few pizzas, a few salads, some tap beers and tallboys, some natural wines, soft serve ice cream. It suits the restaurant, which is small but not too small: three booths, counter seating along the kitchen and 38th Street window. There's serve-yourself popcorn; theres a big-ol' jukebox.
Good Times has the feel of a pizza place that's been in the neighborhood forever, if not quite pizza that feels like it's been in the neighborhood forever. When you call to place an order, it comes through on a black corded phone that brrrrings behind the counter. No digital bloops, no frills, and neon signs in every window.
If it turns out I've cursed us with this one, at least I had a good time doing it.