Events
Gobble Gobble Up Your Complete Concert Calendar: Nov. 21-27
Pretty much all the live music you can catch in the Twin Cities this week.
11:52 AM CST on November 21, 2023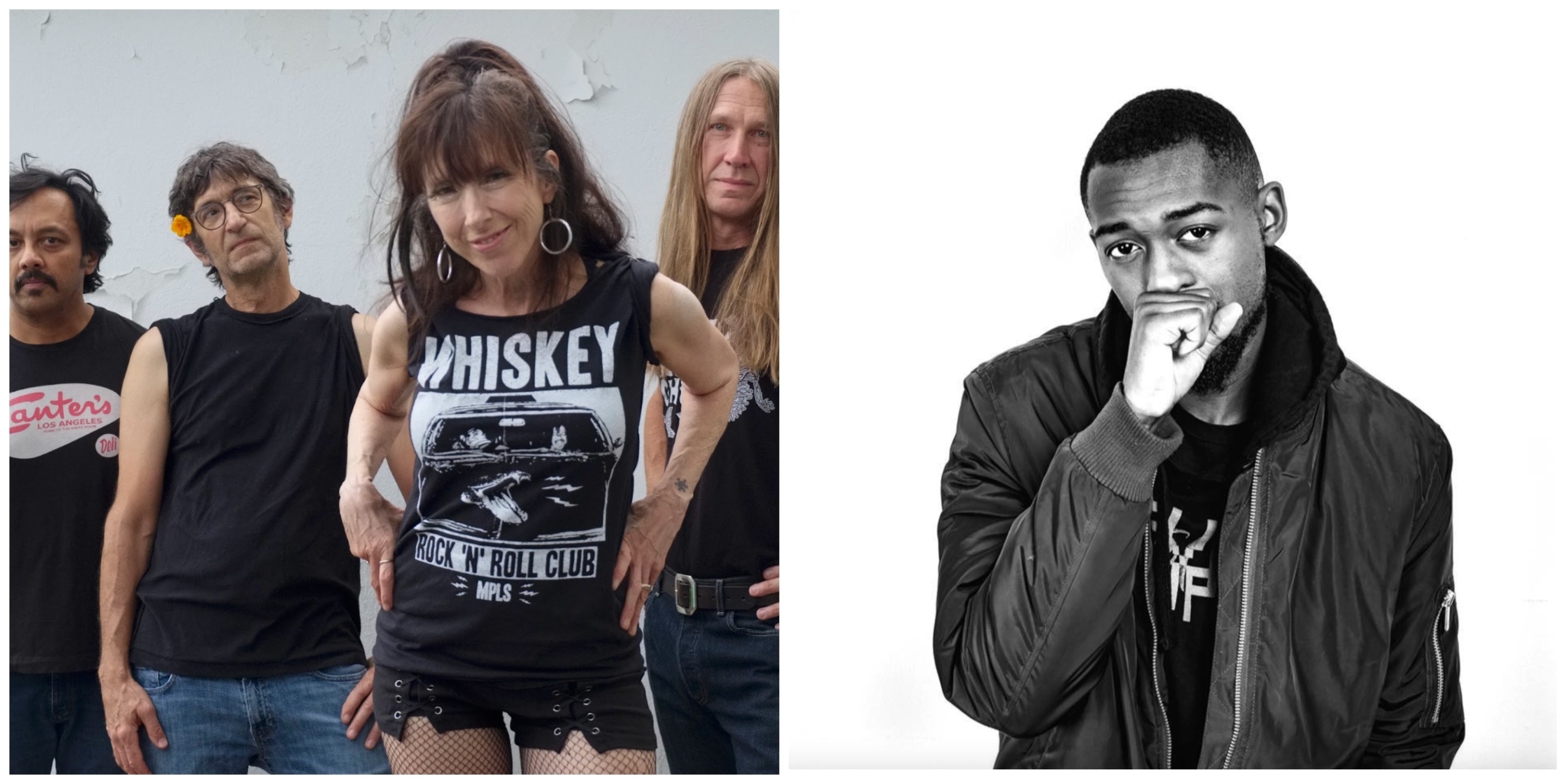 As with most holiday weekends, there won't be a lot of touring bands in town in the upcoming days. But that gives you a chance to catch up on some locals you've overlooked—and it's a great week for release parties.
Tuesday, November 21
International Reggae All Stars @ Bunkers
A Night of Classic Rock @ Dakota
St. Dominic's Trio @ Driftwood
Karaoke With On Call Entertainment @ Eagles 34
Coven and Lucifer with Early Moods @ Fine Line
Kevin Gamble Trio @ Green Room
Creatures of Prometheus + Dylan Hicks @ Icehouse
Explosion Big Band @ Jazz Central
River City Jazz Orchestra and Century Big Band @ Minnesota Music Cafe
Defacto Thezpian, Nur-D, The Pale Goblin @ Pilllar
NATL PARK SRVC with The Dalmatian Club, Yonder, and BIG DELICIOUS @ 7th St Entry
Industrial Strength with DJ Sin @ Terminal Bar
Worker's Playtime: Leadbelly Mpls House Concert Memorial Show @ 331 Club
November Conspiracy Series featuring ELOUR, Pandylion, Juniper Fly @ 331 Club
Two Steppin' Tuesdays with Mary Cutrufello & Dan Lowinger @ White Squirrel

Unattractive Giant Monster (Residency) with Linus, Drug League @ White Squirrel
Wednesday, November 22
Thankful For Taylor feat. Taylor's Version & Stuck In The Middle @ Amsterdam
MN Songwriter Showcase hosted by Nick Hensley @ Aster Cafe
Maggie's Wednesdays: Tom Hunter @ Crooners
Rogue Valley & Sophia Shorai Trio @ Dakota
The East Lakers, Gently, Gently @ Driftwood
Twin Cities Country Dancers @ Eagles 34
The Ike Reilly Assassination with The Shackletons and The Belfast Cowboys @ First Avenue
Friendsgiving feat. Miss Christine @ The Garage
Friendsgiving with Aiden Intro, Chutes, she's green, The Dalmatian Club, Ber, Caleb Dee, Landon Conrath @ Green Room
ELnO + DJ TimeMachine @ Hook and Ladder
Josh Granowski and Toivo Hannigan @ Icehouse
All Tomorrow's Petty @ Icehouse
The Good, the Bad & the Funky @ Minnesota Music Cafe
KFAI'S Desert Islands Presents Why Not Wednesdays with John Swardson & The Bad Blood and Theyself @ Palmer's
Kung Fu Hippies + You Enjoy Yourself @ The Parkway
Glass Eyed Brother @ ROK Music Lounge

King Kustom & the Cruisers @ Schooner Tavern
Boy Golden with Molly Brandt @ 7th St Entry
Harold's House Party on KFAI with Nikki Mattson and Rich Rue @ 331 Club
Cole Diamond's Tropical Depression (Alan Jackson Tribute) with Clare Doyle and Adam Brandt @ Turf Club
Nur-D @ Underground Music Venue
Classic Transmission @ Uptown VFW
Hardcore for Hardcore @ White Rock Lounge
Nights with Tim @ White Squirrel
Thursday, November 23
Jearlyn & Fred Steele @ Dakota
Karaoke with On Call Entertainment @ Eagles 34
LGBTQ+ Twin Cities Latin Dance @ Eagles 34
Disco Kings @ Minnesota Music Cafe
Palmer's Thanksgiving @ Palmer's
The Front Porch Swingin' Liquor Pigs @ Palmer's
Thanksgiving Night Jam @ Schooner Tavern
Friday, November 24
Colin Bracewell with League Two, Moonglow, & Bobby Rethwish @ Amsterdam
The 70s Magic Sunshine Band @ Bunkers
Introducing Becky M @ Crooners
Maggie's Afterglow: Maud Hixson and Rick Carlson @ Crooners
Kat Perkins: North Country Christmas @ Crooners
Nachito Herrera & Ginger Commodore @ Dakota
Radio Jo and the Jazzbos @ Eagles 34
Drug League, Cult Vibes, Butter Boys @ Eagles 34
God Johnson with Pleasure Pause and Geoffrey Fischbein @ Fine Line
Atmosphere with HEBL and NOFUN! @ First Avenue
Annie Humphrey (Record Release) with David Huckfelt, Keith Secola, and Jeremy Ylvisaker @ Hook and Ladder
Timisarocker, SYM1, Yhante, and Comrade Tripp @ Hook and Ladder
Thomas Strommen @ Jazz Central
Pat Mallinger Quartet @ KJ's Hideaway
Decimate X Boss Mode @ The Loft
In a Funk @ Minnesota Music Cafe
Gershwin's Rhapsody in Blue with Gabriel and Jeffrey Kahane @ Ordway
Sun Wave Mountain Cave, Larkspur, and Luverne @ Palmer's
Petty Comes Alive @ The Parkway
Mia Dorr's Funkin' Blusers @ Schooner Tavern
Pardyalone with Jon Wiilde @ 7th St Entry
Afro Preachah, Pee Wee Dread, and DJ Boom @ Terminal Bar
SolidState, Super Flasher, John Don't & the Morticians @ 331 Club
Ashbringer (Album Release) with Lungs + Eudaemon @ White Rock Lounge
Rat Castle Jazz Ensemble with Sunsets Over Flowers, Quarterback Club @ White Squirrel
Saturday, November 25
In Search Of Solace with Maul, Soulkeeper, and Careful Gaze @ Amsterdam
Step Sister, Grassface, Mold Wine @ Cloudland
Gypsy Mania Quartet @ Crooners
Bree Turner: Celebrating Tina @ Crooners
Maggie's Afterglow: Maud Hixson and Rick Carlson @ Crooners
Kathleen Johnson Presents: Classic Aretha @ Dakota
The Valors, Moy Dukksen, Alley Mattress @ Dusty's
Dream Addict, Teapot Tempest @ Driftwood
New Riverside Ramblers @ Eagles 34
James Frickle's DJ event @ Eagles 34
Megan Hamilton and The Sponges with MNTRA @ Fine Line
Nightchurch DiscoHouse @ Green Room
Urban Heat, Rare DM, and Stranger Gallery @ Hook and Ladder
Trinny Cee Presents: Give Thanks For Soca! @ Icehouse
Pavel Jany and World Jazz Collegium @ Jazz Central
Beatles Reimagined @ KJ's Hideaway
Atlantis Quartet @ KJ's Hideaway
High & Mighty @ Minnesota Music Cafe
Eat 30 After Party @ Myth Live
Home Alone in Concert @ Orchestra Hall
Gershwin's Rhapsody in Blue with Gabriel and Jeffrey Kahane @ Ordway
Atmosphere with HEBL and NOFUN! @ Palace Theatre
Joe's Bday Bash! with Betty Won't, Joe Roberto & Poverty Hash, Slim Stone, Mumblin' Drew @ Palmer's
Minnesota's Last Waltz @ The Parkway
JustHANO, DELTA9LIVES, SOLANA @ ROK Music Lounge
The Magnolias with North of Grand and Blow The FM Radio @ 7th St Entry
Jimmi & the Band of Souls @ Schooner Tavern
Chad Erickson & The Untimely, Renagade Escape, Ezekiel LaFostecasse @ Terminal Bar
Ruben, Ty Pow & The Holy North @ 331 Club
Lucky Turkey Dance Party @ Uptown VFW
Superfloor, Matt Caflisch, and Rank Strangers @ White Squirrel
Saturday is Instrumental with Big Trouble @ White Squirrel
Clidesfeld with Loser Magnet, Nothing But Nice @ White Squirrel
Pentatonix @ Xcel Energy Center
Sunday, November 26
Swing Brunch with Patty & the Buttons @ Aster Cafe
Mark Cameron Band @ Aster Cafe
The Big 70s Singalong, Vol. 2 @ Crooners
I Honestly Love You: Tribute to Olivia Newton-John and Anne Murray @ Crooners
Mother Banjo Band (Vinyl Release) @ Dakota
Phine Friends, Shotgun Ragtime @ Driftwood
Twin Cities Country Dancers @ Eagles 34
Karaoke with Reina Starr @ Eagles 34
Floodwater Angel, Dani Erin, Majoon Travellers @ Green Room
10.10.20 Project: Vocal & Shamisen Concert @ Hook and Ladder
Bethany Larson and the Bee's Knees with Andy Ulseth @ Icehouse
Home Alone in Concert @ Orchestra Hall
Gershwin's Rhapsody in Blue with Gabriel and Jeffrey Kahane @ Ordway
Church of Cornbread: Cornbread Harris and His Band @ Palmer's
Black Widows' Greatest Open Mic Ever @ Palmer's
The Larry McDonough Trio @ The Parkway
Carpool Tunnel and Chase Petra with Similar Kind and Greentop @ 7th St Entry
The Real Chuck NORAD @ 331 Club
Maxo @ Underground Music Venue
St. Paul Songwriter Rounds @ White Squirrel
Monday, November 27
Hexis with Sunless, Midwestlust, All You Need Is Kill, and Nothingness @ Amsterdam
Benefit for Lyndale Neighborhood Association with Heartfelt @ Driftwood
Tango Desperados Practilonga @ Eagles 34
World Music Monday @ Eagles 34
Liz Draper (November Residency) @ Icehouse
Auto-Tune Karaoke @ Mortimer's
Cowaoke with Ben Moooker @ Palmer's
$IAH, MVRROW, Popstar, and Identity Crisis with Bigg Kiaa @ 7th St Entry
Pop Wagner's Honky Tonk Ranch @ 331 Club
The Roe Family Singers @ 331 Club
Matt Arthur Contraption @ 331 Club
Hank Williams Tribute with Dan Newton, Dan Neale, and Dan Halen @ White Squirrel
Stay in touch
Sign up for our free newsletter