Events
Freeloader Friday: 65 Free Things To Do This Weekend
Drinking with Brewing Change, witchy tunes and art shows, and lots of home improvement expos are on the calendar.
7:03 AM CDT on March 31, 2023
Freeloader Friday is your weekly guide to having fun no matter what your budget looks like. Each week we have a list of 100% free events like gallery parties, music, and films in the park, as well as free admission events like special happy hours, markets, and more. For our picks of the week's best events, cost be damned, click here.
FRIDAY
Brewing Change Collaborative Anniversary
From its owners to its workers to its drinkers, the brewing industry is overwhelmingly white. But for the last several years, one local organization has been working to increase diversity, equity, and inclusion in the beverage biz. Brewing Change Collaborative is a nonprofit that provides education to breweries and their employees, and its members also brew beers in collaboration with area beermakers. This weekend at Arbeiter, they'll celebrate their fourth anniversary with the release of their BIPOC Brewing Pass, which gets current and prospective BCC members a drink on the house at Arbeiter, Broken Clock, Dangerous Man, Dual Citizen, Modist, Pryes, Sociable Cider Werks, and Wooden Ship Brewing Company. You can find more info here. Free. 6 p.m. Arbeiter Brewing Co., 3038 Minnehaha Ave., Minneapolis.—Em Cassel
Lovely Dark, Cult Sequence, Another Night
Witchy, psychedelic, dark tunes of spookiness. 21+. 9 p.m. 331 Club, 331 13th Ave. NE, Minneapolis.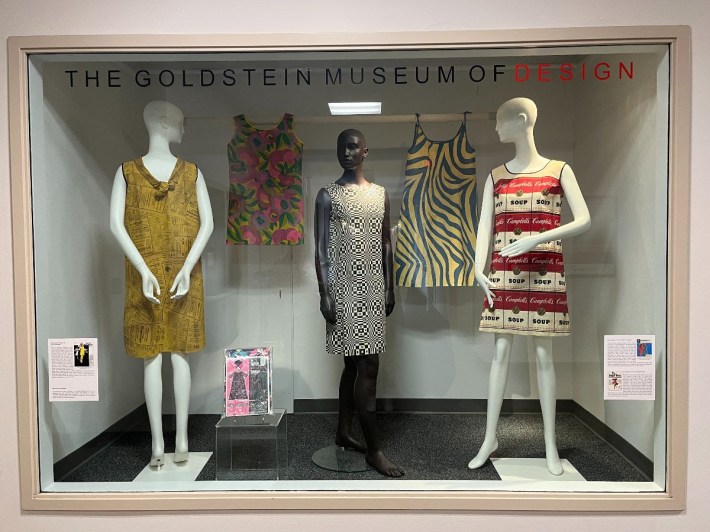 Not Just for Dolls: Paper Dresses
Fast-fashion who? Flame-retardant clothing what? This tiny exhibition in McNeal Hall's back glass case features paper dresses from the '60s. Goldstein Museum of Design, 1985 Buford Ave., St. Paul.
Pelicant, Ghost Kitchen, Uncle Jesse's Comb
Rock-jazz, sho-gaze, regular rock–what a combo! 21+. 8 p.m. White Squirrel Bar, 974 W. Seventh St., St. Paul.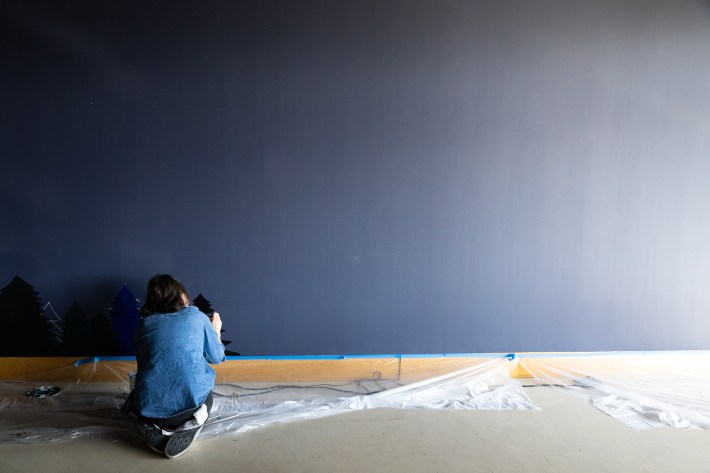 "We Are Still Here" Mural Artists Celebration
Under the guidance of mentor artist Thomasina TopBear, artists have created a collaborative mural spanning four walls of the gallery. See it at tonight's reception. 5-6:30 p.m. All My Relations Gallery, 1414 E. Franklin Ave., Minneapolis.
Amanda Grace
Folk rock. 6-8 p.m. Utepils Brewing, 225 Thomas Ave. N., Minneapolis.
The Blizzard of Bedlam
Irish tunes. 9 p.m. to 12:45 a.m. The Dubliner Pub, 2162 University Ave. W., St. Paul.
The Ring Toss Twins' Disco & Funk Vinyl Night
Dress for the era for the chance to win prizes. 6 p.m. Forgotten Star Brewing, 38 Northern Stacks Dr., Fridley.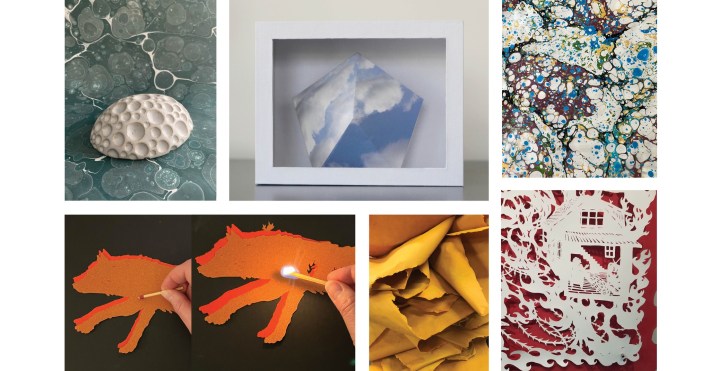 The 2020 & 2021 McKnight Book Artist Fellows' Closing Reception
Check out work from Paula McCartney, Lisa Nebenzahl, Mary Hark, and Sonja Peterson. 6-8 p.m. Minnesota Center for Book Arts, 1011 Washington Ave. S., Minneapolis.
Art Battle Minnesota
A live competitive painting tournament. Watch high schoolers at 3 p.m.; then 12 pros make three works within 45 minutes each round starting at 5 p.m. After, the crowd votes on their favs. 2-8 p.m. Mall of America – Huntington Bank Rotunda.
To Sally, Paintings by Dan Stallsworth
Meet this local artist with cerebral palsy who uses an adaptive head apparatus to create paintings. The opening reception runs fron 6-8 p.m. on Friday, followed by an open house event 2-4 p.m. Saturday and Sunday. Living Well Disability Services Offices, 1168 Northland Dr., Mendota Heights.
RuPaul's Drag Race Viewing Party
This weekly event includes drink specials and the chance to win free shots. 7-9 p.m. On the RoX, 1333 Nicollet Mall, Minneapolis. 
Friday Night Open Mic
21+. 10 p.m. The Comedy Corner Underground, 1501 S. Washington Ave., Minneapolis.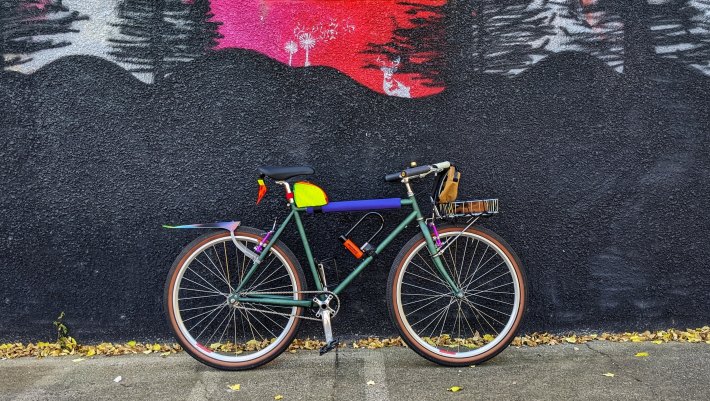 SATURDAY
30 Days of Biking 2023 Kickoff Ride
The forecast is showing sunshine and a high of 37 this Saturday—better weather than we get some years for the start of 30 Days of Biking. If you're not familiar, this annual springtime cycling celebration invites riders to pledge to ride their bikes every day during April. The distance doesn't matter, nor does the destination, the point is that you get out there and have some fun on two wheels. This April 1 family-friendly kickoff ride starts at Graze Provisions + Libations in the North Loop, and takes riders on a leisurely (and short) ride along the Mississippi, before returning to Graze for drinks and snacks. Dig out your helmet, pump up your tires, charge your lights, and get ready to ride! Oh, and find more info here. Noon to 4 p.m. Graze Provisions + Libations, 520 N. Fourth St., Minneapolis.—Em Cassel
Playwright Incubator Program Showcase
Featuring 8 playwrights workshopping 45-minute works-in-progress created via the New Arab American Theater Works' new program. Find the full schedule here. 1:30-7 p.m. Saturday; 2-6 Sunday. Open Book, 1011 S. Washington Ave., Minneapolis. 
Vintage & Makers Market
Juniper Lou Markets hosts this monthly series. 11 a.m. to 4 p.m. Earl Giles Distillery, 1325 Quincy St. NE, Minneapolis.
Black Garnet Books and Handcrafted Art Fair
Handmade items from local BIPOC and queer artists and makers. 2-5 p.m. Black Garnet Books, 1319 University Ave. W., St. Paul.
Spring Open Studios
Whether it's the dead of winter or the dog days of summer, most weekends you can find at least one good artist studio open house in the Twin Cities. This weekend, it's at Artblok, one of those quirky old buildings in the Northeast. During the day, over 30 artists will open the doors to their spaces for demonstrations, receptions, and special sales. A few things teased on Artblock's Facebook page: ceramic pill boxes, paintings of bird skulls, tiny hand-carved stone houses, and watercolor paintings capturing the little moments of the Twin Cities. The building itself is full of oddities as well; once a General Mills lab, it's actually the birthplace of Wheaties and Cheerios, as well as the first Minneapolis skyway. Noon to 8 p.m. 2010 Artblok, 2010 E. Hennepin Ave., Minneapolis. —Jessica Armbruster
Bumbling Fools' Soft Opening
It's a new meadery in the basement of Artblok. Follow the twinkling lights and bees under the Grotto area to try mead samples, with bottles of the sweet stuff for sale all day. Noon to 8 p.m. 2010 Artblok, 2010 E. Hennepin Ave., Minneapolis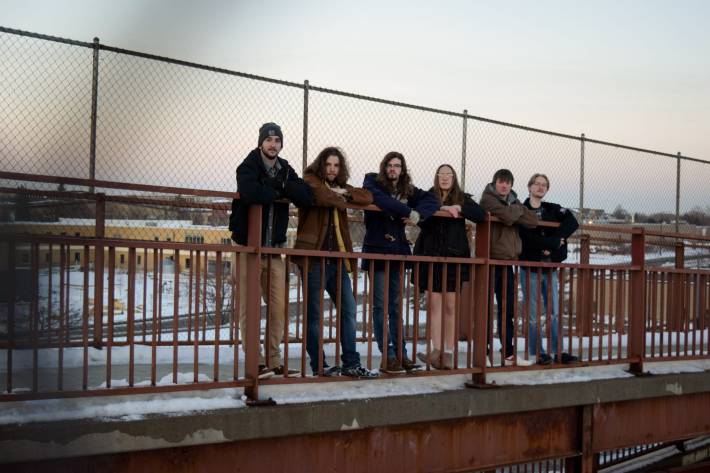 Woodzen, Emmy Woods and The Red Pine Ramblers, Sammie Jean
Groovy indie rock. 10 p.m. to 1 a.m. 331 Club, 331 13th Ave. NE, Minneapolis.
Keg and Case Weekend Market
Featuring handmade soaps, geeky pins, CBD tinctures, sweets, dog products, and more. 11 a.m. to 8 p.m. Saturdays and Sundays through April. Keg and Case Market, 928 7th St. W., St. Paul.
13 Gears Steampunk Event
Featuring live music, contests, and around 20 local artists, vendors, and makers. Noon to 6 p.m. Saturday and Sunday.  Royal Foundry Craft Spirits, 241 Fremont Ave. N., Minneapolis.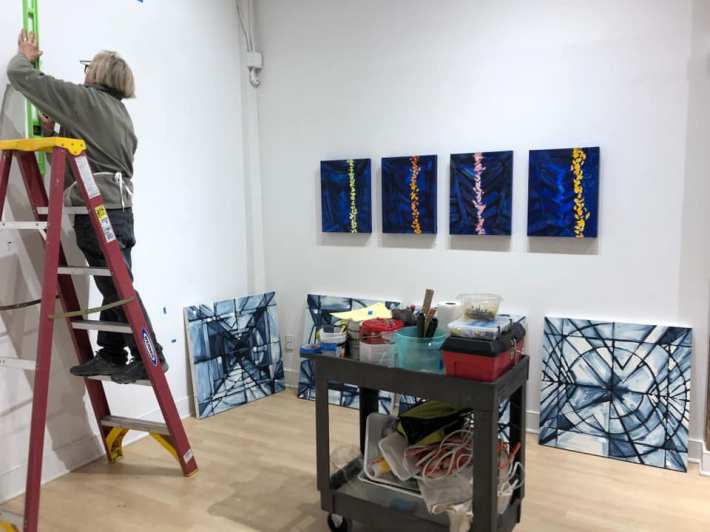 Opening Reception: The Laughter of Nature
Featuring new painting and poured drawings by Elizabeth Erickson. 1-3 p.m. Form+Content Gallery, Whitney Square Building, 210 North Second St., Minneapolis.
Beer Poking in the Beer Garden
2-5 p.m. Utepils Brewing, 225 Thomas Ave. N., Minneapolis.
11 Wells Spirits Seasonal Menu Release Party
Featuring a new food and cocktail menu, live music from The Infernos and Matter Yetter, free distillery tours, and more food from High Society Eats. 3-10 p.m. 11 Wells Spirits, 704 Minnehaha Ave. E., St. Paul.
Boombox Agenda
Hot tip: there will also be lazers. 3-10 p.m. Headflyer Brewing, 861 E. Hennepin Ave., Minneapolis.
Making Faces at the World
New work by Richard Wehrs. 6-11 p.m. Rogue Buddha Gallery, 357 13th Ave. NE, Minneapolis.
The Cracked Pot Studio's Grand Opening
Explore the new space. With tours, demos, hands-on experiences, snacks, and refreshments, plus pot-making for $10. Noon to 5 p.m. The Cracked Pot Studio, 4301 E. 54th St., Minneapolis.
April Ghouls Day Makers Market
AnnaBOMBB and Edie Makes Things host this afternoon featuring over 25 spooky/witchy/goth makers and bakers, set to emo tunes. Noon to 6 p.m. Artspace Jackson Flats, 901 18th 1/2 Ave NE, Minneapolis
Life On A String
Acoustic. 7-10 p.m. 612 Brew, 945 Broadway NE, Minneapolis.
Manchester City FC vs Liverpool (PL)
Soccer at dawn! 6:30 a.m. Brit's Pub, 1110 Nicollet Mall, Minneapolis.
St. Louis City vs. Minnesota United
Evening soccer! 7:30 p.m. Brit's Pub, 1110 Nicollet Mall, Minneapolis.
Edgcumbe Craft Fair
Featuring over 30 crafters. 10 a.m. to 3 p.m. Edgcumbe Recreation Center, 320 Griggs St. S., St. Paul.
Kids Yoga with Miss Lydia in English and Spanish
Bilingual kids' yoga! Bring a mat, towel, or small rug. 10:30 a.m. Midtown Global Market, 920 E. Lake St., Minneapolis.
Literary Bridges
Diane Jarvenpa, Dralandra Larkins, Lora Robinson, John Medeiros read from recent works. 2 p.m. Next Chapter Booksellers, 38 S. Snelling Ave., St. Paul.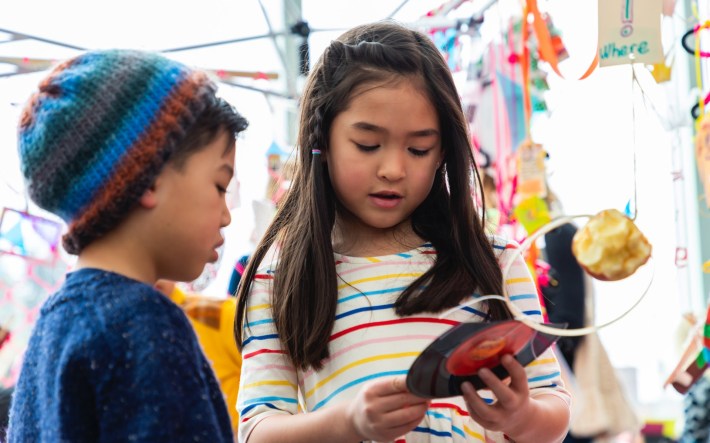 Free First Saturday: You Pick
Featuring art kits, activities, film screenings, and more. 10 a.m. to 3 p.m. Walker Art Center, 725 Vineland Place, Minneapolis.
Colby Martin
The author discusses The Shift: Surviving and Thriving after Moving from Conservative to Progressive Christianity. 2 p.m. Grace-Trinity Community Church, 1430 W. 28th St., Minneapolis.
Spring Music Festival
Featuring performances from Todd Michael Jameson, Crossroads String Duo, Ghost Wagon, and Mae Simpson Saturday; That's So Mariana, Matthew Schmitz, Annabelle, and Partners in Praise Girls and Young Women's Choir Sunday. 11 a.m. to 7:30 p.m. Saturday; 11 a.m. to 6 p.m. Sunday. Mall of America Rotunda.  
Apple Valley Home & Garden Expo 2023
Featuring a free seminar with KARE 11's Bobby Jensen, vendors, info on services, grilled eats, fire trucks, free face painting, and kids' crafts. 9 a.m. to 3 p.m. Eastview High School, 6200 140th St. W., Apple Valley.
Eagan Home Show 2023
Meet 120 home improvement companies, including remodelers, builders, landscapers, painters, interior designers, kitchen and bath renovators, decks folks, driveway people, architects, and more. 10 a.m. to 4 p.m. Eagan Community Center, 1501 Central Pkwy., Eagan.
Artisan Market & Craft Fair
Featuring 80+ crafters and small business vendors, plus food and drink. 10 a.m. to 4 p.m. Courtyards of Andover, 13545 Martin St. NW, Andover.
Oakdale Spring Food Trucks Fun
This mini food truck fest features 8 trucks on Saturday and 5 trucks on Sunday. See the lineup here. 11 a.m. to 6 p.m. Saturday; noon to 4 p.m. Sunday. Fleet Farm Oakdale, 5635 Hadley Ave. N., Oakdale. 
Luce Luau
Featuring three food trucks, tunes from DJ Juice, yard games, a limbo competition, and beer. 1-10 p.m. Luce Line Brewing, 12901 16th Ave. N., Plymouth. 
Grunge Unplugged
7-10 p.m. Torg Brewery, 8421 University Ave. NE, Spring Lake Park.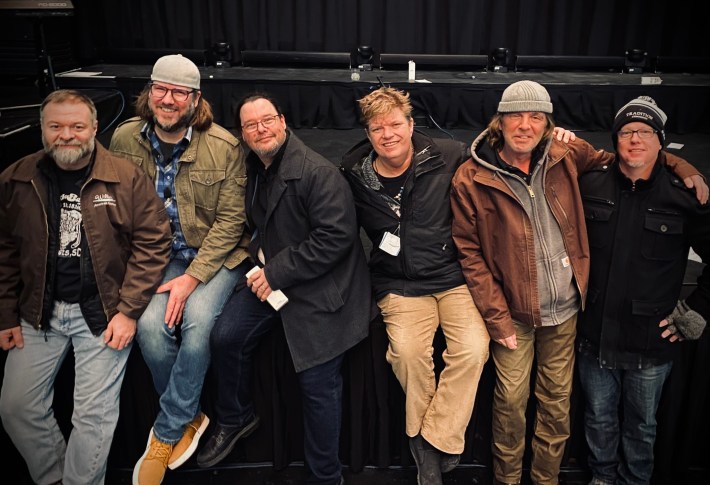 April Fu's Day with Kung Fu Hippies
7:30 p.m. Excelsior Brewing Company, 421 Third St., Excelsior.
Last Call Saturdays
Weekly event features drink specials, DJ tunes, light shows, beer pong, bar games, and giant Jenga. 10 p.m. to midnight. Last Call MN, 26 N. Fifth St., Minneapolis. 
Nature Rocks! Outdoor Center Open House
Weekly events include free family-friendly activities such as hiking, hands-on interactions with live animals, craft projects and more. Through May 27. 10 a.m. to 1 p.m. Eden Prairie Outdoor Center, 13765 Staring Lake Pkwy, Eden Prairie.
Yoga at Union Depot
Hosted by Studio 9-to-5. Bring a mat and some water; sign up here. 9 a.m. Union Depot, 214 Fourth St. E., St. Paul.
Farmers' Markets
Downtown Winter Market 
9 a.m. to 1 p.m. St Paul Farmers Market, 290 East Fifth St., St. Paul.
Minneapolis Farmers Market
Fresh produce, plants, and locally made products. 9 a.m. to noon. 312 Lyndale Ave. N., Minneapolis.
Mill City Farmers Market
With over 40 local farmers, makers, and more. 10 a.m. to 1 p.m. Mill City Museum, 704 S. Second St., Minneapolis.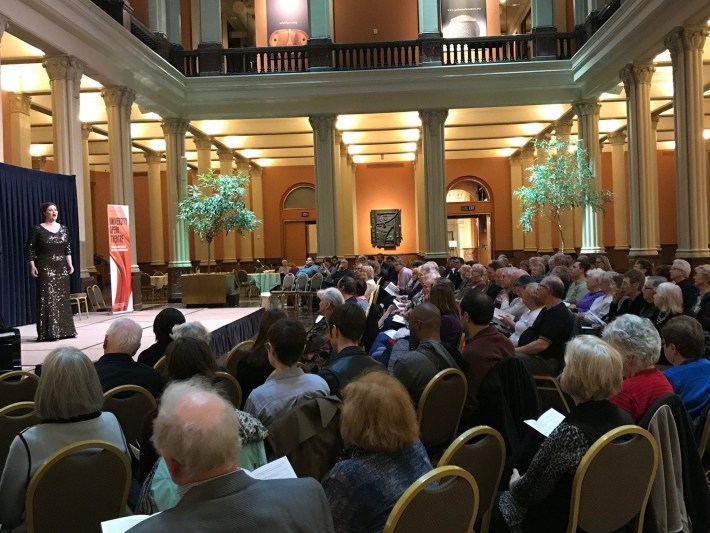 SUNDAY
Sundays at Landmark: Skylark Opera
1-3 p.m. Landmark Center, 75 Fifth St. W., St. Paul.
Mill City Reading Series
5 p.m. Magers & Quinn, 3038 Hennepin Ave. S., Minneapolis.
Corpse Reviver: April
With Christa Rubsam. 4 p.m. 331 Club, 331 13th Ave. NE, Minneapolis.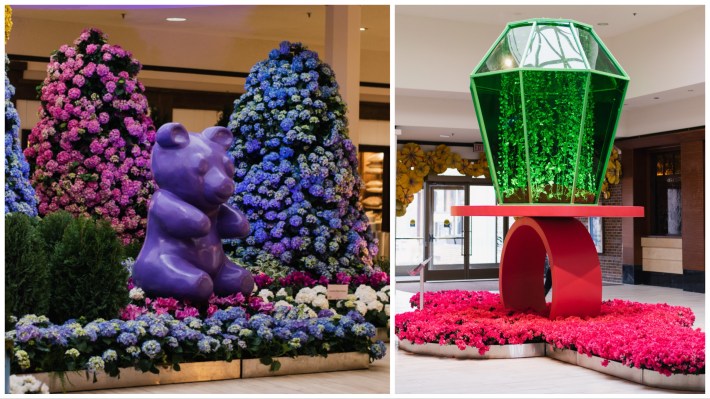 Galleria Floral Experience: World of Wonder
Bachman's creates whimsical plant-based installations throughout the mall. This year's theme features fairies, crystals, and flowers, and runs through April 9. Galleria, 3510 W. 69th St., Edina.
Squirrel Chess Club
Bring a board and your chess friends. 5 p.m. White Squirrel Bar, 974 W. Seventh St., St. Paul.
Varsity Gaymes
Weekly event features spots on TVs, beer pong, and other bar games. 2 p.m. LUSH Lounge & Theater, 990 NE Central Ave., Minneapolis.
Stay in touch
Sign up for our free newsletter