Events
Freeloader Friday: 39 Free Things To Do This Weekend
May Day celebrations, Indie Bookstore Day, and a 30 Days of Biking ride are all free this weekend.
5:20 AM CDT on April 29, 2022
Freeloader Friday is your weekly guide to having fun no matter what your budget looks like. Each week we have a list of 100% free events like gallery parties, music, and films in the park, as well as free admission events like special happy hours, markets, and more.
Stay in Touch
Sign up for Our Free Newsletter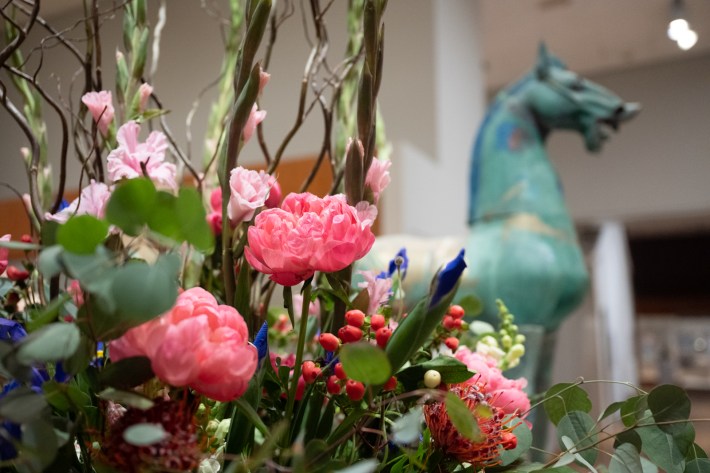 FRIDAY
Art in Bloom
One great sign of spring? Art in Bloom, an annual event where florists interpret pieces from Mia's collection as flower arrangements. Fun scheduled throughout the week includes free tours, both offered in-person and online. A morning lecture on Thursday will explore the ways in which flora inspires art, and Saturday's schedule features flower arrangement demonstrations from Bachman's. Sunday afternoon is all about kid-friendly fun, including making a May Day flower crown. Tip: While floral pieces will be on display for four days, it's best to get to the museum earlier than later. Flowers are, after all, one of the most impermanent arts. Most events are free, but many require tickets. Check online for more info, and check out our photo guide. Minneapolis Institute of Art, 2400 Third Ave. S., Minneapolis. Through Sunday–Jessica Armbruster
Bad Idea, Die Ghost, Sexcells
Live music. 7 p.m. NorthStar Bar and Grill, 883 Payne Ave., St. Paul.
Andrew Kneeland, Tom Flip, KC McKee
Live music. 21+. 9:30 p.m. 331 Club, 331 13th Ave. NE, Minneapolis.
Cola Horse
Live music. With Baltic Avenue, Timisarocker, and Neighborhood Watch. 12+. 8 p.m. White Squirrel Bar, 974 W. Seventh St., St. Paul.
Matt Jennings Electric Duo
Live music. 6:30-9:30 p.m. Number 12 Cider, 614 N. 5th St., Minneapolis.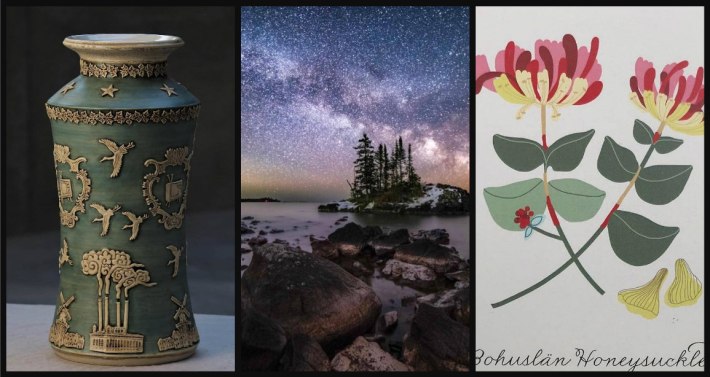 St. Paul Art Crawl: Schmidt's Artist Lofts
For St. Paul's 2022 Spring Art Crawl, the long-running event is doing things a little differently. They'll be spacing things out over the course of several weeks rather than hosting the festival over the course of three days. Last week, festivities were concentrated in studios and galleries in the Cathedral neighborhood of St. Paul. This week, the St. Paul Art Collective is focusing on West Seventh Street, with the Schmidt Artists' Lofts opening its doors for a variety of fun. Over 60 artists will be opening up their studios and inviting folks to check out their work. That includes gorgeous stationary from Lisa Rydin Erickson, intricate (but usable!) ceramic from Brad Menninga, cityscapes and night skies from Lisa Roy Photography, and soaps and candles from Lien's Light of Lotus. Up next week: the Dow Building and the Midway Triangle Building. Find more info on upcoming events here. 6 to 9 p.m. Friday; noon to 7 p.m. Saturday; noon to 7 p.m. Sunday. Schmidt Artists' Lofts, 900 - 876 West Seventh St., St. Paul. Through Sunday–Jessica Armbruster
The Motion Mosaic, Begravement, Solshade
Live music. 6 p.m. Caydence Records & Coffee, 900 Payne Ave., St. Paul.
Grand Opening
Free food! 10:30 a.m. to 1 p.m. Stalk & Spade, 3925 W. 50th St., Edina.
Pop-up Consignment Sale
Featuring clothing, housewares, DVDs and tapes, local craft vendors, and more. 10 a.m. to 6 p.m. Friday; 9 a.m. to 3 p.m. Saturday. 6868 Washington Ave. S., Eden Prairie.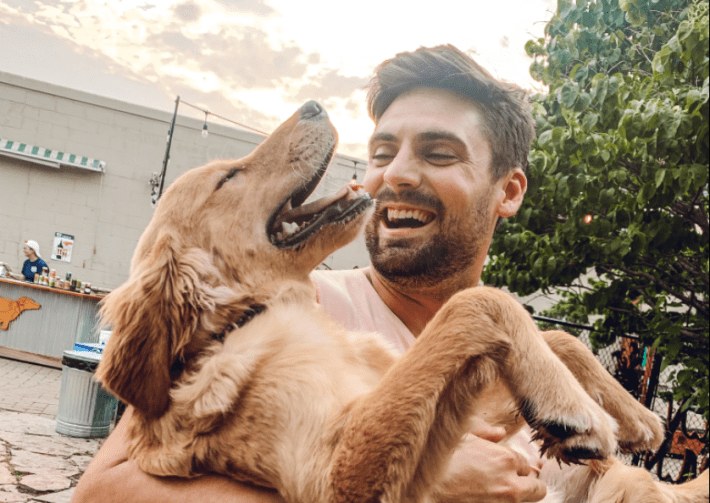 Patio Grand Re-Opening Pawty
Featuring $1 off canned drinks, a new food menu to order from, and dog-friendly vibes. 4-9 p.m. Unleashed Hounds and Hops, 200 E Lyndale Ave. N., Minneapolis.
Adult Game Night
Featuring drink specials, DJ tunes, and games, including giant Jenga, Uno, Connect 4, dominoes, and more. There's also karaoke every 1st and 3rd Fridays of the month. Hyde Kitchen & Cocktails, 24 University Ave. NE, Minneapolis. 
Friday Night Open Mic
Live comedy. 21+. 10 p.m. The Comedy Corner Underground, 1501 S. Washington Ave., Minneapolis.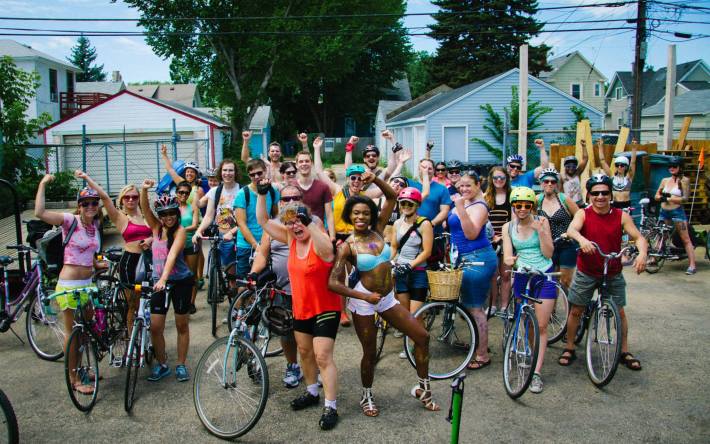 SATURDAY
30 Days of Biking Finale
A critical mass bike ride that aims to increase visibility and support for new bike lanes as part of the Livable Lowry Project. 6:20 p.m. Recovery Bike Shop, 2504 Central Ave. NE, Minneapolis.
Minnesota Vixen vs. St. Louis Slam
Watch the bad-ass women's full-contact football team as they compete. With MN Vixen Hazy IPA on tap and food from Bill Green's BBQ. 8 p.m. Broken Clock Brewing Collective, 3134 California St. NE, Minneapolis. 
Indie Bookstore Day/May Day
Special sales, activities, and giveaways includes 15% of gardening, tarot, and witchcraft/magic books and supplies, free native pollinator seed packets, tarot readings, and coloring pages for kids. Noon to 5 p.m. The Irreverent Bookworm, 5163 Bloomington Ave., Minneapolis.
Independent Bookstore Day
Featuring drink specials, scones inspired by book characters, deals, and author meet-and-greets with Mindy Mejia, Jennifer Wilson, and Jess Lourey. 9 a.m. to 7 p.m. Cream & Amber, 1605 Mainstreet, Hopkins.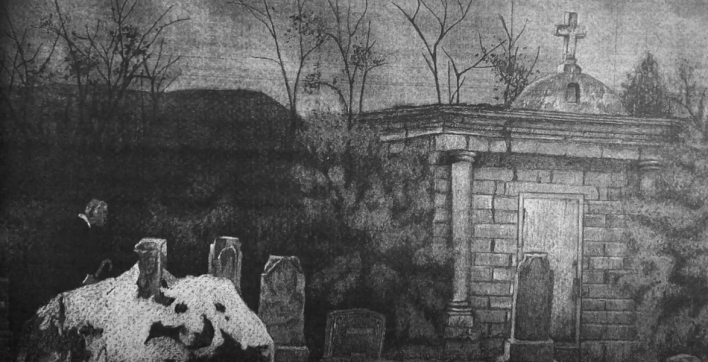 A Cursed Tale Gallery Event
Author/illustrator Jane Ryan and book artist Theresa Angelo host a gallery exhibition based on their book, A Cursed Tale loosely based on the Timpano Crypt of Hibbing. 4-7 p.m. A-Mill Artist Lofts, 315 Main St. SE, Minneapolis.
Hell Burnin' Sinners
2 p.m. Broken Clock Brewing Collective, 3134 California St. NE, Minneapolis.
Thoughtful Dialogue: 15 Years of Form+Content
Group exhibit featuring past and current artist-members. There's an opening reception from 6 to 8 p.m. Form + Content Gallery, 201 N. Second St., Minneapolis.
St. Paul Art Crawl: Friedli Gallery and Studio
Noon to 7 p.m. Saturday; noon to 5 p.m. Sunday. Friedli Gallery, 943 Seventh St. W., St. Paul.
The Vibe
Featuring Billy Joel, R.E.M., and U2 (not in person). 7 p.m. 612 Brew, 945 Broadway NE, Minneapolis.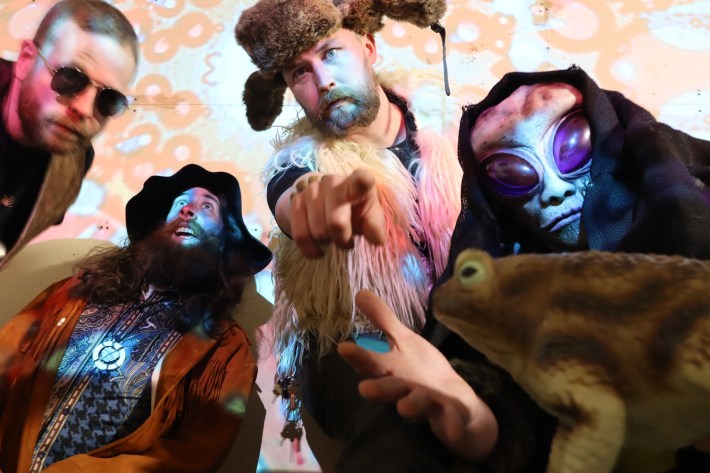 Erik's Iridescent Tent, Atomic Energy Commission, Lunar Moth
Live music. 10 p.m. 331 Club, 331 13th Ave. NE, Minneapolis.
Grunge Unplugged
Live music. 7 p.m. Torg Brewing, 8421 University Ave. NE, Spring Lake Park.
Erik Christenson
Live music. 7 p.m. Boom Island Brewing, 5959 Baker Rd., Minnetonka.
Free Saturday Yoga at Union Depot
Bring a yoga mat, water, and towel if you need them. 9 a.m. Union Depot, 214 Fourth St. E., St. Paul.
Mill City Farmers' Market
With local farmers, artisans, ceramics, giftables, food, and more. 10 a.m. to 1 p.m. Mill City Museum, 704 S. Second St., Minneapolis.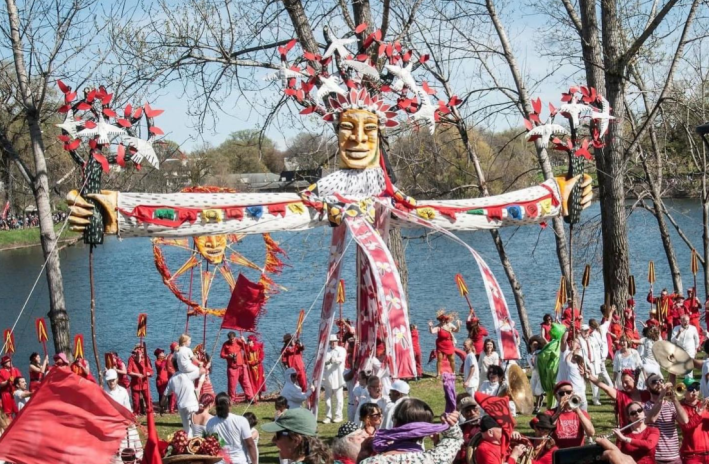 SUNDAY
MayDay Festival 2022
After taking two years off to restructure, reboot, and, you know, avoid Covid, the MayDay Festival is back. But don't expect it to look and feel exactly the same this year: "It's not a parade, it's a political-cultural festival," the press release begins. So what exactly is going on this year? A mix of protest, artists' work on display, and kids' activities. Kalpulli KetzalCoatlicue, an Indigenous learning group that teaches and celebrates Aztec dance, has chosen this year's themes: immigration and International Workers' Day. Meanwhile, Native American nonprofit MIGIZI has been working with kids to create puppets for the festival. The afternoon event will also include speeches from activists, poetry performances, and other entertainment onstage. Food trucks will be stopping by, and there will be hands-on fun for kids. 1 to 4 p.m. Four Directions Family Center Parking Lot, 1527 E. Lake St., Minneapolis.--Jessica Armbruster
In the Spirit of MayDay
Reverie and Modus Locus celebrate the day with food, drinks, and live music from Tufawon, SYM1, Oya's Ra-Dio, Brass Solidarity, and Ngange and the Masses. 1-7 p.m. 1517 E. 35th St., Minneapolis.
Loring Alley Live Music Festival
Featuring food and N/A beverage, plus music by Carnage the Executioner, World Jazz Collegium, Vittorio and the Bridges, The Orange Goodness, Frederick the First, The Annie Mack Duo, and Al Church. 1:30-8 p.m. 1634 Harmon Place, Minneapolis.
Ladies, Lyrics, and Lagers
Music from Carson Rose Schneider and Kara Morgan. 5 p.m. OMNI Brewing Co., 9462 Deerwood Ln., Maple Grove.
American Primitive Guitar Series with Jeff Ray
21+. 3 p.m. 331 Club, 331 13th Ave. NE, Minneapolis.
Game Night
Chris H. stops by with board games. Or bring your own. Noon to 5 p.m. LynLake Brewery, 2934 Lyndale Ave. S., Minneapolis.
Open Mic Night
Music, poetry, comedy, whatever is welcome. Sign up at 4:30 p.m. The Cave at Keg and Case Market, 928 W. 7th St., St. Paul.
Stay in touch
Sign up for our free newsletter