You've gotta give it to the Travail Collective: Those folks aren't afraid to continually reinvent themselves. 
Natalia Mendez noted as much in Racket's review of Nouvelle Brewing earlier this year. Their original restaurant, Travail Kitchen & Amusements, has bounced all over Robbinsdale, hopping bird-like from location to location to location with a refocused, refreshed vision each time. (The Basement Bar below their latest iteration is an especial treat.) Nouvelle Brewing wouldn't exist if the collective hadn't shuttered Pig Ate My Pizza, a decision they made despite the "beloved" status PAMP had acquired during the course of its nine-ish years.
So it's practically unsurprising that after closing Minnesota BBQ Co. in October, their latest surprise has been to shift from smoky to sweet, quietly bringing the northeast Minneapolis space back to life earlier this month as Dream Creamery.
Gone is the BBQ Co.'s bold black-and-red exterior, which has been painted a refreshing white and adorned with a colorful 8-bit LED sign. The inside has been redesigned too, with white walls and pink neon. A freezer full of ice cream pints occupies one corner of the pint-sized space, with colorful laminated menus in pixelated print scattered throughout the interior—a hallway, essentially, where a line of hungry folks forms and stretches out the door next to a dozen or so wooden picnic tables.
One thing Dream Creamery does have in common with its predecessor? The glorious smell of meat, which wafts through the air and entices you in from down the block. Because Dream Creamery isn't just a scoop shop. They're taking a page from the Bebe Zito playbook (where co-owner Nathan Mickelsen made magic before joining the Dream team), serving a small menu of smash burgers, lobster and shrimp rolls, fries, and curds alongside their inventive ice cream offerings.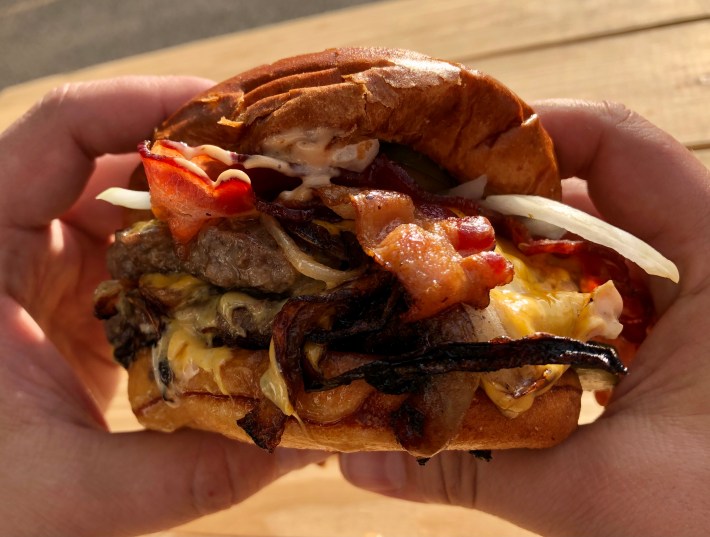 The whole thing comes together like a delightfully cheffed-up, modernized version of their neighbors at DQ down the street. The burger ($8 for a single, $10 for a double, $12 for a triple) is one heck of a gooey guy, oozing American cheese and dripping its Thousand Island-adjacent "special sauce" down your hands. Looking around, you'll see lots of people gingerly tapping their phones with glistening fingers, having failed to secure the correct number of paper napkins.
The clean-up is so worth it. Dream Creamery's burgers come together in a delightfully messy amalgamation of onion and pickles, salt and grease. Should you choose to top yours with bacon for an extra two bucks (and we'd recommend you do), you'll find it's the perfectly thin, crispy-crispy kind, the exact correct cut and texture for a burger like this.
It's hefty, too—one of my dining companions remarked that they could have gotten a single instead of a double, but of course, YMMV. And speaking of mileage varying, my other bud remarked that he wished he'd gotten the burger rather than the lobster roll ($20) after snagging a bite, adding, "I think I like that more than the Animales burger."
(At eight bucks for a single cheeseburger, it's also a little cheaper than Animales' cult favorite nearby. Not that we're trying to start a Northeast smash burger war… yet.)
As for the creative creamery creations, we tried a few: a Strawberry Malt Blondie where you can really taste the cream cheese, which lends a nice tang to the super-sweet base, and the Monkey Bread Praline, a cinnamon-y masterpiece with honest-to-god chunks of monkey bread flecking the ice cream. Wonderful, even if it does make you think "If Benjamin were an ice cream flavor, he'd be pralines and dick."
Dream Creamery has a few vegan options, and though we liked the taste of the Almond Joy very much, it has a pretty soupy consistency—I wouldn't recommend trying to slurp it from a cone, but in the little paper cup? Perfect. Though the best of the ice cream flavors we tried was the Cereal Milk, pictured above, which introduced the phrase "caramelized Fruity Pebbles and Fruit Loops" to my vocabulary. Nestled in an orange and coriander cream, they're a treat within a treat.
Scoops'll run you from $4 for a single to $9 for a triple, with an extra buck for a waffle cone. Shakes are $7, with malts and floats a dollar more.
We opted to order and eat our burgers before hopping back in line for ice cream, but on a return visit, I'd skip the second trip (and line) and pregame the burger with a cone.
Eating dessert first? That's the stuff that dreams are really made of.
Dream Creamery
816 NE. Lowry Ave., Minneapolis
Wednesday-Sunday, 12-9 p.m.