Food & Drink
Dessert Hummus: Atrocity, Appropriation, or Advancement?
Please weigh in loudly on the great dessert hummus debate.
9:09 AM CDT on September 30, 2021
Hummus is a staple mezze dish. It's versatile, a balanced part of any-time-of-day eating, and its ingredients allow for abundant savory combinations to flourish. 
Now picture yourself in a grocery store, scoping out the hummus varieties. Traditional hummus, red pepper hummus, avocado hummus, black bean hummus, beet hummus. The more flavors you see on your shelf, the weirder it feels when you see… sorry, is that brownie batter hummus?
In an effort to build on the popularity of the Mediterranean and Middle Eastern staple, companies have started selling dessert hummus. The have-your-cake-and-eat-it-too idea was sparked by Shark Tank darling Makenzie Marzluff in 2014, when she pitched her company Delighted by Hummus. Her sweet varieties—including red velvet and snickerdoodle—won financial backing from Mark Cuban, and became the first dessert hummus sold nationwide. 
Rana Kamal, Co-Founder of Baba's, whose hummus varieties are sold in grocery stores across Minnesota and Wisconsin, recalls the moment well. "I remember when I first saw the concept on Shark Tank, and I thought to myself, 'What the fuck? Hummus isn't supposed to be sweet.'"
That didn't stop dessert hummus from taking off. Delighted by Dessert's appearance on Shark Tank opened the favagates for other recipe sites and Instagram influencers who started dishing out their own dessert hummus recipes. Food & Wine and Bon Appétit wrote "best dessert hummus" lists, and companies like Sabra, Boar's Head, Trader Joe's, and Cedar's hopped onto the trend. 
And it's not only bigger brands. The Twin Cities' own Holy Land Bakery & Deli caught mixed reactions from many when it introduced its seasonal pumpkin spice hummus, which uses traditional ingredients such as chickpeas, tahini, lemon juice, and EVOO, and mixes it with the ingredients you might find in your PSL: pumpkin, cinnamon, nutmeg, cloves, ginger, and brown sugar.
(Although, if you take a closer look at their PSH ingredients, you'll realize it may be the recipe that mostly closely approaches traditional hummus on the market today—more on that later.)
---
Many of these sweet interpretations read more like a take on dessert. Lazily add chickpeas to make it "healthy," and there you go: a substitute for the next time you want to "reach for that pint of Ben & Jerry's ice cream." Gaze upon the many influencer buzzword labels that accompany dessert hummus. Vegan! Gluten free! Non-GMO! 
Sameh Wadi, owner and chef of establishments including World Street Kitchen, Milkjam Creamery, Grand Catch, and Saffron (RIP), also remembers when dessert hummus came into his consciousness. 
"I mean, I think it's fucking blasphemy to be honest with you," Wadi says. "I'm old school as fuck in terms of the way that I think about food, and I'm also progressive in the way that I think about food. I've yet to meet a dessert hummus that I actually would want to try."  
Wadi's reaction makes sense. Have consumers' taste buds gotten so awful that we can't enjoy the simplicity of a fresh bowl of hummus mixed with garlic and lemon juice, swimming in a pool of olive oil? This trend seems like it's designed to satiate the palates of picky toddlers, and one could make the argument that the dessert hummus flavors on supermarket shelves are a simple attempt at cultural appropriation. 
But for all his hatred of the dessert hummus concept, Wadi asks an interesting question: Is our reaction of disgust solely that such a thing exists? Or is it that we haven't met a dessert hummus recipe that functionally works with the ingredients associated with modern day SWANA/MENA expectations of hummus? Is dessert hummus inherently bad, or are we recoiling from the fact that it was made famous by a blonde woman who calls herself "a serial entrepreneur and coach with a mission to restore the heart in every area of life?"
"When you think about cultural appropriation versus food appropriation, and these vast differences between appropriation and just taking something and pushing it to the next level, are we appropriating our own food to dumb it down and make it something that the general population and majority non-SWANA/MENA communities are buying?" Wadi asks.
The appropriation issue is something Wadi himself struggles with. "Am I appropriating Syrian cuisine by putting Shatta on top of my hummus, or muhammara?" he continues. "Is that appropriation? Then you continue down the rabbit hole: 'Am I sticking to the way that Palestinians make falafel? Or is it the way that the Egyptians make Falafel now, if you put chickpeas and fava beans together?'"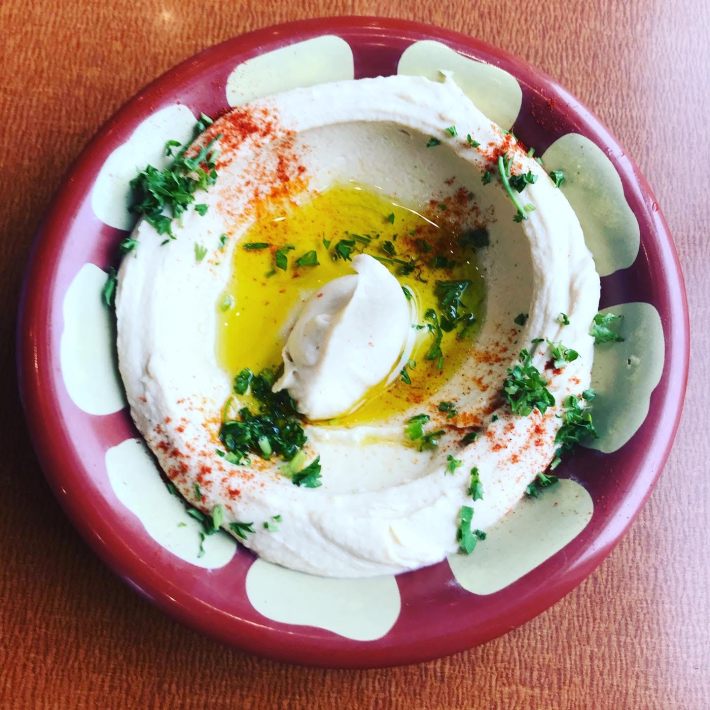 Kamal and Khalid Ansari reflect on this as co-founders of Baba's, a relatively new brand to the supermarket world trying to compete against bigger names that have historically shut out SWANA/MENA voices. 
"We're out here, competing with brands like Sabra [owned by PepsiCo], which is 70% of the market," Kamal says. "Preservatives in Sabra's product last for four months, and it's definitely not a clean product, never has been. But it is the most widely bought hummus on the market today, and they're selling their hummus at times—like when it's on sale for $1.99, it's mind boggling."
That price tag gets at another question fundamental to the dessert hummus matter: Whose food do we value, and why? 
"A part of the problem is we don't value our cuisine, our culture, our food, because it is so much more expensive to produce a product to put on the menu at a Middle Eastern restaurant than a fucking burger," Wadi says. "I am a part of that problem as well. I was at this price point where I was saying, 'Our hummus cannot go up to over six bucks, it can't go over six bucks.' Well, the pain I felt when tahini spiked in price to $100 per 40 pound barrel … Finally, it was like, 'Fuck it, charge $9 for the hummus,' because I got so tired of paying so much money for the tahini. I was a part of the issue, I devalued our own cuisine, our own brand, because I didn't want to fit the narrative of what it is."
---
Eventually, curiosity gets the best of us all. Kamal recalls the moment she went out to the grocery store and bought a tub of dessert hummus—vanilla bean flavored—because she had to know what it tasted like. 
"I will admit, I thought it was okay. I didn't think it was the grossest thing," she says. "I really do think that food is supposed to evolve, and yes, it might not be that authentic Middle Eastern food from Tata (grandma) and Sido (grandpa) from back home that we know and love, but what dessert hummus has done is that it has brought more recognition to Middle Eastern food in particular."
Baba's cofounders have since realized that there may be some potential in this not-so-savory hummus thing—but they're doing it their way. The Minneapolis-based brand had a booth at the Minnesota State Fair this year, where they delivered a take on a baklava hummus known as the "Sweet Baba."
"For the debut of our Sweet Baba dessert hummus, we started with a very authentic base, and added in another authentic staple, which is baklava," Ansari explains. "We blended those flavors, added rosewater, phyllo dough, pistachios, and almonds, and everything was constructed in that way, to reflect our modern, Middle Eastern brand identity."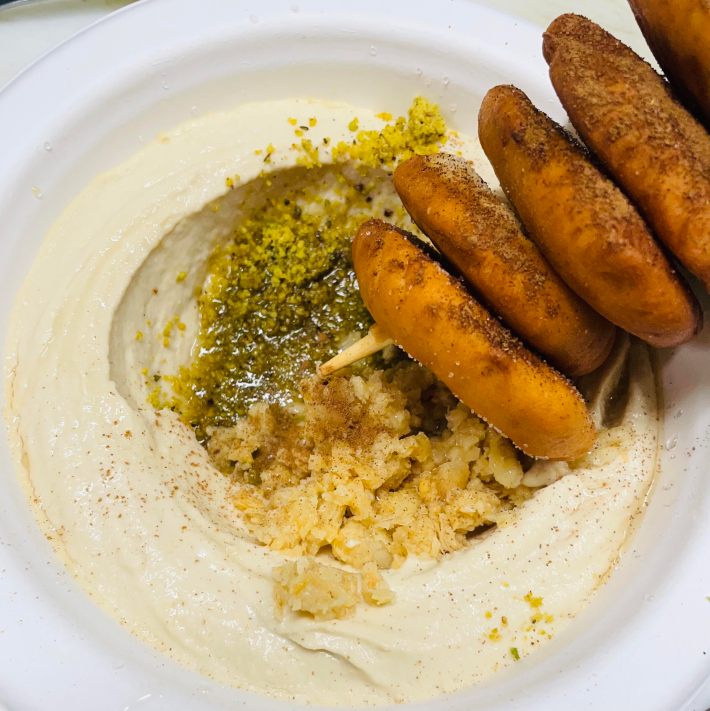 Before SWANA/MENA brands like Baba's, Phoenician Mediterranean Foods, and Cedar's can dictate change in the hummus industry, they need space to do so. 
"It's a lot tougher in the merchandising world than the restaurant. My dad—which is surprising from his generation—always priced ourselves higher than the rest, but we also used higher quality ingredients, and respected that side of the business. Merchandising, and being in a grocery store, it's tougher to have those kinds of conversations about that, because you have to create a footprint within those industries. Hopefully we can create our own destiny and be able to do things once it's popular enough and bigger, and maybe change the discussion a bit once we have that voice."
As we return to Holy Land Bakery & Deli, we're reminded of how fits of experimentation by its workers led to some of the more unique hummus flavors on store shelves, especially in the late '80s and early '90s, when there weren't many hummus flavors on the American market. Like the time when a kitchen worker mixed guacamole and hummus for their lunch in the break room, paving the way for avocado hummus.
Is dessert hummus here to stay? If companies such as Delighted by Dessert, Sabra, and Boar's Head continue lazily throwing chickpeas into a dessert of choice, maybe its shelf life won't last long, and shoppers will grow tired of the sugary shenanigans and seek out the hummus that we all knew and grew to love. However, that's a decision that is largely in the consumers' hands. (And taste buds.)
On the other hand… maybe what could happen is that SWANA/MENA populations, businesses, and chefs who are known for making excellent hummus should dictate how the two worlds of dessert and hummus could be mixed together, as was the case with Baba's Sweet Baba hummus bowl at the Minnesota State Fair.
"There's probably a way if you want it to taste good, that it could work," Wadi says. "Who's to say that food isn't gonna change and evolve and what have you, right?" He may not have seen it done in a way that excites him, but "that's not saying that there isn't a way that it could be exciting."
Stay in touch
Sign up for our free newsletter