Food & Drink
A Wisconsin-Born Writer Visits Minneapolis's New 'Wisconsin-Style' Supper Club
"Fancy for a farmer" atmosphere meets upscale flavor at the Creekside Supper Club & Lounge.
8:39 AM CST on January 11, 2022
I approached The Creekside Supper Club & Lounge with enthusiasm, curiosity, and, if I'm being honest, a little sprinkle of skepticism. 
Creekside, which bills itself as a Wisconsin-style supper club, opened just before the new year in south Minneapolis. And though I've lived in Minnesota for over a decade now, I grew up in Wisconsin, which means I've been experiencing the real deal since I was in my single digits. I spent many Friday nights in smoky supper clubs or at the local Moose Lodge for fish fries and karaoke. My brother and I played shuffleboard and knocked back Shirley Temples while my parents sipped light beer and Wisconsin's take on sugary, soda-splashed Old Fashioneds that would make many highfalutin bartenders wince. 
These moments glow in my memory like the neon signs in the windows of my favorite hometown supper clubs, which I haven't had a chance to visit since Christmas 2019. With COVID on the rise, it takes a lot to get me to leave the house for anything, and I'm especially picky when it comes to risking dining and drinking with my mask off. 
But I miss my family. I miss small-town Wisconsin. And I had to know if Creekside would be an adequate substitute until I can return and whether it's a place I can confidently send Wisconsin visitors. I had to take my double-vaxx'd and boosted ass to see what it was all about.
So, how's it hold up to the real thing? Let's start with…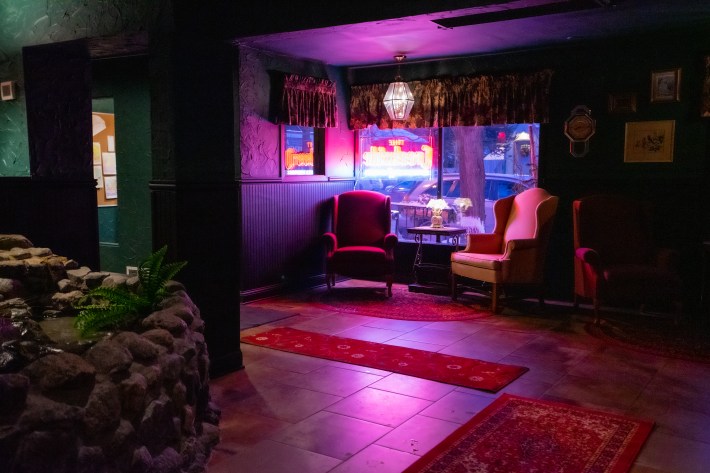 The Aesthetics
Maybe it seems silly to talk about the look of the place before the food, but half the joy of a good Wisconsin supper club is the atmosphere. As we stepped into the vestibule, my eyes spied a (non-functioning) vintage cigarette machine. I hadn't seen one of those since my Wisconsin years. Someone was thinking about the details. 
Classic supper clubs tend to have a few different areas to hang out, like a dining room, bar, and entertainment area. Creekside nailed this. Upon entry, you'll hit a low-lit corridor featuring a host station and a tall babbling waterfall flanked by artificial ferns. Opposite the water feature is an airy waiting room with cozy wingback chairs and short ruffled window dressings that look like they were ripped right out of your Aunt Sharon's living room. 
To the left is the lounge, featuring your typical booths and high-top tables. Nestled neatly on the right, a bar serves up cocktails, beer, and wine under the watchful glass eyes of a taxidermied deer head. An unexpected treat was the addition of whirring machines churning up tart brandy slushes fluffed to icy perfection. The lounge also features a stage; it was being used for seating and a display of ceramic animal figurines during our visit, though I was told that, COVID-willing, it'll be a place for live music in the future. 
To the right is a crimson-carpeted dining room. Heavy tables are surrounded by sturdy, brass-studded wooden chairs featuring oxblood leather upholstery. A mounted fish hangs over the fireplace, flanked by decorative plates. 
All this is wrapped in the comforting embrace of warm wood paneling. (One of the things I love most about dive bars and supper clubs alike is a penchant for wood paneling. Or maybe it's just that the heyday of wood paneling ended in the '70s and that's also when a lot of supper clubs' aesthetic preening halted—they feel like a time capsule.) Most of the supper clubs I've been to have a theme to the wall decor or feature portraits of revered patrons on the walls. Creekside kicks the kitsch factor up a notch with a motley array of domestic and wild animal paintings, nature scenes, an occasional boat, and a few sports-themed framings. Their variation of decór gives you something to marvel at while you eat your meal.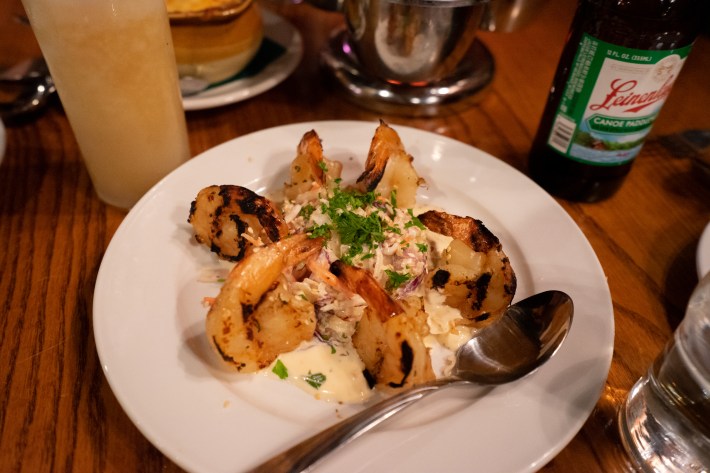 The Snacks
I was elated to see all the classics on the menu: fish fries, burgers, nice pieces of meat, and snack-friendly options like chicken wings and onion rings. Normally my eyes would skip right past a chicken breast, but their version, featuring a rosemary brine and a bone jus, had me salivating. Supper club staples are good because they're generally well-executed. I applaud Creekside for giving some of the old standbys a refresh while respecting the bones of the dining experience. 
Do y'all remember Disney's Beauty and Beast? Do you remember the "Be Our Guest" scene, where a singing candle with a French accent presents a bunch of food? Supper club meals are kind of like that, but without the terrifying anthropomorphized objects. It's nearly impossible to leave hungry because of the courses involved. 
Many of the meal options at Creekside include crudite (little raw veggie snacks), charred French bread, and your choice of soup (tomato bisque or corn chowder), house salad (served on the requisite glass salad plate—you know the one), or cottage cheese and your choice of a side, which in this case is one of many forms of potato. Despite the fact that you'll likely be fed to the gills, you might as well treat yourself and get one of Creekside's delightful appetizers to begin the feast.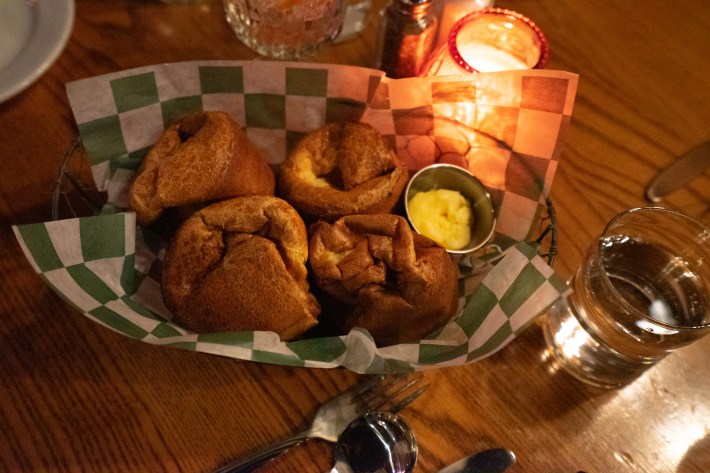 Others have talked about some of the starters we tried, including the relish tray and French onion soup along with their Korbel Wisconsin-style Old Fashioned. I want to talk about the popovers and the shrimp cocktail. Deeply browned and delicately collapsed, the popovers were a sensory dream. Their crispy exteriors gave way to a crepe-like inside. They were perfectly salty and served with a sticky honey butter that balanced each bite. 
The shrimp cocktail was nothing like the standard naked pink shrimp perched around a glass full of lumpy red sauce. Instead, these meaty little crustaceans featured char marks from a hot grill and bore the flavor of a chili mint marinade. They were served lined up around a scoop of cabbage slaw that sadly was left to be swept away by our server, its flavor wholly overshadowed by the shrimp.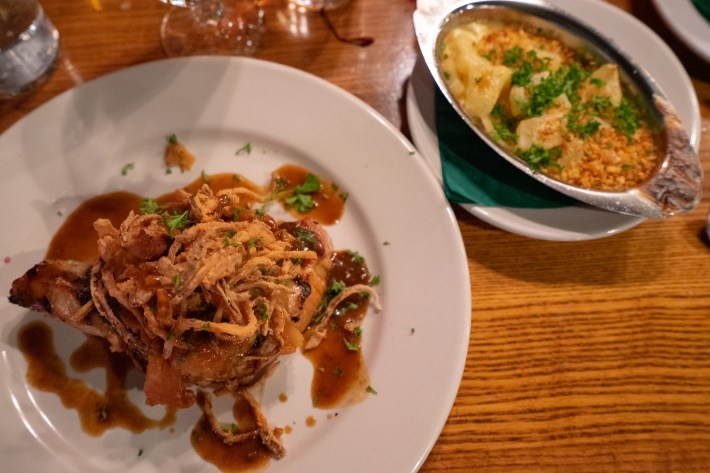 The Mains
I'm grateful I dined with friends because I had the opportunity to taste a handful of the mains. The prime rib sandwich was full of tender beef and sweet caramelized onions, a delicious pile enrobed in a hearty layer of provolone with horseradish cream that was only a whisper on the soft white roll on which it was served alongside a cup of jus and fries. 
The bone-in pork chop was a beautiful sight: a thick piece of juicy, marinated pork crowned with a salty and sweet miso-apple compote and topped with crispy fried onions. My dining partner absolutely loved this, but it was a little salty for me. (This could have been a first-week issue—I'm determined to try it again, because all of the flavors are right up my alley.)
The chicken penne delighted all of us. It easily could have been a play-it-safe dish, but Creekside puts a southern spin on theirs, with peppery cajun cream sauce, hearty venison sausage, green peppers and onions, and juicy bites of chicken—there's no dried-out fowl to be found here.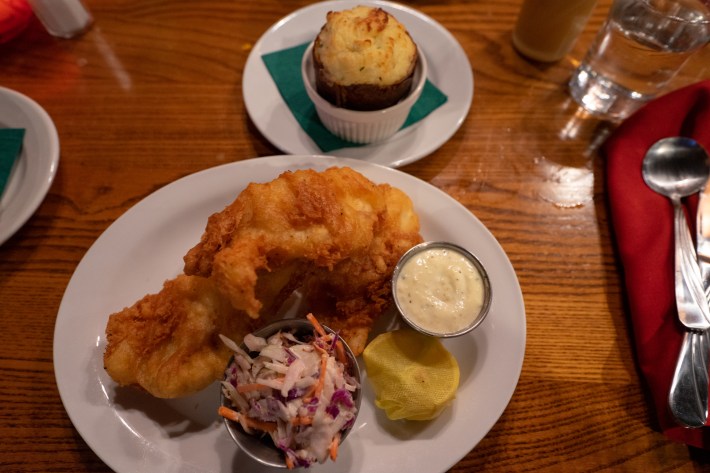 Finally, the dish I was most excited about: a perch fish fry. Perch isn't something I've seen on menus in Minnesota, but it's a staple where I come from in northeastern Wisconsin. Although I was raised on piles of small, sweet butterflied fillets, Creekside serves up larger, meatier perch, and the size leads to a milder flavor that begs to be smeared with their lemony house-made dill-spiked tartar sauce.
The beer batter was crisp and airy, vastly different from the cracker meal I'm used to, but it created a delightful texture and flavor. Of course, it was served with all of the appropriate accoutrements like a lemon wedge (cutely shrouded in a protective cover designed to keep the seeds off of my food), coleslaw, rye bread, and I chose a perfectly seasoned twice-baked potato for my side. 
Because we're monsters (or gluttons for punishment), we finished our marathon meal with a grasshopper—a cool, minty ice cream booze-shake that was the icing on the cake of a fabulous and filling meal.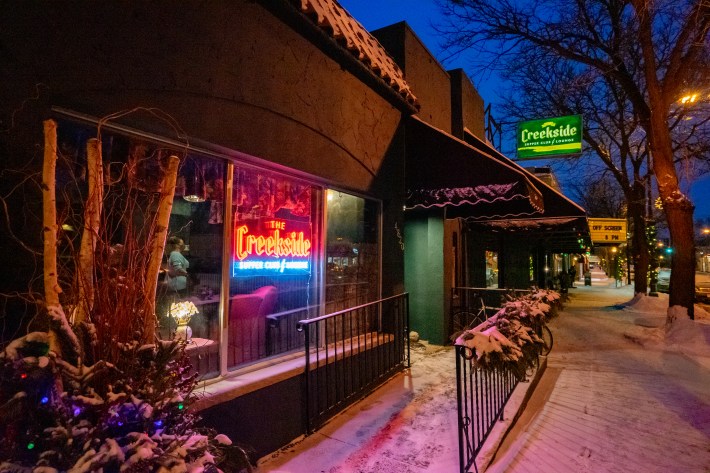 The Verdict
Listen, supper clubs are personal for me, and I think this is a great place for you to try one, too! I can confidently say that the food was fantastic, the atmosphere was classic, and the service was beyond friendly and accomodating. Although the word "club" is in the name, there's no need to dress up. Creekside Supper Club is a cozy, come-as-you-are spot to enjoy with friends—and I'll certainly visit again with my Wisconsin family in tow. 
Creekside Supper Club
4820 Chicago Ave., Minneapolis
612-354-3675
Sunday, Tuesday and Wednesday: 4–10 p.m.
Thursday through Saturday: 4 p.m.–12 a.m.
Stay in touch
Sign up for our free newsletter