Food & Drink
Cold IPAs are the Hot New Style in Craft Beer. If You Believe They're Real.
The antithesis to the hazy IPA is here—but are beer drinkers ready to embrace it?
8:25 AM CDT on November 4, 2021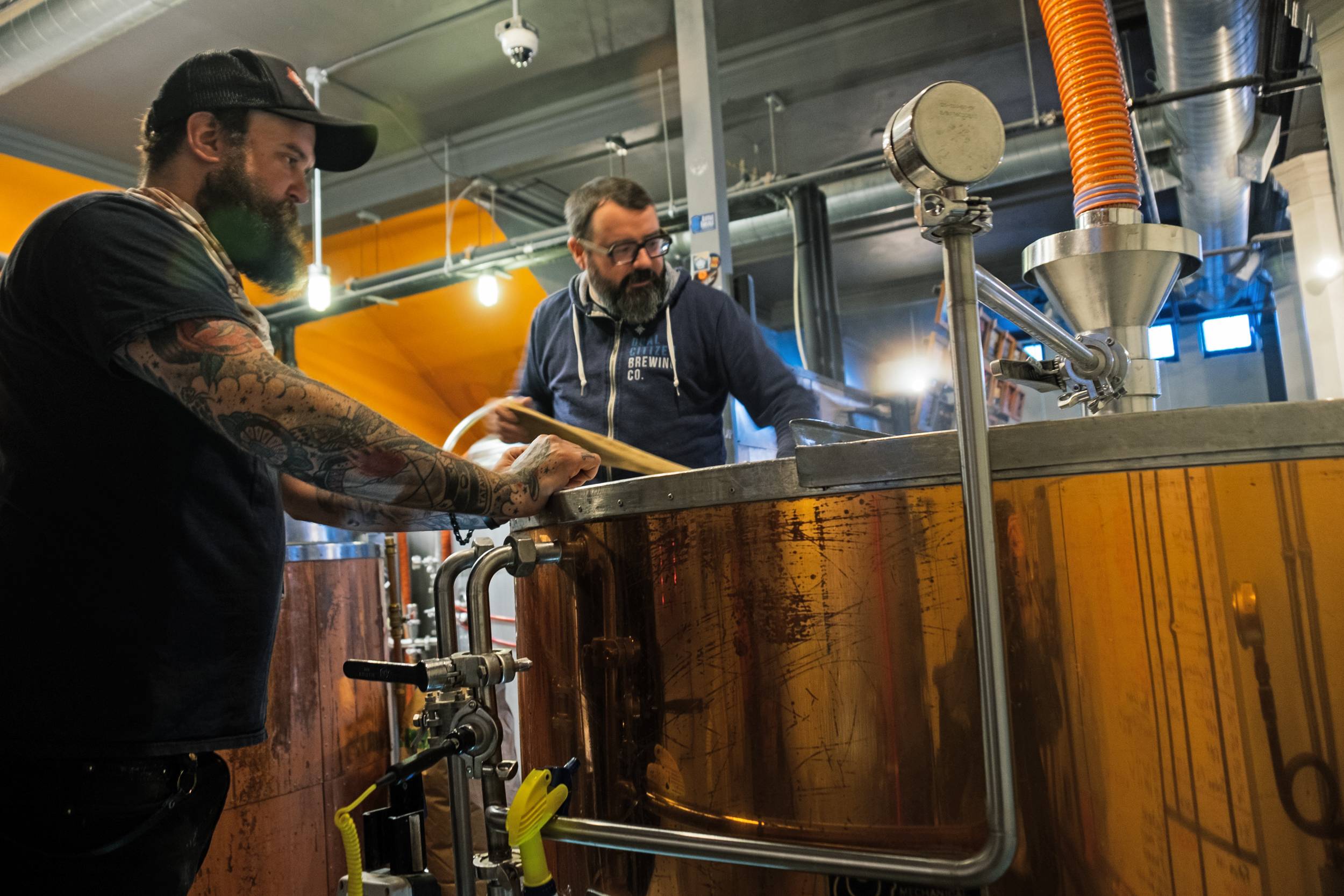 Something very cool—cold, even—is brewing in northeast Minneapolis.
It's early on a Tuesday morning, the mid-autumn air is crisp as a Czech pilsner, and it's brew day for head brewers Lee Ankrum and Bradley Zimmerman (of Dangerous Man Brewing Company and Dual Citizen Brewing Company, respectively). Today, they're collaborating on a cold IPA.
A cold IPA—that's any IPA you pull out of the fridge, right? It's also a whole new brewing style that's been popping up around the Twin Cities over the last six months.
"It's the antithesis of the hazy IPA, and you get to use new, fun hops with it instead of trying to be all traditional," Ankrum says, looking on as Zimerman gently stirs the warm pilsner mash. The plan with this one is to use Arctic Blend hops from Minnesota's own Mighty Axe, along with Chinook and Centennial hops. "And we're gonna dry hop the shit out of it," Ankrum concludes. 
Add it all up, and they'll get a clear, hoppy, easy-drinking IPA that's crisp and clean-finishing like a lager. But it's not a lager. It's a cold IPA.
Created in the Pacific Northwest back in 2018, this new IPA style started appearing in a handful of beer blogs earlier this year, where commenters promptly responded with everything from bemusement to confusion to outright derision.
Some people didn't like the name or the classification. To others, it's just another name for an IPL or India Pale Lager, a hoppy lager style that's been around for years. (Earlier this week, when I asked Arbeiter Brewing's Aaron Herman about the controversy around cold IPA, he replied, "Loaded question!")
On one hand, the beer social network Untappd doesn't list it as a style—brewers like Zimmerman have to file their cold IPAs under IPL and pop a (cold IPA) parenthetical on their listings. On the other, just this week, rare beer delivery app Tavour called cold IPA the "next big beer trend you need to know." 
So… what do you need to know about it?
---
Kevin Davey's IPA breaking point came a few years ago, when he ordered an IPA and got a hazy, sugary beer. 
"I was like, oh, no, no, no—you should have warned me!" the head brewer of Portland, Oregon's Wayfinder Beer says with a laugh. "You have to give me some kind of warning before you put something sweet in front of me." 
As the originator of the cold IPA, Davey says he created the style to contrast the hazy, cloudy, juicy, sweet, and sour beers that have become ubiquitous over the last few years. 
"What we were trying to do was make an IPA that was super, super clean, and was a better showcase for the hops themselves," Davey says. The idea was to take a West Coast IPA "a little bit to the extreme," making it even dryer, dialing up the bitterness and pumping up the hoppiness.
On its website, Wayfinder outlines the brewing specifics of the cold IPA thusly: You want an adjunct lager malt bill—no caramel malt. The beer should be fermented warm if you're using lager yeast and cold if you're using ale yeast, but either way, it should be fermented "to incredible dryness." It MUST not—all-caps emphasis Wayfinder's—have high sulfur or ester (fruity) notes. "Filtered crystal clear and well-carbonated," the explainer concludes. "Cold IPA is the antithesis of NEIPA [New England IPA]."
"I called it a cold IPA mainly as a marketing term, but also as like, it's a refreshing version of an IPA," Davey says. It worked: Brewers from Poland, Spain, and Japan have since reached out asking how to brew it. ("And even Florida," he jokes.) But it wasn't clear to him until about six months ago that this style was becoming a big deal.
That's around the time Minnesota got its first cold IPA, by way of Arbeiter Brewing. Arbeiter head brewer Aaron Herman says their take, released this May, was crafted as close to Wayfinder's recipe as possible, because there's "a lot going on technically with a 'true' cold IPA." You're trying to create a very hoppy, brilliantly clear beer that's light in color with minimal residual sugar content, and yet has the perception of sweetness or fullness to balance the bitterness.
"These profile components are essentially contradictory, and that's why so much technical brewing nerdery needs to take place to allow these divergent aspects to exist together," Herman says. It's also why they called the state's first cold IPA "Hoop Jump"—you've gotta jump through quite a few hoops to make one that works, but when you do, the reward is immense.
Northeast's Fair State Brewing Cooperative was another early adopter of the style, collaborating with Dangerous Man on ROCK, FLAG, EAGLE, a "crispy AF" offering that's "brewed like a lager, hopped like an IPA." 
"Who doesn't want cold beer? The entirety of the Coors marketing budget was devoted to finding that cold equals good," chuckles Fair State founding brewer Niko Tonks. His take is that though crispy, clear beers have nothing, hype-wise, on the hot new limited-release sour slushie IPA, they do still sell. A lot. Take a beer like Lagunitas IPA, for example—nobody really talks about it, it's not blowing up on Instagram, but "they're moving a lot of cases." 
"The internet has sort of messed with things—that's a baseline fact, society-wide," Tonks says. "The super milkshake IPAs, the super lactose fruit bomb, 600-calorie-per-can beers—I think we all think that that has legs, but frankly, that stuff is an infinitesimally small portion of actual IPA sales." 
Herman says cold IPA fits in perfectly with what they do at Arbeiter. The flavor profile is similar to a lot of German lagers, and the brewing procedures are similar as well. "So being a German-influenced brewery, cold IPA are right in our wheelhouse for production as well as portfolio," he says. "There are definitely plans to make more... I could see having one on at all times in the future, be it rotating one-offs, or a flagship brand." They've got a new Yuzu Cold IPA on tap right now, their second take on the style.
Davey is quick to clarify that every beer market is different, and what works at Wayfinder in Portland might not work for breweries in Minneapolis. And Wayfinder is a more lager-focused brewery than most; he estimates their offerings are split 50-50 between lagers and IPAs. But in their taproom? "It's almost always on tap. I would say it is now always on tap. Yeah, it sells really well." 
---
Mention cold IPA to brewers, and almost everyone references the same beer: the brut IPA.
In 2018, brut emerged as a dry, light-bodied, champagne-like take on the style, but it was gone almost as soon as it arrived. That year, Craft Beer & Brewing proclaimed the brut IPA was "spreading like wildfire." Around this time last year, brut IPA's creator told Brews News, "I think at the moment basically nobody makes them and there are memes out there being like, 'Thank God this thing's dead.'" 
"To me, things like brut IPA and cold IPA—not that they're the same thing—but they seem to be moves for brewers to be like, 'Hey, what we want to do is make the same West Coast IPAs that we used to make five years ago, maybe mildly updated,'" Tonks at Fair State says, adding of brut that the style "never really happened, which is OK because it wasn't a very good idea."
Wayfinder's Kevin Davey says that's at least partially true: "I didn't really like brut IPA, or hadn't had one that I really enjoyed. It was like, well, what would a lager brewer do to a brut IPA?"
But not every brut IPA vs. cold IPA analogy is so positive—just ask Aaron Juhnke at Junkyard Brewing in Moorhead. 
"I think the cold IPA is gonna be a lot like the brut IPA that came and went, or didn't ever really arrive," he says. "It was talked about for a bit, beer writers were writing about it and stuff, and it just never took off."
Beer drinkers have seen it all over the last few years of increasingly wild IPA experimentation: milkshake IPAs and smoothie IPAs, sour IPAs and fruited IPAs, slushy sours and fruited sours. (And to be fair to the cold IPA, no one quite agrees if those styles exist either.) 
"I think there's been a little bit of a movement over the last couple years to be like: Hey, IPA's kind of gotten out of control," Tonks says. He and Juhnke see the cold IPA as an extension of an industry-wide trend: Craft brewers are returning to lighter, sessionable beers. From Maine to Montreal, pilsners—and lagers overall—are back. 
"Every brewer that I know is all stoked about pilsners and drinking light beer," Juhnke says. "I think you can look at these styles as a reaction to that and an attempt to maybe grab the wheel and turn it in a different direction from where we've been going."
Back at Dangerous Man, Zimmerman and Ankrum take a break and crack a crowler of Clearly It's Composed, Dual Citizen's current cold IPA. (The beer they're brewing today should be on taps in six weeks, give or take—with this new style, neither brewer is quite sure how long fermentation will be.)
"I like how the hops react, it's almost like a fresh hop," Ankrum says.
"And how it finishes, it just kind of drops off… it has that bitterness, but it doesn't linger too much on the palate," Zimmerman adds, setting down his glass.
Brewers like Zimmerman wonder if it's not just brewers—if maybe the pendulum could be swinging ever so slightly back to these kinds of drinkable, sessionable beers. 
"I look at the numbers every Monday to see what the top sellers were over the past week, and it's normally a fruited sour or a hazy," Zimmerman says. But Dual Citizen's first collaboration with Dangerous Man—a more bitter, mid-coast IPA—was No. 1 two weeks in a row. "I was like, 'Finally! Bitter IPA is winning in the taproom!'"
Anecdotally, Tonks agrees: "We have made and sold more West Coast IPA this year than probably any other year beforehand, and we expect that percentage to continue to increase next year." Fair State has also made and sold more lager this year than at any other year, and they're working West Coast IPAs into their one-off, super-limited-IPA release program, something they never would have done two or three years ago. 
"I think these two things are related," Tonks says. He's not sure that there ever will be a year where the lager market explodes, "But I think that incrementally, we are seeing a little bit of a move towards people looking to buy 12 of a beer that they know they can drink 12 of, as opposed to four that they'll drink one of and trade the other three."
Davey knows that lagers can seem "a little fuddy-duddy" to people—it's an old, traditional style made by guys in lederhosen. But it's also a wildly popular style. "We can make them cool, we can make them fun," he says. There's a reason they call their German pilsner Party Time Pils. "That's all I was trying to do with cold IPA at the end of the day—play with the words and be fun with it. Beer is supposed to be fun."
"I don't think that cold IPA is going to be a huge trend," Tonks says. "But I do think that people will continue to do it, and my hope is that it continues to get done in sort of a tongue-in-cheek way. The whole thing has sort of a spirit of fun to it."
When I suggest that maybe there's a future in which lagers and pilsners are the hypebeast-y beers truck-chasers plaster all over Instagram, Tonks offers up a different idea. 
"Maybe an even better vision is like: Beer doesn't need to be hype-y to be something that people want and are willing to pay money for," he says. "I don't think West Coast IPA is ever going to be hype-y again, and I think that's a good thing."

Em Cassel (she/they) is a cyclist, a metalcore apologist, and a co-owner and editor of Racket.
Stay in touch
Sign up for our free newsletter