Movies
Buckle up, Folks! It's Oscar Bait Season.
'Belfast' and 'Spencer' offer classy, artful, and unconvincing revisions of the past.
12:20 PM CST on November 11, 2021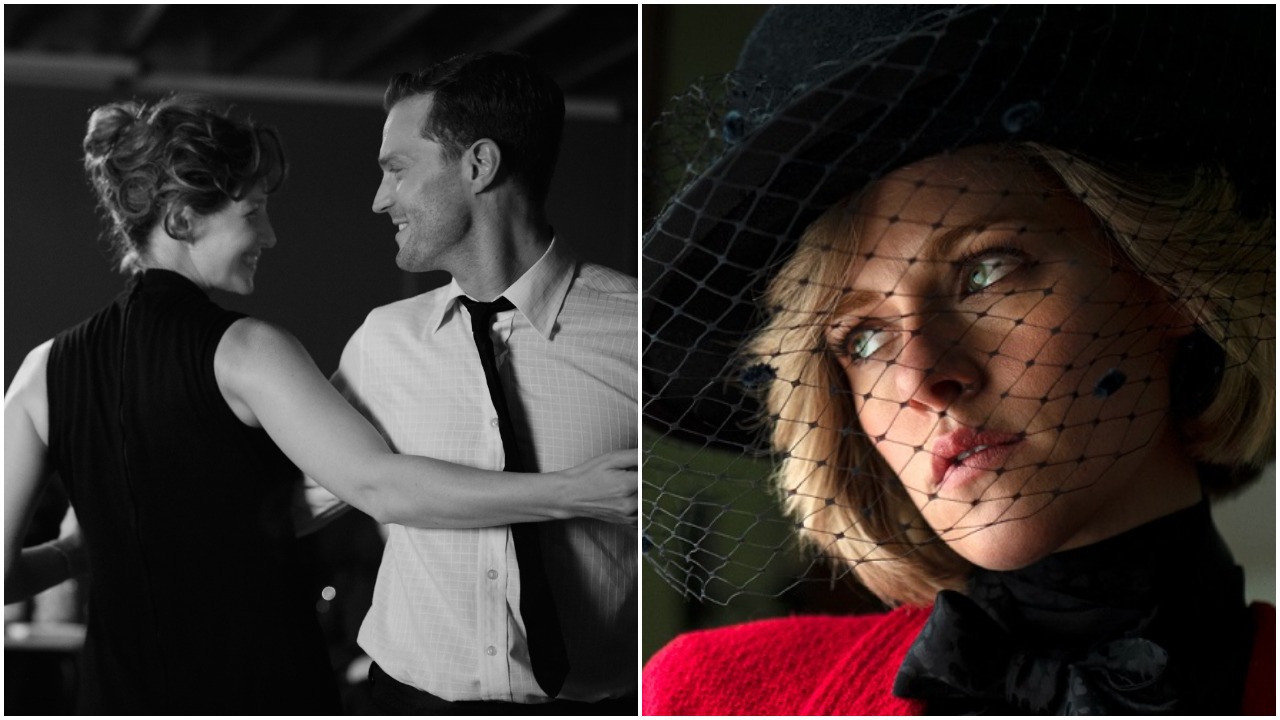 You've gotta be a pretty great actor to deliver the kind of bad performance that Kristen Stewart commits to in Spencer—sharply calculated and precisely realized and missing the mark so broadly it's an absolute challenge to endure. Her Princess Diana is a well-coiffed embodiment of perpetual trauma, emitting breathy mannerisms in a rhythm so consistent it confounds the distinction between stylization and parody. It's like Stewart realized the problem with biopics (one of the many) is that you're always conscious that you're watching one famous person play another, so she said fuck it, upped the artifice, and decided to serve up Kristen Stewart playing Diana Spencer. And Pablo Larraín wasn't the director to talk her out of it.
It's Christmas 1991, and Diana is a free-spirited royal pain to her in-laws, showing up late —and driving herself(!)—to the festivities at Sandringham House. As the Windsors sup, attend church, and pose for portraits with a consistently Dickensian chill, Diana asserts her independence through petty acts of rebellion. She sneaks Harry a present on Christmas Eve. She wears her Boxing Day dress on Christmas. She prowls around the estate at night. She undresses near the window.
But what brings her to life, even more than the moments she can get her sons alone, is the paparazzi. Here Stewart can display her intuitive understanding of how a constitutional reluctance to pose becomes a kind of irresistible flirtation with the camera. This is her game, and Diana's. And elsewhere Stewart also captures the tricky and uncomfortable truth that psychological pain can render victims unsympathetic. Isolated in their suffering, they can seem brittle, defensive, paranoid—exactly what their tormentors say they are.
We see Diana beset by the incoherent demands of royal tradition, by her wooden chess piece of a husband (a far too unhomely Jack Farthing), an officious head of household affairs (poor Timothy Spall, reduced to little more than his hound-dog scowl), and most of all by Jonny Greenwood's soundtrack, which chases after her relentlessly like a swarm of bees. But all biographical truth aside, none of this feels dramatically sufficient to explain the deterioration we're witnessing.
The most embarrassing shot—which is saying something in a movie where the princess is visited by the ghost of Anne Boleyn—comes when Diana is literally shown at a pool table behind an eight ball. It's easy to call Larraín a hit-or-miss director (two years ago he made an uneven but far more vital film about a self-determined woman, Ema) but he's actually a good director who has discovered how to attract attention with the sort of movie he can do especially badly. After all, he elicited a similarly terrible star turn in the similarly misbegotten Jackie.
But that was only Natalie Portman. Stewart deserves better. A movie where she has no pockets to put her hands in is a mistake. You look at Stewart in a period piece and you think, "Oh come on—that woman has clearly used Instagram." She's supposed to be slouching with aloof millennial discomfort like a butch James Dean, not stalking the corridors of the Queen's winter home like a madwoman searching for an attic.
As in Jackie, Larraín seems primarily if not exclusively interested in his subject as a victim. (Someone on Twitter suggested that he complete his trilogy with Britney and I swear to god I would take legal action.) The camera creepily lingers over scenes of Diana's bulimia and luridly illustrates her fantasies of self-harm. And if the closing sequence isn't quite the revisionist wish fulfillment of Tarantino delivering Sharon Tate from murderous hippies, it's in the same vein of director-ex-machina white-knighting.
Jackie was one of those performances that could make you doubt the promise you'd seen elsewhere in a star. (I will go to my grave unsure if Portman can act or not.) What concerns me about Spencer, on the other hand, is that Stewart will be so generously awarded for all her so very, very actorishly acted actingisms that she'll stop answering Olivier Assayas's calls and seek to overtake Cate Blanchett in the quest to succeed Meryl Streep as grand dame of proficiently empty performance.
Calling a movie about an Irish childhood too nostalgic and sentimental is a little like complaining that those Fast and Furious folks drive way too fast, but begob, I say! Begob! How much rose-tinted blarney must one man take?
Kenneth Branagh's autobiographical new film Belfast trails his nine-year-old self, Buddy (Jude Hill), as The Troubles threaten to rip apart his previously idyllic, mixed Catholic-Protestant neighborhood, not to mention the already strained marriage of his ridiculously hot parents (Jamie Dornan and Caitrona Baife). Not the stuff of good-old-days reminiscences, you'd think, but Branagh insists, depicting a childhood where a family screening of Chitty Chitty Bang Bang is more life-changing than a car bomb rolling down your street.
Belfast opens with a series of lovely overhead shots of the city as it today, sweeping and colorful, which I'm sure helped secure some cash from the tourism board. Then everything shifts into picturesque black and white, just in case you forgot that 1969 happened in the past. We descend upon an urban street scene so vibrant and blissful you almost expect these townsfolk to break into a musical number—even though you know that what all this joy actually portends is that something's gonna blow up soon.
And… boom. For the next hour and a half, riots, childhood crushes, life-threatening ailments, winks and witticisms, petty theft, and Molotovs all jostle for screen time as a Van Morrison soundtrack (what timing, eh?) sprinkles Irish soulfulness over everything. Branagh remains a technically gifted director whose vision can't keep pace with his skill; some scenes are framed so distinctively you wish his decision to put the camera right there actually made dramatic sense. But still, he's in command of this material. As fast as moods shift here, there's no point in Belfast when you are ever in doubt about how you are supposed to feel: The sadness is bittersweet, the chuckles are warm, the tension is always this side of bearable.
The movie's so eager to please—it even wraps up in a brisk, bladder-friendly 95 minutes—I almost felt ungrateful at how resistantly I side-eyed the goings on. But there's a chipper falseness that flakes off Belfast. Rather than an actual young human trying to understand the world around him, Hill's Buddy comes off as an older person's idea of a cute child, groaning about his maths ("I see why they call it long division") and longing to gaze on his Catholic dream girl. Yes, Judi Dench and Ciarán Hinds are as charming as they're called on to be as Buddy's grandparents, but should they have to be?
Belfast could have been a smart look of how everyday life goes on with surprising normalcy even in times of upheaval, with happy moments and commonplace worries mixing surreally with unexpected brutality and danger. (I'd say we could probably use a movie like that just about now.) But to do that it'd have to acknowledge that the world we idealize as children is already messier than we admit, not just threatened by outside hatreds. Instead we get a street battle that draws a direct comparison to High Noon. It's hard to begrudge Branagh the desire to look back on his childhood with as much misty-eyed wonder as the rest of us. But Belfast is black and white in more ways than one.
Belfast opens today in area theaters. Spencer is already in theaters.
Special Screenings This Week
Thursday, Nov. 11
Fargo (1996)
The Heights
We don't really talk like that, right? Introduced by Todd Melby, author of A Lot Can Happen in the Middle of Nowhere: The Untold Story of the Making of Fargo. $12. 7:30 p.m. More info here.
Harold and Maude (1971)
Parkway Theater
It's underselling this cult-beloved story of an April-December romance to call it the boilerplate of the quirky indie movie, but among so much else that's what it is. With music by Courtney Yasmineh. $12/$16. 7 p.m. music; 8 p.m. movie. More info here.  
Sound Unseen: I Really Get Into It: The Underage Architects of Sioux Falls Punk (2021)
Trylon
A look at the early years of the all ages punk scene in South Dakota, followed by a Q&A with director Brian Bieber. $12. 7 p.m. More info here.
Sound Unseen: This Is GWAR (2021)
Trylon
Gwant to know more about these rock and roll alien invaders? This doc is gwhat you're looking for. $12. 9:15 p.m. More info here.
Friday, Nov. 12
Sound Unseen: Picture My Face: The Story of Teenage Head (2020)
Trylon
Director Douglas Arrowsmith will be in attendance for a post screening Q&A. Playing with the short film Madame Dishrags (2020). $12. 7 p.m. More info here.
Sound Unseen: Skating Polly: Ugly Pop (2021)
Trylon
Lori Barbero of Babes in Toyland) will moderate a Q&A with director Henry Mortensen after the screening. $12. 9:15 p.m. More info here.
Saturday, Nov. 13
Elf (2003)
Alamo Drafthouse
Hide your cats! Everyone's favorite visitor from Melmac is back and—oh, sorry, it's Elf. 4 p.m. More info here.
Sleepless in Seattle (1993)
Alamo Drafthouse
So you're telling me a man with food allergies cannot be your soulmate, even if he's Bill Pullman, but a guy who lives on the other side of the country and has a kid with boundary issues is fine? Hm. $10. 11:30 p.m. More info here.
Raiders of the Lost Ark (1981)
Parkway Theater
Based on the classic Atari 2600 game. $5-$10. 1 p.m. More info here.
Sound Unseen: Listening to Kenny G (2021)
Parkway Theater
Director Penny Lane's provocative take on the much-maligned sax man. $12. 7:45 p.m. More info here.
Sound Unseen: Poser (2021)
Trylon
Playing with the short film Sunshine City (2021). $12. 2:30 p.m. More info here.
Sound Unseen: We Are the Thousand (2020)
Trylon
A marine biologist convinced one thousand Italian musicians to play the Foo Fighters' "Learn to Fly." Dave Grohl noticed. $12. 5 p.m. More info here.
Cobra Verde (1987)
Trylon
In his last film with director Werner Herzog, Klaus Kinski is determined to restart the West African slave trade to Brazil. Dude, can you not? $8. 7 p.m. Saturday and Sunday. 7 & 9 p.m. Monday and Tuesday. More info here.
Sunday, Nov. 14
The Bridges of Madison County (1995)
Alamo Drafthouse
This movie is infrastructure. $10. 11:30 a.m. More info here.
The Heisei Godzilla Double Feature (1990)
Alamo Drafthouse
Return of Godzilla and Godzilla vs. Biollante, back to back. $18. 4 p.m. More info here.
Sound Unseen: Fanny: The Right to Rock (2021)
Parkway Theater
The story of the first all-female band to release a major label album (in 1970) and their legacy. $12. 4 p.m. More info here.
Sound Unseen: Out of Time: The Material Issue Story (2021)
Parkway Theater
This Chicago power-pop trio was poised to break through in the early '90s when frontman Jim Ellison committed suicide. A look back at what could have been. $12. 7 p.m. More info here.
Sound Unseen: My Name Is Lopez (2021)
Trylon
Playing with the short film Twinkle Twinkle Little Star (2020). $12. 2:30 p.m. More info here.
Sound Unseen: Poly Styrene: I Am a Cliche (2020)
Trylon
The more you know about the X-Ray Spex singer and punk pioneer the better your life will be. $12. 5 p.m. More info here.
Monday, Nov. 15
Bubba Ho-Tep (2003)
Alamo Drafthouse
The cult classic is followed by a pre-taped Q&A with star Bruce Campbell, director Don Coscarelli, and fan Kumail Nanjiani. $10. 6:30 p.m. More info here.
Tuesday, Nov. 16
Unforgiven (1992)
Alamo Drafthouse
What I've felt/What I've known/Never shined through in what I've shown. $10. 6:30 p.m. More info here.
Wednesday, Nov. 17
The Hire (2001)
Parkway Theater
Twenty years ago, BMW hired some top-name directors to create nine short films about their cars, and for the anniversary, the complete set is screening. $20. 7:30 p.m. More info here.
Ongoing in Local Theaters
The Addams Family 2
Antlers
Clifford the Big Red Dog
Dune (read our review here)
Eternals (read our review here)
The French Dispatch (read our review here)
Last Night in Soho
My Hero Academia: World Heroes' Mission
No Time to Die (read our review here)
Passing (read our review here)
Ron's Gone Wrong
Venom: Let There Be Carnage
Stay in touch
Sign up for our free newsletter