Events
Bike Rides, Babysitting Movies, Beer: This Week's Best Events
Best sign of spring? The return of 30 Days of Biking!
10:17 AM CDT on March 28, 2022
Welcome to Event Horizon, your weekly roundup of recommended things to do.
MONDAY 3.28
Girl in Red 
First Avenue
Never heard of Girl in Red? That's likely a symptom of your being old. Since debuting laptop recordings in 2016, the 23-year-old Norwegian has built up a massive following, especially among queer Gen Z listeners. As Girl in Red, Marie Ulven Ringheim writes openly about sexuality and depression in a frank way that resonates deeply; GiR has five singles with 100-million-plus Spotify plays, including girl-girl love ballad "We Fell in Love in October" at almost 400 million. For old rock guys such as myself, Girl in Red's 2021 debut album, If I Could Make It Go Quiet, suggested the return of guitar-driven music after decades of dance/rap chart dominance. Opening is Holly Humberstone, another buzzy Euro singer-songwriter you can ask your daughter about. All ages. $25. 6 p.m. 701 N. First Ave., Minneapolis; find more info here. –Jay Boller
TUESDAY 3.29
Jazmine Sullivan
The Fillmore
R&B has fallen in love with self-expression, and the melodic shapelessness of some of its newer stars supposedly reflects the genre's newfound honesty. No wonder Jazmine Sullivan, with her gift for songwriting and capturing the perspectives of characters other than herself, took six years off. So you can hear Heaux Tales, which somewhat surprisingly topped Pitchfork's best albums list last year, as her way of making do with the new sincerity. Its eight songs focus almost exclusively on sex, cut with six spoken "tales" from other Black women for context/padding, and she's doubled it with the deluxe Heaux Tales, Mo' Tales. Not gonna lie, I find the generalities of her new material a step back from her older stuff, though when she rises above her conversational midrange to frayed and fraught moments of epiphany in her serrated upper register, it's all good. So personally? I'll be shouting for my Reality Show faves. But I'll be happy to hear the Tales too. With Tiana Major9. $65 and up. 7:30 p.m. 525 N. Fifth St., Minneapolis; find more info here. –Keith Harris 
WEDNESDAY 3.30
Sheng Wang
Acme Comedy Co. 
Raised in Texas by Taiwanese parents, Wang mined his youth while working as a writer on ABC's Fresh Off the Boat. On the road, he's opened for heavyweights like Ali Wong and John Mulaney, impressing audiences with his Hedberg-ian delivery and delightful phrasing. ("This year my goal is to black out less; it's a very difficult goal to track.") Wang doesn't bite into big issues like fellow Texan Bill Hicks; he's happy scoring laughs while dissecting mundane peculiarities, like the title of his most recent album, Cornucopias Are Actually Horrible Containers. $18-$37. 8 p.m. Wed.-Thu.; 7 and 9:30 p.m. Fri.-Sat. 708 N. First St., Minneapolis; find more info here.–Jay Boller
Perfume Genius
Fine Line
Mike Hadreas earned his earliest admirers as Perfume Genius by fitting his obsessions with bodily decay to suitably impressionistic tracks. But working with producer Blake Mills on No Shape in 2017, he found, well, a shape for his themes that connected beyond those directly attuned to his sensibility. And Hadreas's 2020 follow-up, Set My Heart on Fire Immediately, was even more song-oriented. Here, piano arpeggios decorate Hadreas's expressive vocals, all the more moving because they expose his vulnerability rather than flaunting his sensitivity. On "Describe" he floats melodically along a low-key indie guitar drone that Pitchfork mistakes for "a depressive sludge, choked by thrashing, polluted guitars." If not for Hadreas's vocal idiosyncrasies, you might even call some of these songs conventional—there's a catchy little rock shuffle called "Without You" that's as straightforward as its title, and "On the Floor" features backup vocals that sweetly echo Hadreas's "how long." And why shouldn't they be? Bodies fail us and we long to connect with others—that's pretty universal stuff, after all. Hand Habits opens. 18+. $30-$45. 8:30 p.m. 318 N. First Ave., Minneapolis; more info here.—Keith Harris
THURSDAY 3.31
Made By Hands Mini Market
Bauhaus Brew Labs
Shopping at a brewery is always going to be way better than shopping at a mall. Not only can you drink while you peruse items, you can also feel good about supporting local makers and artists. One such event is this Thursday at Bauhaus. Sellers will include Anda Luz, whose clothing looks like the embodiment of spring; Lala Draws Lines offers quirky cards and other artsy items; and Audrey Rauth, whose photography features Minneapolis and other destinations. Items include painted jean jackets, humorous face masks, handmade candles, and more. Delicious BBQ and burger shills Animales will be firing up the grill tonight, too. 4-9 p.m. 1315 Tyler St. NE, Minneapolis. –Jessica Armbruster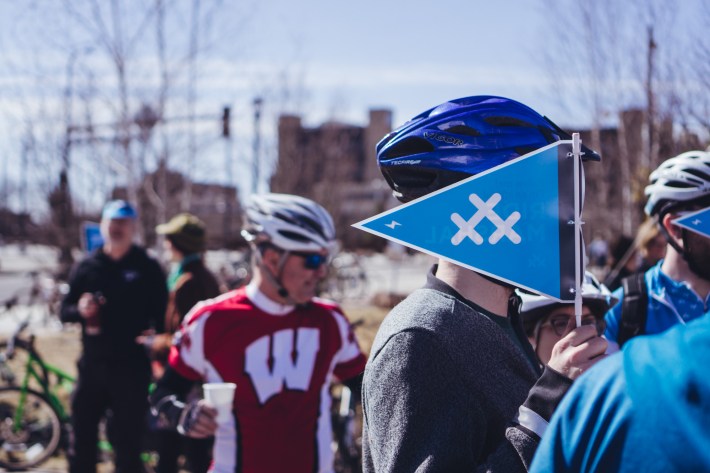 FRIDAY 4.1
30 Days of Biking Kickoff Ride
Graze Provisions + Libations
Every April 1, when 30 Days of Biking begins, it feels like a cause for celebration. Winter: It's (usually, almost) over! Spring: It's (kind of) here! Biking weather: It's (at least somewhat consistently) nice! And this year, there's even more to celebrate—after taking two years off due to the pandemic, the Minneapolis-born, now-global month-long cycling celebration is back on. This weekend, you can kick off the season with a four-mile ride that starts and ends at Graze Provisions + Libations in the North Loop. Don't forget your lights and your lock, and register here if you plan to ride every day this April. (It doesn't have to be anything major—a spin around the block counts!) Free. 5 p.m. 520 N. Fourth St., Minneapolis.—Em Cassel
Jaffer Khan 
Comedy Corner Underground 
Whether riffing on AIM or the Pledge of Allegiance, Khan has forged a tight, animated, edgy-without-edgelording that reliably kills. The Texas-raised, D.C.-based comic's "One True Religion" bit is an instant classic where he hilariously breaks down and talks shit about all the biggies. ("Christianity is less a religion, and more just... knowing a guy." That sharp wit has earned Khan gigs writing for Stephen Colbert at CBS, and he currently works on scripts at Comedy Central. Until earlier this month, he had a Daily Show-style correspondent gig on Russian state media-affiliated show Redacted Tonight, but the American arm of parent company Russia Today got shut down following the invasion of Ukraine. $12. 8 p.m. Fri.-Sat. 1501 S. Washington Ave., Minneapolis; find more info here.–Jay Boller
Babysitting Adventures
Trylon Cinema
As Elizabeth Shue says in Adventures in Babysitting, "Don't fuck with the babysitter." But, if you do, like Christina Applegate does in Don't Tell Mom the Babysitter's Dead, you might land the job of your dreams? Don't take any life lessons from this Trylon series, which features two very '80s/early '90s flicks. In Adventures, Shue plays a high school senior who, while babysitting, gets a frantic bus station call from her friend. On the way to pick her up, Shue and the kids deal with shady truckers, Blues icons, frat parties, and organized crime. Meanwhile, in Don't Tell Mom, recent high school grad Applegate decides to enter the workforce after their abusive summertime babysitter kicks it. But instead of landing a gig at a fast-food joint, she pretends to be a grown-ass woman, scoring a high-profile job in the fashion industry. As long as you don't stop to think about either of these movies, both are really a lot of fun. $8. 7 and 9:15 p.m. Fri.-Sat.; 3 and 5:15 p.m. Sun. 2820 E. 33rd St., Minneapolis; find more info here. –Jessica Armbruster
SATURDAY 4.2
Spring Invitational
Fire & Nice Alehouse
Now that 30 Days of Biking is in full swing, we're going to see a lot of fun rides and happenings scheduled around town. One such event is the Spring Invitational, a daylong bikes and beer celebration. Festivities start at 10:30 a.m., when folks will gather outside Fire & Nice before heading out at 11 a.m. on a social, two-hour ride through the neighborhood and around a few lakes. Afterward, celebrate with a brew. In addition to a stacked variety of special beers on tap, seven breweries–Modist, Falling Knife, Milk and Honey, La Dona, Broken Clock Cooperative, BlackStack, and Portage–will be offering samples for you to try. The event will also feature lawn games in the backyard, and raffle prizes include a keg from BlackStack. Donations collected and proceeds from the raffle will benefit Full Cycle, a nonprofit bike shop that works with underprivileged youth. Free. 1-10 p.m. 2700 Lyndale Ave. S., Minneapolis. –Jessica Armbruster
Stay in touch
Sign up for our free newsletter