Politics
A Battle Over a High-Speed Bus Line Has Transit Agencies Seeing Red
Inside the latest clash between the Minnesota Valley Transit Authority and Metro Transit
7:00 AM CST on February 9, 2022
For about three months last year, one of the Twin Cities' busiest transit corridors was in Eagan and Apple Valley.
Every 20 minutes, three buses—one run by Metro Transit, two by the Minnesota Valley Transit Authority—were leaving Apple Valley Transit Station at the same time, on their way to the Mall of America, making limited stops along the way. 
But they all had hardly anyone on board.
A month earlier, MVTA lost its right to run the Red Line, the first bus rapid transit line in the region, to Metro Transit. (The route runs on Cedar Avenue between the Mall of America and Apple Valley.) Because MVTA questioned the decision making process and threatened to sue, the extra buses leaving with the Metro Transit buses might seem to be the agency's way to exact revenge against Metro Transit and the Metropolitan Council for taking away their line. 
But MVTA was just struggling to put service where it would serve the most people and keep its drivers employed. Its commuter service imploded early on during the pandemic, and losing the Red Line, which meant possibly furloughing a quarter of its workforce, was the last straw. "We literally had federal money to maintain a network. And our focus was simply to try to meet the needs of [our] customers," said Luther Wynder, who runs the Minnesota Valley Transit Authority. "I don't have any other hidden political agenda but getting and picking a customer up is doing what I'm required to do by our federal partners." 
Long before the Red Line, the relationship between the agencies had been tense. Some have had enough of the bickering and think the entire region should be united under one transit agency, while others think having more localized transit agencies throughout the region means better service for their own communities.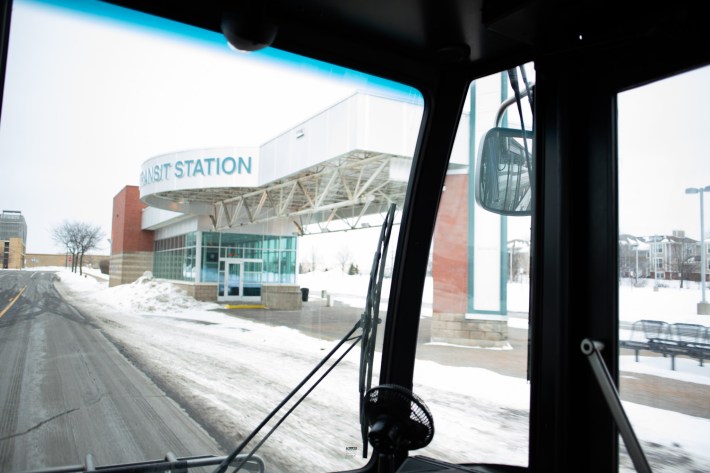 How We Got Here
This battle over who should control transit service in the region goes back to the 1980s. Suburbanites were tired of paying into the regional transit system and only getting barebones service. Burnsville, Eagan, Savage, and Apple Valley (all communities served by MVTA today) were only served by rush hour lines radiating out of Minneapolis on I-35W. 
Transit service to the suburbs is expensive. Bus routes that run farther out take on fewer people compared to bus routes that serve the cities proper. The former routes bring in less fare revenue, and the agency has to pay more to keep them running. 
In the 1970s, Metro Transit, then called the Metropolitan Transit Commission, balked at paying for such services because all transit services had the same subsidy limit per passenger, regardless of how many users it served. Today the agency has different limits for different services.
Legislation was enacted in 1984 to allow cities and counties to "opt-out"—to keep 90% of the property taxes they collected for transit. A product of this change, MVTA was formed in 1991 by the Dakota County cities of Apple Valley, Burnsville, Eagan, and Rosemount, as well as the Scott County cities of Prior Lake and Savage. Prior Lake left in 2002 but returned in 2014. Shakopee joined in 2015.
Today, agencies like MVTA get funding from the state through a complicated formula that accounts for the Motor Vehicle Sales Tax, which is levied every time a car is sold, as well as a ratio derived from the amount communities in the agency's service area received for transit in 2001, times the value of all taxable property in an agency's service area in 2006 divided by the same value in 2001. As of November, the agency brought in $27.3 million—just over half of it comes from a sales tax on motor vehicles—and spent $34.9 million, the bulk of which went to bus operations. 
Although money was scarce in the early days, proliferating sprawl meant more money to improve service, which allowed the agencies to create park-and-rides and run buses where they had never gone before. 
In 2019, MVTA had 2.5 million riders, which is about 3% of transit ridership in the region. According to the Met Council, Burnsville Transit Station, the first park-and-ride in the region, is consistently one of the busiest. Although its ridership took a hit in 2020 because of the pandemic—it had 793,510 riders that year, close to what it started with in 1991—riders are coming back.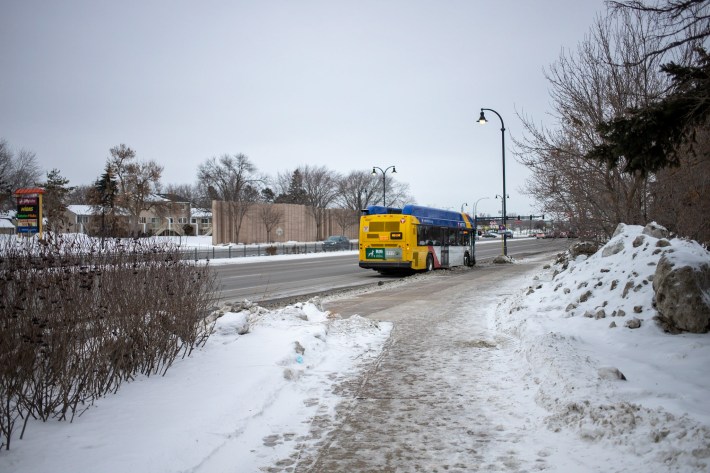 The Battle Over the Red Line
The Met Council decided to let the MTVA run the Red Line when it started in 2013. Not only was MVTA a successful service, but much of the route is in MVTA territory, and MVTA helped pay for the project. The Met Council also wanted to create a good first impression for commuters, hoping to woo them from their automobiles. 
Envisioned as early as 1999, the Red Line is intended to alleviate traffic and serve those who are trying to get between the suburbs—or downtown—but can't use a commuter bus because of when and where they are riding. The line opened at a cost of $112 million. 
But the ridership the Met Council envisioned never materialized. They anticipated 1,600 weekday riders by 2017; instead, the Red Line had 870 weekday riders. As a result, in August 2017, service was reduced to operate every 20 minutes during the weekday, from every 15. Ridership continued to fall, taking its biggest hit during the pandemic. The service had only 384 weekday riders in 2020. It was also rather expensive to operate, at $10 per passenger in 2019.
So why would Metro Transit say they wanted to run the route in September 2020? Normally, Metro Transit outsources those routes to contractors. But it found that it can operate the route for about a million dollars less than the $2.4 to $2.8 million they have given MVTA annually over the past three years to run it. (Metro Transit and the Met Council do not anticipate having actual figures until this coming spring.) 
Because Metro Transit reduced transit service during the pandemic, they had enough drivers to run the route. Then people started to get vaccinated, and as they returned to their normal lives, Metro Transit found themselves short of drivers again. Going into the pandemic, Metro Transit had close to 1,350 drivers and a shortage of 100. In September, they had just over 1,100 and a shortage of 80. As a result, they reduced Red Line service this past December to every 30 minutes seven days a week.
MVTA, upset over the Met Council's lack of transparency in deciding who runs the route, threatened to take the Met Council to court. They also complained, to no avail, that the cities served by the Red Line, Eagan and Apple Valley, had no say over the decision. So on December 5, 2020, they rolled out last-minute service changes with express bus service from Apple Valley to Eagan Transit Station and Mall of America, as well as another route that stopped only at Cedar Grove and the MOA. The latter two buses left Apple Valley at the same time as the Red Line, every 20 minutes. 
The Red Line was moved away from the enclosed platforms where riders once boarded, leaving them to wait out in the cold and walk farther out to the bus. This contributed to the 56 complaints Metro Transit received about the line for the first 11 months it ran the Red Line, compared to three MVTA received in the eight years it ran the service. (To be fair, MVTA doesn't make it clear on its website or pocket schedules how to file a complaint, unlike Metro Transit, although an MVTA spokesperson says one can contact their customer service by phone or email to lodge a complaint.)
It appears both Metro Transit and MVTA buses can load passengers from those platforms, which are eight inches higher than a conventional sidewalk, because MVTA, which uses the same Livermore, California-built Gillig buses Metro Transit does, has done it before. But Metro Transit is adamant about having buses that precisely match the platform height. The buses were ordered in January 2021, delivered last September, and were in service for two days in late October before being sidelined, although one of those buses appeared on the A Line as recently as this Monday. Metro Transit did not comment on their sidelining as of press time. 
Drivers assigned to the Red Line began to complain, too—about not being able to use the bathroom when they got to the Apple Valley terminal. Many believed as recently as last month they couldn't use the bathroom because MVTA was upset at Metro Transit for taking away the Red Line. In fact, the station was closed as the pandemic began, with spokesperson Richard Crawford saying at a celebration for the Orange Line opening in Burnsville that they did not want vandalism and people sleeping inside, though MVTA ultimately reopened the stations and allowed Red Line drivers to use their facilities. 
An Agency Thwarted
MVTA continues to try to find a way to regain control of the Red Line today, particularly in light of Metro Transit's recent decision to reduce service. At a September MVTA meeting, Wynder mentioned the agency's desire to run some Red Line trips to Met Councilmember Deb Barber, who represents most of Carver and Scott Counties and chairs the regional transportation committee that oversees Metro Transit. While Councilmember Barber said she would pass along the request, MVTA hasn't made headway. 
Representatives from the Met Council said MVTA did not make a formal offer; the Met Council says MVTA has to set up a formal meeting to discuss taking back the Red Line. "The process of requesting a formal meeting on any major topic includes and involves leaders from all agencies involved," said Met Council spokesperson Terri Dresen. "The discussion includes what the issue is, and the goal that's trying to be achieved."
MVTA would have a hard time taking over Red Line trips anyway. The biggest obstacle is the union that represents Metro Transit drivers, Amalgamated Transit Union Local 1005. Schmitty and Sons, who provides the drivers for MVTA, is an overtly non-union shop, even going as far as saying "we're employee owned not union – that's extra money in your pocket!" in their job postings. "We would definitely fight our work being taken away from us," said ATU 1005 president Ryan Timlin. MVTA hasn't commented about unionization—even to get their hands on some Red Line trips—as of press time. 
The ongoing disputes have some people saying enough. Some want agencies like MVTA gone, saying the divide-and-conquer setup doesn't bode well for transit in the region as a whole. "They've created all these little fiefdoms and each one has an administrative structure and a bus, garage and everything. And so the per unit costs for those are much higher than they are for Metro Transit, because they are spread over many fewer buses," said Aaron Isaacs, retired Metro Transit planner. 
Outgoing Rep. Alice Hausman, DFL-Falcon Heights, may author a bill this legislative session to give Metro Transit more power to plan the region's transit system, which could spell doom for agencies like MVTA. "[Opt outs] have enormous political power. And as a result, they've been able to negotiate really, I would argue, better bus service than everyone else gets," said Hausman. "And it's paid for by us."
It's unlikely anything will change anytime soon. Not only is this an election year where little is anticipated to get done, but some people seem to love their opt outs because they're able to get service that better suits their needs. Take a complaint a rider named Devin Pacholke made to Metro Transit in late December 2020, for example, praising MVTA over Metro Transit. "The drivers are not nearly as polite as the MVTA drivers, the bus is disgusting and smells like cigarettes, and the ride is overall very uncomfortable. I just want these concerns to be shared with someone who can rectify this, because from now on I will be riding with MVTA's 442, as the buses are much cleaner and comfortable, and the operators are much kinder."
Others don't seem to care. Within the year after Metro Transit took control of the Red Line, MVTA stopped running the express buses to Eagan and the Mall of America. What remains paralleling the Red Line are two local routes: the 442, which generally serves the neighborhoods west of Cedar Avenue and goes to Mall of America, and the 440, which serves the neighborhoods east of Cedar Avenue to Cedar Grove in Eagan. The buses don't leave at the same time as the Red Line, so instead of picking and choosing, people can ride whatever bus comes first.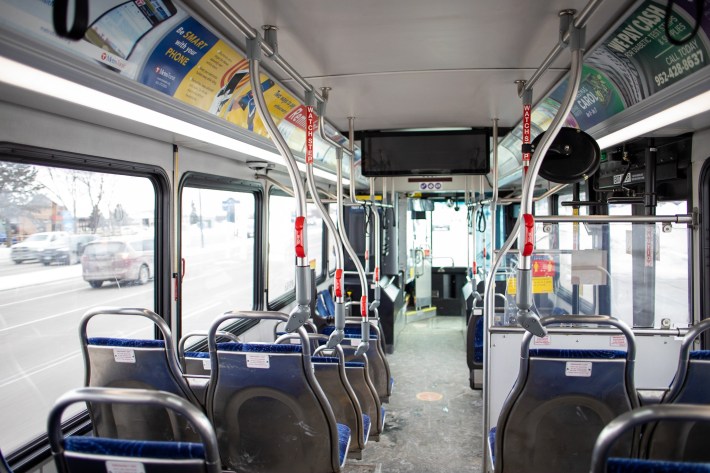 It All Comes Down to Personal Preference
One Friday afternoon, I boarded a Red Line bus, along with one other passenger, at the Mall of America transit station. The bus was quiet except for the loud whirring engine noise. A large map of the A Line was mounted on the side, near the ceiling. A screen mounted on the ceiling by the rear door was shut off. The windows were slightly frosted from the snow dust. 
The bus pulled up to Cedar Grove station, where Martin Almendarez boarded to get to the Dakota County courthouse and library in Apple Valley. He's been riding it for a couple of years, and although he didn't notice much of a difference of how it is now run compared to when MVTA had the route, he did notice the bus, which normally has students heading home from school, is unusually empty. 
Both MVTA and Metro Transit have their own strengths, he said. "[MVTA's] buses are a little different, and they're a little more comfortable," Almendarez said as he touched the bus seat. "[But] Metro Transit is all over the place. They can go everywhere."
Stay in touch
Sign up for our free newsletter