Music
3 Local Beyoncé Experts Talk (What Else?) Beyoncé
A roundtable discussion on Bey's connection with her Black fans and the music history lesson her latest album can teach us all.
1:00 PM CDT on July 20, 2023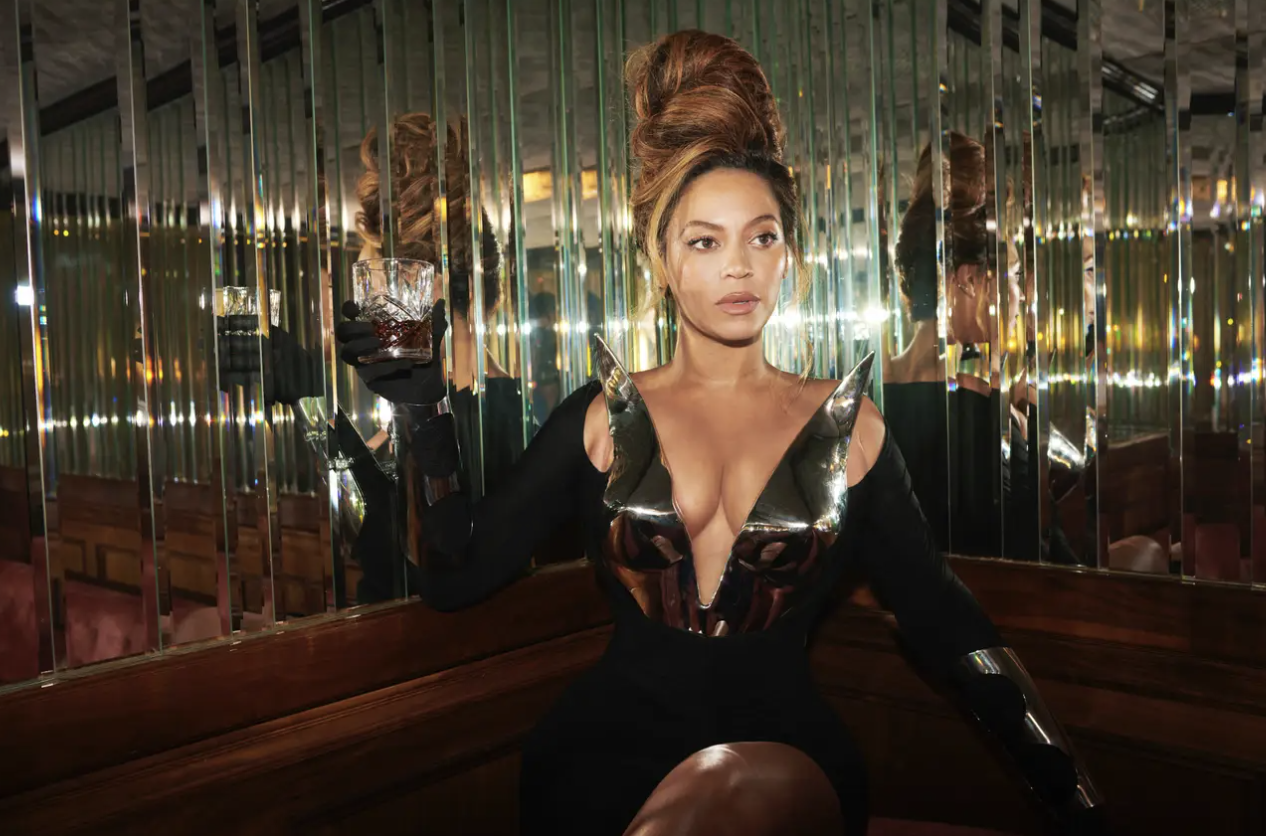 Beyoncé is performing in Minneapolis tonight, for the first time since 2016, at what we're now supposed to call Huntington Bank Stadium. The event seemed significant enough for us to call in three local Black experts on Ms. Knowles and her career (who also happen to be big fans, of course) to take stock of the star's current work and how she got here.
Here's our panel:
Gigi Berry, DJ, artist, owner of Gigi's Flair Emporium, and local luminary

Andrea Pierre, station manager of KRSM radio in south Minneapolis

Dr. Elliott Powell, Associate Professor of American Studies and Asian American Studies at the University of Minnesota
With me butting in occasionally, the panel members talked via Google Meet earlier this week about how they became fans, Beyoncé's increased focus on her core Black audience, the musical history lesson that her latest album, Renaissance, provides, and why tickets are still available (at a discount) for tonight's concert.
Let me start by asking you to present your Beyoncé bona fides. What are your earliest memories of her, of when Beyoncé entered your life?
Berry: I saw her on the TRL Tour with Destiny's Child [in 2001]. I'm obsessed with that era. I have a party called Disconcé which is dedicated to Beyoncé's whole catalog plus disco, especially based on her use of dance music on Renaissance. I love her evolution, and I've seen every tour except Sasha Fierce. I did not like that era. Going back now I can hear some gems there but at the time I was mortified. I was just not happy with it so I was like, we do not need to go to that show.
Powell: [LAUGHING] That's also an album I do not like as well… so we share that. I've only seen Beyoncé once, in Minneapolis, at the Formation tour [in 2016], when there was the thunderstorm that everyone had to flee out of. The first Destiny's Child album, with the Wyclef remix of "No No No," is my earliest memory, because I want to say they were on All That or some sort of Nickelodeon show. Then there was the Why Do Fools Fall in Love? soundtrack and "Get on the Bus," that's one of my favorite songs of the Destiny's Child era.
Pierre: My first experience was at Urban Lights in St. Paul. Back then if you bought a CD, and I forget what CD I was buying, they'd give you a free single. And I had that Destiny's Child "No No No" remix with Wyclef and it had three or four remixes actually. But I wasn't actually the biggest Beyoncé fan. I honestly didn't like Beyoncé. I was Team LeToya and LaTavia, if I'm honest. And she won me over with Lemonade. That solidified me as part of the Beyhive. And I've never seen Beyoncé, so I am truly excited to see her for the first time on Thursday. I bought a ticket for myself y'all, it's that deep.
Powell: Is there a reason the concert is at the Huntington State Bank… or whatever it's called? I was surprised by that. Why not U.S. Bank?
Berry: It's not selling well. It's not sold out. It's very embarrassing considering Chicago is this weekend and they've got two sold-out dates. I've never been to a Beyoncé show that sold out here, but I feel like this, this might be the last straw. I don't think she's coming back here! She's gonna be like, bye!
Pierre: That's why I'm like, now or never. I've done survived Covid and everything, I'm seeing Beyoncé live, no one can stop me. Sorry kids, mama's going.
Any guesses at why she doesn't do well here, aside from the fact that there are lots of white people?

Berry: I think that's the main thing. I think the set of white people who love Beyoncé, they want to hear "Single Ladies," they want to hear "Diva," they want to hear the songs the queens might do at brunch. Because the newer songs, even when you play them at the club, there's literally no reaction from a crowd unless they're literally there for a Beyoncé night. I will never forget this, we were at Flip Phone Pride in the Mainroom last year having the time of our lives. "Break My Soul" just came out and we played it and it was like, nothing. OK, have you not heard this song on repeat all day? It was a roomful of I'd say 80% white people, and the Black and brown people went crazy but still it was like, wow, this is Beyoncé. These particular songs, these last few albums, are not for white people, so they're not going to shell out the money to see Beyoncé cuz she's not playing "Single Ladies."
Powell: She's definitely left that "Single Ladies" era. I think for a number of folks, in the Twin Cities—and yes, we're very much talking about white folks—they left after the self-titled. When Lemonade hit, because it focused very clearly on Black women, it was something a lot of white listeners did not want to understand. And we go from Lemonade, which is very clearly centering Black women, to The Carters, with Jay-Z, which is hip-hop but also a very Afrodiasporic album, then we go to "The Gift" and The Lion King soundtrack, which is very much about Africa, and then we get to Renaissance, which is touring various sounds and sites of Blackness. And so white folks in the Twin Cities must have been like, this is not for us. It's sad that she's not selling here, because this album is made for a tour. With how well each song transitions into each other, it's built for a stage.
Pierre: I loved the fact that she claimed herself as a Black woman and celebrated becoming a mother. These are the reasons why I love her. This is someone who with Destiny's Child came out of that whole pop world. It's beautiful to see she can be how she wants to. The music machine isn't telling Beyoncé how to present, she could have just kept doing what she was and never really spelling to Black folks, and I love that she is. 
Berry: I feel like especially with Renaissance she's blatantly saying "I'm making this music for Black people. I'm making this music for Black queer people." And the most obvious thing she's doing is she's including Black queer people and Latinx people in the mix of what's going on here. She's honoring that entire community of Black queer folks, Black trans folks, sex workers, club kids, that whole set. There's this really powerful picture I saw of Kevin Aviance [a drag queen and musician sampled on Beyoncé's "Pure/Honey"] at the Philadelphia concert, and it was like, how many Black queer people get to live that long to receive their flowers? Because their contribution to pop culture is incredible. And she's included them in the credits so that they get the recognition. And a check too, period. 
She's speaking to Black women directly through songs like "Church Girl," for example, saying nobody can judge me. I can wear what I want. I can do what I want. I can be who I want. And I'm not going to be judged by the rules that you've made up. And I love that it's called "Church Girl" and the main sample is from a Clark Sisters song. When I discovered that sample was Clark Sisters, I was in a whirlwind. I just couldn't stop listening to that song. So many of us Black people grew up knowing the Clark Sisters, knowing a Clark sister, knowing their mama, so it really meant a lot having this sample be on a song where a lot of Millennial and Gen X Black women can relate to growing up and being in the church, being a certain kind of girl, and being proper and this and that and the other, and told, "don't do this or don't do that or you'll be seen like this." And "Church Girl" says you know what, I'm free and I'm-a do what I want.
Pierre: The imagery when she performed at the Super Bowl, the Black Panther-inspired, fist raised up. Lemonade really did it for me, I was like, OK, Beyoncé is really talking about ancestry on that album. The relational aspects to [West African spiritual beings] Oshun and Oduduwa, even just talking about your ancestors and your background, about being raised southern and Christian, but still finding out who she is and exploring spirituality. Even her birth announcement pictures, there are aspects to it that can be lost if you're not looking for them. Thinking about all the beautiful Black women in the visuals for Lemonade too, having Serena and Venus Williams and Kelly and her sister Solange. I hadn't seen anything like that in a long time for me, and that really really brought me in. And thinking about that time when that album came out, we were in the middle of the Obama years, we were seeing different ways to be Black, we had this beautiful Black family, with style, with class. Regardless of how you feel about Obama, It was a really beautiful time to be Black because we didn't realize how dark the days were about to get. 
Powell: When I think about Renaissance in terms of the Clark Sisters, Grace Jones, Ts Madison [all of whom are sampled or appear on the album] one of the things I think is important is, a few years ago, we were in a time of renewed interest in disco and dance music. I'm thinking about people like Dua Lipa. What Renaissance does is give folks a history lesson on who was central to that music, which is Black women. So ending with a Donna Summer reference says something. A Black dance music album reorients people from how dance music in the contemporary moment is associated with whiteness. What Beyoncé does with an album like Renaissance is to draw our attention back—and history is so needed right now, especially with all the attacks on Black history. Renaissance becomes a kind of pedagogical album that walks listeners through the different sets of dance music, whether it's disco or house, and showing us that Black women, Black LGBTQ+ folks, are at the center, are the drivers, are the producers, are the influencers behind these genres. 
Berry: I'm learning so much from her. It reminds me of Prince. Now, he wasn't a sampler, but there was something about his music that made me go deeper into his influences. The same way, it's cool to see Beyoncé go from one sample to another to another, which then makes me go into someone's whole catalog and what they did and hear what she did to that song. There's that whole story about how a sample went from Father John Misty to Diplo to the guy from Vampire Weekend to [Beyoncé's] "Hold Up." It's like all roads lead to Beyoncé. 
And all these samples are teaching me, as a newer DJ. I'm like hey, that's a really cool song, let me listen to that album. Like, "Katrina" is on a whole album, it's on an entire album by Kevin Jz Prodigy, and there's this song "If I Throw My Pussy in the Air" and I woulda never heard that if it wasn't for Beyoncé sampling the other songs, and I'm very happy that I've heard that. And then I add it to my set. It really is like a chain reaction. And there are probably 13-year-olds learning the same things. And then that creates another music lover another musician. Her reach is incredible. And also the producers on the album are all Black women. That's intentional and it makes the album that much more special. 
Powell: And let me add on to that Beyoncé is a producer as well. And that's important to acknowledge because far too often, we don't think of women as producers. And so Beyoncé in the credits as a producer matters. It's highlighting the fact that women, and especially Black women, are not only folks who sing on the mic but are also controlling the soundboard. 
Pierre: The samples give the music new life and I love that she's introducing people like Grace Jones to a new generation of listeners because Grace Jones is still alive, you know what I mean? She's still here. And let's be clear, these artists back in the day, they did not get their due. Especially financially, so being on this album, I love that they're also able to get that as well. I know that wasn't well received by Kelis, but I'm still happy they're able to get some coin in their pocket. 
Powell: That's important too, because this album comes out in 2022, so for folks who could not tour, in 2020, in 2021, whose checks kind of stopped, Beyoncé having Big Freedia, having Grace Jones, having Kevin Aviance, having these kind of folks on this album, and then compensating them, that can do wonders, right? Someone like Robin S, who I tend to see every summer when she plays the Pride circuit, I can imagine she wasn't getting checks in 2020 or 2021, but then having a check from Beyoncé, and having a credit on such a huge album, that can make up for those summers and get a substantial leg up from this album. 
So, will we ever see the visual album for Renaissance that we're told exists? 
Powell: I don't think we need them. If I were Beyoncé's manager—which I'm not, in case you didn't know—I would say, and this goes back to the Covid thing, we spent so much time in 2020, 2021 looking at a screen. For Beyoncé to ask us to look at a screen is a lot. Instead this album asks us to be together on a personal, physical level. This is a dance club album, right, where you're trying to keep people on the dance floor. And from start to finish, that's what I think the album accomplishes. And in a way it's forcing people to be together again and in community with each other. And not just seeing each other through a screen.
Pierre: I see where you're going with this, but she loves money, y'all. And I believe that there's gonna be a documentary about house music or dance music or something, I don't know if it's gonna be a visual album the way we had in the past. And I do like the visuals. I too had Lemonade braids. I could see her doing a movie, or a documentary, like how she did for HBO with the Coachella experience. But something is coming out because she's a marketing genius. But, I do like that you think she's trying to make us dance. That's actually kind of beautiful.
It's wild to think how much she's raised expectations over the years, where she can't just release an album, she can't just put out a couple videos, there has to be a complete video album to go along with it. But she can't keep raising the stakes forever. What does Beyoncé do when there's no further for her to expand?
Berry: I don't want to think about the end of Beyoncé.
Stay in touch
Sign up for our free newsletter