Food & Drink
Why Does the Hy-Vee Bar Fuck So Hard?
The best place to drink in Robbinsdale is at the grocery store.
9:15 AM CST on February 6, 2023
Drinking at the grocery store rules. 
I'm not talking about crackin' a can of 3.2 in the beer aisle or suckin' down all the vanilla extract the baking section has to offer. No, I'm talking about sipping on nice draft beers and top-shelf booze at a reasonable and often mysterious price right there in the same place you buy your weekly supply of milk, bananas, and sheet cake.
I'm talking about the Hy-Vee bar.
That's right. Hy-Vee, the Iowa-based, employee-owned chain of grocery stores your mom keeps telling you about, has a bar in it. Depending on the location, that bar is either a Wahlburgers franchise—the burger chain owned by the Mark, Donnie, and Paul Wahlberg where mediocrity reigns supreme—or it's a Hy-Vee Market Grille Express. Luckily, my local Hy-Vee in Robbinsdale has the latter.
I first realized the wonder of the Hy-Vee bar a few months ago and have been trying to unlock its secrets ever since. My friend Jim and I were out for an extended Friday lunch at Nouvelle. We both had a fairly light workload that day and weren't quite ready to get back to it just yet. Having never been, I half-jokingly suggested the Hy-Vee bar.
"Yeah, ok."
Then came the very understandable follow-up: "Wait, there's a bar at Hy-Vee?"
Since that first visit, the Hy-Vee bar has become a regular part of our lunch routine for three main reasons: the selection, the price, and the atmosphere.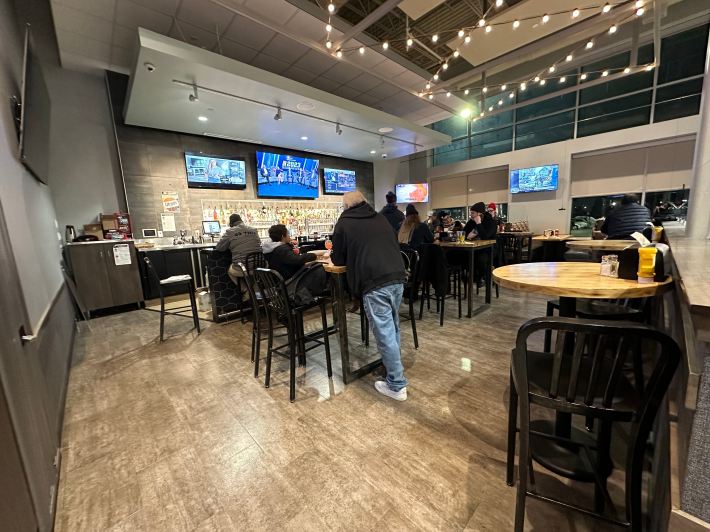 Let's face it: Grocery stores love offering an overwhelming selection, especially Hy-Vee. I mean, how many friggin' brands of sparkling water do we need? Bellying up to the Hy-Vee bar and perusing its tap handles and impressive liquor shelf is no different. They offer your Millers and your Michelobs, of course. But they also have a decent smattering of options from craft breweries, including Utepils, Indeed, Lupulin, Toppling Goliath, Warpigs, and Dogfish Head.
Behind the taps sit the spirits—and lots of 'em. Again, you'll find your Beams and your Malibus and your various flavors of Absolut. But they also have higher-shelf selections like Stranahan's and Blanton's whiskey, Montelobos mezcal, and the Balvenie and Macallan Scotches. They even have a few apéritif and digestifs like Cynar and Fernet.
While none of these beers or liquors are unusual in most watering holes across the Twin Cities, remember: We're talking about a grocery store bar here. Grocery stores are where we go to complain about the price of things like eggs, not splurge on top-shelf booze. And therein lies the true wonder of the Hy-Vee bar.
During that first visit, Jim and I each responsibly consumed three beers and a pour of Stranahan's. When it came time to pay our bill, we were both shocked to see we each only owed around $15. Each beer was $2.50, and the whiskey rang up at $6. We were certain there was some mistake, but we weren't stupid enough to point it out. Instead, we each paid, left a fat tip (because you should always leave a fat tip when a server or bartender fucks up in your favor), and went about our day.
The next time we went, we again responsibly drank our three beers and pour of nice whiskey. Our bill arrived and was around $23 each, which seemed slightly more accurate but still too cheap. The beers were again $2.50, but the whiskey was $12 this time around. On our third visit, our bill was about $20 each for the same order. Beers were $2.50. Booze was $10.
What in the grocery store rotisserie chicken was going on here?
Come to find out, Jim and I had accidentally stumbled on the best happy hour in town. From 3-6 p.m. Monday through Friday, all taps and all appetizers are half off, pretty solid happy hour pricing. That is until you factor in that all taps are only $5 during the unhappy hours. $5??!!!? Get outta here!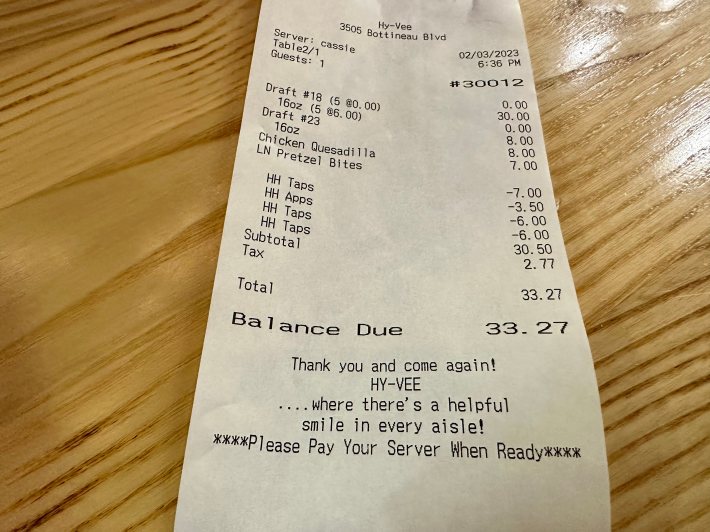 As for the inconsistent liquor pricing, it turns out Hy-Vee's bar and its various food court-style hot bar areas share one staff. There aren't designated bartenders for the bar so much as there are hot bar employees who occasionally pour beers and make cocktails. That lacking structure mixed with an outdated POS system leaves staff to make their best guess on how to ring in drinks, which leads to me getting obliterated for $15, which leads to me buying a personalized sheet cake for my cat's 15th birthday party. We've all been there.
Which brings us to the atmosphere.
The Hy-Vee bar has a ton of TVs on the wall, most of which are usually playing sports. However, since there's no sports decor to speak of, it doesn't quite fit the bill of a sports bar. It closes at 8 p.m., so it definitely isn't a late-night haunt, and its depressing gray walls preclude it from ever competing with the likes of Margaritaville or Rainforest Cafe. There's no live music, no fancy, handcrafted cocktails, and is a little stiff to be considered a lounge of any sort.
So what the hell kind of bar is it?
Well, it's a great place to get hammered for very little money. It's an opportunity to drink amongst a storied cast of regulars (including the guy who's always there watching and talking to the TV. One time, a Harry Potter movie was on, and he kept yelling, "C'mon Gary!"). It's a chance to walk past an entire produce department just to use the bathroom. It's a grocery store bar with the soul of a dive bar. Technically, it's also a bar with a retail shop attached, which is all the rage these days.
Whatever it is, the Hy-Vee bar has quickly earned a special place in my heart. But please, let's all agree not to make it too popular and risk them raising their prices. Deal?
Stay in touch
Sign up for our free newsletter