News
We Went to the Minnesota State Fair and It Was… the Minnesota State Fair
We saw few crowds, fewer masks, and almost no lines on the first day of the fair.
10:13 AM CDT on August 27, 2021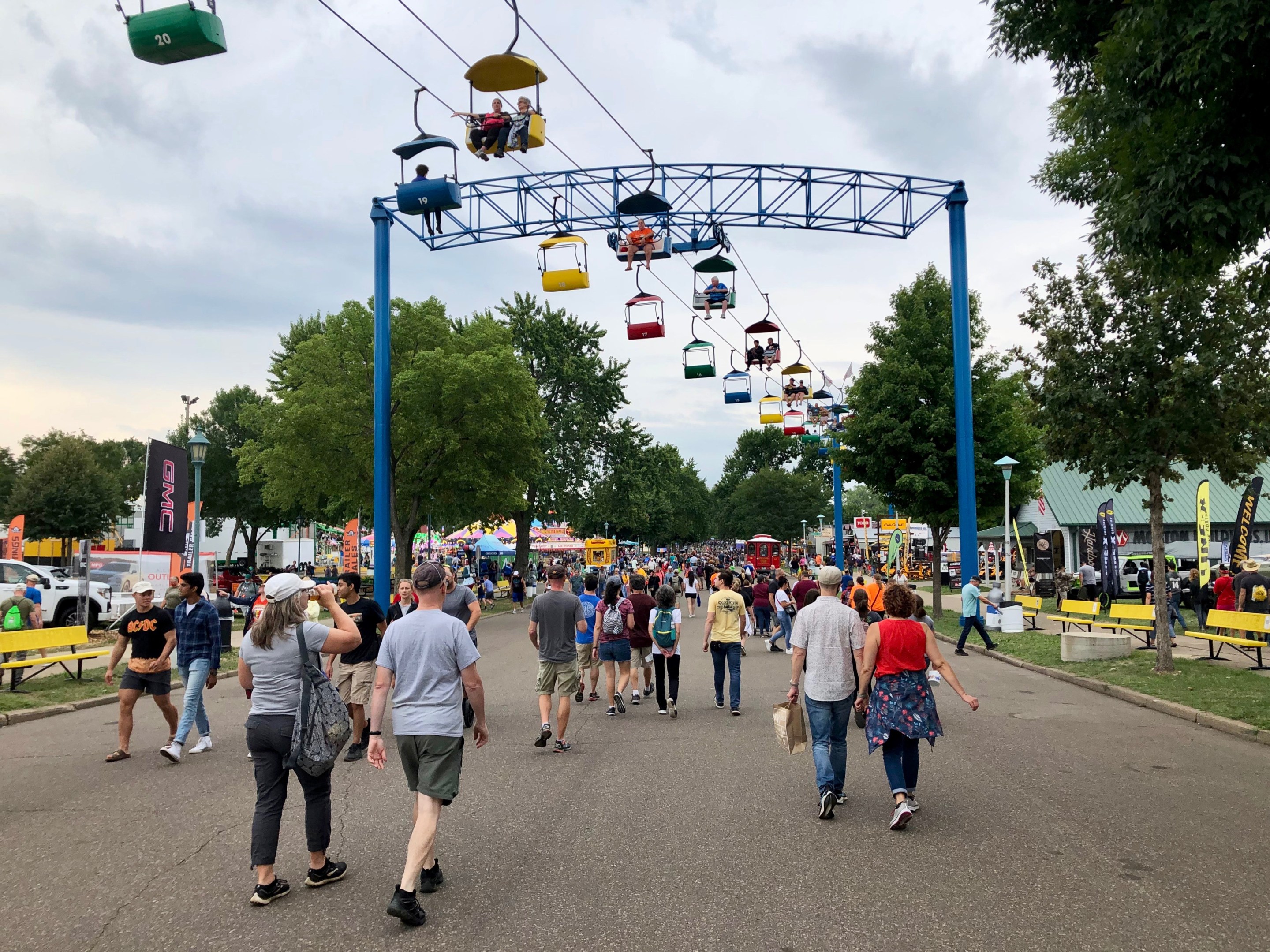 It's all his wife's fault. That's what the backpack owner seems to haplessly suggest as a security worker at the gates confronts him with the impermissible items she's uncovered. 
"She set you up for defeat today," the woman working security jokes in a singsong Minnesotan accent.
It's the kind of folksy little interaction journalists love to eavesdrop on, because it captures what we want the the Minnesota State Fair to be. A minor infraction is met with firm but pleasant resistance. Of course, the metal detector we walked through to enter wasn't there the last time we attended the fair, and we only found out concealed weapons wouldn't be allowed on the fairgrounds less than 24 hours before opening day. More than a few of us are a little tense. 
Many fairgoers this year passed through the gates projecting our worst fears on other attendees. We urbanites sometimes mock suburbanites and outstaters whose view of the Twin Cities as a burning hellscape is reinforced by sensationalist TV news. But how many of us thought about those viral clips of some crazed anti-masker flipping out at retail workers as we pulled up our masks and looked around at who hadn't masked up?
More reasonably, how many of us decided to avoid the fairgrounds altogether after the announcement last week that masks and vaccines wouldn't be required—only "strongly urged?" Walking beneath the spinning fries bucket over Dan Patch Avenue and Underwood Street, where the largely maskless crowds throng together and social distancing is a hopeless goal, the decision to stay away makes sense. Even Team Racket, though we felt the newsworthiness of the event obligated us to visit, couldn't commit to gorging on and judging the new fair foods as we planned. It just felt like the wrong kind of indulgence.
Some fair buildings have disposable masks at their entrances with handwritten signs asking people to take one, but it seems like the fair itself could have masks… at the entrance? Where the metal detectors are? That too would be a safety measure, after all.
And yet mostly, the fair looks like… the fair. Shortly after our arrival, a woman looking at her phone avoids stepping in a pile of horse shit by a fraction of a centimeter. Moments later, we witness our first cookie casualty when a guy drops two Sweet Martha's, then bends over to pick them up before his partner yells, "No!" 
If anything, the vibe is calmer than usual. Even the mood at the GOP booth is subdued. The red "Keep America Great" logos fade into the gray of the T-shirts they adorn. (Is America still great eight months into the Biden Administration?) Elsewhere on the grounds, a booth lets you spin a wheel emblazoned with the face of Tim Walz and covered with his supposed dictatorial excesses (a mix of policy differences and exaggerated grievances).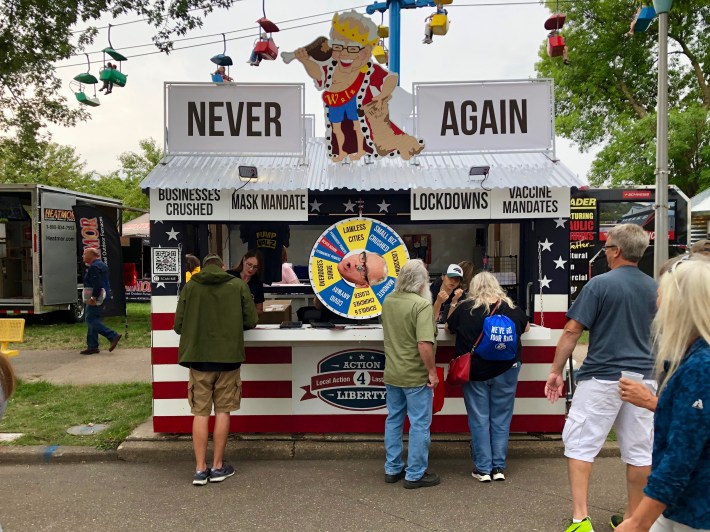 "We're choosing. We're making the choice for ourselves," says a guy handing out literature at the "Action 4 Liberty" booth. He and his wife only visit the fair every seven or eight years, but when he found out about this group (just last week), he had to help spread the word. He says their next big push is in fighting vaccine mandates. It's hard not to think that the fair's non-stance on COVID prevention will embolden people like this.
Some things haven't changed. Every year, there's one item that seems to be a big hit with the kids. It looks like 2021's "it" thing is inflatable aliens. Giant ones. During the day small children can be seen carrying purple, green, and multi-colored cartoon-like extra-terrestrials. The creatures are often bigger than the child themselves, adding spectacle to their ubiquity. 
If there's any theme at this year's fair, it's "the same but different." There were changes at the Hamline Church Dining Hall, where regulars who'd ordinarily gather indoors convene instead at picnic tables. As he passes along a hot Swedish egg coffee, Pastor Tim says they were "slammed" for breakfast, but that's nothing new. "There are usually lines to get in the building. Today there were the same lines to order food." 
The Food Building is usually crammed, but on Thursday afternoon you could move about freely and even see where you were going. It's simultaneously relieving and unsettling. For the first time perhaps ever, there is no line at the Mouth Trap. There are actually more people behind the register working for Big Cheese Curd than there are in line.
And the fair is still a source of hard-won success for artists, farmers, and businesses. Chef Janene Holig perches outside the Food Building with a beer, taking a break from the Hot Indian Foods stall that's earned a coveted spot inside this year. She was on WCCO this morning, and passersby recognize her from TV.
As you walk through the grounds, you might feel that sneaky midwestern magic working its way into your heart again. Midday, a guy drives past in a golf cart, with Fairchild and Fairborne—the Fair's gopher mascots—waving from the back. People stop and clap and whoop as they go by.
Did you know that Buffalo, Minnesota, was named after the buffalo fish—not the huge and hairy mammal? At the Department of Natural Resources Building, a guide tells the crowd surrounding the pond it's a common mistake, before diving into a talk about the kinds of trout native to Minnesota. Before you know it, you're eating honey ice cream for breakfast and laughing at "Surprised Pikachu" seed art and your resolve is really going.
The Creative Activities Building showcases thousands of hours of collective crafting: cross stitches and scrapbook pages, scones and quilts, carvings and canoes. A few members of the group Crochet Twin Cities are live-crocheting while people look on. "This is what you can make!" a woman tells a child, a pink yarn puppet on her hand. The young girl smiles shyly and nods.
You'd find a more densely packed, unmasked group of people coming together for Green Day at Target Field Monday night. It's harder to move in the crowd at Malcolm Yards during an average dinnertime. But the State Fair is meant to represent the best of us, to sell you on the myth of Minnesota. And rather than impose mask and vaccination requirements in a responsible take on that myth—Minnesotans are willing to sacrifice for the public good—officials hedged with the dodgier story that we're such decent, upright folk that we don't need rules. The metal detectors are there to remind you that no one quite believes that.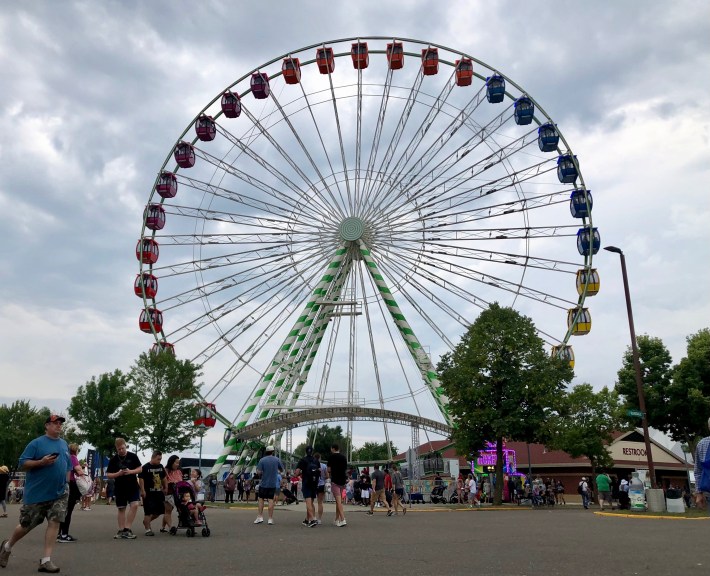 As the skies darkened and we made our way towards the gates (we beat the storm, but others weren't so lucky) we overheard the crowd singing along to "Piano Man" at Dino's Gyros. "Oh, Jesus Christ," one Racket staffer muttered," "nobody is supposed to be singing Billy Joel in the afternoon." After a year without a fair, it's beautiful to be annoyed by such a harmless thing.
"Have a good day!" a man working the parking lot waves as we make our exit. "Everyone have a good day!"
Oldest living Racket co-owner and editor.

Co-owner and editor at Racket.

Em Cassel (she/they) is a cyclist, a metalcore apologist, and a co-owner and editor of Racket.
Read More:
Stay in touch
Sign up for our free newsletter