If you've ever driven north from downtown Minneapolis along the Mississippi River, you've likely seen it: a modest brown home sitting in total residential isolation, a forgotten relic from 1917 surrounded by industrial wasteland and busy roads. It's like the development holdout house from Pixar's 2009 attempt to make every adult viewer cry, Up.
And 3530 Washington Ave. N. can be yours for $190,000. 
"Move-in ready, cozy, potentially 3 bedroom house that sits on a centrally located lot," reads the property listing for the 3-bedroom, 1-bathroom, 1,315-square-foot home with central A/C, a partially finished basement, and tuck-under garage. That centrally located lot has the neighborless house squeezed between I-94 and a paper mill; a boat dealership's various boats rest about 10 feet from the rear, separated by a leafy chain-link fence.
Take a look: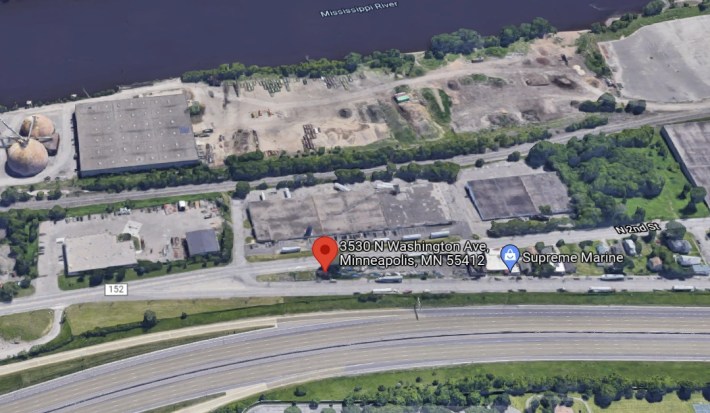 The location could present some opportunities. The city's $302 million Upper Harbor Terminal project—a massive, contentious redevelopment of riverside real estate that'll yield a 19-acre park, housing, retail, and a 10,000-seat concert venue—is two blocks away. Let's speculate wildly and say, perhaps, the lonely old house could get rezoned, potentially paving the way for a neat pre/post-show bar. Or, more realistically, Supreme Marine could acquire it for additional boat storage.  
What's it like selling the most oddly located house in Minneapolis? We asked the listing agent but never heard back. The home has been on the market since April, so clearly not a total breeze. The property was last sold for $38,500 in 2008, according to country records, during the depths of the subprime mortgage crisis.
Hat tip, as they say, to local Twitter personality David Brauer for spotting this oddball listing. Let's take a photo tour, courtesy of the MLS.