While he was campaigning for the District 2 Minneapolis Park Board seat last year, Eric Moran spent a lot of time focusing on abandoned spaces that could be converted into something new. Victory Memorial Ice Arena was one of them.
Built in 1974, the north Minneapolis ice rink (1900 42nd Ave. N.) was once home to a number of historic hockey squads. It's been about a decade since the building has been occupied, though, and right now, the Minneapolis School Board-owned space is being used to store school equipment: air conditioning units, desks, shelves, chairs.
It looks like this: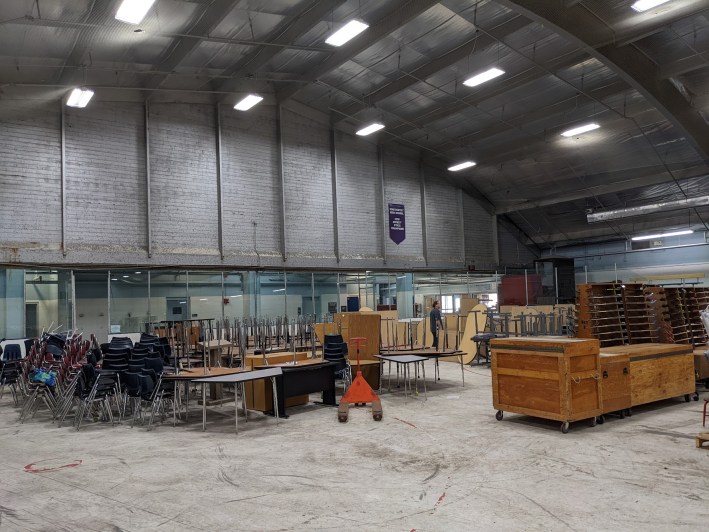 "I figured, if elected, that this would be a really easy project for the Park Board to handle," Moran tells Racket. He made restoring the arena into a roller rink one of his campaign goals, along with improving transit connections to parks and ensuring that the parks' digital platforms met accessibility standards.
The only problem? "I didn't end up winning," he chuckles.
But Moran couldn't stop thinking about Victory Memorial Ice Arena. He started meeting with the School Board in February to figure out how an individual, rather than a Park Board member, might help revitalize the space. For the last few months, he's been busy communicating with business leaders in the area to get their support; Houston White, who recently opened North's Get Down Coffee Co., is especially thrilled to see something like this in the neighborhood.
On Thursday, Moran went public with plans to convert the empty building into a roller rink called Roll North.
Moran isn't the only one who sees potential in this unused (or at least underused) space. Over the last decade, some have expressed a desire to restore the building to its ice arena glory; a few years back, a local roller derby group tried to kickstart a similar roller rink plan.
No one has succeeded so far, and admittedly, it's a big undertaking. But with the recent resurgence in roller skating—folks picking up the activity during the pandemic, that season 4 Stranger Things scene—the timing really couldn't be better. 
"There's just such a lack of things to do, especially this far North," he says. "I live in the neighborhood, and I want things to do in the neighborhood."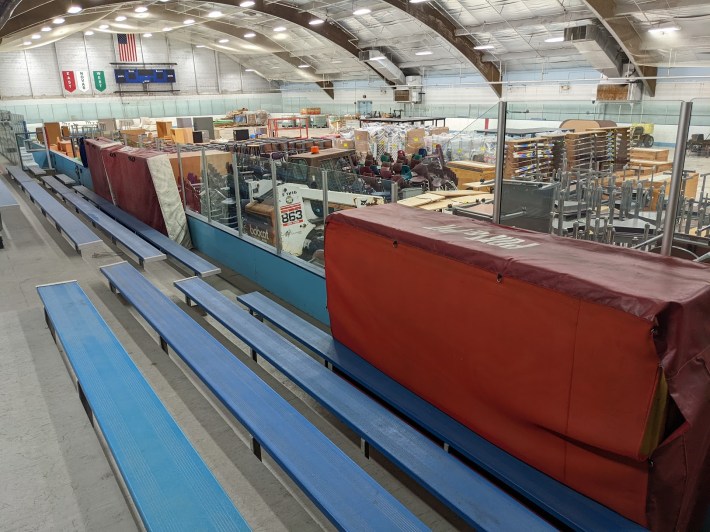 A roller rink like this would be one of only a handful in the area, and the only one in Minneapolis. Located a quarter-mile from the C line and a half-mile from the D line, with plenty of bike parking, it could quickly become a destination for North.
And the building is adjacent to Patrick Henry High School, which Moran sees as a huge plus. Because there's not just a lack of recreational activities in North—there's also a lack of jobs. "I'm really excited to have students from Henry employed here, and students from North as well," he says. "I want them to understand that this could be a place where you have a career."
Roll North is in the lots-of-conversations planning stage right now. Moran is talking with the City of Skate folks about hosting skateboard pop-ups, and he's had people ask about doing bike polo events in the space. Local artists have wondered whether they'll be able to host art markets. His answer to everyone is the same: "Absolutely, we'll figure that out."
"The primary focus is going to be roller skating," Moran says, "but there's all these adjacent things that we can be doing."
One established collaboration is with North Star Roller Derby, who will help introduce derby and skating programs with Roll North. A cool thing is that junior roller derby is both an inclusive and accessible sport, one that's pretty inexpensive to participate in—assuming you have a rink where bouts can happen.
Moran's hand in making the announcement about the new roller rink was forced a little. During a walkthrough with an architect last week to determine what work needs to be done—his second tour of the building so far—one member of their group shared photos to Facebook. "They tagged like, 100 people in the post, and it spread like wildfire," he laughs.
But the overwhelmingly enthusiastic response to that Facebook post, and to Moran's eventual announcement on Facebook and Twitter, are proof positive that this is something folks in North and beyond want to see.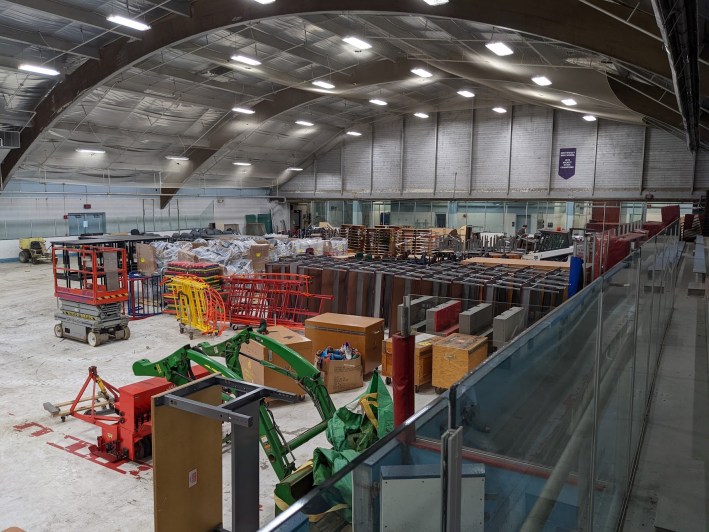 When the news "officially" broke Thursday, dozens of people got in touch to ask how they can help, how they can invest, how they can donate money. "There's so much support, and so many people are excited about this," Moran says. Which is great—Roll North just isn't quite at that point yet.
There's a lot left to figure out. The School Board wants the space to be used for something other than storage, but there's still the question of unloading the building: Lease it? Sell it? Some third thing? For now, the plan is to continue meeting with local business leaders, neighbors, and elected officials, figuring out how to fund this thing while making sure that this idea continues to have the neighborhood's enthusiastic support.
You can follow Roll North's progress on Twitter, Facebook, and Instagram. The hope is to have a fundraiser for the project in the late summer or early fall. Taking supply chain and labor issues into account, he's hoping the roller rink could be open by summer 2024.
"Talking to people who live in North, and live in the vicinity—everybody was just super excited to see this happen," Moran says. "Seeing the reactions from people, I was like, whoa."
"North has been so neglected for so long," Moran continues. "This is something that's such an easy win."